Glencore Plc and Trafigura Group Pte are often at loggerheads, but one thing they agree on: the nickel market will be transformed by the rise of electric cars.
Nickel sulphate, a key ingredient in lithium-ion batteries, will see demand increase 50 percent to 3 million metric tons by 2030, Saad Rahim, chief economist at Trafigura, said in an interview. While other battery metals like cobalt and lithium have more than doubled since the start of last year, nickel prices have been subdued because of large inventories.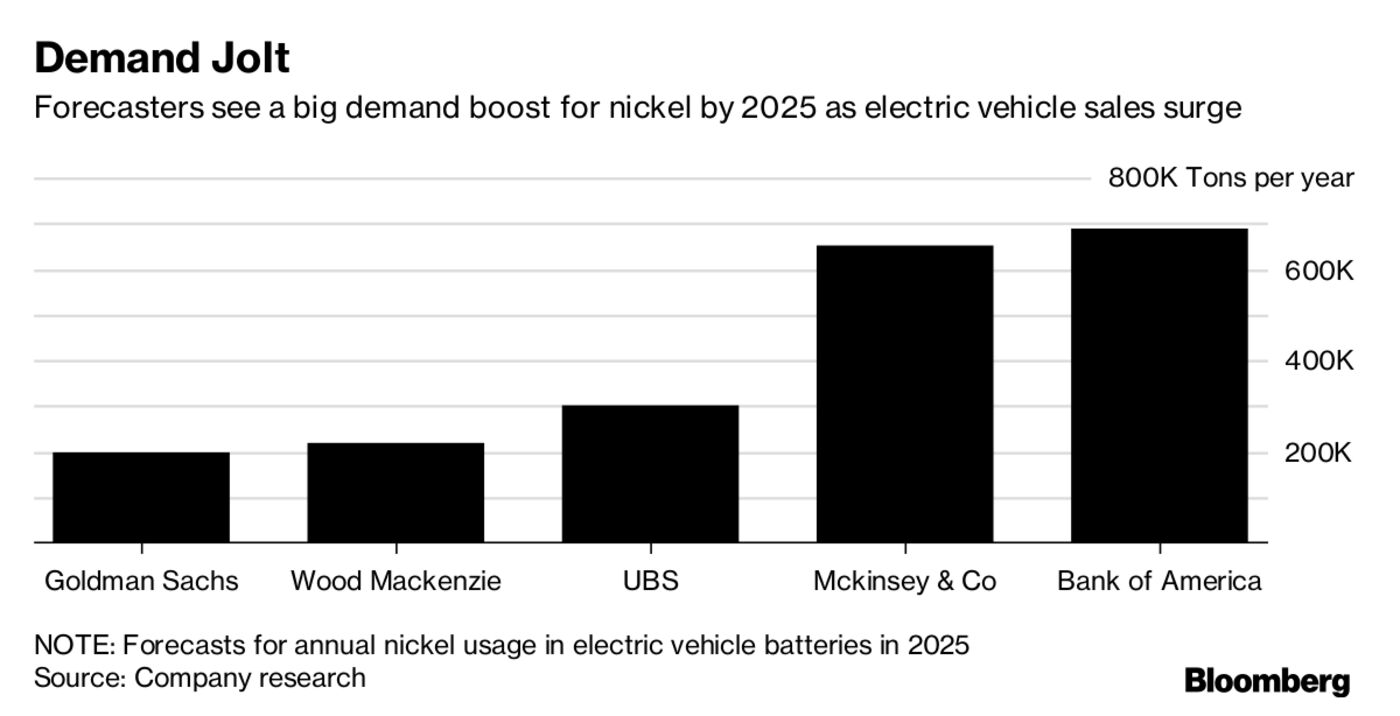 "When you look structurally, we should start to get bullish now," Rahim said. "Are you going to be able to meet that demand when the time comes, given underinvestment in the supply side?"
His view echoes the outlook from Glencore, which told analysts recently that nickel production would need to increase 1.2 million tons by 2030, equal to more than half of current global output, to keep up with demand from the battery industry. Prices are currently more than double what it costs Glencore to mine the metal.
It's a surprising mood change for a market with a disastrous reputation. Nickel was long a thorn for Glencore, which was saddled with unprofitable operations following its takeover of Xstrata. It sold an Australian nickel mine, which Xstrata bought in 2007 for $2.4 billion, for just $19 million in 2015.
"The nickel industry's been a bit of a dog since about 2007," Oliver Ramsbottom, a partner at McKinsey & Co. in Tokyo, said by phone.
The battery industry could revive the fortunes of miners more than a decade after nickel collapsed from a peak of $51,600 a ton in 2007, when Indonesia and the Philippines started to flood the market with low-grade supply. Nickel currently trades at $11,870, up 18 percent for the year.
Future batteries will likely use more nickel and less cobalt, Rahim said. Cobalt prices have surged and the biggest source of supply is the Democratic Republic of Congo.
Still, some analysts are skeptical that the bullish scenarios will play out. Electric cars are still a niche industry and nickel oversupply remains a threat, with current stockpiles four times bigger than since the start of 2012.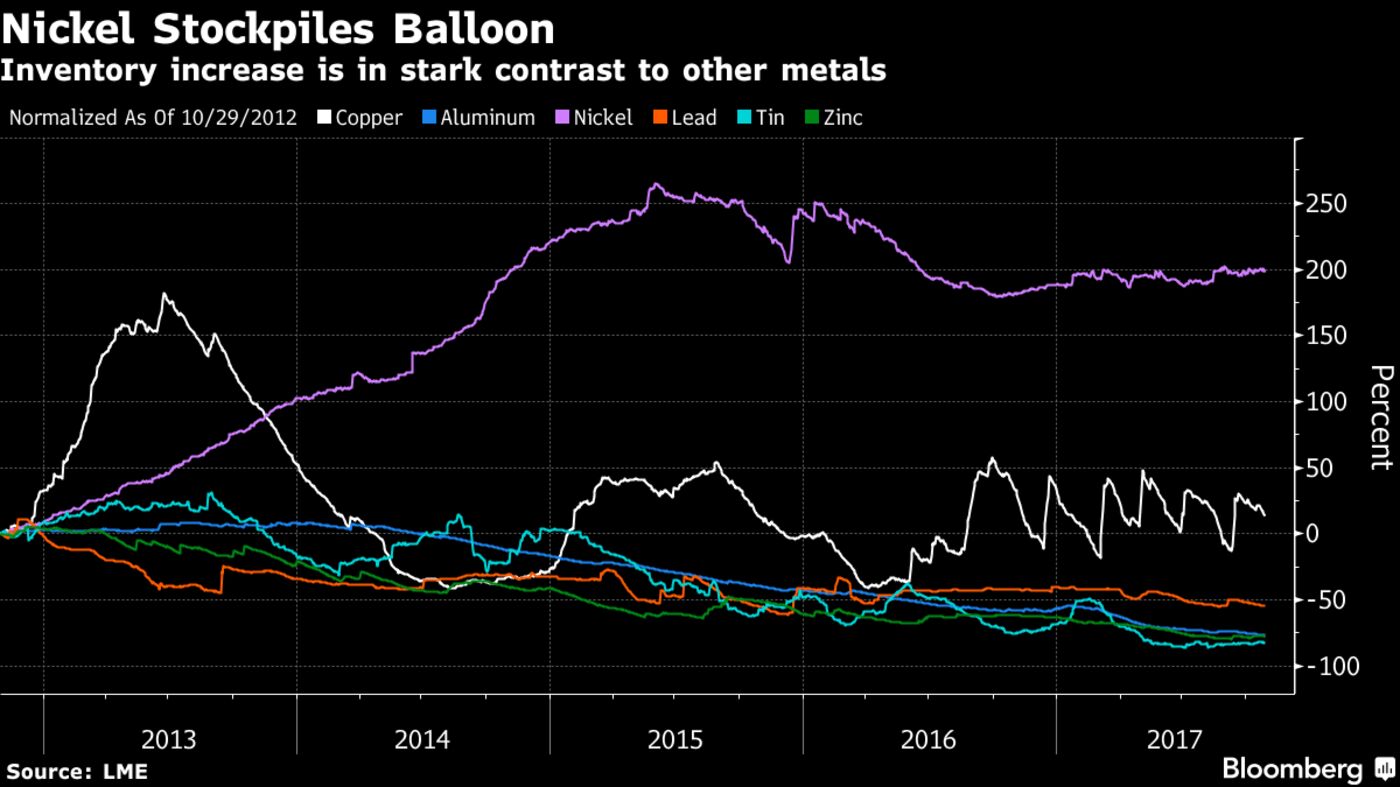 Indonesia has authorized its largest producer to export more nickel ore. The Philippines has also discussed ending a ban on open-pit mining, raising concerns that supply will spike.
"For years, the market has completely dismissed the idea that something positive could happen in nickel," Ingrid Sternby, senior research analyst at Blenheim Capital Management LLP, said in an interview in London. "With the recent announcements about Indonesia and the Philippines, it's easy to see why the market is still scary enough for people not to want to be involved."
About half of global nickel production is in the form of ferronickel or nickel pig iron, which is nickel alloyed with iron, making it suitable for stainless steel. Battery makers, instead, use nickel sulphate, produced by dissolving pure nickel metal in sulphuric acid.
One hope is that the pricing of nickel pig iron and the high-grade nickel sulphate will diverge in the coming years, improving the fortunes of miners that can produce battery-quality material.
Click here to continue reading...
Subscribe to the RSD email list and get the latest resource stock activity directly to your inbox, for free.
Subscribe to the RSD email list and get the latest resource stock activity directly to your inbox, for free.
MARKET SUMMARY
INDICES
| Name | Last | Change |
| --- | --- | --- |
| DOW | 24510.90 | 2.07% |
| S&P 500 | 2641.06 | 1.88% |
| NASDAQ | 6911.32 | 1.70% |
| TSX | 14865.89 | 1.38% |
| TSX-V | 600.56 | 0.00% |
Resource Commodities
| Name | Last | Change |
| --- | --- | --- |
| Gold | 1221.10 | 0.24% |
| Silver | 14.30 | 0.91% |
| Copper | 2.80 | 0.000 |
| Platinum | 840.00 | 1.37% |
| Oil | 56.76 | 0.53% |
| Natural Gas | 4.70 | 9.11% |
| Uranium | 29.18 | 0.17% |
| Zinc | 1.22 | 0.00% |