Copper in London surged to the highest level since 2014 after China ordered its top producer to halt output to combat winter pollution, adding further impetus to a rally in the metal this year that's been driven by optimism about demand as well as supply disruptions at mines.
Copper rose as much as 1.2 percent to $7,210 a metric ton as trade resumed after the Christmas break, and was at $7,187 at 10:06 a.m. in London. Gains now run to nine days, the longest streak since 2004 with the metal up nearly 30 percent this year, surpassed among LME metals only by aluminum.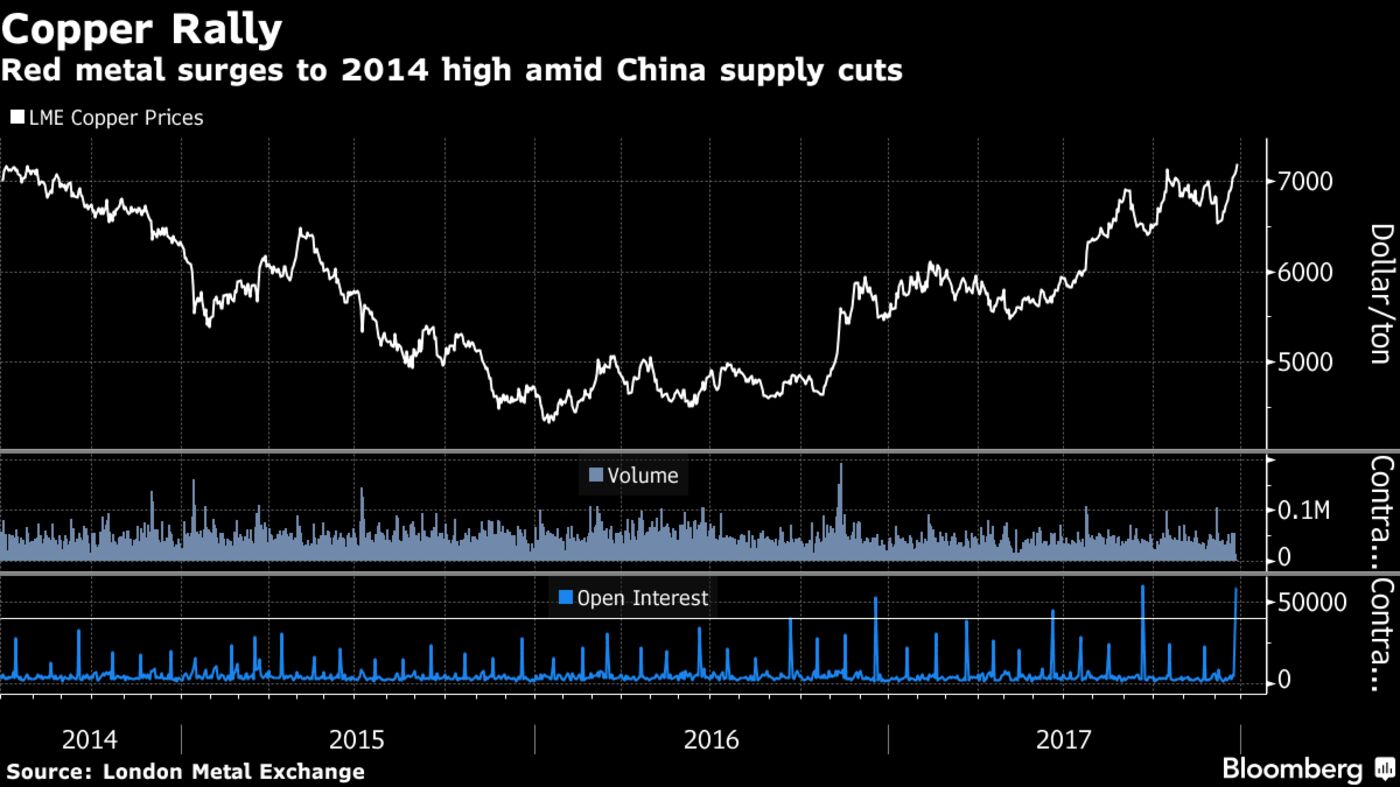 The advance in 2017 has been backstopped by supply disruptions just as the outlook for global growth improves and investors and miners target potential new uses, including in electric vehicles. The world's largest producer, Chile's Codelco, has forecast that prices may test record highs above $10,000, while UBS Group AG's wealth management unit on Wednesday predicted further gains.
"Supply cuts are set to boost prices in the short term, while further upside beyond $7,200 before the Lunar New Year might be limited," Pu Honggang, an analyst with ITG Futures Ltd., said from Xiamen, referring to China's nationwide break that falls in February next year. "It's still pending that supply will be shrinking to what extent, while domestic demand is very weak at year-end."
Production Halts
Copper's latest leg up follows news that Jiangxi Copper Co., China's largest producer, had been ordered to stop output for at least a week before a further assessment based on local pollution levels. Earlier in the month, the No. 2 smelter, Tongling Nonferrous Metals Group, was asked to make similar cuts.
Jiangxi Copper gained 3.4 percent in Hong Kong and Tongling Nonferrous added 0.7 percent in Shenzhen to the highest close since Nov. 9.
"Copper stocks are rising as investors are bullish on copper prices amid an improving demand outlook from the U.S. and Europe in particular," Yang Kunhe, an analyst with Pacific Securities Ltd., said by phone from Beijing. "The production cuts are temporary. A one-week halt won't cause too big a problem for Jiangxi Copper. Smelters can also adjust by moving forward their annual maintenance."
This quarter, Codelco said the company's projections showed a sustained increase in deficits and "we don't have any reason -- that we know of -- for closing them in the future." The International Copper Study Group said the global deficit was 181,000 tons in the first nine months of 2017.
Copper may rise to $7,400 a ton in 2018, Dominic Schnider, head of commodities and Asia-Pacific foreign exchange at UBS's wealth-management unit, told Bloomberg TV on Wednesday. Schnider listed the metal as among picks for next year, along with aluminum, which also faces cutbacks in China.
Click here to continue reading...
Subscribe to the RSD email list and get the latest resource stock activity directly to your inbox, for free.
Subscribe to the RSD email list and get the latest resource stock activity directly to your inbox, for free.
MARKET SUMMARY
INDICES
| Name | Last | Change |
| --- | --- | --- |
| DOW | 25302.40 | 1.60% |
| S&P 500 | 2761.62 | 1.72% |
| NASDAQ | 7482.09 | 2.15% |
| TSX | 15388.97 | 0.92% |
| TSX-V | 691.31 | 0.00% |
Resource Commodities
| Name | Last | Change |
| --- | --- | --- |
| Gold | 1226.25 | 0.35% |
| Silver | 14.58 | 0.07% |
| Copper | 2.77 | 0.000 |
| Platinum | 829.50 | 0.20% |
| Oil | 69.75 | 3.11% |
| Natural Gas | 3.32 | 2.44% |
| Uranium | 27.68 | 0.00% |
| Zinc | 1.19 | 0.00% |