Australia's Got a Lock on Supply of the Metal Used for EV Batteries
Ground zero in the global scramble for lithium is a small patch of northern Australia's iron-ore rich outback, where work is accelerating to deliver the world's next major mines to feed soaring demand from electric vehicle battery makers.
Almost 60 percent of supply from planned large projects through about the next five years will be added in Australia, enabling the top supplier of lithium to cement its grip on the market, according to CRU Group. The biggest mines due to enter production next year are both about 120 kilometers (75 miles) from Port Hedland, the gateway to markets in China.
Pilbara Minerals Ltd. is targeting shipments to start in the second quarter of 2018 from its Pilgangoora project and advancing work on a potential expansion. Next door, Altura Mining Ltd. says it's on schedule to start output in the first quarter and is also preparing to rapidly boost output.
Along with nearby Mineral Resources Ltd.'s Wodgina mine -- the biggest known hard rock lithium deposit -- these and other projects form an emerging cluster of global production, according to both Altura and Pilbara.
If project expansions advance as planned, the region "would be the largest production center in the world," Pilbara Chief Executive Officer Ken Brinsden said Thursday in an interview in Port Hedland. "In my mind, that could be the case by the early to mid-2020s."
There's been a rise in interest in recent weeks from consumers outside China, including from South Korea and Europe, also scouting for supply deals, Brinsden said.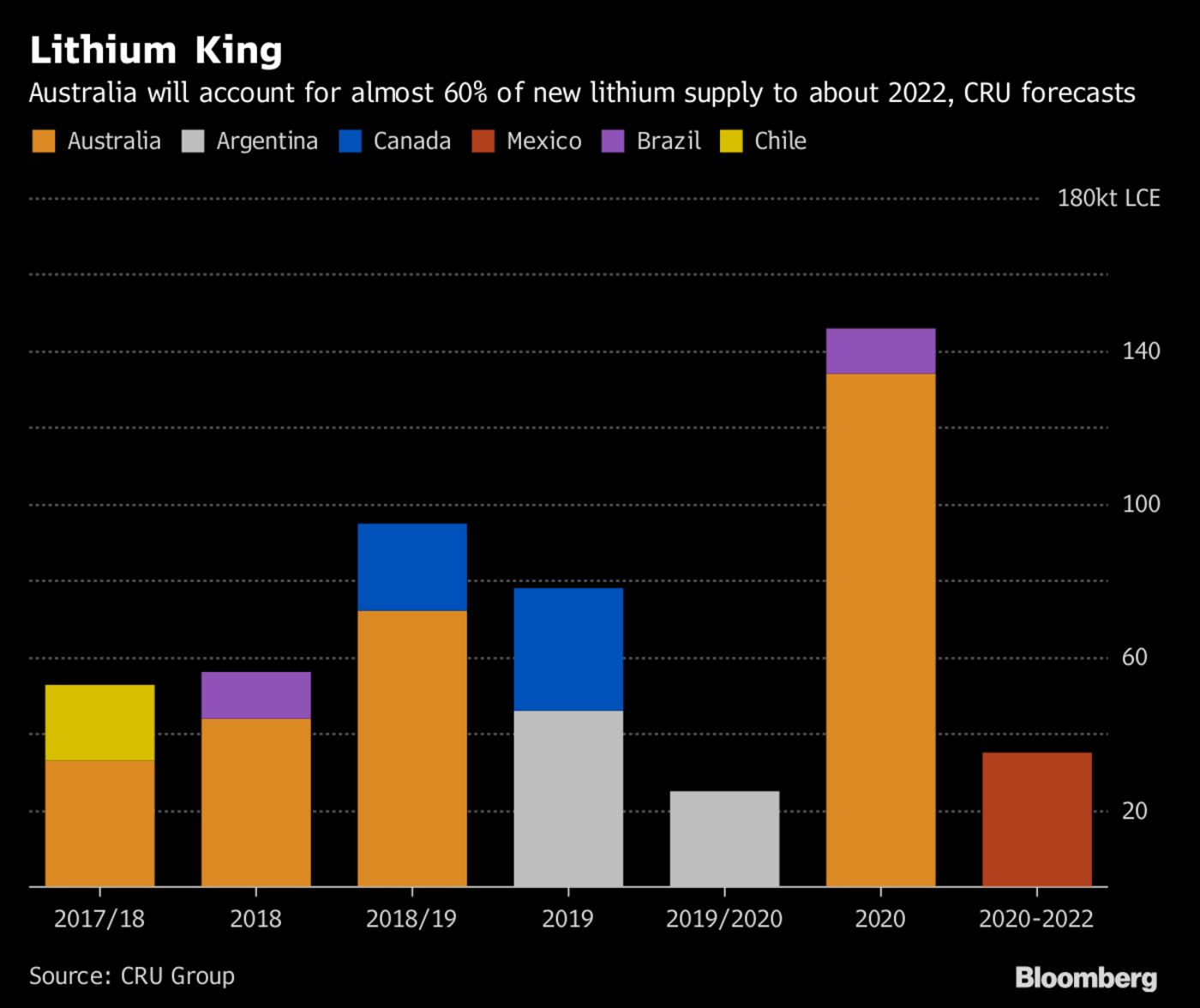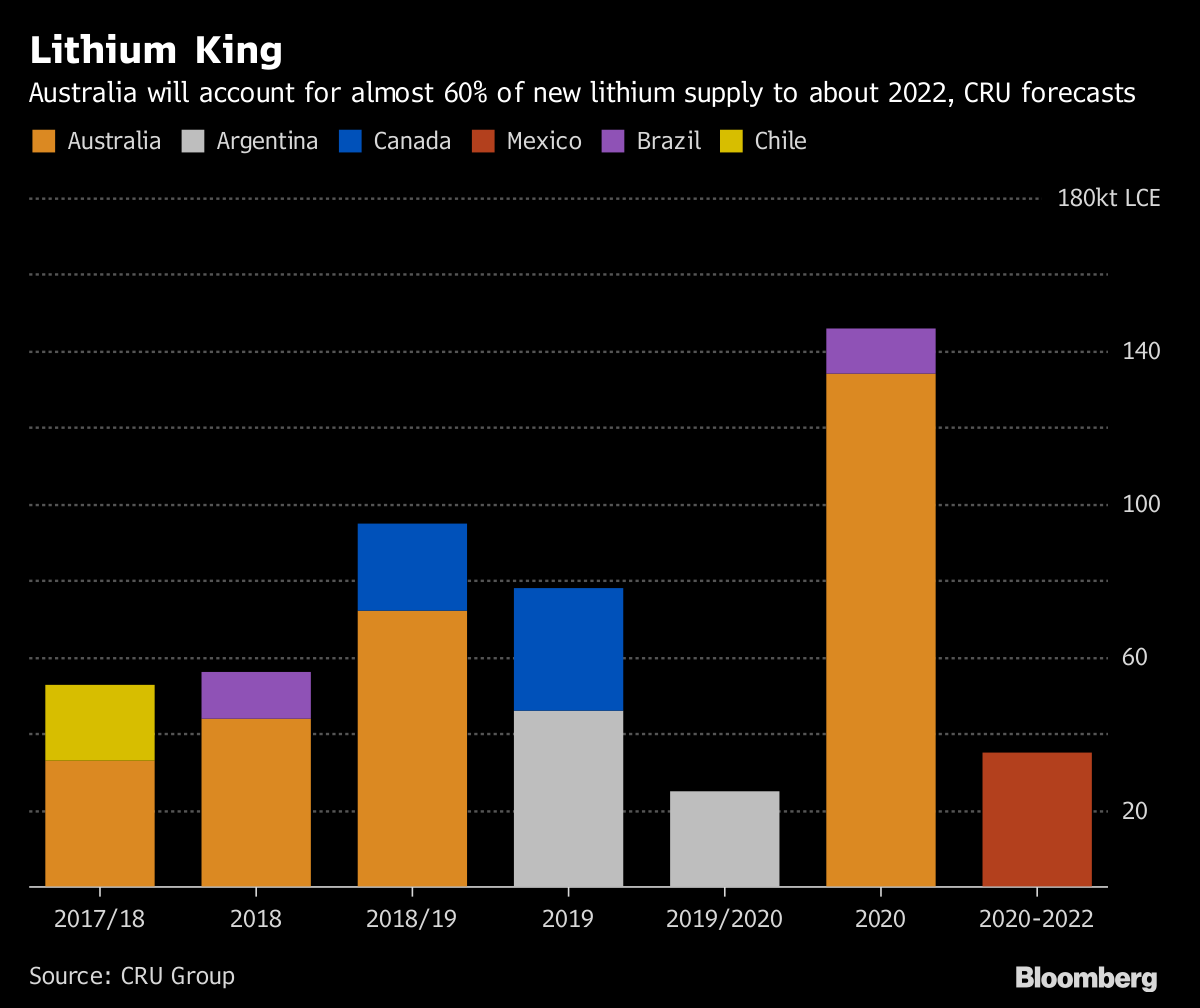 Rising Chinese demand for lithium-ion batteries needed for electric vehicles and energy storage is driving significant price gains. More than half of all new car sales and a third of the total global light-duty vehicle fleet will be electric by 2040, Bloomberg New Energy Finance said in a July report.
Even as multiple new sources of supply emerge in the longer term, Australia will remain dominant, according to Bloomberg New Energy Finance forecasts. The nation will account for about 37 percent of production in 2027, ahead of Argentina's 18 percent share, it said in a report this month.
"Australia's importance has been cemented by offtake deals and equity investments in mines," Alice Yu, a Hong Kong-based consultant at CRU, said by phone. Backing from major battery manufacturers and auto producers could also see the nation add processing facilities to develop exports of higher-value lithium chemicals, she said.
Click here to continue reading...
Subscribe to the RSD email list and get the latest resource stock activity directly to your inbox, for free.
Subscribe to the RSD email list and get the latest resource stock activity directly to your inbox, for free.
MARKET SUMMARY
INDICES
| Name | Last | Change |
| --- | --- | --- |
| DOW | 24510.90 | 2.07% |
| S&P 500 | 2641.06 | 1.88% |
| NASDAQ | 6911.32 | 1.70% |
| TSX | 14865.89 | 1.38% |
| TSX-V | 600.56 | 0.00% |
Resource Commodities
| Name | Last | Change |
| --- | --- | --- |
| Gold | 1221.10 | 0.24% |
| Silver | 14.30 | 0.91% |
| Copper | 2.80 | 0.000 |
| Platinum | 840.00 | 1.37% |
| Oil | 56.76 | 0.53% |
| Natural Gas | 4.70 | 9.11% |
| Uranium | 29.18 | 0.17% |
| Zinc | 1.22 | 0.00% |