Lithium Miners News For The Month Of October 2017
Summary
Lithium spot and contract price news - Lithium spot prices rise slightly.
Lithium market news - Sam Jaffe sees lithium-ion battery demand rising from 80 GWh this year to 750 GWh in 2026. That's a staggering ~10 fold increase in 10 years.
Lithium company news - Pilbara Minerals lands an off-take funding and equity deal with China's Great Wall Motors.
Welcome to the October 2017 edition of the lithium miner news. This month we have now seen car companies signing off-take agreements directly with lithium miners to secure lithium supply with the Great Wall Motors (OTCPK:GWLLF) (OTCPK:GWLLY) deal with Pilbara Minerals. This marks a new stage where the car manufacturers are starting to realize the need to lock in their EV metals supply well in advance.
It was another great month for lithium stocks. I first wrote "Lithium Miners Are Booming As Lithium Spot Prices Rise - Which Lithium Companies Should I Buy?" Back then, if you were an early follower of mine, you could have bought SQM for $US19.99, FMC for US$38.16, and Albemarle for US$64.50. Now that was great buying! But don't worry if you have not bought yet, we are still in the first stage of the EV boom with EV market share globally only at ~1%.
Lithium spot and contract price news
During October, 99.5% lithium carbonate China spot prices were up 1.5%, and are up 23% over the past year. Of note, lithium cobalt oxide China spot prices were up 0.33% for the month, and 16.91% over the past year. Of interest, China lithium carbonate prices have risen above lithium hydroxide prices.
China Lithium spot price chart 2015 to 2017

Source: Galaxy resources October 2017 presentation
Lithium Carbonate price comparisons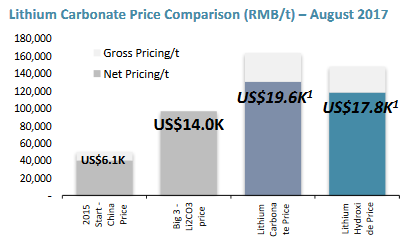 Source: Galaxy resources October 2017 presentation
Lithium demand versus supply outlook
UBS lithium demand forecasts to 2025 - 17% CAGR
My model forecasts ~500ktpa by 2020 (at 6% EVs), and ~1.3mtpa by 2025 (at 20% EVs). The difference is mostly due to UBS forecasting EVs at 2.1% penetration by 2020, and 13.7% by 2025. At least we are getting closer!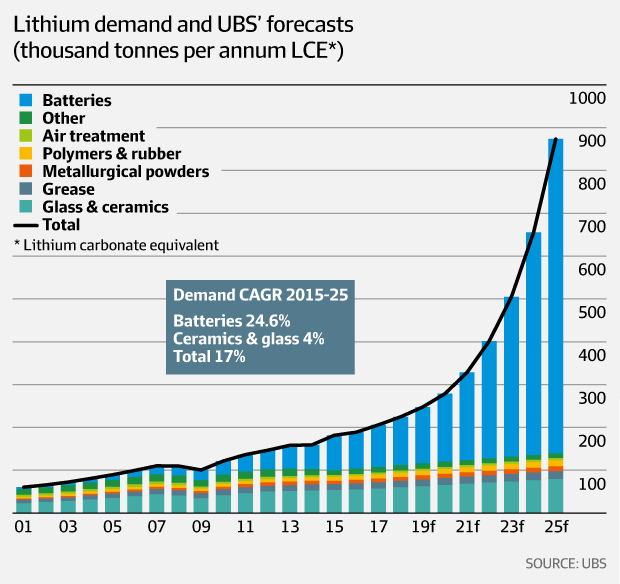 Lithium cost of production comparisons
The bar chart below shows the brine projects have cheaper costs of production (with higher start up costs and time to production), and the mineral (spodumene) projects have higher costs of production (with lower start up costs and time to production).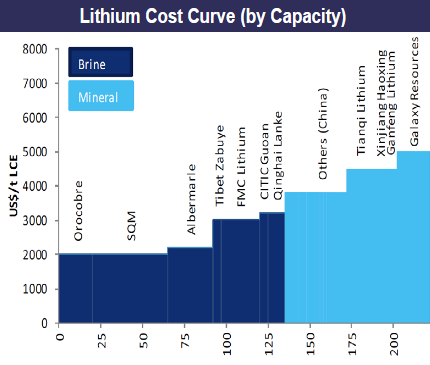 Source: Argosy Minerals October 2017 presentation
Lithium demand forecast to increase by 50ktpa LCE each year to 2020
The lithium industry will most likely need one or two new lithium projects to come online each year to meet surging lithium demand from EVs.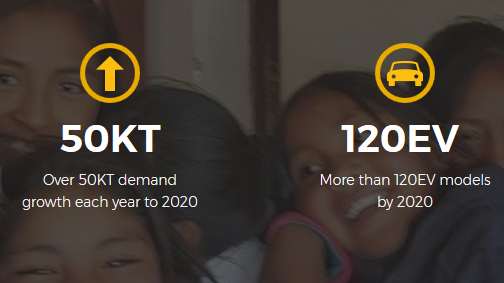 On October 26, Bloomberg wrote, "Australia's got a lock on supply of the metal used for EV batteries. Almost 60 percent of supply from planned large projects through about the next five years will be added in Australia, enabling the top supplier of lithium to cement its grip on the market, according to CRU Group. "Australia's importance has been cemented by off-take deals and equity investments in mines," Alice Yu, a Hong Kong-based consultant at CRU, said by phone. Backing from major battery manufacturers and auto producers could also see the nation add processing facilities to develop exports of higher-value lithium chemicals, she said."
Lithium growth in supply by country forecast 2017-2022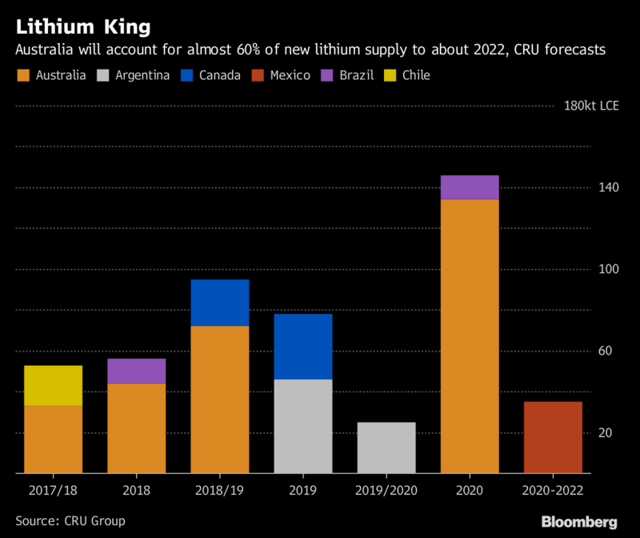 Source: CRU
Western Australia has become a global lithium growth center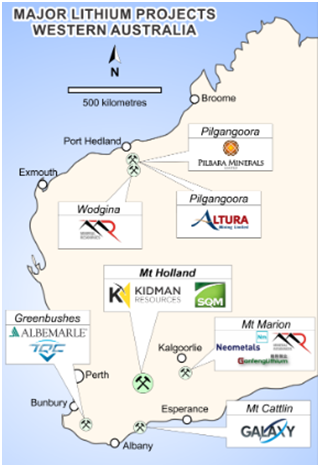 Source: Kidman Resources October 2017 company presentation
Lithium battery and market news
During the month, I came across an excellent graphic which gives a great summary of the various lithium-ion battery types and the various metal compositions. Apologies it is slightly blurry as the source was already this way.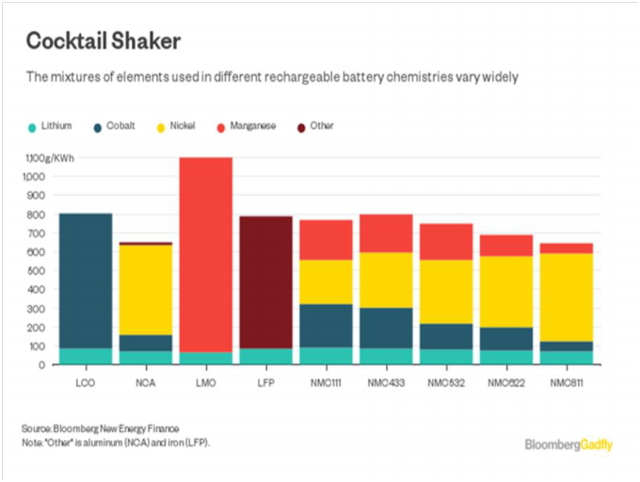 Source: Bloomberg New Energy Finance
On September 29, Yahoo News reported, "Panasonic [JP:6752](OTCPK:PCRFY) to launch new auto battery line at ex-TV screen plant in Japan, accelerating its battery drive to meet anticipated demand for electric vehicles."
On October 3, Toshiba announced, "Toshiba develops next-generation lithium-ion battery with new anode material.
New battery realizes driving range of electric vehicles boosted to 320km on 6-minute, ultra-rapid recharge, triple that possible with current lithium-ion battery.
New anode material, titanium niobium oxide achieves double the capacity of the anode of current lithium-ion batteries."
"Rather than an incremental improvement, this is a game changing advance that will make a significant difference to the range and performance of EV. We will continue to improve the battery's performance and aim to put the next-generation SCiB into practical application in fiscal year 2019."
Very impressive move by Toshiba.
Click here to continue reading...
Subscribe to the RSD email list and get the latest resource stock activity directly to your inbox, for free.
Subscribe to the RSD email list and get the latest resource stock activity directly to your inbox, for free.
MARKET SUMMARY
INDICES
| Name | Last | Change |
| --- | --- | --- |
| DOW | 24510.90 | 2.07% |
| S&P 500 | 2641.06 | 1.88% |
| NASDAQ | 6911.32 | 1.70% |
| TSX | 14865.89 | 1.38% |
| TSX-V | 600.56 | 0.00% |
Resource Commodities
| Name | Last | Change |
| --- | --- | --- |
| Gold | 1221.10 | 0.24% |
| Silver | 14.30 | 0.91% |
| Copper | 2.80 | 0.000 |
| Platinum | 840.00 | 1.37% |
| Oil | 56.76 | 0.53% |
| Natural Gas | 4.70 | 9.11% |
| Uranium | 29.18 | 0.17% |
| Zinc | 1.22 | 0.00% |