World of Metals Comes to London for LME Week: What You Need to Know
Metals traders and mining executives are descending on London for a week of meetings and parties for LME Week, one of the biggest events of the year for the metals world. With zinc at a decade high and copper enjoying the best year since 2010, here's what everyone is talking about.
Rocketing Returns
Cash is coming back to the metals market. Copper, aluminum, lead and zinc have soared more than 20 percent in 2017 on improving demand and supply constraints driven by Chinese curbs and years of underinvestment.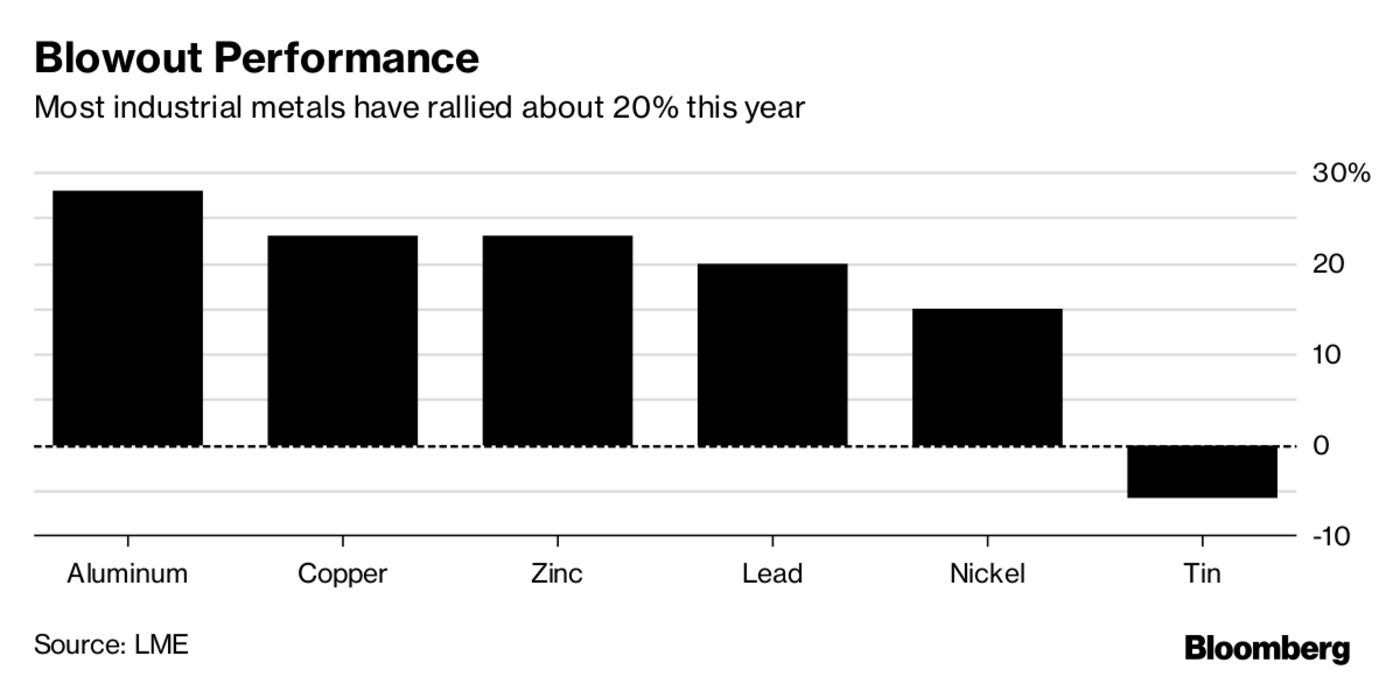 ETFS Industrial Metals, the biggest exchange-traded product tracking base metals, took in $64 million this year, swelling its assets to $314 million. Glencore Plc and Anglo American Plc shares are up more than 20 percent.
"What is there not to like at the moment?" Ingrid Sternby, a senior analyst at Blenheim Capital Management LLP, said in an interview in London. "The positive price performance in base metals this year is going to attract new investor interest, and commodities are looking increasingly attractive."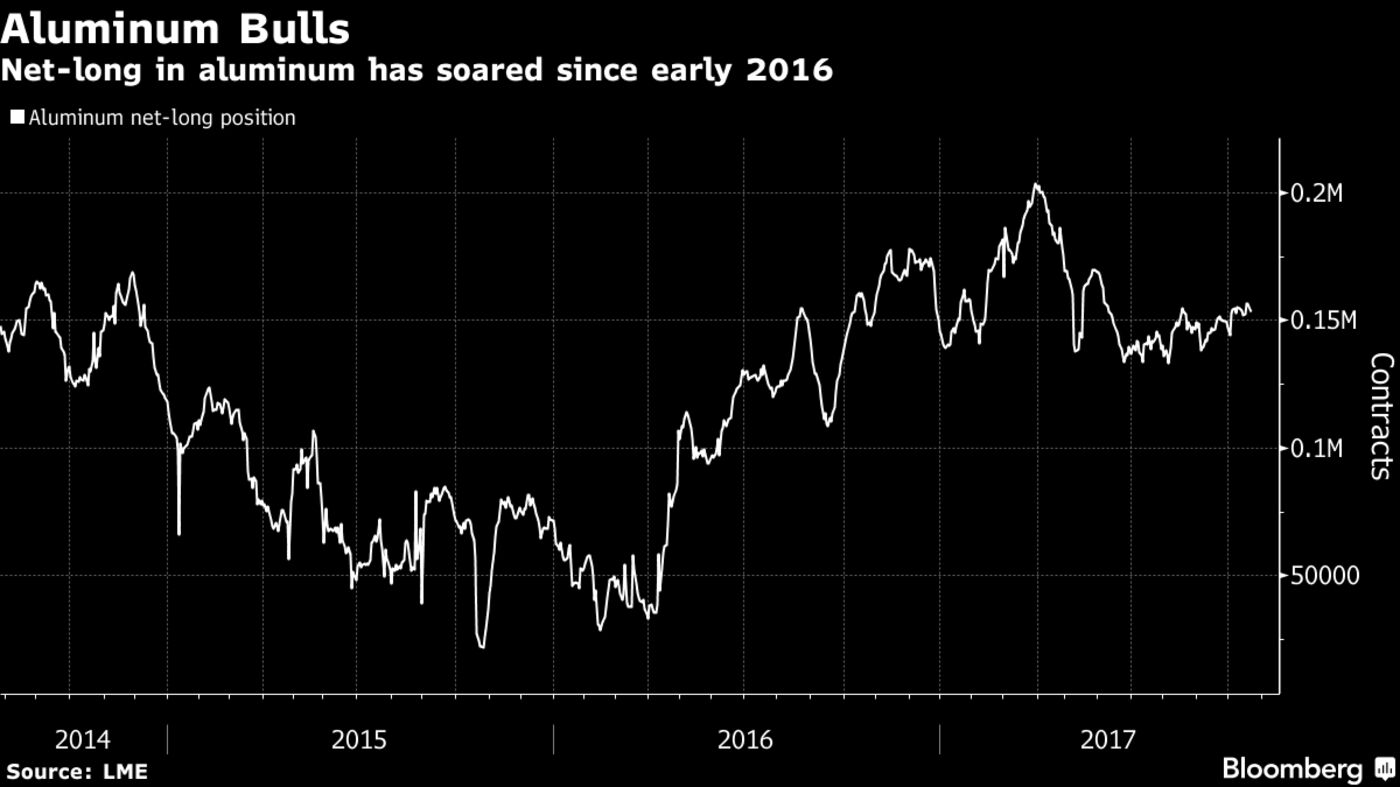 Stocks Squeezed
LME inventories are back at levels from 2008, having finally worked through a massive glut that emerged after the financial crisis. That's leading to more volatility in the forward price curve and opening up opportunities for physical traders like Glencore and Trafigura Group Pte.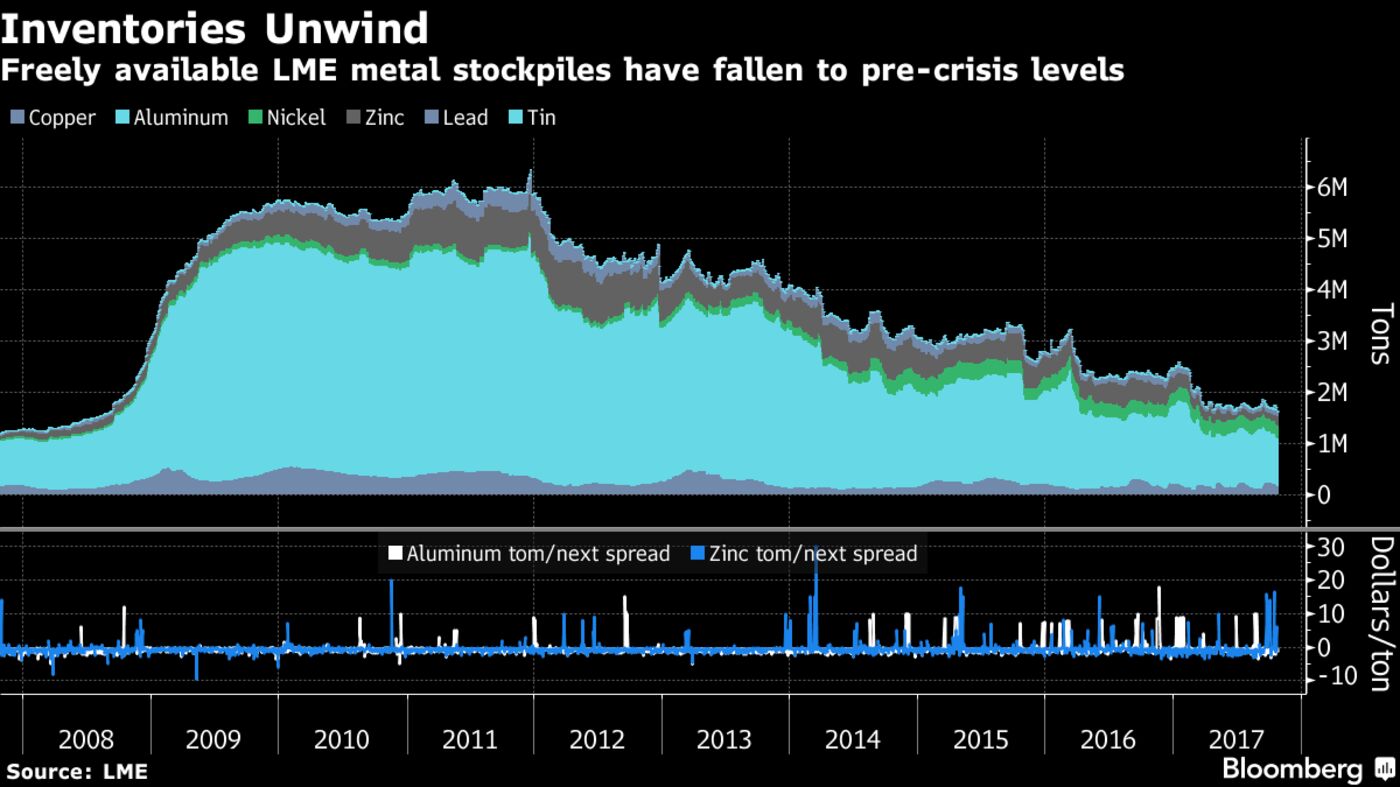 Zinc Shortages
The squeeze is most pronounced in zinc. The metal has been in backwardation, a situation when near-dated contracts are more expensive than later ones, for more than a month. Plus, exchange inventories are running low, creating the possibility of shortages and more volatility in regional premiums, which cover the cost of delivery.
"The potential for a spike is certainly the highest it's been in a very long time," Colin Hamilton, head of metals research at BMO Capital Markets, said by phone from London. "We're looking at a very strong demand outlook for the first half of the year."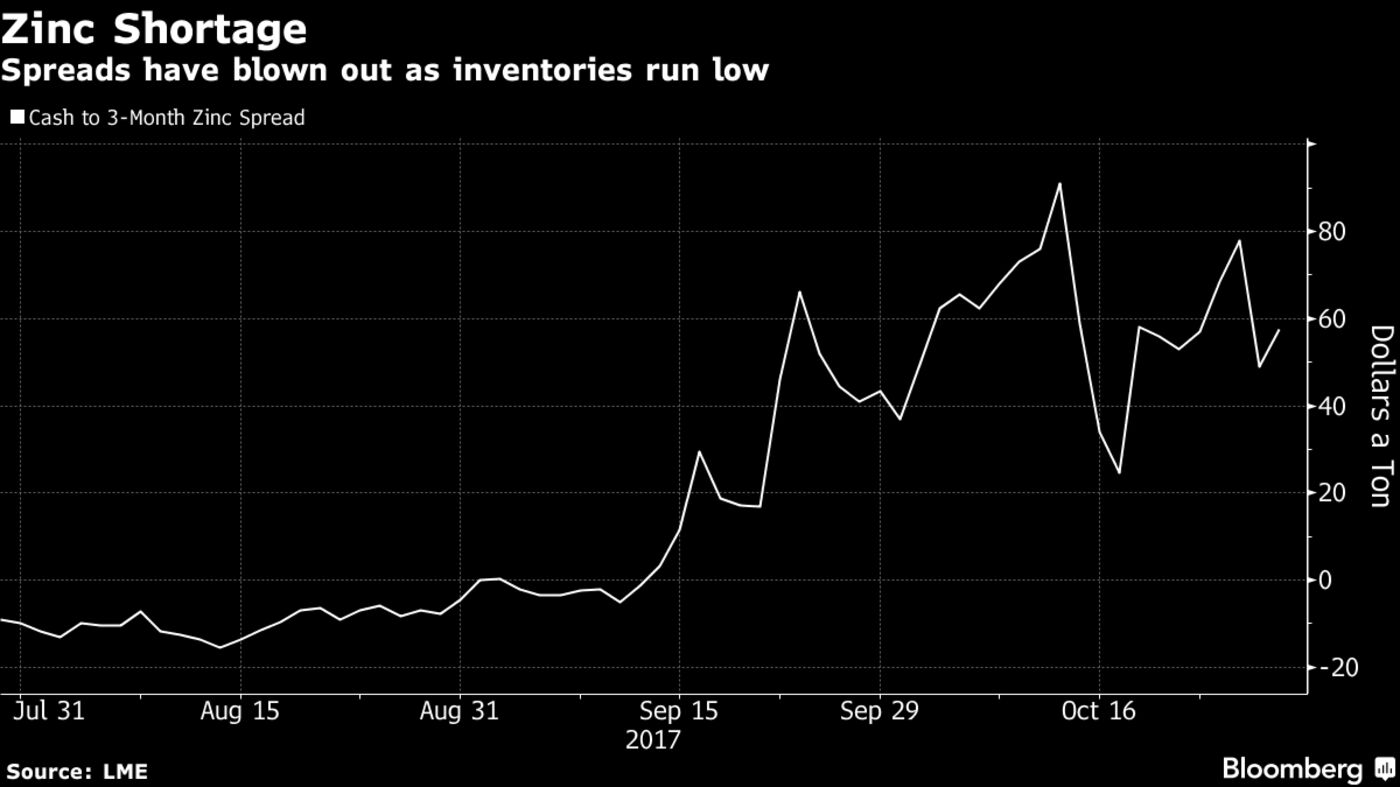 Traders will be watching Glencore's production report on Monday to see if the world's largest zinc producer decides to restart mines. It's likely to bring supply back to the market in small increments, starting in 2018, Vivienne Lloyd, an analyst at Macquarie Group Ltd. in London, said earlier this month.
Click here to continue reading...
Subscribe to the RSD email list and get the latest resource stock activity directly to your inbox, for free.
Subscribe to the RSD email list and get the latest resource stock activity directly to your inbox, for free.
MARKET SUMMARY
INDICES
| Name | Last | Change |
| --- | --- | --- |
| DOW | 24487.70 | 2.16% |
| S&P 500 | 2647.29 | 1.64% |
| NASDAQ | 6903.75 | 1.81% |
| TSX | 14881.76 | 1.27% |
| TSX-V | 599.20 | 0.00% |
Resource Commodities
| Name | Last | Change |
| --- | --- | --- |
| Gold | 1221.10 | 0.24% |
| Silver | 14.30 | 0.84% |
| Copper | 2.80 | 0.000 |
| Platinum | 840.00 | 1.37% |
| Oil | 56.76 | 0.53% |
| Natural Gas | 4.70 | 9.11% |
| Uranium | 29.18 | 0.17% |
| Zinc | 1.22 | 0.00% |