Big Oil Just Woke Up to Threat of Rising Electric Car Demand
The world's biggest oil producers are starting to take electric vehicles seriously as a long-term threat.
OPEC quintupled its forecast for sales of plug-in EVs, and oil producers from Exxon Mobil Corp. to BP Plc also revised up their outlooks in the past year, according to a study by Bloomberg New Energy Finance released on Friday. The London-based researcher expects those cars to reduce oil demand 8 million barrels by 2040, more than the current combined production of Iran and Iraq.
Growing popularity of EVs increases the risk that oil demand will stagnate in the decades ahead, raising questions about the more than $700 billion a year that's flowing into fossil-fuel industries. While the oil producers' outlook isn't nearly as aggressive as BNEF's, the numbers indicate an acceleration in the number of EVs likely to be in the global fleet.
"The number of EVs on the road will have major implications for automakers, oil companies, electric utilities and others," Colin McKerracher, head of advanced-transport analysis at BNEF in London, wrote in a note to clients. "There is significant disagreement on how fast adoption will be, and views are changing quickly."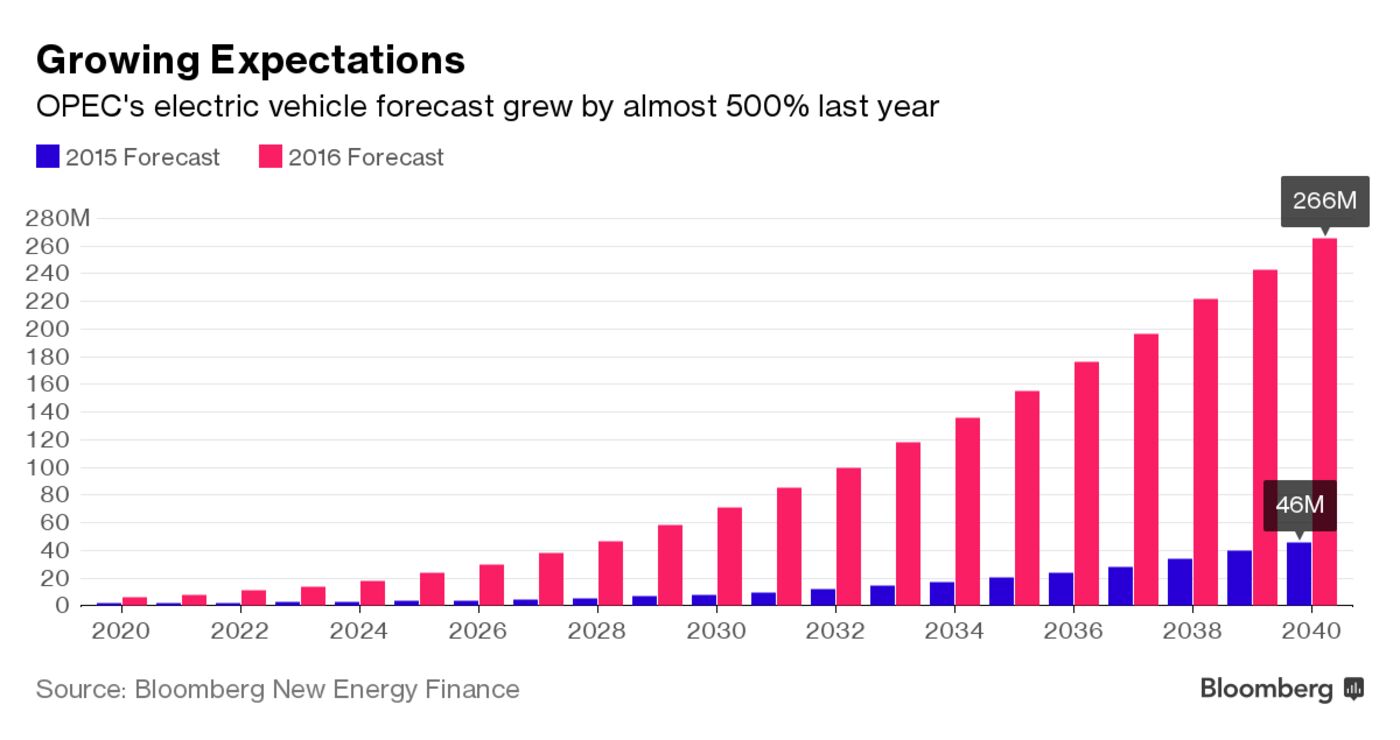 BNEF expects electric cars to outsell gasoline and diesel models by 2040, reflecting a rapid decline in the cost of lithium-ion battery units that store power for the vehicles. It expects 530 million plug-in cars on the road by 2040, a third of worldwide total number of cars.
The Organization of Petroleum Exporting Countries raised its 2040 EV fleet prediction to 266 million from the 46 million it anticipated a year ago. Battery cars under the new projection account for 12 percent of the market within 23 years, compared to 2 percent in the 2015 forecast. Based in Vienna, the group representing 14 nations expects half the number diesel vehicles as it did a year ago.
Others making similar expectations according to the BNEF note include:
The International Energy Agency more than doubled its central forecast for EVs, raising its 2030 EV fleet size estimate from to 58 million from 23 million.
Exxon Mobil boosted its 2040 estimate to about 100 million from 65 million.
BP anticipates 100 million EVs on the road by 2035, a 40 percent increase in its outlook compared with a year ago.
Statoil ASA, the Norwegian state oil company, says EVs will account for a 30 percent of new sales by 2030.
Click here to continue reading...
Subscribe to the RSD email list and get the latest resource stock activity directly to your inbox, for free.
Subscribe to the RSD email list and get the latest resource stock activity directly to your inbox, for free.
MARKET SUMMARY
INDICES
| Name | Last | Change |
| --- | --- | --- |
| DOW | 24462.90 | 0.83% |
| S&P 500 | 2670.14 | 0.86% |
| NASDAQ | 7146.13 | 1.29% |
| TSX | 15484.32 | 0.19% |
| TSX-V | 804.96 | 0.00% |
Resource Commodities
| Name | Last | Change |
| --- | --- | --- |
| Gold | 1333.21 | 0.18% |
| Silver | 17.09 | 0.23% |
| Copper | 3.13 | |
| Platinum | 926.50 | 0.04% |
| Oil | 68.38 | 0.13% |
| Natural Gas | 2.74 | 2.88% |
| Uranium | 24.25 | N/A |
| Zinc | 1.47 | 0.00% |