BMW Aims for a 50% Increase in Electric Vehicle Sales Next Year
BMW AG is targeting another ambitious hike in plug-in hybrid and battery car sales next year to defend its position in the electric-car shift as competitors like Volkswagen AG ready their own battery lineups.
The planned increase to about 150,000 cars sold would represent a 50 percent rise from this year, and a jump of about two-thirds from last year's deliveries of green cars. BMW, an early mover in the electric-car shift with 2013's i3, is facing increasing competition from rivals like Mercedes-Benz and Volkswagen.
"We'll definitely boost sales by a mid-double digit amount,'' Klaus Froehlich, who heads development for BMW, told reporters in Munich. "This is to stay ahead of the competition that's starting to do its own rollout.''
Faced with tightening emissions regulation, BMW and other carmakers are spending record amounts developing a more attractive suite of electric cars to kick-start sluggish consumer sales. The payoff remains uncertain, as high battery prices will squeeze returns compared to equivalent combustion engine vehicles -- at least for a number of years. Demand for the vehicles remains at a fraction of total auto sales, with BMW's target paling compared to its total 2016 deliveries of 2.4 million vehicles.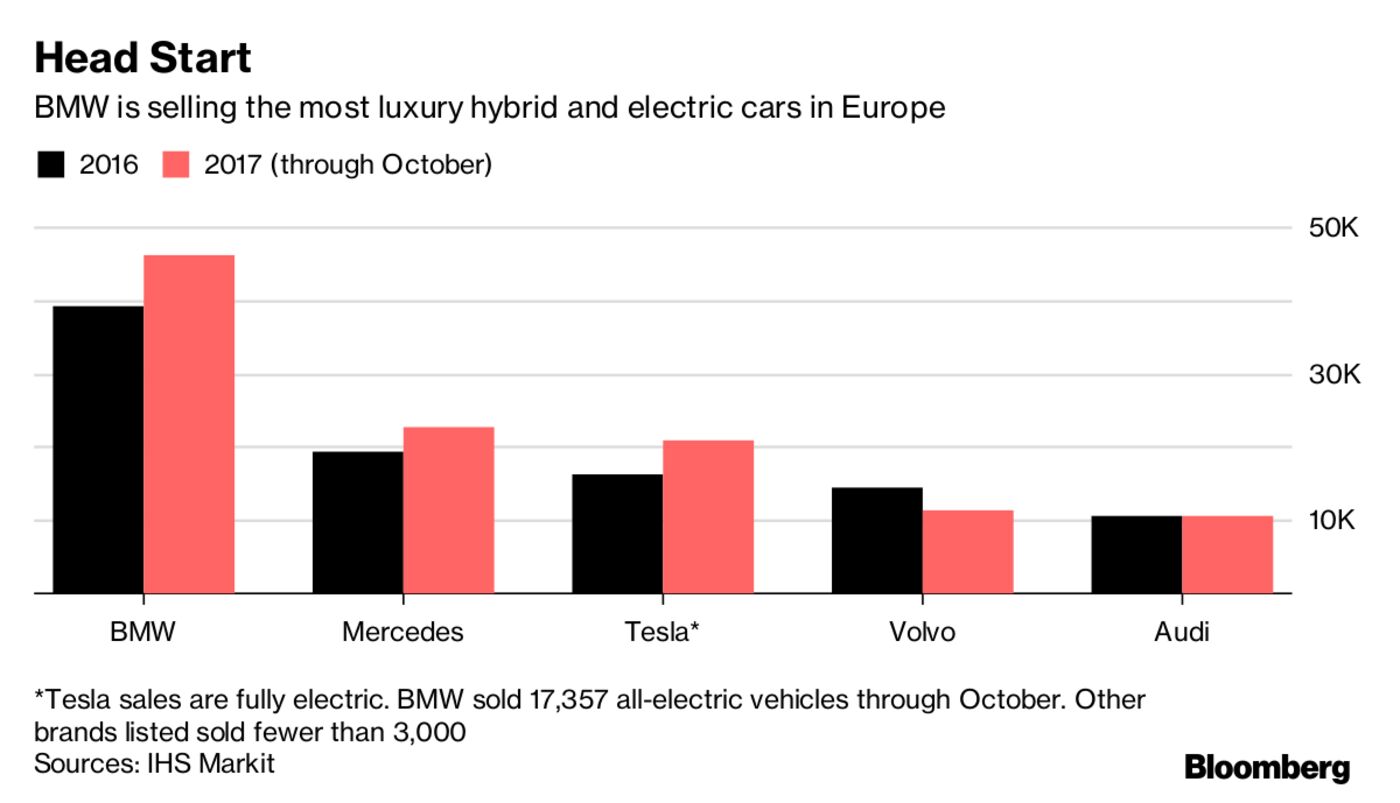 To help pay for the shift, BMW will start sales next year of the all-new X7 SUV and 8-Series coupe, priced at around 100,000 euros ($119,000). The expanded top-line segment will go head-to-head with Mercedes-Benz's luxury variants like the S-Class coupe and Maybach sub-brand. Unlike Mercedes's parent Daimler AG, also the world's biggest commercial vehicle maker, or 12-brand behemoth Volkswagen, BMW has less opportunity to spread development costs of its suite of at least 12 all-electric cars by 2025. Volkswagen plans to offer 50 battery cars by then.
"Our goal for the luxury segment in the next few years is taking more market share,'' Chief Executive Officer Harald Krueger said in speech notes, adding that the new suite of luxury cars will be sold under the "Bayerische Motoren Werke'' signature. "In 2018, we're significantly enlarging our offering in this lucrative growth segment.''
BMW is in the midst of a record rollout of 40 all-new and revamped vehicles this year and next, seeking to wrest back global leadership of luxury car sales from Mercedes. Its Stuttgart, Germany-based rival overtook BMW last year for the first time in a decade, after overhauling a stodgy lineup with sportier styling and adding new models.
BMW's electric push coincides with the biggest transformation for the industry in decades, drawing in a host of new competitors like Tesla Inc.and Uber Technologies Inc. BMW last month flagged it'll spend 7 billion euros on research and development this year, as much as 2011 and 2012 taken together.
Tight Margins
Mercedes, meanwhile, said it's targeting savings of 4 billion euros by 2025, saying returns on electric cars could be roughly half of gasoline and diesel vehicles for some years. The concerns about mastering the pressures have pushed the valuations of BMW, Daimler and Volkswagen to the bottom four rungs in the DAX Index.
Click here to continue reading...
Subscribe to the RSD email list and get the latest resource stock activity directly to your inbox, for free.
Subscribe to the RSD email list and get the latest resource stock activity directly to your inbox, for free.
MARKET SUMMARY
INDICES
| Name | Last | Change |
| --- | --- | --- |
| DOW | 25320.60 | 0.08% |
| S&P 500 | 2757.94 | 0.33% |
| NASDAQ | 7441.64 | 0.74% |
| TSX | 15430.25 | 0.10% |
| TSX-V | 706.33 | 0.00% |
Resource Commodities
| Name | Last | Change |
| --- | --- | --- |
| Gold | 1228.46 | 0.78% |
| Silver | 14.73 | 0.88% |
| Copper | 2.79 | 0.000 |
| Platinum | 849.42 | 0.75% |
| Oil | 71.34 | 0.52% |
| Natural Gas | 3.16 | 1.93% |
| Uranium | 27.58 | 0.00% |
| Zinc | 1.21 | 0.00% |