Congo May More Than Double Tax on Critical Cobalt Supply
The Democratic Republic of Congo is preparing to more than double a tax on two-thirds of global cobalt supply, potentially increasing the cost of the critical battery metal just as the world begins to embrace electric vehicles.
Congo, the world's biggest cobalt producer, will increase the royalty miners pay on exports of the metal to 5 percent from 2 percent if it opts to categorize cobalt as a "strategic substance," Mines Minister Martin Kabwelulu told the country's Senate last week.
The new classification is part of an overhaul of mining legislation that is fiercely opposed by the industry, which says the law may deter future investment. Under the revised code, backed by the government and being scrutinized by parliament, the tax on base metals including copper and cobalt will increase to 3.5 percent from 2 percent. If approved by the Senate, the law will also allow the state to select "strategic" metals, likely to include cobalt, and tax them at a higher rate of 5 percent, Kabwelulu said.
A byproduct of copper and nickel mining used to harden steel, cobalt stepped into the global spotlight last year as prices surged. The metal's efficiency in conducting electricity has made it essential for rechargeable batteries used in electric cars produced by companies including Tesla Inc. and Volkswagen AG.
Prices Triple
Plans to dramatically increase the production of electric vehicles resulted in the price of the metal more than tripling in the past two years as miners and automakers scrambled to secure supply. The boom hasn't gone unnoticed in Congo, whose mines supply about two-thirds of global output.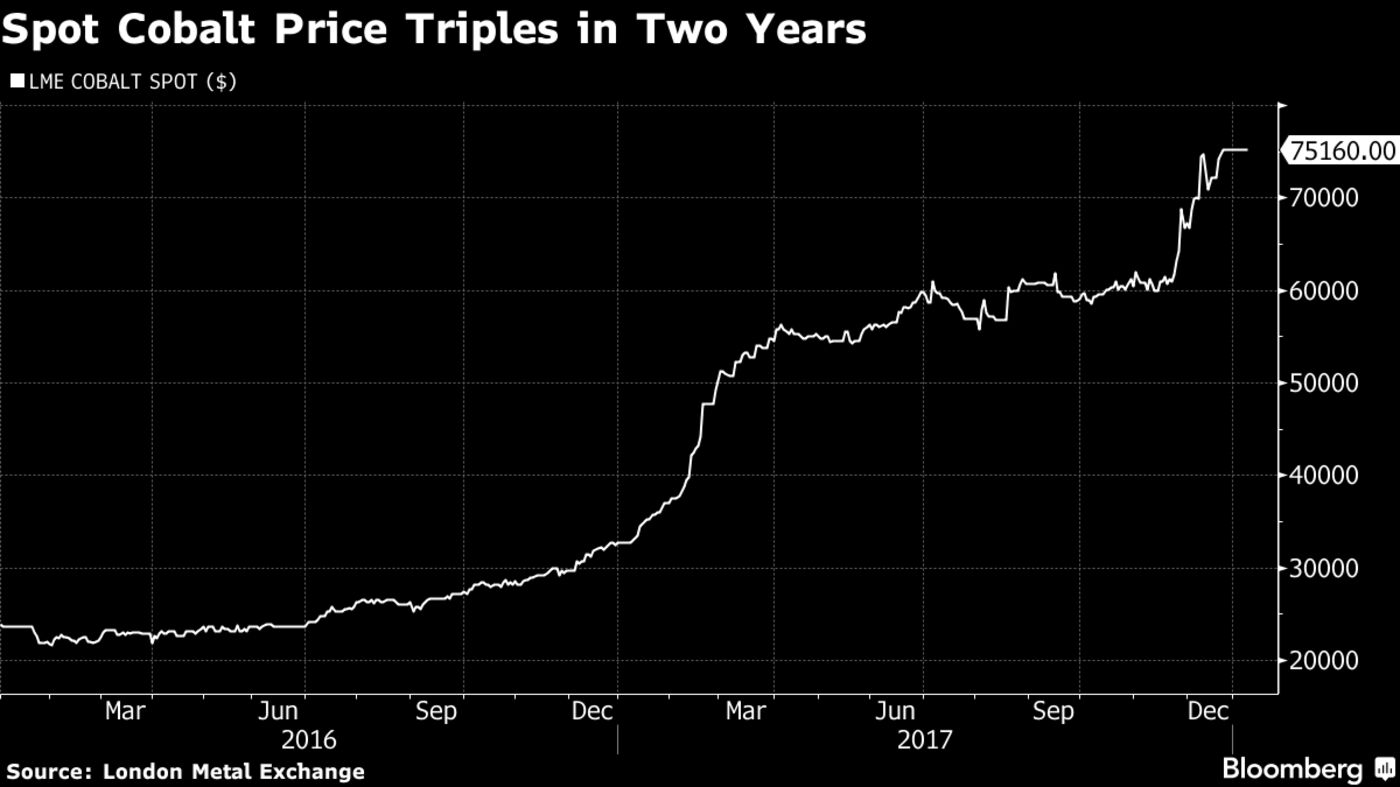 The new legislation will guarantee Congo "the flexibility to face unforeseen developments in the international market if the international economic situation demands it" by permitting the government to declare certain minerals "strategic substances," Kabwelulu told senators Jan. 5, according to a transcript of his remarks.
The minister singled out cobalt's "not only strategic but also critical character" on the world market. Tantalum, a scarce mineral extracted from so-called coltan ore and used in smartphones, could also be taxed at the higher rate, Kabwelulu said.
The current mining law, which was promoted by the World Bank and adopted in 2002, attracted billions of dollars of investment from mining companies including Glencore Plc and Randgold Resources Ltd. While the economy has grown, the government says the mining industry hasn't generated sufficient revenue for the state.
Click here to continue reading...
Subscribe to the RSD email list and get the latest resource stock activity directly to your inbox, for free.
Subscribe to the RSD email list and get the latest resource stock activity directly to your inbox, for free.
Part of the Stock Digest family of websites
MARKET SUMMARY
INDICES
| Name | Last | Change |
| --- | --- | --- |
| DOW | 24706.30 | 2.02% |
| S&P 500 | 2623.86 | 0.52% |
| NASDAQ | 7157.23 | 1.02% |
| TSX | 15354.16 | 0.33% |
| TSX-V | 598.08 | 0.00% |
Resource Commodities
| Name | Last | Change |
| --- | --- | --- |
| Gold | 1279.70 | 0.03% |
| Silver | 15.27 | 0.13% |
| Copper | 2.74 | 0.000 |
| Platinum | 796.72 | 0.35% |
| Oil | 53.80 | 3.22% |
| Natural Gas | 3.48 | 1.98% |
| Uranium | 28.88 | 0.00% |
| Zinc | 1.17 | 0.00% |