The World's Biggest Miner Is Building a Battery Supply Hub It Doesn't Want
Electric vehicles could hold the key to BHP Billiton Ltd. finally finding a buyer for its unwanted nickel operations.
The world's top miner is accelerating plans to transform Nickel West in Western Australia into a linchpin of the global supply chain for electric vehicle batteries. The switch in focus promises to woo new suitors after an aborted 2014 attempt to sell the business, a supplier to the stainless steel sector for about half a century.
Chief Executive Officer Andrew Mackenzie wants to sell Nickel West because it'll never be big enough to boost earnings meaningfully, even when it's producing raw materials for the booming electric vehicle industry. While the market to supply nickel for EVs may be worth about $4 billion by 2030, that's still way off the $100 billion annual global trade in iron ore that's the bedrock of BHP's business.
"The investment in Nickel West makes sense regardless," said James Eginton, an analyst at Sydney-based Tribeca Investments Partners Pty, a BHP shareholder that's urged the producer to extend its suite of commodities to tap rising battery demand. Efforts to refocus the business will either boost the value of a sale, or lift the unit's cash flow if the assets are retained, he said.
BHP began work to build a nickel sulphate plant at Nickel West in recent weeks and is considering a slate of further expansions to make it the largest source of the material and a hub for other battery ingredients. It's aiming to sell 90 percent of output into the battery supply chain by about 2021, from less than a third at the end of last year. Global nickel demand could more than double by 2050, fueled in part by rising electric vehicle sales, Bloomberg Intelligence said in a June report.
The world's biggest mining companies are ratcheting up their response to the booming demand for battery raw materials. Rio Tinto Group is developing a lithium project in Serbia, while Glencore Plc plans to double production of cobalt and is effectively "a one-stop-shop" for investors seeking exposure to EV gains, Sanford C. Bernstein Ltd. said in a note this month.
The good luck for BHP is that only about 40 to 45 percent of existing nickel mine supply is suitable for processing into a battery-grade chemical product, Melbourne-based UBS Group AG analyst Lachlan Shaw said by phone. "BHP's Nickel West fits into that category."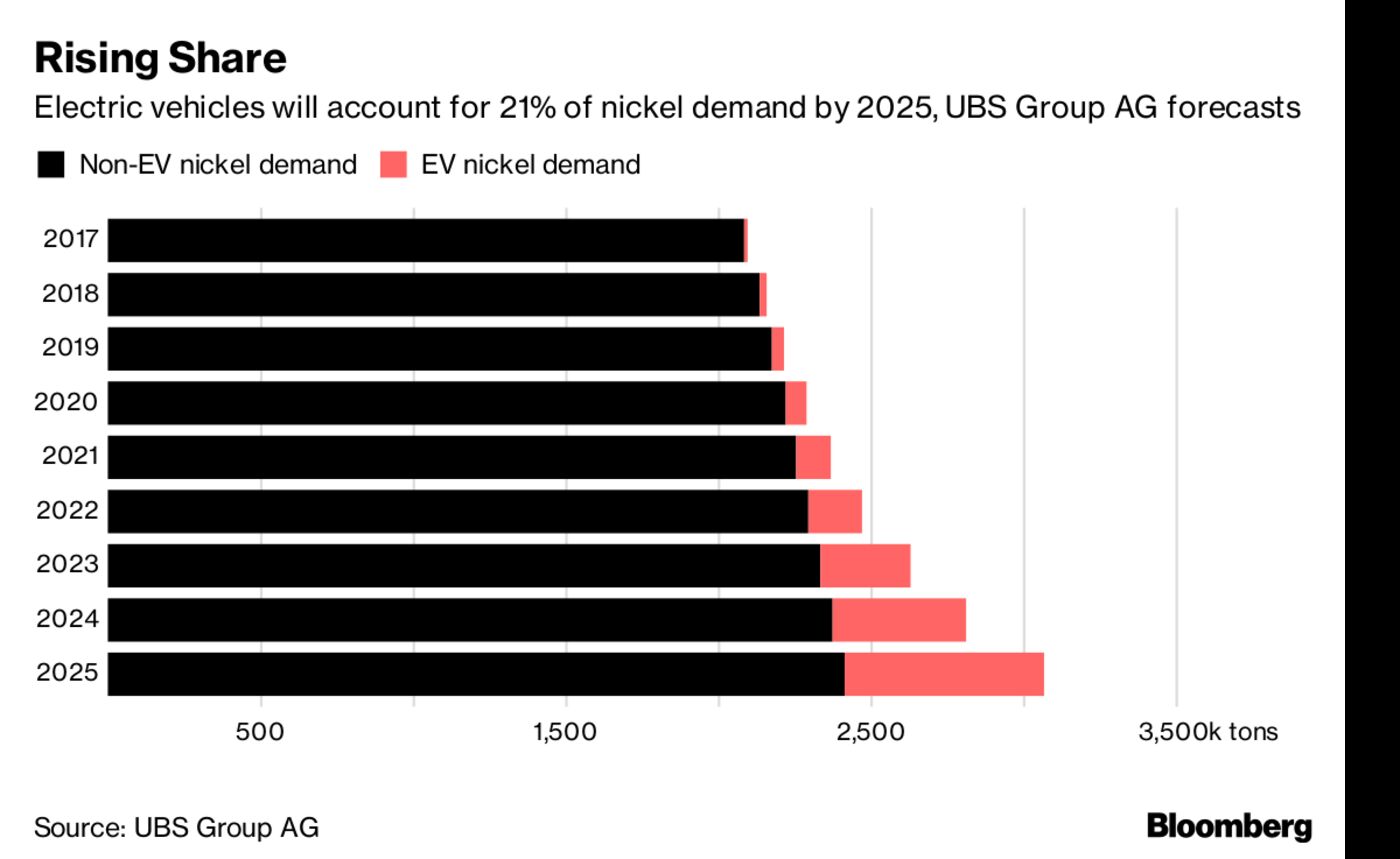 BHP rose 1.5 percent to 1,623.4 pence in London, the highest since 2014. Earlier BHP closed 0.4 percent lower at A$30.84 in Sydney trading.
The Nickel West unit, which held talks last year with five of the world's largest battery makers, is weighing an expansion to double output at the $43 million nickel sulphate project and looking at options to add cobalt sulphate production. The reboot could add 20 years to the life of a business previously seen as potentially closing early next decade.
It also will consider a potential move along the EV supply chain to provide precursors, combinations of the metals that are mixed and dried to be added to lithium in the next stage of battery cathode production.
Click here to continue reading...
Subscribe to the RSD email list and get the latest resource stock activity directly to your inbox, for free.
Subscribe to the RSD email list and get the latest resource stock activity directly to your inbox, for free.
Part of the Stock Digest family of websites
MARKET SUMMARY
INDICES
| Name | Last | Change |
| --- | --- | --- |
| DOW | 24706.30 | 2.02% |
| S&P 500 | 2623.86 | 0.52% |
| NASDAQ | 7157.23 | 1.02% |
| TSX | 15354.16 | 0.33% |
| TSX-V | 598.08 | 0.00% |
Resource Commodities
| Name | Last | Change |
| --- | --- | --- |
| Gold | 1279.00 | 0.02% |
| Silver | 15.25 | 0.00 |
| Copper | 2.74 | 0.000 |
| Platinum | 796.00 | 0.44% |
| Oil | 53.80 | 3.22% |
| Natural Gas | 3.48 | 1.98% |
| Uranium | 28.88 | 0.00% |
| Zinc | 1.17 | 0.00% |