Nobel Laureate Says Better Batteries Can Cement Electric-Car Era
The Nobel Prize-winning scientist whose research proved critical in developing lithium-ion batteries said the ubiquitous technology energizing iPhones and Teslas is poised to become more powerful and cheaper -- keys for unlocking the mainstream adoption of electric vehicles and home-energy storage units.
M. Stanley Whittingham, 77, is part of a trio jointly awarded the Nobel Prize in Chemistry this month. He still works to make batteries better, more than four decades after his initial breakthroughs in a New Jersey laboratory while employed by Exxon Mobil Corp., where he received the patent for a rechargeable lithium-ion battery.
"They are going to become cheaper and more readily available to everyone, and the research we're doing will increase the energy density and make them safer at the same time," Whittingham, a professor at the State University of New York at Binghamton, said Wednesday in an interview in Sydney.
Further improvements to the technology may also bolster efforts to combat climate change by enabling greater use of renewable-energy sources, Whittingham said. His outlook may offer comfort to automakers and utilities currently grappling with weaker EV sales in China, the top market, and safety setbacks in the deployment of grid-scale batteries.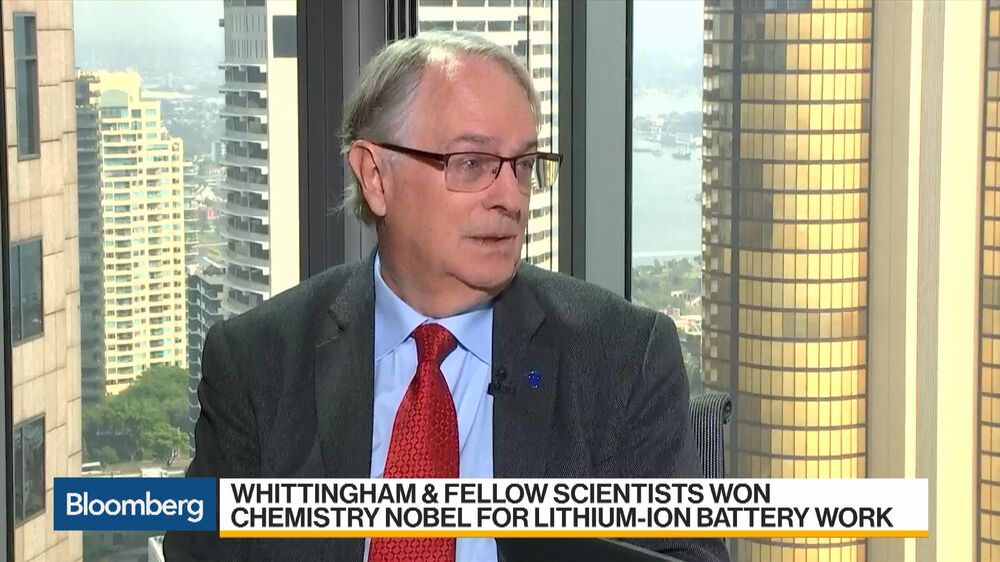 The following excerpts from the interview have been condensed and edited.
How can battery technology improve?
Whittingham: What we are now looking at is increasing the energy density -- twice as much in a given weight or volume, cutting the price and also seeing it really get into all devices, so we'll have cleaner cities and we'll have more electric vehicles in the cities.
What would better technology mean for electric cars?
Whittingham: It'll allow cars to go farther, but perhaps more importantly it'll allow batteries to be smaller. If we can put twice the energy in the same volume, then we can make batteries much smaller than they are today. You use less material, so they'd be less costly, and so that'll help them take over the market. Electric vehicles have got to be at a price where the consumer considers them as a realistic option, and they have got to go a reasonable distance.
Click here to continue reading...
Subscribe to the RSD email list and get the latest resource stock activity directly to your inbox, for free.
Subscribe to the RSD email list and get the latest resource stock activity directly to your inbox, for free.
Part of the Stock Digest family of websites
MARKET SUMMARY
INDICES
| Name | Last | Change |
| --- | --- | --- |
| DOW | 28004.90 | 0.80% |
| S&P 500 | 3120.45 | 0.76% |
| NASDAQ | 8540.83 | 0.72% |
| TSX | 17028.47 | 0.33% |
| TSX-V | 528.54 | 0.00% |
Resource Commodities
| Name | Last | Change |
| --- | --- | --- |
| Gold | 1468.00 | 0.06% |
| Silver | 16.97 | 0.06% |
| Copper | 2.64 | 2.635 |
| Platinum | 901.00 | 0.67% |
| Oil | 57.72 | 1.65% |
| Natural Gas | 2.69 | 1.53% |
| Uranium | 25.03 | 0.32% |