Gold CEO Lashes Out Against His Industry
A gold industry obsessed with containing costs and minimizing risks will find itself at the edge of a cliff by 2020 as supply tightens, according to one of the most profitable producers.
Despite prices recovering from 2015 lows, the industry has been slow to reinvest in exploration or sustaining capital, Randgold Resources Ltd. Chief Executive Officer Mark Bristow said. Half of the gold coming out of the ground isn't profitable to mine based on the true extraction costs, he said.
"The one thing this industry does very well is mine gold at a loss," Bristow told analysts at a breakfast meeting in Toronto on Friday.
The weakening outlook is being masked by a focus on all-in-sustaining costs rather than cash costs, he said. While companies can lower AISC and boost earnings by reducing spending to sustain operations or tightening exploration budgets, the tactic erodes asset quality in the long run, the CEO said.
Similarly, severe damage has been done by high-grading, which shortens the life of a mine by focusing on the best quality ore. Since 2007, grades have dropped from an average of 2.5 grams a ton to about 1 gram, Bristow said.
In a wide-ranging chat with analysts, and during an interview afterward, Bristow was characteristically frank, saying bitcoin should be viewed as the "underworld of currencies" and criticizing the world's largest producer of gold, Barrick Gold Corp., for it's record in Tanzania.
But most of his remarks involved what he sees as a systemic failure by the gold mining industry to do its job properly. It's not the first time Bristow has warned the industry is effectively producing at a loss. Two years ago, as prices hit a five-year low, he told analysts that half the metal coming out of the ground wasn't profitable. That hasn't changed despite a 20 percent-plus improvement in prices because it was accompanied by a drop in grades, he said in the interview.
In addition, large producers have re-focused on the developed world to minimize risks at the expense of asset quality, he said: "If you want to find elephants, go to elephant country."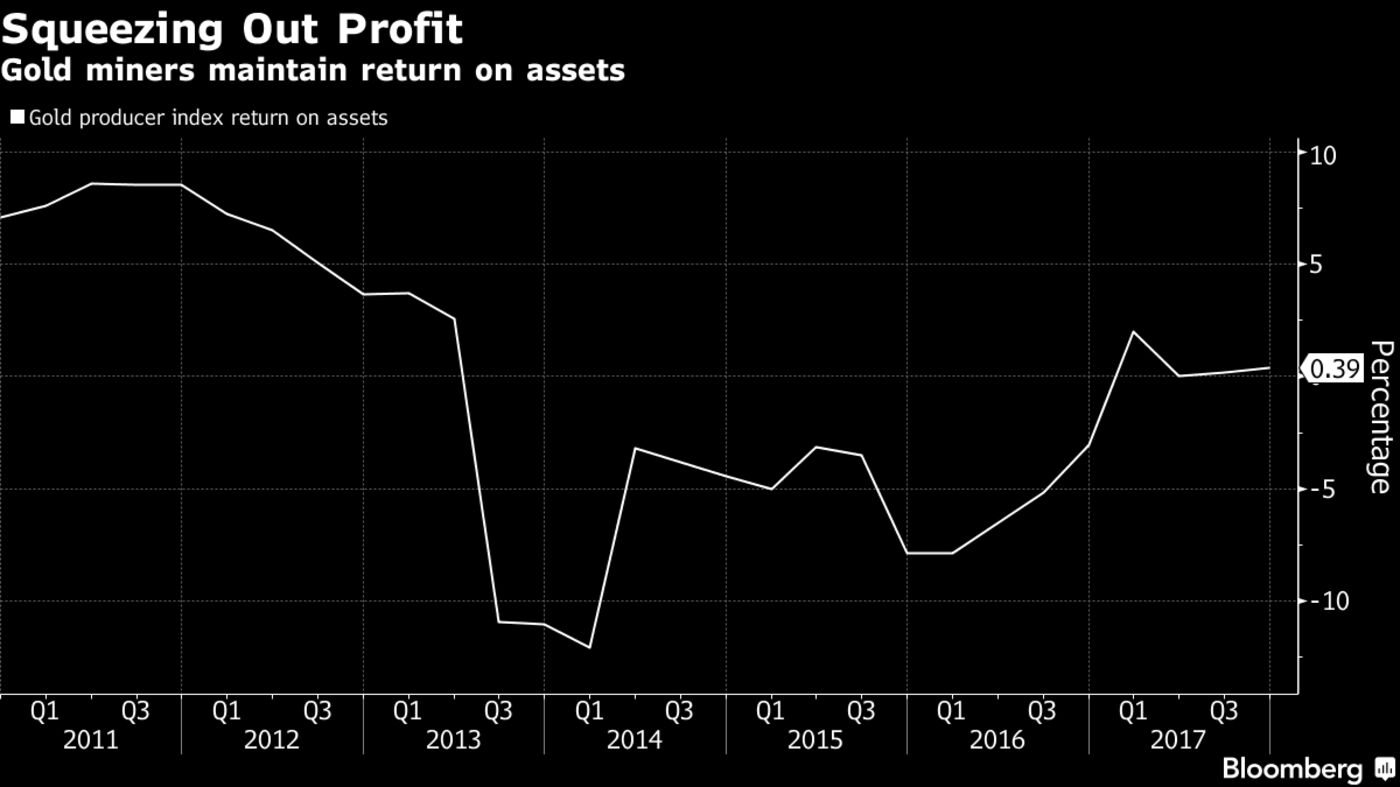 Meanwhile, Bristow blamed the widespread use of proxies by fund managers for the failure of executives and boards to be held accountable. He's not the first to call for a reckoning within the industry. In September, billionaire John Paulson's firm called for the creation of a coalition of gold investors to curb years of value destruction.
Paulson's presentation cited $85 billion in lost value in the gold industry since 2010, but listed Randgold as offering the best shareholder total returns. The Jersey, Channel Islands-based company has the highest profit margin among large producers after Polyus PJSC, according to data compiled by Bloomberg.
But Bristow said Paulson's Shareholder's Gold Council isn't the best way to clean up the industry.
"Management can't be overly reckless with capital if it's not allowed to be," he said. "What's missing there is a recognition that fund managers have been equally, or more reckless. I'm not sure that creating another club is the right approach."
Large funds need to become much more active in working to appoint and remove board members rather than relying on proxy managers, Bristow said.
Click here to continue reading...
Subscribe to the RSD email list and get the latest resource stock activity directly to your inbox, for free.
Subscribe to the RSD email list and get the latest resource stock activity directly to your inbox, for free.
MARKET SUMMARY
INDICES
| Name | Last | Change |
| --- | --- | --- |
| DOW | 25302.40 | 1.60% |
| S&P 500 | 2761.62 | 1.72% |
| NASDAQ | 7482.09 | 2.15% |
| TSX | 15388.97 | 0.92% |
| TSX-V | 691.31 | 0.00% |
Resource Commodities
| Name | Last | Change |
| --- | --- | --- |
| Gold | 1226.25 | 0.35% |
| Silver | 14.58 | 0.07% |
| Copper | 2.77 | 0.000 |
| Platinum | 829.50 | 0.20% |
| Oil | 69.75 | 3.11% |
| Natural Gas | 3.32 | 2.44% |
| Uranium | 27.68 | 0.00% |
| Zinc | 1.19 | 0.00% |