'Boring' Gold Giants Struggle to Compete With Hot Battery Metals
Gold producers are doing everything they're supposed to be doing -- squeezing more profit out of mines, penny-pinching on projects and resisting the kind of big deals that got them into trouble when prices fell.
While that's satisfying their large institutional shareholders, it's not enough to lure more general investors drawn to flashier electric-vehicle commodities, as well as to stocks riding the marijuana and cryptocurrency booms.
Large producers such as Barrick Gold Corp. and Goldcorp Inc. surged in 2016 as they emerged from a painful multi-year downturn. Since then, they've largely decoupled from bullion, which has continued to rise, and are trading at the cheapest versus the Dow Jones Industrial Average in more than a year. Investors seeking gold exposure are preferring exchange-traded funds, all at a time when money is pouring into lithium and cobalt companies that have plugged into the rechargeable-battery rush.
That's the message from the BMO metals and mining conference, where 1,400 bankers, miners and investors have gathered over four days in Florida.
"Right now, gold has been so boring and asleep that nobody cares," David Harquail, chief executive officer of precious-metal streaming company Franco-Nevada Corp. and chairman of the World Gold Council, said in an interview from the conference. "It's the first time, even my schedule isn't filled."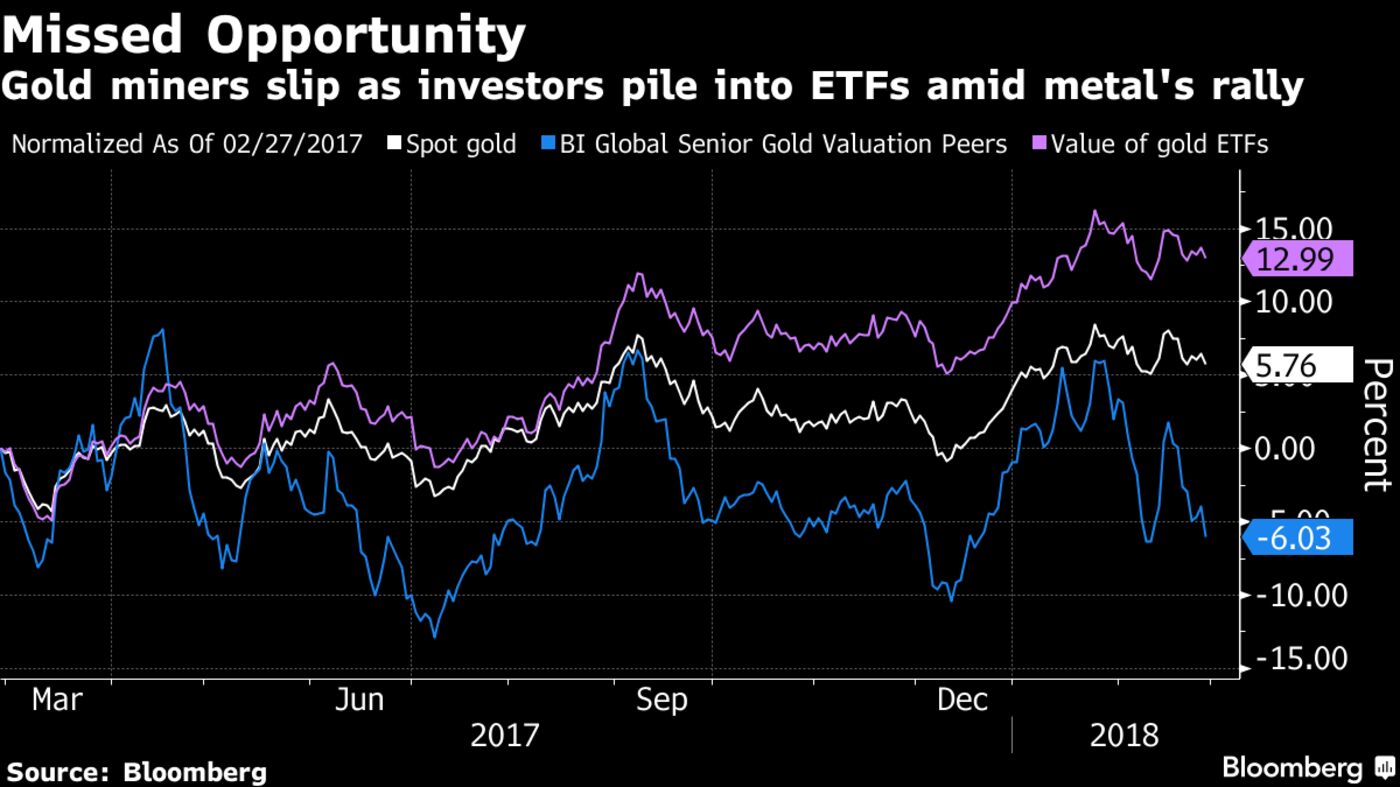 The odd mid-sized deal aside, participants say interest in gold mergers and acquisitions remains lackluster, with large players still not ready to do big deals even as their reserve life shrinks, and capital still tight for small explorers and developers.
Asked why gold companies aren't capturing more of gold's move higher, Harquail referred to the lack of commodity-specific funds in the space. "There's really no precious metal funds of size left because the performance has been so poor," he said. "The only place that has real money is the generalist funds. "
Cannabis and Cryptos
The dearth of M&A is indicative of lack of growth presented by gold companies, said Pierre Lassonde, the chairman of Franco-Nevada. He thinks this will persist for another 12 to 18 months, at which point investors will demand growth. But for now, the gold price has "gone nowhere" over the last five years and there are plenty of other flashier commodities attracting generalist interest.
"While you've had the cryptocurrencies, you've had cannabis, you've had all kinds of industry exploding and the gold price flat, it's like watching paint dry. Why would anyone get excited?"
Interest that was once focused on gold has shifted to battery metals this year.
Click here to continue reading...
Subscribe to the RSD email list and get the latest resource stock activity directly to your inbox, for free.
Subscribe to the RSD email list and get the latest resource stock activity directly to your inbox, for free.
Part of the Stock Digest family of websites
MARKET SUMMARY
INDICES
| Name | Last | Change |
| --- | --- | --- |
| DOW | 25585.70 | 0.75% |
| S&P 500 | 2826.06 | 0.14% |
| NASDAQ | 7637.01 | 0.11% |
| TSX | 16230.04 | 0.40% |
| TSX-V | 607.68 | 0.00% |
Resource Commodities
| Name | Last | Change |
| --- | --- | --- |
| Gold | 1292.80 | 0.84% |
| Silver | 14.57 | 0.21% |
| Copper | 2.70 | 2.700 |
| Platinum | 901.00 | 0.67% |
| Oil | 58.63 | 1.23% |
| Natural Gas | 2.60 | 0.77% |
| Uranium | 24.25 | 1.34% |
| Zinc | 1.20 | 0 |