Palladium Smashes $1,500 as Shortages Ignite Record-Breaking Rally
Palladium surged above $1,500 an ounce to a record, extending a powerful rally that's been driven by an acute shortage of supply as car manufacturers scramble to get hold of the material to meet stringent emissions controls. The advance will benefit top suppliers in Russia and South Africa.
Spot palladium surged as much as 1.7 percent to $1,505.46 an ounce, and traded at $1,501.28 at 11:52 a.m. in London, with prices set for a seventh straight monthly gain. In other precious metals, gold rallied to a 10-month high, while silver and platinum both climbed.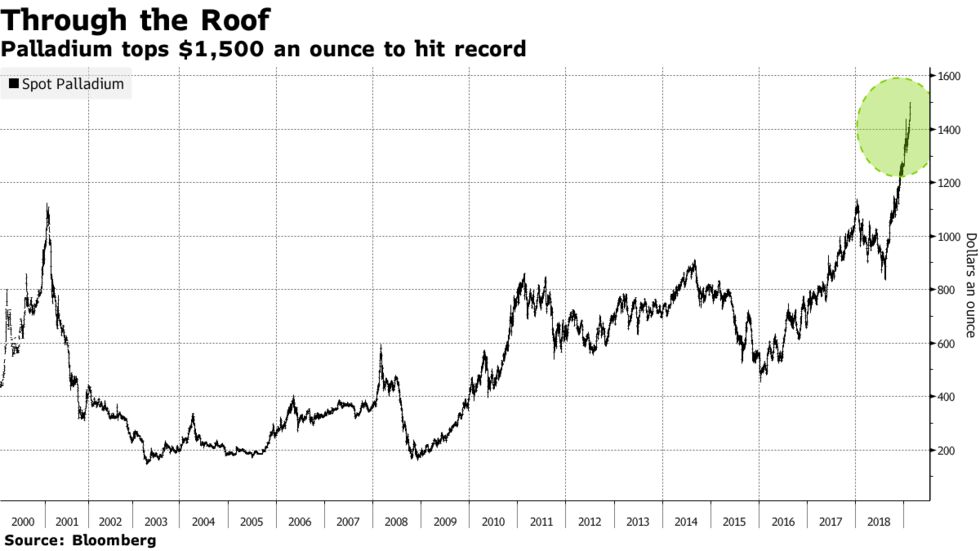 The silvery-white metal has more than tripled since January 2016, and Citigroup Inc. said this month that further gains may be in store, warning the market will only balance with a shock to demand and prices may hit $1,600. The global deficit looks set to "widen dramatically" this year, according to Johnson Matthey Plc, a leading maker of autocatalysts, and BlackRock Inc.'s Evy Hambro told Bloomberg TV this week that a "massive shortage" has built up as the auto market moves away from diesel-powered vehicles.
"Until you get an increase in supply coming onstream, which isn't going to happen for a few years yet, this is going to result in a tight market and prices generally trending higher," Philip Klapwijk, managing director of Hong Kong-based consultant Precious Metals Insights Ltd., said on Wednesday.
Let's Lease
Tighter supplies of the metal, used mainly to curb emissions in gasoline vehicles, have prompted users to lease material from exchange-traded fund holders to meet their needs. Heraeus, a refiner, said physical palladium ETF holdings fell to 700,000 ounces at the end of 2018, down from a peak of 2.9 million in 2014. It's hard to gauge the exact level of global stockpiles, but various sources have estimated a range between 10 million and 18 million ounces, which equates to roughly one to two years of demand, Heraeus said.
Click here to continue reading...
Subscribe to the RSD email list and get the latest resource stock activity directly to your inbox, for free.
Subscribe to the RSD email list and get the latest resource stock activity directly to your inbox, for free.
Part of the Stock Digest family of websites
MARKET SUMMARY
INDICES
| Name | Last | Change |
| --- | --- | --- |
| DOW | 25585.70 | 0.75% |
| S&P 500 | 2826.06 | 0.14% |
| NASDAQ | 7637.01 | 0.11% |
| TSX | 16230.04 | 0.40% |
| TSX-V | 607.68 | 0.00% |
Resource Commodities
| Name | Last | Change |
| --- | --- | --- |
| Gold | 1292.80 | 0.84% |
| Silver | 14.57 | 0.21% |
| Copper | 2.70 | 2.700 |
| Platinum | 901.00 | 0.67% |
| Oil | 58.63 | 1.23% |
| Natural Gas | 2.60 | 0.77% |
| Uranium | 24.25 | 1.34% |
| Zinc | 1.20 | 0 |