Why Five Industry Experts Have This Gold Explorer on Their Radar Screens
Nevada is no slacker when it comes to massive gold mines. Barrick Gold's Cortez Gold Mine and Goldstrike Mine each produce over 1 million ounces of gold a year, and Newmont Mining's Carlin Operations aren't far behind.
Nevada gold acquisitions are rampant this year as well.
In the past year alone, Hecla Mining acquired Klondex Mines for a staggering $426 million, Alio Gold acquired Nevada-based Rye Patch in a deal valued at $128 million and Coeur Mining has just taken over Northern Empire at the cost of $90 million. Good companies with good projects are in demand.
One company with similar geology in the same geography is just getting started.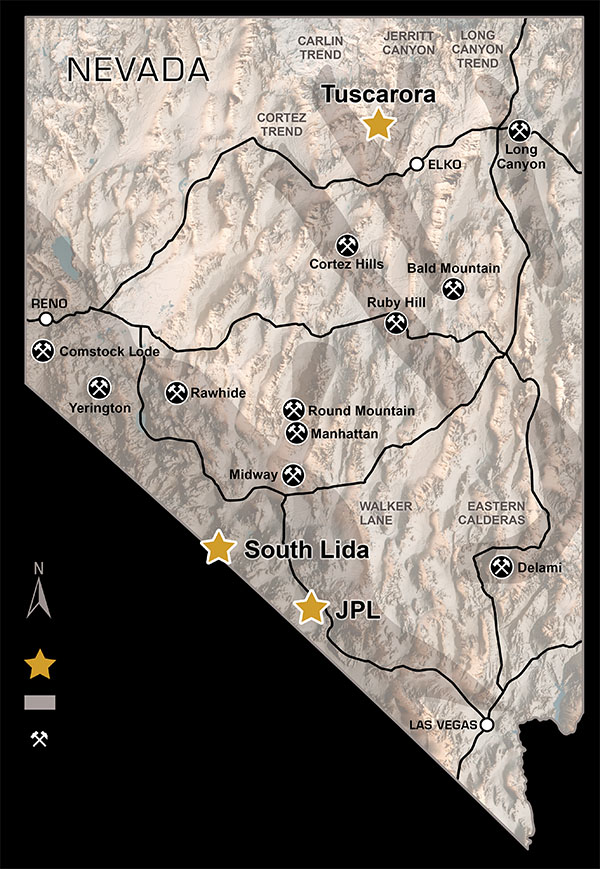 American Pacific Mining Corp.'s (USGD:CSE; USGDF:OTC) flagship property is the Tuscarora Gold Project in Elko, Nevada. "Tuscarora is similar to Klondex's Fire Creek property, a high grade, high-level epithermal vein system," American Pacific's CEO Warwick Smith told Streetwise Reports.
Bob Moriarty of 321 Gold noted in May that "it's always nice to drill a home run hole with 143.5 g/t gold grade but even better when you can pick up such a project essentially for peanuts after someone else already found the vein system for you. . . We know from past results from both Newcrest and Novo that there are multiple bonanza grade veins at Tuscarora."
American Pacific Mining (USGD:CSE; USGDF:OTC) emerged from a "hot" gold company last year.
Novo Resources Corp. (NVO:TSX.V) was one of the top gold discoveries of 2017. In mid-2017, Novo announced the discovery of gold nuggets at its Karratha gold project in Western Australia. This was the first indication that Novo's world-famous geologist, Dr. Quinton Hennigh, and his theory of a massive field of gold nuggets in Western Australia may be proven correct.
This discovery propelled Novo Resources' stock price upwards. Over the next three months following the announcement of this discovery, its stock went from CA$0.83 to a peak of CA$8.55, an increase of about 930%. The stock sits at CA$2.67 at the time of writing.
Click here to continue reading...
Subscribe to the RSD email list and get the latest resource stock activity directly to your inbox, for free.
Subscribe to the RSD email list and get the latest resource stock activity directly to your inbox, for free.
Part of the Stock Digest family of websites
MARKET SUMMARY
INDICES
| Name | Last | Change |
| --- | --- | --- |
| DOW | 26548.20 | 0.68% |
| S&P 500 | 2917.38 | 0.96% |
| NASDAQ | 7884.72 | 1.53% |
| TSX | 16371.28 | 0.93% |
| TSX-V | 578.99 | 0.00% |
Resource Commodities
| Name | Last | Change |
| --- | --- | --- |
| Gold | 1408.30 | 0.70% |
| Silver | 15.22 | 0.59% |
| Copper | 2.74 | 2.735 |
| Platinum | 901.00 | 0.67% |
| Oil | 57.83 | 0.12% |
| Natural Gas | 2.31 | 0.22% |
| Uranium | 24.65 | 0.00% |
| Zinc | 1.12 | 0 |