Summary
4 high risk/high reward lithium stocks are discussed here.
Massive upside potential for the patient investor.
Get on the ground floor for maximum gains.
Overview
If you are like me, you are scouring the internet trying to find information on the next up-and-coming lithium stock. There are a lot of good choices that have been recommended on this site and others such as Lithium X (OTCQX:LIXXF), Lithium Americas (OTCQX:LACDF), Nemaska Lithium (OTCQX:NMKEF), Orocobre (OTCPK:OROCF), Pilbara (OTCPK:PILBF), Altura (OTCPK:ALTAF), Galaxy Resources (OTCPK:GALXF), Bacanora (OTC:BCRMF), Neometals (OTCPK:RDRUY) and Critical Elements (OTCQX:CRECF). These are good investments now, but they would have been TERRIFIC investments if you bought them 2 years ago.
This article is about the "2 years ago" stocks.
It is hard to find good information about companies at the early stages of lithium development, and when you do find information, it isn't significant enough to justify taking a position in the company. Most lithium junior miners fall into this category.
After extensive research, I took positions in the following 4 stocks. Is there enough information to justify my actions? Judge for yourself.
This Australian minor has tremendous upside potential, and amazingly, has gone unnoticed until now. Here we have a lithium junior with 3 brokers recommending it as a buy. That is unheard of for a company of this market cap. I'll show the highlights here, but feel free to read the reports, each broker has done their due diligence.
Independant Investment Research has Sayona increasing approximately 8x in the next 12 months.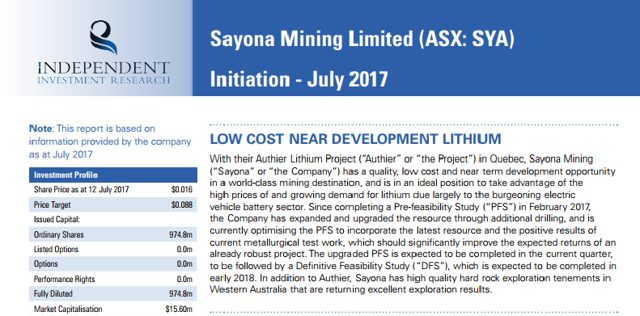 Source: IIR Sayona
Beer & Co. has Sayona increasing approximately 7x in the next 12 months.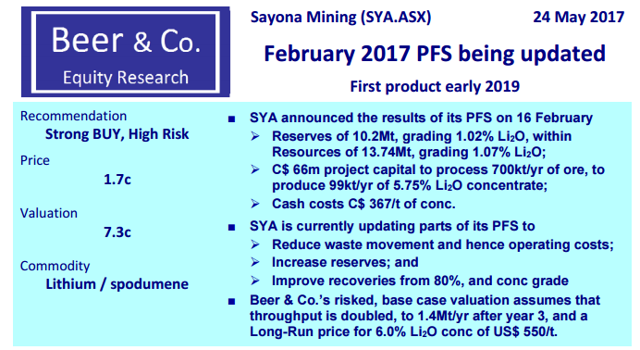 Source: Beer&Co Sayona
And Patersons Has Sayona increasing about 4x in the next 12 months.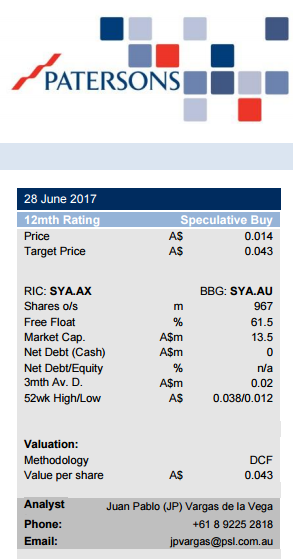 Source: Patersons Sayona
The table below puts the value of Sayona in perspective. They have a property that will produce in the near term, of good size and quality, yet they are much undervalued relative to peers. There seems to be a negative sentiment towards investing in Australian lithium miners, maybe because Argentina has had the lion share of lithium success to date. That is about to change, with Nameska, Pilbara, and Altura nearing production, the world is about to see how profitable pegmatite lithium miners can be. I foresee this happening one year from now, when Altura and Pilbara start turning a profit.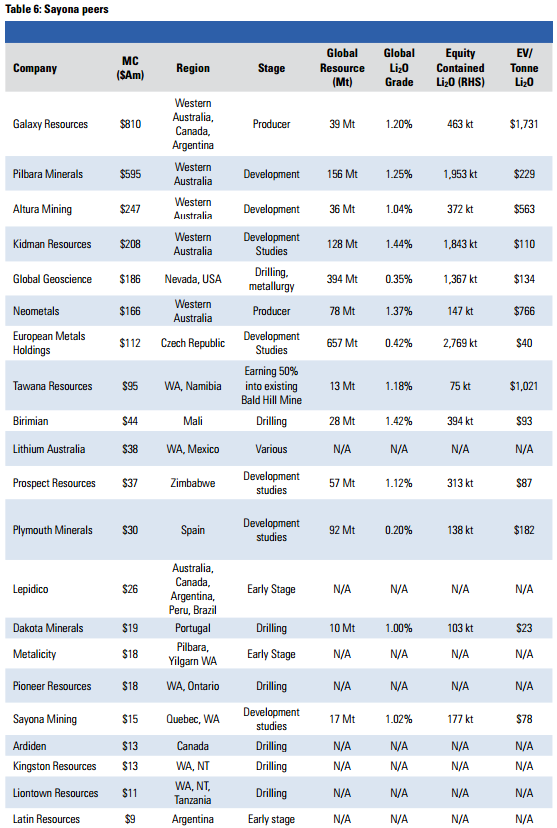 The Authier lithium project will allow Sayona to become a near term lithium producer, but what makes Sayona even more attractive are the unexplored assets they have in Australia. They have the options to own 80-100% of the pegmatite mineral rights of over 2000 square kilometers, much of which is in the proximity of Pilgangoora. Pilgangoora has one of the largest proven lithium resources in the world, and is mined by both Altura and Pilbara.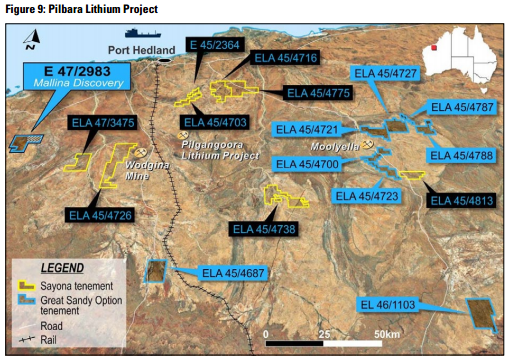 Sayona has experienced board members with both past and present lithium company experience. Sayona board members were part of the co-founding of Orocobre, and are directors of Altura which is set to begin production in Q1 2018 at their Pilgangoora Lithium Project in Australia.
One person on the Sayona Board may be the biggest advantage the company has in the pegmatite lithium mining business. Mr. Brown is a director on the Sayona Board and has been the CEO and managing director of Altura since 2010. Altura is starting production ahead of Pilbara. It is forecast to produce 27 kt of Lithium Carbonate Equivalent (LCE) per year from their Pilgangoora operation. Mr. Brown built Altura into a lithium producer, and I believe he will do the same with Sayona.
With a 4-8x upside in 12 months it is a wonder more people haven't noticed this stock. With a current market cap of 11.7M Australian (9.09M US), this company is on the verge of great things. Look at Altura and Pilbara, they were Sayona 2 years ago. Oh the thought of retiring and fixing up old Mustangs all day…
Advantage Lithium is another lithium miner junior with a broker recommendation: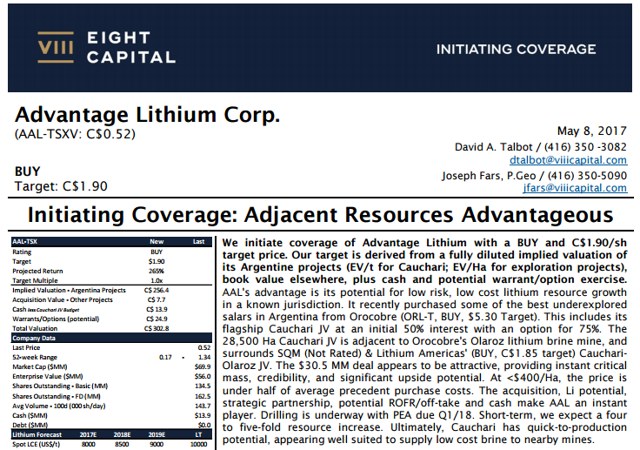 Source: Eightcapital Sayona
One of Advantage Lithium's greatest assets is its management team. The board includes the CEO and the exploration manager from Orocobre. The CEO, Richard Seville, joined the board of Orocobre in 2007 as managing director and has brought Orocobre from an unlisted lithium junior exploration company to a lithium producing giant with a market cap of approximately 1 billion dollars. The exploration manager, Miguel Peral, was part of the team who explored Orocobre's Salar Olaroz and other lithium brine targets in the area. Advantage Lithium is 35% owned by Orocobre, so it is in their best interest that Advantage succeeds.
Advantage's resources at their Cauchari JV property are conservatively rated at .47MT, but this is likely many times smaller than the reality. They have 75% interest in the massive 28500 Hectare (110 sq miles) property.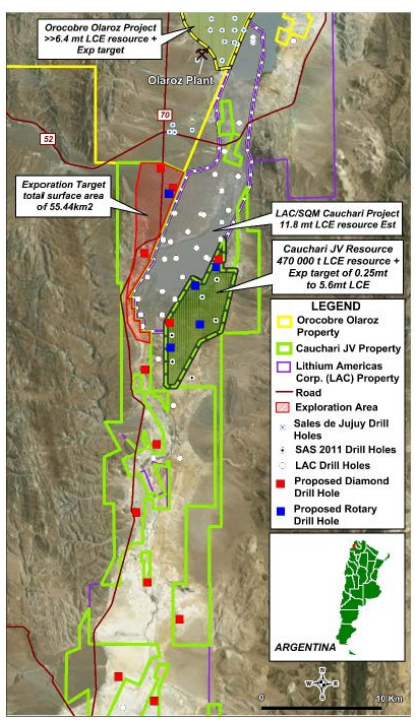 Drilling is in process to expand the .47mt proven reserves to something closer to their neighbor Orocobre's 6+mt resource. Before year end, we should have a better idea about the true resources size of Cauchari JV as the timeline shows below.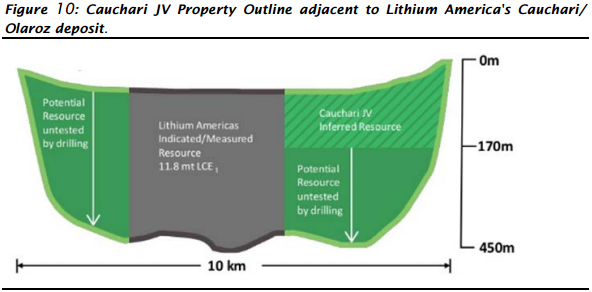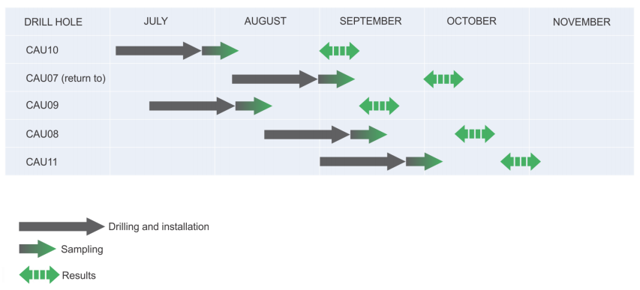 Source: AAL Presentation
Because of its unique relationship with Orocobre, Advantage may be able to use Orocobre's facility at Olaroz to process raw brine, saving on the startup costs of their own facility. Also because of this relationship, Advantage can fast track their development leveraging Orocobre's knowledge, resources, and connections in the area.
Advantage has other property with great potential. They own 100% interest in 13654 hectares (52 square miles) at Antofalla, which borders a lithium property owned by Albemarle. They own 100% interest in 9843 hectares (38 square miles) at Incahuasi, and they own 100% interest in 21,276 hectares (82 square miles) at Guayatayoc. Each of these properties has enough area to support a Brine operation. Advantage plans to adequately explore these properties in the coming year. These are excellent properties, each being of the size and caliber to support separate junior lithium companies.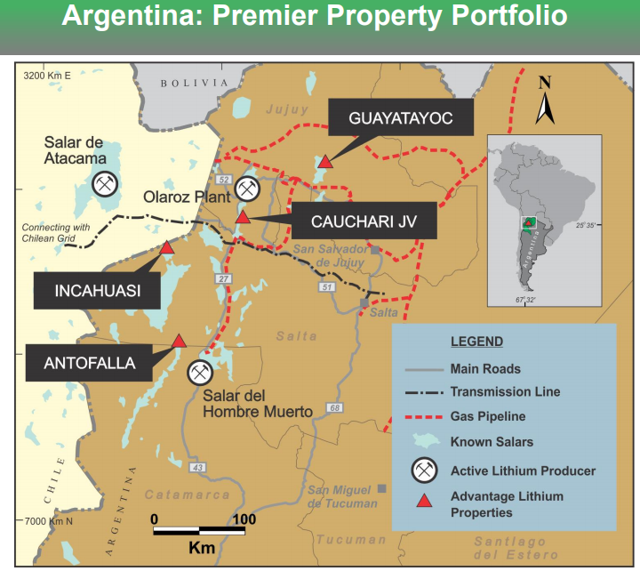 Cauchari JV is the catalyst for the future of Advantage. Personally, I hope they choose to sell raw brine to Orocobre to be processed at the Olaroz facility, which borders Advantage's property. This way they can quickly generate capital to de-risk the company, and fund exploration and development of their other promising assets.
Advantage has a market cap of approximately 60M US dollars, and it has everything in place to triple that over the next 12 months. After that, it could be the next Orocobre.
Click here to continue reading...
Subscribe to the RSD email list and get the latest resource stock activity directly to your inbox, for free.
Subscribe to the RSD email list and get the latest resource stock activity directly to your inbox, for free.
Part of the Stock Digest family of websites
MARKET SUMMARY
INDICES
| Name | Last | Change |
| --- | --- | --- |
| DOW | 26089.60 | 0.07% |
| S&P 500 | 2886.98 | 0.16% |
| NASDAQ | 7796.66 | 0.52% |
| TSX | 16301.91 | 0.38% |
| TSX-V | 587.84 | 0.00% |
Resource Commodities
| Name | Last | Change |
| --- | --- | --- |
| Gold | 1341.93 | 0.03% |
| Silver | 14.87 | 0.27% |
| Copper | 2.63 | 2.630 |
| Platinum | 901.00 | 0.67% |
| Oil | 52.51 | 0.44% |
| Natural Gas | 2.39 | 2.60% |
| Uranium | 24.70 | 1.52% |
| Zinc | 1.09 | 0.00% |