Summary
Advantage has delivered strong drill results from the Cauchari basin with additional drill and flow rate results expected in the next weeks; Moving quickly towards the completion of PEA.
The land package straddles the properties of Lithium Americas who has received investments from Ganfeng and SQM.
Orocobre remains a critical partner to the success of Advantage Lithium; Orocobre own around 30% of the company and 25% of the Caurchari project.
Chinese companies have made strategic investments and acquisitions to secure lithium supply; China is moving towards 10% supply of electric vehicles in 2019.
Advantage is expected to define 2.5M to 3M T LCE at Cauchari.
One of the global energy megatrends in 2017 was the commitment from automakers to move towards electric vehicles by the end of the current decade. Major automakers fought to grab headlines around plans to introduce electric and plug-in hybrid vehicles over the next few years. These announcements activated the lithium supply chain, from lithium exploration and processing to battery cell and pack manufacturing. Investors were also quick to respond to the current events by buying up shares in lithium producers and some junior exploration companies. The timing for pure play lithium companies has never been better and the macroeconomic conditions will continue to improve well into 2018 and beyond. The key industry trends include: increasing demand for electric vehicles and other applications, such as stationary energy storage systems; an increase in global battery manufacturing capacity that is well underway; tight supply and demand factors in the lithium market; and rapidly increasing price for lithium materials.
As automobile and battery manufacturers move to secure their lithium supply, I'm also moving to position myself to benefit from the next major lithium boom through the acquisition of shares in pure play lithium companies. For years, I have been a strong supporter of Orocobre (OTCMKTS:OROCF), which has successfully ramped up their flagship project at Olaroz and is positioned to continue doing well throughout 2018. Since October 2017, I have been providing coverage on Advantage Lithium (OTCQX:AVLIF), including a buy recommendation when the stock was around C$0.60/share (See: Advantage Lithium: Why I Took A Position). Since initiating a buy recommendation, the stock dramatically increased to over $1.40/share before retreating back to a healthy trading range between $1.00 - $1.20/share. As we move into 2018, my expectation is that Advantage Lithium will continue to execute on the project plans at Cauchari on the backdrop of the strong macro-trends as listed above. Both company-specific factors and macro-trends should ensure another profitable year for investors in Advantage Lithium.
In a base case scenario, the upcoming mineral resource estimate update could show a deposit size of between 2 - 2.5 million T LCE. Both SQM (NYSE:SQM) and Orocobre have reported selling prices of over $13,000 / T LCE for the first six months of the 2018 calendar year, which allows investors to determine the value of resources in ground. Considering that Orocobre, Toyota Tsusho (OTCMKTS:TYHOF), Gangfeng, SQM, and Lithium Americas (OTCMKTS:LACDF) are all active in the Olaroz-Cauchari basin, I am applying a 10% value to resources in ground from market prices, or around $130 / T LCE for the first six months of 2018. To support this valuation structure, Lithium X (OTCMKTS:LIXXF), a junior lithium exploration company, was acquired by a Chinese mineral company for $265 million. Their lithium brine project, Sal de los Angelese, is located in the Northern Argentine province of Salta at the Salar de Diablillos. The company produced a NU 43-101 mineral resource estimate of over 1 million T LCE in the indicated category and 1 million T LCE in the inferred category, for a total estimated deposit of over 2 million T LCE. Therefore, the takeover valued at $265 million for 2 million T LCE implies a value of around $130 / T LCE in ground.
At $130 / T LCE, or 10% of market price, should Advantage Lithium produce a resource update of 2.5 million T LCE, this would translate into $325 million in resource value. Advantage Lithium holds a 75% interest in the Cauchari project while Orocobre holds the other 25%. The 75% ownership in the deposit would be valued at $243 million to Advantage shareholders or $1.90/share based on 130 million in outstanding shares. There are a couple variables that could impact the short-term pricing for the asset, including: higher lithium prices, securing an offtake partner or strategic investor, and a report of greater than 2.5 million T LCE in reserve at Cauchari. Therefore, based on these macroeconomic and company-specific drivers, I believe that shares in the company could continue to move north in the range of $1.80 - 2.00/share in the first six months of 2018. This represents an 80% increase in share price from the December low of $1.00/share.
Advantage strikes a deal
In Q1 2017, Advantage Lithium and Orocobre announced plans to continue to develop the Cauchari-Olaroz basin through the sale of assets from one party to the other. Orocobre agreed to sell the lithium brine land packages to Advantage in exchange for over 46 million shares in the company. Advantage landed an impressive land package consisting of six different projects, including Antofalla, Incahuasi, Guayatayoc, and Salinas Grandes, all located in Argentina. Today, Orocobre's position in Advantage is valued at greater than $46 million plus a 25% ownership position in the Cauchari project (See: Orocobre Strengthens Balance Sheet). Shortly after the closing of the land package transaction, Advantage closed a $20 million equity raise that was pegged to advance the Cauchari project. The company had additional land packages in Nevada, which were sold off in a share-based sale transaction to Pure Energy (OTCMKTS:PEMIF). Today, Advantage is entirely focused on the Cauchari project with a current cash position of around US$12 million in the bank while 40% of the 135 million shares outstanding are locked up with Orocobre, management, directors, and insiders. On a fully diluted basis, Orocobre holds 29% of the company with management at 25%. The company has also been able to attract large investors including CIBC, which is ranked as their largest institutional investor.
Advantage's lithium exploration property is less than 20km away from Orocobre's Olaroz line brine production facility and is on the same salt pond as Lithium Americas' Cauchari project, which is moving into the construction stage.
Cauchari project is quickly moving towards PEA
From September 2017 through December 2017, Advantage has provided shareholders with several updates surrounding the progress being made at Cauchari. The primary objective of the drill campaign has been to explore the regions in which Orocobre was not previously active. The ongoing exploration campaign will allow Advantage Lithium to expand the size of the resource at Cauchari from approximately 500,000 T LCE to potentially over 2.5 million T LCE. Company updates in the later part of 2017 strongly suggested that the results from the drilling campaign were well in-line with Orocobre's Olaroz lithium project results from 2011.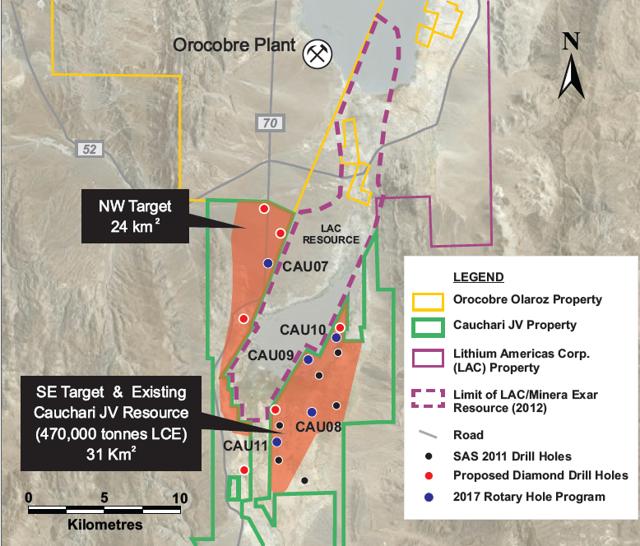 Advantage Lithium properties straddle Lithium Americas and Orocobre properties
The Northwest drill results reported in November show that a brine body was discovered with high lithium concentrations where no previous drilling had occurred. Furthermore, diamond drilling encountered extensive sandy sediments at multiple holes suggesting high porosity and good permeability, setting the platform for brine extraction. Through the months of November and December, drilling activity continued throughout the Southeast and Northwest portions of the property and is expected to intersect deep sand units, which should allow for the expansion of the Cauchari basin and increase the deposit size attributable to Advantage.
All of these drilling activities will pave the way for the company to complete the Scoping Study in the months ahead, which is the foundation for a successful Feasibility Study. Additionally, it has been confirmed that the rigs are available for additional follow-on work requirements, which will assist with the feasibility studies in 2018. The Scoping Study, which is due to start in Q1 2018, will investigate strategies for future lithium production including the standalone processing option; the strong lithium brine results in both volume and grades has encouraged the company to shift towards the possibility of building a standalone processing facility. Site work is expected to be completed by the end of Q1 2018, which will allow for the delivery of an updated resource estimate and the Scoping Study.
Orocobre brings experience and a strong network
Orocobre has been working for several years in the Olaroz-Cauchari basin, which allows Advantage to fully utilize many aspects of what has already been achieved in the basin. Orocobre's investment in the area has supported the development of regional infrastructure including power, roads, water, local services, and expertise. Due to the close relationship between Orocobre and Advantage, the company has been able to utilize the same exploration expertise that assisted Orocobre through their early days. When working in remote areas, such as high in the Andean Mountains of Argentina, these key contacts are essential to obtaining exploration permits, which play a critical role in reducing development times.
Click here to continue reading...
Subscribe to the RSD email list and get the latest resource stock activity directly to your inbox, for free.
Subscribe to the RSD email list and get the latest resource stock activity directly to your inbox, for free.
Part of the Stock Digest family of websites
MARKET SUMMARY
INDICES
| Name | Last | Change |
| --- | --- | --- |
| DOW | 27282.40 | 0.41% |
| S&P 500 | 2985.03 | 0.28% |
| NASDAQ | 8231.88 | 0.34% |
| TSX | 16518.88 | 0.20% |
| TSX-V | 593.88 | 0.00% |
Resource Commodities
| Name | Last | Change |
| --- | --- | --- |
| Gold | 1423.30 | 0.02% |
| Silver | 16.42 | 0.61% |
| Copper | 2.72 | 2.722 |
| Platinum | 901.00 | 0.67% |
| Oil | 56.22 | 1.05% |
| Natural Gas | 2.31 | 2.64% |
| Uranium | 25.60 | 1.08% |
| Zinc | 1.15 | 0 |