Summary
Automakers and battery manufacturers race to increase global EV and battery supply.
Opened a position in Advantage Lithium based on fundamental shortage of lithium supply beyond 2020.
Orocobre brings sales partner, local expertise and know-how to the table.
Advantage is positioned as Orocobre's expansion plan beyond 2020.
For those who have been following my coverage on the lithium mining industry, I have failed to produce any significant information on the lithium junior exploration industry. Rather, I have chosen to provide coverage on lithium producers, especially Australian-based Orocobre (OTCPK:OTCPK:OROCF), which has successfully brought its Argentine lithium salt facility to commercial production. Although share value in most lithium mining companies has increased over the past two years, Orocobre's stock has delivered remarkable returns. In late 2015, shares in Orocobre could have been had for $1.50/ share and presently trade for around $5/ share, representing an increase of over 200% (See: Orocobre: Buy And Build A Position On PullBacks).
Auto industry drives demand beyond 2020
The automotive industry's commitment to the introduction of electric vehicles is a macroeconomic trend that has finally tipped in the past two years. Nearly all major automotive manufacturers have announced the availability of electric vehicles by 2020. To support the upcoming lithium battery requirements, battery and automotive manufacturers have announced numerous battery facilities which are actively under construction. Battery manufacturing facilities are being built to support the demand requirements from automakers to ensure electric vehicles are available by 2020. Without a secure supply of batteries, automakers can't build electric vehicles and without a secure supply of lithium carbonate, battery cell suppliers can't deliver meaningful supply volume. In short, the auto industry is going to drive significant demand for lithium, potentially shifting the industry into a position where the white metal is in short supply. Investors are now waking up to this model which is driving interest in junior exploration companies and existing producers. As automobile and battery manufacturers move to secure their lithium supply, I'm also moving to position myself to benefit from the next major lithium boom through an acquisition in Advantage Lithium (OTCQX:OTCQX:AVLIF). Today, my recommendation to investors is to buy and accumulate, ideally on short-term price weakness, a position in the junior lithium exploration industry.
Some will say that purchasing stocks after the recent price movement is less than ideal. However, I would prefer to see significant macroeconomic trends shape the direction of the industry, providing clear indication that the industry has formed a long-term bull pattern. At this point, it is confirmed that lithium is positioned as one of the most important minerals for the foreseeable future, with existing plus anticipated new supply not being able to meet the market requirements beyond 2020. New lithium production capacity is essential to match new demand from the auto industry (See: The Lithium Rush - A Potential Undersupply Creates A Flurry Of Activities).
Investing in the mining industry requires much time and patience as only very few exploration companies ever produce any meaningful amounts of resources. As a clear example, Orocobre is the only company in the past decade that has developed a new lost cost, high volume lithium carbonate facility, which took nearly a decade to move from exploration to commercial production (See: Orocobre - The Road To Lithium Production In Argentina). An investor who is looking to truly maximize the momentum in the lithium exploration space should have a time horizon of 3-5 years depending on the current stage of the project.
Opening a position in Advantage Lithium based on fundamental supply shortfall
Although I have been following Advantage Lithium for nearly a full year, I recently acquired a position in the company as it was more important to understand if the emerging demand patterns are sustainable or merely a bubble. Based on the following graph "Undersupply of Lithium Carbonate", the combination of existing lithium production and the addition of expected new capacity will ensure that supply is able to meet the required demand. Collectively this will allow the automotive industry to establish the necessary battery manufacturing ramp-up.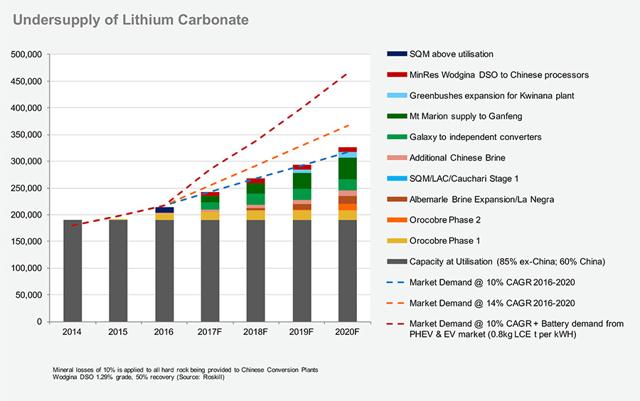 The scenario starts to change beyond 2020 as the large part of new supply becomes available into the market. It is possible for existing producers to further increase their production capacity but the industry will certainly require additional new facilities to keep up with expected demand. Based on a high case scenario, by 2020 there will be a significant shortfall in global supply by approximately 1250,000T LCE annually which is the equivalent of about 8 additional lithium brines producing 15,000 T LCE annually. The automotive industry is always slow to move so it should be expected that projections are pushed out by 2-3years meaning that the lithium industry has around 2 to 4 years to produce a significant number of new lithium sources or further expand current resources.
Orocobre spins off non-core assets boosting Advantage
In March 2017, Advantage Lithium announced a $20 million capital raise and the acquisition of certain exploration properties from Orocobre in consideration for 46,325,000. Based on current market pricing for Advantage Lithium shares the value of the transaction exceeds $23 million (See: Ocorobre's Rapid Expansion Plans In Japan And The Puna Plateau). Orocobre remains a joint venture partner on the Cauchari project were it holds 50% of ownership which will be reduced to 25% once Advantage spends $5 million or by completing a Feasibility Study. Over the past months, Advantage has been busy updatingresource estimates and completing more advanced technical and engineering studies which is expected to lead into a Scoping Study in early 2018 (See: Orocobre Strengthens Balance Sheet). The current projections are to have a Feasibility Study completed and obtain environmental permits in 2019.
Advantage, like many junior exploration companies, has secured an impressive land package consisting of six different projects including Antofalla, Incahuasi, Guayatayoc and Salinas Grandes all located in Argentina. Further, the company holds a land package in the prolific Clayton Valley Basin in Nevada.
Orocobre will lead Advantage to production
It is in my opinion that the companies Cauchari flagship asset will unlock shareholder value in the next years. The Cauchari property is located only 10 kilometers south of Orocobre's Olaroz lithium carbonate production plant. Based on a projected 2018 - 19 budget of $7 -10 million the company is well capitalized to produce a Feasibility Study providing flexibility should the company need to recapitalize. Due to Orocobre's investment in the area, regional infrastructure including power, road, water, local services, and expertise are readily available to accelerated project development. Additionally, the chemistry of the lithium brine is similar to that being extracted at Olaroz, which significantly de-risks the project.
Collectively, Orocobre has exchange non-core land assets for a 30% interest in Advantage while retaining 25% of the Cauchari lithium brine. Orocobre brings extensive expertise in the exploration and building of lithium assets in Argentina and a global network of partners including Toyota Tsusho (OTCPK:OTCPK:TYHOF). Tokyo based Toyota Tsusho, a member of the Toyota Group who is the 6th largest trading company in the world. The company's main goal is to support Toyota Motor's (NYSE:TM) automotive business and other Toyota Group companies through the supply of strategic material and components, including lithium (See: Toyota Tsusho Corporation Acquires 100% Sales Rights From Lithium Venture).
Advantage could supply lithium to Orocobre beyond 2020
Earlier in 2017, Orocobre and Toyota revealed a three stage approach to ramping-up its activities in the lithium industry. First, the companies will double the current lithium carbonate annual production at Olaroz to 35,000t LCE. Second, they will construct a 10,000T per year lithium hydroxide plant in Japan. Lithium hydroxide is used to produce lithium soaps which are a key ingredient to manufacture lubricating greases. Third, the proposed annual product mix of lithium carbonate would be 17,500t battery grade from its existing operations, 17,500T industrial grade, of which 9,000t would be allocated to supply the facility in Japan.
Click here to continue reading...
Subscribe to the RSD email list and get the latest resource stock activity directly to your inbox, for free.
Subscribe to the RSD email list and get the latest resource stock activity directly to your inbox, for free.
Part of the Stock Digest family of websites
MARKET SUMMARY
INDICES
| Name | Last | Change |
| --- | --- | --- |
| DOW | 27282.40 | 0.41% |
| S&P 500 | 2985.03 | 0.28% |
| NASDAQ | 8231.88 | 0.34% |
| TSX | 16518.88 | 0.20% |
| TSX-V | 593.88 | 0.00% |
Resource Commodities
| Name | Last | Change |
| --- | --- | --- |
| Gold | 1423.30 | 0.02% |
| Silver | 16.42 | 0.61% |
| Copper | 2.72 | 2.722 |
| Platinum | 901.00 | 0.67% |
| Oil | 56.22 | 1.05% |
| Natural Gas | 2.31 | 2.64% |
| Uranium | 25.60 | 1.08% |
| Zinc | 1.15 | 0 |