Summary
Joint Venture partners, Advantage Lithium and Orocobre delivered strong drill results in the month of March; Review of what has been announced.
Based on the most recent drill results the Cauchari-Olaroz continues to be expanded; Natural Resource Estimate is expected to be delivered in the next 30days.
Shares in Advantage Lithium continue to hold ground despite an industry pullback; Strong potential upside from current trading prices.
Joint Venture partners Orocobre (OTCPK:OROCF) and Advantage Lithium (OTCQX:AVLIF) continue to unlock shareholder value in the Olaroz-Cauchari Basin, which is one of the hottest lithium regions in the world. The region has attached well over $1 billion in investment from companies such as Toyota Tsusho, SQM (SQM), Ganfeng, and The Bangchak Petroleum Public Company. At present, Orocobre is the only lithium producer in the region, while Lithium Americas (LAC) and SQM continue to make progress on bringing their lithium assets to market. The latter are slated for production in 2020.
In the Southeast zone of the Cauchari property, Orocobre had already completed an initial resources estimate amounting to 500,000 T LCE. Advantage Lithium's current exploration campaign has undertaken extensive drilling with the intention of expanding the zone. The Northeast zone had no history of drilling until the Fall of 2017; it delivered positive results throughout the 2017-18 exploration campaign. Details on exploration activities in both zones are discussed below.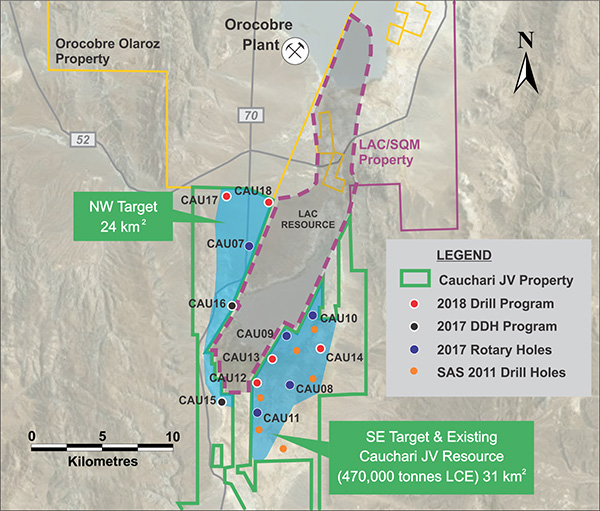 Advantage Lithium has constructively been keeping its shareholders updated on the company's 2017-18 maiden Argentine exploration campaign, which is now nearing completion. As reported by the company, it is expected that the initial resource estimate will be delivered in the late April to early May timeframe. As noted in my previous documents covering Advantage Lithiumand Orocobre, both companies are very attractive at their current price levels. As illustrated below, my price target for Advantage Lithium is around $1.90/ share, which could increase based on a larger resource definition or other catalyst. The target price is also shared with The National Bank (OTCPK:NTIOF) (see report here) of Canada and Eight Capital (see report here).
Lithium X acquisition sets platform for valuation
In Q1 2018, Lithium X, a Toronto-based lithium exploration company that is focused on its Argentina-based Sal de los Angeles project, was acquired for a total consideration of $265 million or $2.61 / share. Previous to the acquisition, Lithium X had defined a mineral resource exceeding 2 million tons of lithium carbonate equivalent, translating into approximately $130/ t LCE enterprise value. This valuation of the lithium industry's most recent acquisition is useful in determining the valuation of Advantage Lithium. Of course, this does not take into consideration the strategic relationship with Orocobre that is in place, nor does it take into account cash on hand or marketable securities, nor other non-core lithium brine land packages.
Valuation applied to Advantage Lithium
In a base-case scenario, the company could deliver a resource estimate of 2.5m T LCE, translating into $325 million in asset value with 75% attributableto Advantage Lithium and 25% to Orocobre. With an asset valuation of approximately $240 million and 140 million shares outstanding, Advantage Lithium could be fairly valued at $1.80 to $2.00 share. A stretch target of 3.5m T LCE could be defined; additional drilling throughout 2018-19 could translate into approximately $2.50 to $3.00/ share range.
It also important to note that the $130/ T LCE enterprise-value acquisition valuation for Lithium X translated into approximately 1% of lithium carbonate pricing in Q4 2017, when the acquisition was announced. Since then, pricing has increased $14,000 to $15,000 T LCE, which should also boost the valuation for advanced lithium exploration companies (see graph below). It is my expectation that lithium carbonate pricing will remain in the range of $14,000 to $15,000 T LCE throughout the balance of 2018.

My position on Advantage remains unchanged, as the pessimistic scenario is equivalent to 2m T LCE, which places the stock at approximately $1.50 / share or 50% higher than trading prices at the end of Q1 2018. In my opinion, shares in Advantage Lithium are set to increase over the balance of the year, allowing the company to position itself for its next leg of resource definition and project development. In addition to the initial resource estimate, the company will likely continue to define the asset by undertaking additional exploration. Beyond the initial and updated resource estimates, the company will be able to define its future. The strategy will likely include a stand-alone production facility or even lead to consolidation within the basin.
The next 30 to 60 days should see additional information released to the market both resource estimates and an overall corporate update.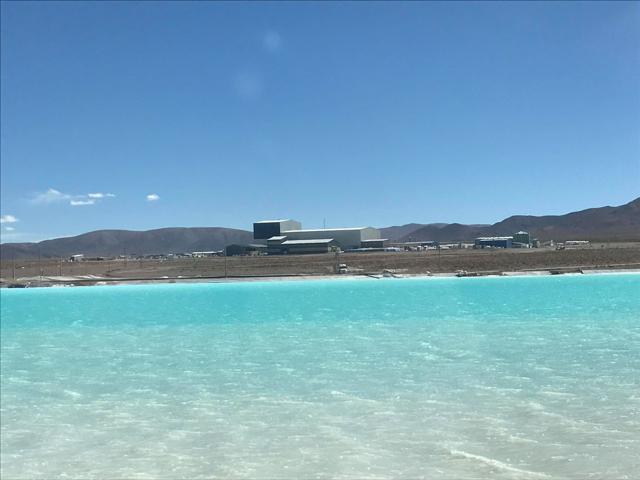 (Author supplied photo of the Olaroz lithium processing facility beyond a large body of brine)
March update from the Joint Venture
In March, the Joint Venture delivered another positive round of drill results both in the Northeast and Southwest zone. SE CAU13 drilling activity intersected a sequence of clay, silt, and some sand and halite to 400 m depth, and a sandier interval down to the bottom of the hole, which occurred at 449 m.
Click here to continue reading...
Subscribe to the RSD email list and get the latest resource stock activity directly to your inbox, for free.
Subscribe to the RSD email list and get the latest resource stock activity directly to your inbox, for free.
Part of the Stock Digest family of websites
MARKET SUMMARY
INDICES
| Name | Last | Change |
| --- | --- | --- |
| DOW | 27270.20 | 0.36% |
| S&P 500 | 2996.58 | 0.39% |
| NASDAQ | 8231.88 | 0.34% |
| TSX | 16573.67 | 0.33% |
| TSX-V | 593.88 | 0.00% |
Resource Commodities
| Name | Last | Change |
| --- | --- | --- |
| Gold | 1424.84 | 0.09% |
| Silver | 16.47 | 0.91% |
| Copper | 2.72 | 2.722 |
| Platinum | 901.00 | 0.67% |
| Oil | 56.22 | 1.05% |
| Natural Gas | 2.31 | 2.64% |
| Uranium | 25.60 | 1.08% |
| Zinc | 1.15 | 0 |