Summary
After 8 months of explorations results Advantage is nearing the completion of Phase 2; transition into Phase 3 is expected over the next month.
Advantage is expected to deliver an updated natural resource estimate for its Cauchari project; this should be a catalyst to building shareholder value.
A preliminary economic assessment is expected to follow in the next months; these combined milestones will allow the company to capitalize on momentum in the lithium business.
Throughout 2017 nearly all automakers announced their plans to introduce electric vehicles with initial releases slated for as early as 2018. This was a clear indication that this lithium cycle would generate long-term demand compared to the lithium boom of 2012, where demand failed to materialize. Given the robust outlook for lithium demand, in the fall of 2017 I began to closely follow Advantage Lithium's (OTCQX:AVLIF) exploration in the Cauchari basin. New demand for electric vehicles and energy storage systems will ensure that demand for lithium chemicals continues to rise over the next decade, which presents investment opportunities in advanced-stage, high-quality lithium assets.
Although there are many lithium exploration companies in the world, only a select few have actually delivered lithium chemicals into the global supply chain, including Orocobre, which is Advantage Lithium's Joint Venture partner at Cauchari. The Cauchari-Olaroz basin has attracted nearly $1 billion in capital investments from companies, including: Toyota Tsusho, The Bangchak Petroleum Public Company, Ganfeng, SQM (SQM), Lithium Americas(LAC) and Orocobre (OTCPK:OROCF). In January 2018, Toyota Tsusho (OTCPK:TYHOF) announced that it would acquire a 15% equity stake in Orocobre in consideration for a $300 million investment. A portion of the proceeds of funds will be used to expand the production capacity at Olaroz, while a smaller portion has been earmarked for ongoing exploration activity at Cauchari.
It is my opinion that Advantage Lithium is probably one of the best positioned advanced-stage lithium exploration companies. Any investors looking to gain exposure to the lithium exploration or lithium battery and material markets should strongly consider share ownership in Advantage Lithium. The recent drop in share price is unwarranted and has created a strong buying opportunity. In fact, the company's management team agrees with my view, as they recently acquired a small amount of stock in the open market; David Sidoo purchased 15,000 at $.88/share and Nick DeMare purchased 10,000 at $.89/share. This is a general practice that is deployed to send a positive message into the market. Over the next few weeks, the company will deliver an updated natural resource estimate that will further unlock shareholder value, and which will likely be a catalyst to reevaluate shares in the company.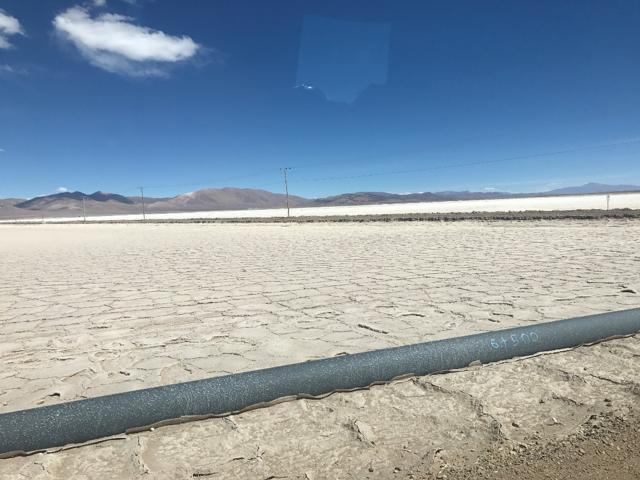 Piping runs along the salt flat at Olaroz (Author supplied)
As I previously reported, the company delivered positive drill results in both the Northeast and Southwest regions of the property. Drill efforts have intensified over the past months with encouraging results delivered to the market in January, February, March and. Due to the recent sell-off in the broader equities and lithium-specific markets, shares in the company have been trading flat around $1/ share.
In April 2018, the company delivered another round of positive drill results that highlighted the potential for resource expansion beyond the current drill campaign, which is nearing completion.
Highlights included:
NW CAU17 encountered extensive gravel and sandy sediments, which is similar to the previously reported results from NW CAU18. The distance between the two is 2.6 km, which confirms the expansion of the basin. Brine sampling at NW CAU17 continues to show characteristics that are comparable to Orocobre's Olaroz project, which is now producing lithium chemicals.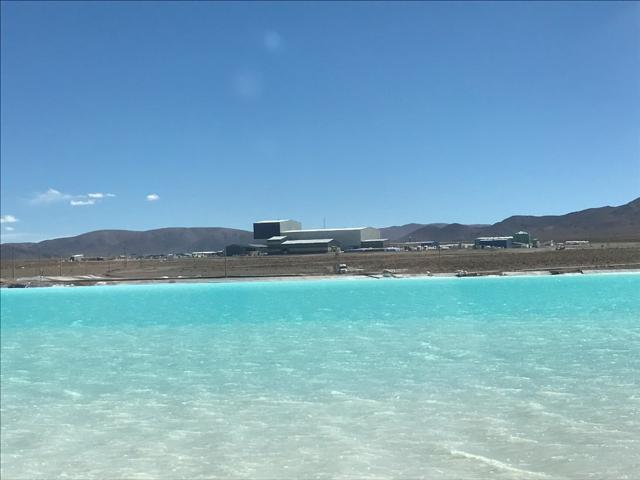 Across the lithium pond - Olaroz lithium processing facility (Authored supplied)
Simply stated, the past drill results, including the April update, illustrate that the company continues to expand the basin. Phase 3 drilling efforts will commence during the month of May while the Cauchari updated resource estimate is now expected to be completed in mid-May. This will be followed by a Preliminary Economic Assessment which may be delivered during June-July.
Click here to continue reading...
Subscribe to the RSD email list and get the latest resource stock activity directly to your inbox, for free.
Subscribe to the RSD email list and get the latest resource stock activity directly to your inbox, for free.
Part of the Stock Digest family of websites
MARKET SUMMARY
INDICES
| Name | Last | Change |
| --- | --- | --- |
| DOW | 26536.80 | 0.04% |
| S&P 500 | 2913.78 | 0.12% |
| NASDAQ | 7909.97 | 0.32% |
| TSX | 16312.22 | 0.36% |
| TSX-V | 580.07 | 0.00% |
Resource Commodities
| Name | Last | Change |
| --- | --- | --- |
| Gold | 1405.97 | 0.33% |
| Silver | 15.25 | 0.20% |
| Copper | 2.72 | 2.716 |
| Platinum | 901.00 | 0.67% |
| Oil | 59.38 | 2.61% |
| Natural Gas | 2.29 | 0.74% |
| Uranium | 24.65 | 0.00% |
| Zinc | 1.15 | 0.00% |