Summary
Shares in Advantage Lithium have rapidly increased on positive drill results and ongoing developments by Lithium Americas and Orocobre.
Partner company, Orocobre has reported strong financial results while moving to expand production at Olaroz.
Four catalyst which will continue to drive momentum in Advantage's share price.
Canada based Advantage Lithium (OTCPK:OTCQX:AVLIF) has recently reported results from its ongoing drill campaign located in the Puna Plateau region of Argentina. The company's flagship Cauchari project is presently at an exploration stage which includes the use of rotary hole and diamond drills. Program results have been steadily flowing back to shareholders since September 2017 and are expected to continue throughout the balance of the current calendar year. This will allow the company to complete a Scoping Study in Q1 2018, which will be followed by a Feasibility Study completed in 2019. Initial brine is expected to be extracted and shipped for processing in 2019. Company updates in the past 2 months have strongly suggested that the results from the drilling campaign are well in-line with Orocobre's (OTCPK:OTCPK:OROCF) Olaroz lithium project results from 2011. Advantage's lithium exploration property is less than 20KM away from Orocobre's Olaroz line brine production facility and is on the same salt pond as Lithium Americas (OTCPK: OTCQX:LACDD) Cauchari project which is moving into the construction stage.
In October 2017, I initiated coverage on Advantage Lithium with a strong buy rating and a near-term price target of $1.00 / share (See: Advantage Lithium - Initiating A Strong Buy Recommendation). In recent weeks shares in the company have gained momentum to exceed my initial price target. The current positive movement is based on favorable demand outlook for electric vehicles and stationary energy storage systems, positive results from Orocobre and Lithium Americas who also operate in the same basin and positive drilling results at Cauchari. Today, it is my expectation that shares in Advantage will trade around $1.50/ share or $200 million market capitalization as the company moves towards delivering results of the scoping study in Q1 2018. Therefore, I am increasing the price target for Advantage Lithium to CDN $1.50/share based on the following near term catalysts.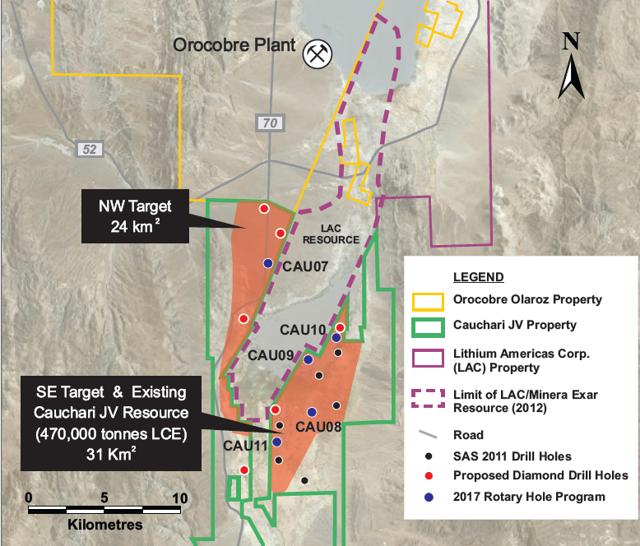 Advantage Lithium straddles Lithium Americas project and is within range of Orocobre facilities
Orocobre Marks Great Progress In Argentina and Japan:
Over the past four years, I have been tracking and reporting on the progress of Orocobre's Olaroz lithium salar project in the Northwestern region of Argentina. Although the company continuously missed production deadlines and incurred cost overrun, it is now in production and the company delivered positive results for Fiscal 2017. Shareholders in Orocobre have experienced a wild roller coaster ride over the past years but have finally been well rewarded. Shares in the company has finally broke through the $5.00 / share resistance level and have charged to $6.00 / share. Today, the company has a market capitalization valued over $1 billion which is expected to further increase based on strong global lithium carbonate pricing, a reduction in project debt allowing for an increase in free cash flow, and a rapid expansion project at the company's lithium brine site in Argentina along with a new battery material chemical plant in Japan (See: Orocobre Set To Expand Lithium Production).
In March 2018, the company sold non-core exploration properties in Argentina to Advantage Lithium in consideration for 46 million common shares plus a 25% ownership in the Cauchari project. The mid-term opportunity is to develop an above ground pipeline network to transport lithium brine to Orocobre's Olaroz facility for processing. Infrastructure can be quickly deployed at minimal cost, allowing for the company to begin supplying lithium into the global markets without the need to build a lithium brine processing facility.
Click here to continue reading...
Subscribe to the RSD email list and get the latest resource stock activity directly to your inbox, for free.
Subscribe to the RSD email list and get the latest resource stock activity directly to your inbox, for free.
Part of the Stock Digest family of websites
MARKET SUMMARY
INDICES
| Name | Last | Change |
| --- | --- | --- |
| DOW | 26536.80 | 0.04% |
| S&P 500 | 2913.78 | 0.12% |
| NASDAQ | 7909.97 | 0.32% |
| TSX | 16312.22 | 0.36% |
| TSX-V | 580.07 | 0.00% |
Resource Commodities
| Name | Last | Change |
| --- | --- | --- |
| Gold | 1407.60 | 0.21% |
| Silver | 15.27 | 0.07% |
| Copper | 2.72 | 2.716 |
| Platinum | 901.00 | 0.67% |
| Oil | 59.38 | 2.61% |
| Natural Gas | 2.29 | 0.74% |
| Uranium | 24.65 | 0.00% |
| Zinc | 1.15 | 0.00% |