Summary
Orocobre has struggled to lift production volumes, but may finally be turning the corner.
The stock is well-placed as a pure-play, low-cost, lithium producer about to ramp up and expand production to 42,500tpa LCE. Further upside from Advantage Lithium, and Borax Argentina.
Toyota Tsusho Corporation (partly owned by Toyota Motors) increased its equity stake in Orocobre, as well as being the main off-take and project partner.
Members of our private investing community, Trend Investing, get our best ideas and insights. Get started today >>
This article was first published on Trend Investing on August 8; therefore all data is as of that date.
Orocobre is building a substantial Argentina-based industrial chemicals company through its portfolio of lithium, potash and boron assets. The company has significant expansion plans between now and 2022, and is supported by Toyota.
Orocobre [ASX:ORE] [GR:3O1][TSX:ORL] (OTCPK:OROCF) - Price = AUD 4.34, USD 3.22
Orocobre 5-year price chart
Source: Bloomberg
For a background on Orocobre, my previous article is linked below:
Note: It is interesting to see that Orocobre's share price has now retreated right back to a very similar price to when I last wrote on the company over 2 years ago. This just goes to show how depressed the lithium miner's stock prices are at this time. Of course this is great news for those that missed the chance to buy cheaply 2 years ago, as they get a second chance now.
Orocobre's main assets summarized
Orocobre owns:
66.5% of the Salar de Olaroz Argentina lithium producing brine mine.
~29% share of Advantage Lithium [TSXV:AAL] (OTCQX:AVLIF) and 2,550,000 warrants exercisable at C$1, and ultimately a 25% project share in the Cauchari JV project (Advantage Lithium is earning its way in and should reach 75%).

100% owned Borax Argentina - Producing minerals, refined products and boric acid.
Advantage Lithium's projects

Cauchari is shown above as 50% owned by Advantage Lithium; however, this should move to 75% AAL/25% ORE, once certain milestones are met. Cauchari has an inferred resource of 3.0 Mt contained LCE at 450 mg/lLithium, with significant potential for additional resource expansion at depth. The Mg/Li ratio averages 2.5, very similar to Orocobre's Olaroz project. The DFS is due Q2 2019.
Takeaways from my past articles
Orocobre is an Australian, pure-play lithium miner with its flagship lithium brine project in the Salar de Olaroz Argentina. The project started in 2008 and commenced production in 2015.
Orocobre owns 66.5%, Toyota Tsusho has 25%, and the Juyjuy Government owns the remaining 8.5% of the Salar de Olaroz project.
Chinese strategist Chen Lin says it well: "Albemarle bought Rockwood Holdings Inc. (NYSE:ROC) for over $6 billion. That's one of the largest lithium producers on earth. This (Orocobre's Salar de Olaroz) can be one of the largest lithium mines on earth. Its market cap is less than 10% of that. If this mine goes into production and everything is on track, its upside is huge."
Note: Toyota Tsusho is partly owned by Toyota Motor Group (TM), and has recently acquired a larger share on Orocobre share register to reach 15%.
Salar de Olaroz Argentina location map (shows other interests)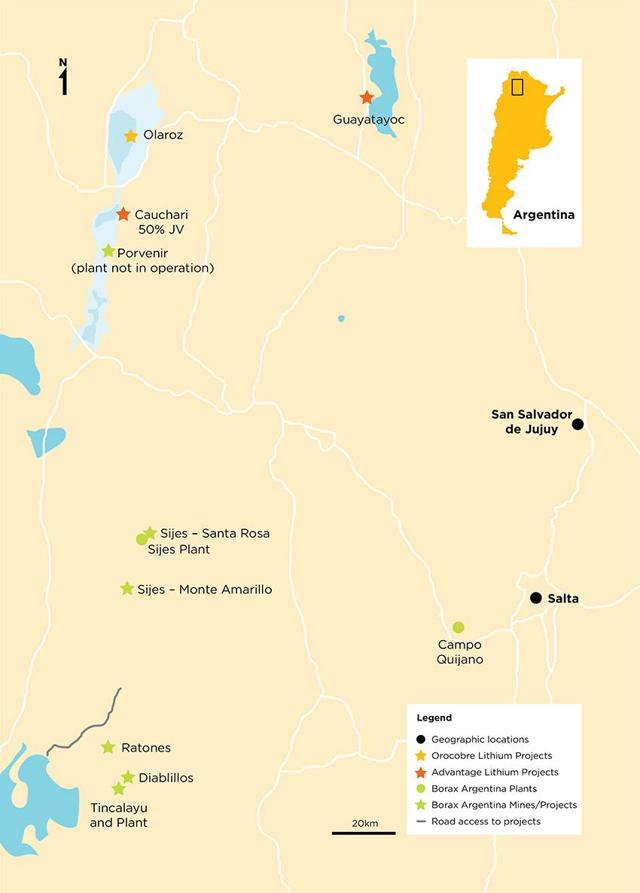 2017 and 2018 developments for Orocobre
On January 15 Orocobre announced - "Toyota unit takes stake in Australian lithium producer. Toyota Group's trading arm will take a stake in Australian lithium miner Orocobre for almost A$300m as car manufacturers seek to secure supplies of the critical ingredient for batteries to meet growing electric vehicle demand. Toyota Tsusho will take a 15 per cent stake in lithium miner Orocobre for A$282m ($224m) to more than double lithium carbonate production capacity at Orocobre's Argentinian mine Olaroz to 42,500 tonnes per year from 17,500 previously. Toyota Tsusho said the investment will provide a 'long term, stable supply of lithium in response to growing global demand." Note the deal was done at AUD 7.50 per share.

On February 28 4-traders reported, "Orocobre: Morgans rates ORE as add. In the wake of Orocobre's result, the broker has revised its valuation based on production, lithium price and cost-out assumptions. The recent capital placement has left a strong balance sheet. Add retained, target rises to $8.44 from $8.17." That is AUD.
On June 21 4-traders reported: "Orocobre: Patent issued for process for producing lithium carbonate from concentrated lithium brine (USPTO 9994930)."
June 28 Orocobre Ltd. announced: "Online briefing to discuss the Olaroz lithium facility's June quarter production update. Producing 3,596 tonnes of LCE at an average sale price of US$13,611.
Click here to continue reading...
Subscribe to the RSD email list and get the latest resource stock activity directly to your inbox, for free.
Subscribe to the RSD email list and get the latest resource stock activity directly to your inbox, for free.
Part of the Stock Digest family of websites
MARKET SUMMARY
INDICES
| Name | Last | Change |
| --- | --- | --- |
| DOW | 26536.80 | 0.04% |
| S&P 500 | 2913.78 | 0.12% |
| NASDAQ | 7909.97 | 0.32% |
| TSX | 16312.22 | 0.36% |
| TSX-V | 580.07 | 0.00% |
Resource Commodities
| Name | Last | Change |
| --- | --- | --- |
| Gold | 1405.97 | 0.33% |
| Silver | 15.25 | 0.20% |
| Copper | 2.72 | 2.716 |
| Platinum | 901.00 | 0.67% |
| Oil | 59.38 | 2.61% |
| Natural Gas | 2.29 | 0.74% |
| Uranium | 24.65 | 0.00% |
| Zinc | 1.15 | 0.00% |