Tax loss season is upon us, and with it comes discounts on some of the best companies in the junior resource sector. In particular, Marathon Gold stood out for me; it just released a great update to its NI 43-101 resource estimate, moving a portion of its inferred gold ounces to the measured and indicated categories and increasing its gold resource by roughly 30% overall. The market reaction? "Yawn," or basically no movement in the stock. This is music to my ears – I bought another tranche.
What's my point? Sometimes, the market doesn't see or understand the value proposition, especially when the sector for the given company isn't in favour.
Today, I'm sharing my research on a copper company which is set to (very soon) finalize their acquisition of a major copper project in northern British Columbia (BC). I think this should result in a re-rating in their share price, as their current MCAP is around 3 times less than the acquisition cost of the project. This company is Desert Star Resources.
Let's take a closer look.
MCAP – $8.5 million (at the time of writing)
Shares – 18,947,901
Fully Diluted – 26,169,901
Kutcho High Grade Copper-Zinc-Gold-Silver Project
On June 15th, 2017 Desert Star announced it had signed a definitive agreement to acquire 100% of the Kutcho high grade copper-zinc-gold-silver project from Capstone Mining Corporation. The deal was comprised of cash, $28.8 million CAD and, upon completion of the acquisition and concurrent financing, 9.9% of the issued and outstanding shares of Desert Star.
Wheaton Precious Metals
On August 10, 2017, the purchase of Kutcho got a huge boost with the announcement that Desert Star had agreed to terms on a non-binding Early Deposit Precious Metals Purchase Agreement with Wheaton Precious Metals Corporation. The agreement will see Wheaton pay Desert Star $65 million USD for up to 100% of the payable silver production, and up to 100% of the payable gold production produced from the Kutcho Project.
Additionally, and in line with management's goal for the project, if the processing capacity of the mine increases to 4,500 tpd or more within 5 years of attaining commercial production, a further $20 million USD will be payable to Desert Star.
Furthermore, on October 31, 2017, Desert Star announced it had entered into a non-binding Term Sheet for a $20 million CAD Subordinated Secured Convertible Term Debt Loan with Wheaton Precious Metals. Bringing the total financing package to over $100 million CAD.
In my view, an investment by Wheaton Precious Metals speaks volumes about the quality of the people and the project. The Wheaton Precious Metals team, while not infallible, has a great track record for finding projects that are future mines. In saying this, be mindful that a stream on the project, while helping early on with the funding of the mine, does remove some of the potential future value. In the case of the Kutcho Project, the precious metals only account for 8% of the revenue, making it a small part of the overall Kutcho Project value.
Desert Star's People – Built for Success
The acquisition of the Kutcho Project from Capstone and management's ability to secure over $100 million CAD in funding via Wheaton Precious Metals, in my mind, speaks volumes about CEO and Director, Vince Sorace's, ability to lead the company. Sorace has over 25 years of experience in international business and capital markets, and has held senior leadership roles in a number of other companies.
Sorace's COO, Rob Duncan, has over 26 years of experience in mineral exploration and held senior leadership roles for a number of other mining companies. In particular, he has extensive technical experience with VMS systems such as Kudz Ze Kayah and Wolverine in the Yukon's Finlayson District and Izok Lake in Nunavut.
Rory Kutluoglu, a professional geologist, has 10 years experience in the mining industry. His most recent success was with Kaminak Gold Corp., where he was the exploration manager and played an instrumental role in the Coffee Gold Project's development, which was acquired by Goldcorp in 2016. Kutluoglu is Desert Star's VP of Exploration and will be focusing on expanding Kutcho resources.
Also, Allison Rippin-Armstrong, formerly with Kaminak Gold Corp, brings her 20 years of experience in permitting, regulatory processes and environmental compliance for resource companies to the Desert Star management team. Rippin-Armstrong will play an invaluable role as she leads relations with the First Nations Tahltan Central Government (TCG) and aids the company in the permitting process.
To note, there is one particular addition to Desert Star's Board of Directors that I think will be an x-factor for the company as they develop Kutcho. The appointment of Bill Bennett, BC's former Mining Minister, to the Board of Directors should pay major dividends, as he helps the company navigate the permitting process.
Additionally, on the Board of Directors, is Stephen Quinn and Jay Sujir. Also, Desert Star has three advisors; Peter Meredith, former Chairman of Ivanhoe Mines; Rob Carpenter, former CEO of Kaminak Gold; and Stuart Angus, former Chairman of Nevsun Resources. This advisory board is another huge plus for this junior company, as each of these men have been successful in the mining industry.
Northern British Columbia
The Kutcho Project is made up of 46 mineral exploration claims encompassing 17, 060 hectares, and is located in northern British Columbia.
Source: Prefeasibility Study Technical Report on the Kutcho Project
As you can see on the map, Dease Lake is the largest community near Kutcho, sitting roughly 100 km west, and is cited as having a population of 335 people in the technical report. As well, Dease Lake is about 400 km north of the Port of Stewart and 600 km north of Smithers.
Access to Kutcho is via a seasonal road from HWY 37 or gravel airstrip, which is located on the property at the junction of Kutcho and Andrea creeks.
Tahltan Territory
On October 26, 2017, Desert Star announced a communications agreement with the Tahltan Central Government (TCG). The TCG is the governing body of the Tahltan Nation, which works to protect the Aboriginal rights and title, ecosystem and natural resources of the Tahltan community.
Tahltan territory encompasses 93,500 square kilometres in northwestern BC, running parallel to the Alaskan/Canadian border. Their three main communities are Telegraph Creek, Dease Lake and Iskut.
A good relationship with the TCG is integral to the future development of the Kutcho Project into an operating mine.
BC and its NDP Provincial Leadership
This past May, BC's provincial election turned out the way many rural and business people had hoped, with the Liberals retaining control of the provincial government. This minority win, however, didn't last long, as the NDP, the Liberals' closet provincial leadership competitor, and the Green Party combined forces to displace the Liberals and took control of the province.
The NDP have a reputation of being bad for business – and with good cause. I cite Ontario in the 90s and, most recently, the NDP's current control of what was formerly Canada's richest province, Alberta. From a number of perspectives, but most importantly from a business perspective, these examples show the potential downside of the NDP ideology.
In saying this, however, it isn't a done deal that all business is doomed because the NDP has taken over, just a higher probability, in my opinion. Further, I would be remiss if I didn't point out that the Liberals and Conservatives aren't without fault when it comes to bad policy decisions that have negatively affected business.
So what do I think about investing in mining in BC? Currently, I do see risk in investing in BC given the current political leadership. However, as I mentioned in the beginning of this article, investing in quality companies is the key to success in the junior resource sector. Therefore, if I'm able to find a quality company at the right price, I'm willing to take on more political risk.
In the case of Desert Star, I think that the Kutcho Project is quality and worth the associated jurisdictional risk. Bill Bennett and Allison Rippin Armstrong will prove invaluable as they help the company navigate the permitting process to ensure that this project has the best chance of being approved in a timely manner.
Updated Prefeasibility Study
Upon signing the definitive agreement with Capstone to acquire the Kutcho Project, Desert Star approached JDS Energy and Mining Inc. to update their 2011 PFS on the Project. The update to the PFS is intended to show the project's economics based on current costs, metal prices, exchange rates, mineral resources and metallurgical interpretations.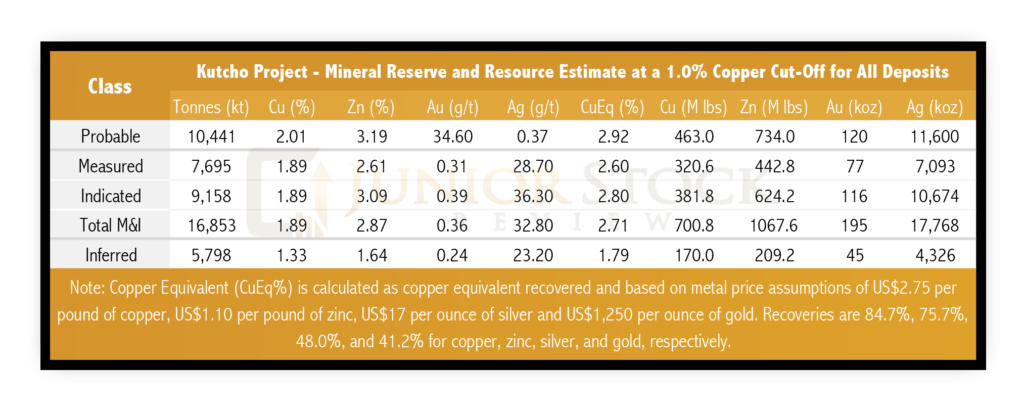 Source: Prefeasibility Study Technical Report on the Kutcho Project
The Kutcho Project is made up of 3 mineralized zones: Main, Esso and Sumac. These 3 zones are Kuroko-type volcanogenic massive sulphide (VMS) deposits and are aligned in a westerly plunging linear trend. The PFS mine planning and economics only consider the Main and Esso zones, as the Sumac Zone only has inferred resources.

Source: Kutcho Project's 3 Mineralized Zones
Currently, the mine plan calls for a starter pit to be constructed on the Main Zone, which will be used to mine roughly 0.4 Mt of preliminary mill feed. The pit will then give way to an underground portal which will be used to access the rest of the deposit.
As you can see in the image above, the Main Zone deposit is at surface, has a strike length of about 1.5 km, and extends approximately 260 m down dip. The Esso Zone sits about 1.5 km away from the Main Zone, and is located roughly 400 m below surface, extending 240 m down dip, and has a strike length of 640 m.
The PFS estimates the mine to have the following production and economic statistics:
Production Rate – 2,500 tpd
Mine Life – 12 years
Average Annual Copper Production – 33 Mlbs
Average Annual Zinc Production – 42 Mlbs
After-tax NPV@8% – $265 million CAD
After-IRR – 27.6%
After-tax Payback – 3.5 years
Initial CAPEX Cost – $220.7 million
Kutcho Metallurgy
The biggest question mark surrounding the Kutcho Project, in my opinion, is its metallurgy. JDS remarks,
"The mineralogy of the Kutcho deposits is complex and requires a similarly complex approach to produce copper and zinc concentrates at reasonable recoveries and concentrate grades." ~ PFS 1-3
The PFS economic case is based off of a 84.7% copper recovery with a saleable concentrate grade of 27.6% copper, zinc content of 7.3%, gold content of 2.5 g/ton, and a silver content of 268.6 g/ton. The zinc recovery is expected to be 75.7%, with a concentrate grade of 55.1% zinc and 1.2% copper.
Deviations from the expected recoveries or further use of reagents and increased power consumption are concerns due to the complex nature of the mineralization. Further metallurgical work on the Project is scheduled for Q3 and Q4 of 2018, and will provide the company with a good chance to optimize the metallurgical process, which could have a positive impact on Kutcho's economics.
Click here to continue reading...
Subscribe to the RSD email list and get the latest resource stock activity directly to your inbox, for free.
Subscribe to the RSD email list and get the latest resource stock activity directly to your inbox, for free.
Part of the Stock Digest family of websites
MARKET SUMMARY
INDICES
| Name | Last | Change |
| --- | --- | --- |
| DOW | 27909.60 | 0.38% |
| S&P 500 | 3135.96 | 0.32% |
| NASDAQ | 8621.83 | 0.40% |
| TSX | 16950.85 | 0.27% |
| TSX-V | 537.49 | 0.00% |
Resource Commodities
| Name | Last | Change |
| --- | --- | --- |
| Gold | 1461.83 | 0.14% |
| Silver | 16.61 | 0.24% |
| Copper | 2.76 | 2.759 |
| Platinum | 901.00 | 0.67% |
| Oil | 59.20 | 1.30% |
| Natural Gas | 2.33 | 3.98% |
| Uranium | 25.80 | 0.00% |