Chilean Metals Updates Zulema Exploration Plans
Toronto, ON / TheNewswire / November 21, 2017 - Chilean Metals Inc. ("Chilean Metals," "CMX" or the "Company")(TSX.V:CMX, OTCQB: CMETF, SSE:CMX, MILA:CMX, FRA: IVV1, BER : IVV1).
Chilean Metals Inc is pleased to provide an update on the exploration program on the Zulema project located near Copiapo, Chile and 30 Km's from Lundin Mining's Candelaria mine. With Candelaria as a model, the exploration program has advanced beyond the initial drill program to a preparation for the next stage of drilling.
After discussions with Lundin Mining and Minotaur Exploration, it was determined that the following be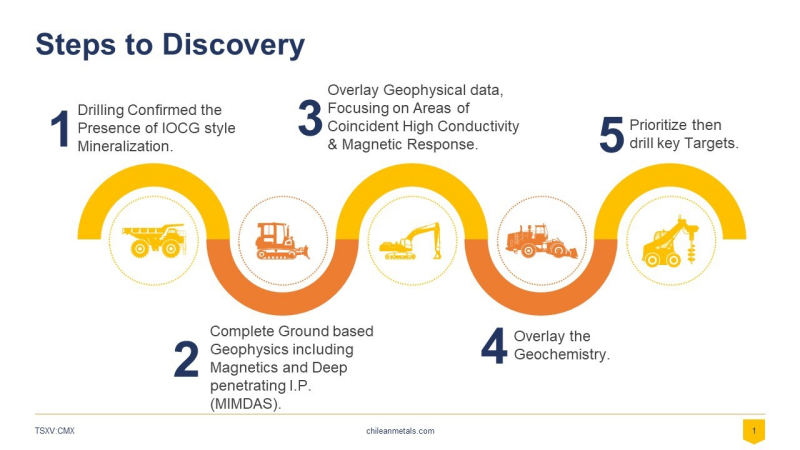 Click Image To View Full Size
implemented, commencing with detailed ground geophysics. With recommendations from both Lundin Mining and Minotaur Exploration, the Company has engaged Southern Rock Geophysics, a consulting firm with over 20 years experience in the Andean Region. Familiar with both the Porphyry and IOCG depositional models, Southern Rock brings the expertise required to search for a blind target in the challenging desert of Chile. The initial stage will consist of detailed ground magnetics to tighten up coverage and better define the underlying geological contacts. This will be followed by a gravity survey designed to target blind deposits at depth. Deep penetrating I.P. would follow prior to drilling.
"We have very high hopes for Zulema. Our initial exploration was designed at defining our area and identifying a Porphyry or IOCG System. We successfully identified an IOCG System with Cu / Au mineralization within the host skarn. The next phase is to further identify the source of our intercepts and hopefully announce a discovery. Building on Southern Rock's successes at Candelaria, we are excited to be working with them and identifying the priority drill targets for our 2nd phase @ Zulema. We are also very excited to expand the target area to include the western targets identified during Phase 1 and ground previously not covered by ground based geophysics. We have a mineralized intrusion 2km to the west. Our additional target area is almost 10km Sq." commented Chilean CEO Patrick J. Cruickshank.
"Desert exploration is very difficult due to minimal outcrop and 75 to 100 meters alluvial sands. There are several factors working against the explorer, but the great news is that when you find rocks like below that is the hard part...finding the IOCG system. Talking with successful local explorers and suppliers like Lundin, Minotaur and Southern Rock and we fully believe in the strategy that we are beginning to execute now" commented Chilean Chairman Terry Lynch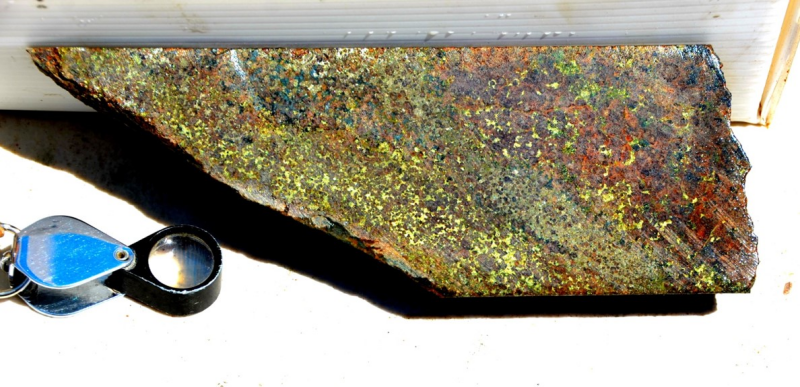 Click Image To View Full Size
Core Hole - 1.189% Cu, 0.99g/t Au, Skarn contact, Drill Hole "3"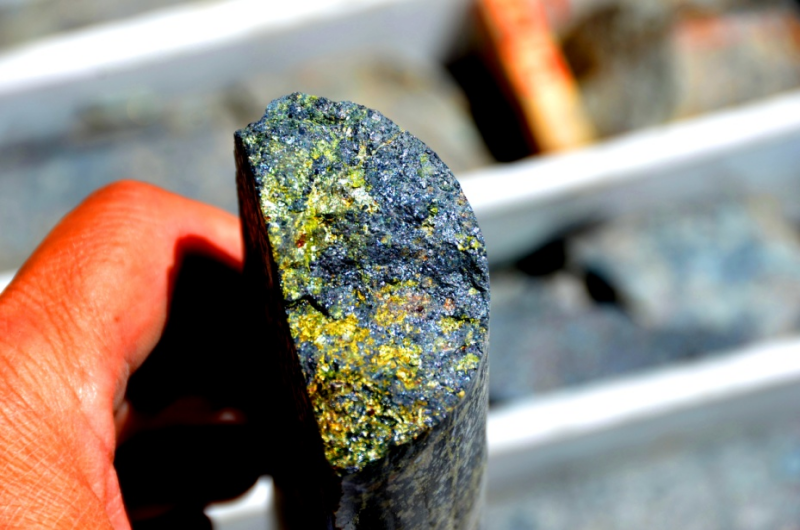 Click Image To View Full Size
Chalcopyrite, Magnetite Drill Hole #3
Post analysis of the exploratory magnetic, geophysics and geochemical data Chilean Metals would expect to announce a second stage of drilling in Q1/Q2 of 2018.
About Chilean Metals
www.chileanmetals.com/

Chilean Metals Inc. is a Canadian Junior Exploration Company focusing on high potential Copper Gold prospects in Chile & Canada.
Chilean Metals Inc is 100% owner of five properties comprising over 50,000 acres strategically located in the prolific IOCG ("Iron oxide-copper-gold") belt of northern Chile. It also owns a 3% NSR royalty interest on any future production from the Copaquire Cu-Mo deposit, recently sold to a subsidiary of Teck Resources Inc. ("Teck"). Under the terms of the sale agreement, Teck has the right to acquire one third of the 3% NSR for $3 million dollars at any time. The Copaquire property borders Teck's producing Quebrada Blanca copper mine in Chile's First Region.
Chilean Metals Inc is the 100% owner of four Copper Gold exploration properties in Nova Scotia on the western flank of the Cobequid-Chedabucto Fault Zone (CCFZ); Fox River, Parrsboro, Lynn and Bass River respectively. Initial targeting and geophysics has been conducted on all properties, At Bass River North, airborne geophysics identified a major VTEM cluster on trend with the Pb/Zn/Ag mineralization exposed at surface and in drill holes to the southwest. Modeling of the airborne data by Minotaur Exploration (Australia) identified 3 priority targets recommended for ground based geophysics prior to drilling. Drilling is expected to commence in early December.
ON BEHALF OF THE BOARD OF DIRECTORS OF
Chilean Metals Inc.
"Terry Lynch" "Patrick J Cruickshank"
Terry Lynch, Chairman Patrick J Cruickshank, President & CEO
Contact: terry@chileanmetals.com patrick@chileanmetals.com
The Qualified Person for Chilean Metals Inc., as defined by National Instrument 43-101, is Gary Lohman, P. Geo., Vice President, Exploration.
Subscribe to the RSD email list and get the latest resource stock activity directly to your inbox, for free.
Subscribe to the RSD email list and get the latest resource stock activity directly to your inbox, for free.
Part of the Stock Digest family of websites
MARKET SUMMARY
INDICES
| Name | Last | Change |
| --- | --- | --- |
| DOW | 25502.30 | 1.80% |
| S&P 500 | 2800.71 | 1.93% |
| NASDAQ | 7642.67 | 2.57% |
| TSX | 16089.33 | 0.96% |
| TSX-V | 637.82 | 0.00% |
Resource Commodities
| Name | Last | Change |
| --- | --- | --- |
| Gold | 1317.04 | 0.40% |
| Silver | 15.49 | 0.52% |
| Copper | 2.84 | 0.000 |
| Platinum | 848.00 | 0.18% |
| Oil | 59.04 | 1.59% |
| Natural Gas | 2.75 | 2.47% |
| Uranium | 25.88 | 0.46% |
| Zinc | 1.32 | 0.00% |