Welcome to the August 2017 cobalt miner news. For some background on the cobalt miners, please check out my earlier articles:
Cobalt price news
As of Aug. 22, the cobalt spot price was US$27.22, having risen slightly from US$26.54 this time last month.
Cobalt spot prices - 1-year chart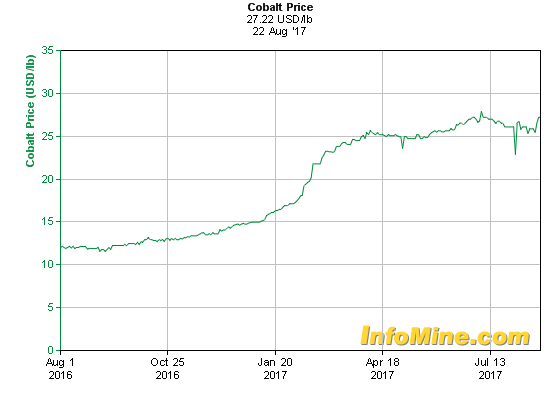 (Source: InfoMine.com)
Cobalt demand and supply
In a July Citibank report on cobalt the bank stated (no link):
Strong demand coupled with constrained supply to support cobalt price rally above c$63,000/t by 2018E: YTD LME cobalt price has rallied 82% to c$58,500/t, thanks to strong demand, mainly driven by batteries for electric vehicles (EVs), as well as constrained supply. Going forward, we expect global demand to grow at a 7.5% CAGR, outpacing a supply CAGR of 5% and creating an annual deficit of c5-11kt in 2017-20, supporting a further rally in the cobalt price to c$63,000/t.
CRU stated earlier in 2017 it "expects 900 T (tonnes) cobalt deficit this year." Investing News state that Macquarie Bank forecasts "a deficit of 885 tonnes is expected next year (2018), with deficits of 3,205 tonnes and 5,340 tonnes expected in 2019 and 2020, respectively."
Cobalt deficit forecast graph - to 2018

Source
My cobalt production table (work in progress)
| | | |
| --- | --- | --- |
| Cobalt miner (tpa) | 2016 | 2017 (forecast) |
| Chinese (Jinchuan, Huayou Cobalt, Jiangsu Cobalt) | 46,966 | 47,000 |
| China Molybdenum (OTC:CMCLF) | | 15,909 |
| Freeport-McMoRan (NYSE:FCX) | 10,944 | ~2,000 |
| Glencore (OTCPK:GLCNF) (Minara, Mopani, Mutanda) | 28,300 | 30,000 |
| Katanga Mining (OTCPK:KATFF) (plans ~11,000tpa in 2018, and ~22,000tpa by 2019 if demand is there) | | |
| Sherritt International (OTCPK:SHERF) | 6,967 | ? |
| Umicore SA (OTCPK:UMICF) | 6,328 | 6,500 |
| Vale (NYSE:VALE) | 5,799 | |
| ERG - ENRC (Chambishi) (plus an additional ~14,000tpa from ~2019) | ?4,317 | ?4,317 |
| Sumitomo (27.5 % Ambatovy Nickel, Madagascar) | 4,418 | 4,500 |
| ICCI | 3,902 | 4,000 |
| Zambia | 3,874 | 4,000 |
| Norilsk Nickel (OTCPK:NILSY) | 3,234 | ~5,500 |
| Others - S.Africa (1,230) | 1,230 | 5,000 |
| TOTAL | ~123,000 | ~130,000 |
NB: Bloomberg Intelligence reported 2016 total cobalt production to be 123,000 tonnes, CRU says 117,000 tonnes. My estimate is 130,000tpa for 2017. Exane BNP Paribas forecasts ~200,000mt market by 2022, and 300,000mt by 2025.
Source: Cobalt News and my own research/estimates
Cobalt market news
On Aug. 1, Investing News wrote:
Rick Rule, president and CEO of Sprott U.S. Holdings, said he thinks the next commodity that is coming up is cobalt. 'We are investing in Congolese cobalt, we are investing Russian cobalt, we are investing in early stage exploration for cobalt in lateritic terrains, both in Australia and Brazil,' he said. There is also an audio interview of mining legend Rick Rule discussing gold, lithium and cobalt. Also a brief view on copper and nickel. As stated above his favorite now is cobalt.
On Aug. 8, Bloomberg wrote an article titled "Billionaire who made killing on cobalt bets on battery fund." The article discusses Pala New Energy Metals (founded by Russian billionaire Vladimir Iorich), and their early move to buy physical cobalt. The article says:
Pala is betting demand for specific base metals will surge in coming years as more and larger batteries are built. Supply of metals such as cobalt won't be 'sufficient to meet projected needs over the next decade.' Pala is (also) looking beyond its early focus on cobalt, with battery technology starting to shift toward other metals. Last month, Pala participated on two-tranche $110 million debt deal with Altura Mining Ltd. (OTCPK:ALTAF), a Sydney-listed company developing a lithium mine in Western Australia that's expected to start producing the metal next year. What's cobalt today may also be nickel tomorrow.
On August 23, Bloomberg wrote an article titled "Hunt for next electric-car commodity quickens as prices soar." The main focus was on cobalt:
Cobalt demand expected to increase 34% a year through 2026.
Top copper miner Chile looking to restart cobalt production.
The cobalt market is in a 5,500-ton deficit, according to CRU, with global supply contracting 3.9 percent in 2016. Glencore Plc.-owned Katanga's whole ore leach and Eurasian Resources Group's roan tailings reclamation projects -- both ramping up this year in Congo -- should help ease the deficit. Rising prices are encouraging operators in Asia and elsewhere to produce cobalt as a byproduct of other metals such as nickel and copper.
Note: I would think the "34% a year" refers to cobalt demand from electric vehicles only.
Cobalt company news
China Molybdenum (HKSE:3993) (SHE:603993) (OTC:OTC:CMCLF)
On July 13, Sinocast/4-traders reported:
Ningbo Shanshan: Shanshan Plans to Buy CNY1.8bn China Molybdenum A-Shares. Shanshan also entered into a strategic partnership agreement with China Molybdenum, which will launch cooperation in cobalt product purchase and sales and cobalt and lithium resources development.
This follows a CNY 28.7 billion capital raising in July that was 2.15 times oversubscribed.
China Moly shares have been on a tear lately. Followers of mine hopefully invested in them back in December 2016 after my "top 5 cobalt miners to consider" article, when the HK listing was at HKD 1.78, making them a nice 117% gain. The stock is now at HKD 3.87 and looking a bit expensive - at least in the short term. Current price is 7% above analyst consensus estimates.
Freeport-McMoRan Inc. (NYSE:FCX)
On July 12, Market Exclusive/4-traders reported, "Indonesia wants to meet Freeport-McMoRan Inc CEO to end copper mine dispute." The strike and battle with the Indonesian Government still continues. You can read an Aug. 11 update by ABC News here.
On July 27, Freeport-McMoRan announced, "Second-quarter and six-month 2017 results including Q2 adjusted net income of US$0.17 per share."
Glencore (HK:805) (OTC:OTCPK:GLCNF)
On July 27, Glencore announced their 2017 half-year production report including: "Glencore's cobalt output down 7% in Q2; half-year production unchanged."
On Aug. 10, Glencore announced their 2017 half-year results including an EPS result for H1 2017 of US$0.17. Of interest was this quote:
As we look forward, the potential large-scale roll out of electric vehicles and energy storage systems looks set to unlock material new sources of demand for enabling underlying commodities, including copper, cobalt, zinc and nickel. Our portfolio of Tier 1 commodities underpins our ambition to create significant long-term value for Glencore shareholders.
Katanga Mining (OTCPK:KATFF) (TSX:KAT)
There was no significant news on KATFF for the month. Their mine is expected to re-open soon but no exact date has been given.
You can also read my original article from Jan. 1, 2017, "Katanga Mining is a potential turnaround story." Followers of mine who bought back then with me at CAD 0.13 have made a tidy 454% gain in 8 months.
Sherritt International
On July 26, Sherritt announced Q2 2017 results: "Finished nickel production declined 8% year-on-year to 7,182 tonnes and cobalt production declined 5% year-on-year to 706 tonnes in the quarter ended June 30. 2017 guidance revised downwards."
For the full report, click here.
Umicore SA (Brussels:UMI) (OTCPK:UMICY)
On July 31, Umicore reported their half yearly results. Results included: "Revenues of € 1.5 billion (+7%) or € 1.4 billion (+13%) excluding discontinued operations, recurring EPS of € 1.23 (+19%)." And "the investment programme to increase production capacity for cathode materials six-fold is making excellent progress and the first additional production lines will be commissioned towards the end of the year."
On July 31, 4-traders reported, "Umicore: Electric vehicle demand fuels Umicore profit rise."
Sumitomo Metal Mining Co. (TYO:5713) (OTCPK:SMMYY)
On July 28, Public Now reported the following:
Sumitomo Metal Mining Co., Ltd.- Increased production of cathode material (Lithium Nickel Oxide) for rechargeable batteries. Sumitomo has decided to make additional investments to increase the capacity of its production facilities for lithium nickel oxide, a cathode material for rechargeable batteries, in response to increasing demand for such batteries in automobiles. The corresponding investment will total approximately four billion yen, and work to increase capacity is slated to be completed in June 2018. As a result of this increase, SMM's monthly production capacity for lithium nickel oxide will rise from the 3,550 tons of the facilities currently under construction (as per the plan for increase unveiled on October 26, 2016) to 4,550 tons.
On Aug. 8, 4-traders reported that "going forward, SMM shall continue to work towards securing new nickel resources through projects in the Philippines and Indonesia and other such activities." Perhaps the Solomon Island officials will learn a lesson here.
MMC Norilsk Nickel (OTCPK:NILSY) (LSX:MNOD)
On June 27, BASF announced that "BASF and Norilsk Nickel enter exclusive negotiations to cooperate on raw material supply for battery materials production in Europe." According to a Benchmark Minerals report, "Norilsk will provide a secure supply of nickel and cobalt feedstock from the company's Russian mines at market prices." BASF (OTCQX:BASFY) will invest €400m in a project to produce cathode materials.
Possible short-/mid-term producers
eCobalt Solutions (TSX:ECS) (OTCQB:ECSIF)
On Aug. 9, eCobalt President & CEO commented:
We are encouraged by the recent progress and preliminary results of the Feasibility Study. As we anticipate results to be filed in September, we are fast tracking key pre-construction activities at the mine site this fall in preparation for the expected recommencement of construction in 2018 after project financing is completed.
Investors can read the latest company presentation here.
Upcoming catalysts include:
September 2017 - Feasibility study results
2017-2018 - Project financing
Q3 2018 - Construction to commence
Q3 or Q4 2019 - Production to commence
Fortune Minerals [TSX:FT] (OTCQX:FTMDF)
There was no news this month for Fortune. Investors can read more about Fortune Minerals in my article here, and the company's August presentation here.
Upcoming catalysts include:
Q3 2017 - Updated feasibility study capital and operating costs
2017 - Off-take or equity partners; project financing
First Cobalt [TSXV:FCC] (OTCQB:FTSSF)
Northern Onario News recently published an article titled "Boom times ahead in the Cobalt camp," which discussed the cobalt boom, particularly in the town of Cobalt in Canada. They quote Gino Chitaroni, president of the Northern Prospectors Association:
I've been in this business more than 30 years, I've never seen this before. Every mapped or recorded cobalt occurrence between the town of Cobalt, Silver Centre and west toward the Gowganda-Shining Tree area has been staked, leased or bought. 'They're all gone.' One of the main buyers in the district has been First Cobalt.
On Aug. 9, First Cobalt announced, "First Cobalt commences drilling at Keeley-Frontier mine."
On Aug. 21, First Cobalt announced, "CobalTech and First Cobalt sign definitive agreement." Of interest in the release First Cobalt stated: "The resumption of trading remains subject to the approval of the TSX Venture Exchange and First Cobalt will provide a further update once a trading date has been confirmed."
On Aug. 22, a Mining Weekly article stated, "FCC believes that trading could resume "in a matter of days."
You can read more in my article "First Cobalt Has Huge Exploration Upside."
Ardea Resources (OTC:ARRRF)
On Aug. 7, Ardea announced, "Exceptional (98%) acid leach extraction results from the KNP Cobalt Zone." Even better news was the upgraded resource (previously 386,000 tonnes contained cobalt) announced as "405,000 tonnes contained cobalt (grade 0.05%), 5.46 million tonnes contained nickel (grade 0.7%)." The KNP (high grade) Cobalt Zone now has 83,000 tonnes contained cobalt @ 0.13% grade.
Ardea state they have "the developed world's largest cobalt resource." It's all very impressive.
I would also highly recommend investors read Matt Geiger's recent article "Ardea Resources: Top Cobalt Optionality Play." He has a price target early guidance range of "A$1.38 and A$2.14," or as he quotes "~A$2.00 is an appropriate share price for Ardea, given the tremendous upside presented by further increases in the cobalt price."
Upcoming catalysts include:
H2 2017: Metallurgical results for KNP and Lewis Ponds
Q1 2018: PFS results - KNP cobalt project and Lewis Ponds project
Late 2019: FS results - KNP cobalt project
Investors can view their presentations here.