Summary
Cobalt spot price news - Cobalt spot prices rise slightly.
Cobalt market news - Auto manufacturers have turned their focus to the raw materials needed to feed the EV boom.
Cobalt miner news - "Updated mineral resource confirms significant increases in cobalt grade and contained metal at Clean TeQ's Syerston Project."
Welcome to the October 2017 cobalt miner news. For some background on the cobalt miners, please check out my earlier articles:
Cobalt price news
As of October 20, the cobalt spot price was US$27.78, having risen very slightly from US$26.99 this time last month.
Cobalt spot prices - 1-year chart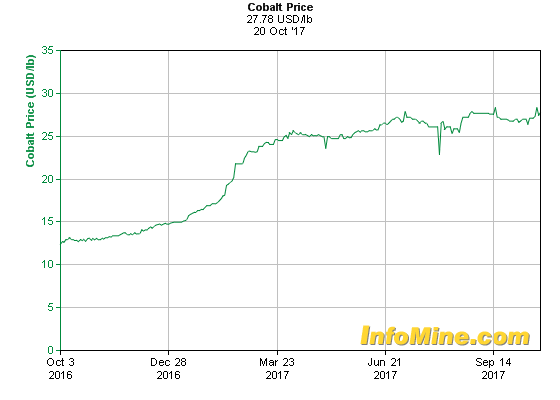 Source: InfoMine.com
On October 10, Reuters reported, "LME poised to join electric car revolution with cobalt sulphate contract. LME plans to launch suite of contracts in one go in 18-24 months. Room in the market for two parallel cobalt contracts."
Cobalt demand and supply
On October 11, 4-Traders reported, "MIT Massachusetts Institute of Technology: Will metal supplies limit battery expansion?" Their conclusion was - "Without proper planning, there could be short-term bottlenecks in the supplies of some metals, particularly lithium and cobalt, that could cause temporary slowdowns in production."
On October 12, The Assay wrote, "Cobalt–Chasing electric dreams." A key quote was:
Whether you read about countries mandating EV sales, the creation of entire fleets of EVs, or new electric grid storage innovations, there's a lot to contemplate. In fact, we are looking at a structural change in both the energy market and the automobile industry. Over the next decade we will see a decrease in terminal value of energy stocks and a complete upheaval in the car industry.
CRU stated earlier in 2017 it "expects 900 T (tonnes) cobalt deficit this year." Investing News state that Macquarie Bank forecasts "a deficit of 885 tonnes is expected next year (2018), with deficits of 3,205 tonnes and 5,340 tonnes expected in 2019 and 2020, respectively."
My cobalt production table (work in progress)
| | | |
| --- | --- | --- |
| Cobalt miner (tpa) | 2016 | 2017 (forecast) |
| Chinese (Jinchuan, Huayou Cobalt, Jiangsu Cobalt) | 46,966 | 47,000 |
| China Molybdenum (OTC:CMCLF) | | 15,909 |
| Freeport-McMoRan (NYSE:FCX) | 10,944 | ~2,000 |
| Glencore (OTCPK:GLCNF) (Minara, Mopani, Mutanda) | 28,300 | 30,000 |
| Katanga Mining (OTCPK:KATFF) (plans ~11,000tpa in 2018, and ~22,000tpa by 2019 if demand is there) | | |
| Sherritt International (OTCPK:SHERF) | 6,967 | ? |
| Umicore SA (OTCPK:UMICF) | 6,328 | 6,500 |
| Vale (NYSE:VALE) | 5,799 | |
| ERG - ENRC (Chambishi) (plus an additional ~14,000tpa from ~2019) | ?4,317 | ?4,317 |
| Sumitomo (27.5 % Ambatovy Nickel, Madagascar) | 4,418 | 4,500 |
| ICCI | 3,902 | 4,000 |
| Zambia | 3,874 | 4,000 |
| Norilsk Nickel [LSX:MNOD] (OTCPK:NILSY) | 3,234 | ~5,500 |
| Others - S.Africa (1,230) | 1,230 | 5,000 |
| TOTAL | ~123,000 | ~130,000 |
NB: Bloomberg Intelligence reported 2016 total cobalt production to be 123,000 tonnes, CRU says 117,000 tonnes. My estimate is 130,000tpa for 2017. Exane BNP Paribas forecasts ~200,000mt market by 2022, and 300,000mt by 2025.
Source: Cobalt News and my own research/estimates
Cobalt market news
On October 15, Mining.com reported, "VW lowballs cobalt producers, fails to secure supply for EVs. "They're being arrogant because they're automotive and they're used to doing it," said a cobalt trader quoted Sunday in the Financial Times. "They completely misjudged the contents of the tender. There's no point negotiating – it's not even a discussion point." Tesla and BMW are also said to be looking for cobalt supplies, though no tenders have been issued, the FT said."
On October 17, Metals Bulletin published an interesting article - "Forward-looking auto companies shaping cobalt market." They quote:
The automotive manufacturers that are pushing ahead with their plans to switch production to electric vehicles (EV) on larger and larger terms have turned their focus to the raw materials that are essential to this process, either directly or indirectly through the actions of their intermediaries. Where previously companies looked to book cobalt units one calendar year at a time, the auto manufacturers and their intermediary suppliers are looking for far longer than that, though not always with conspicuous success, at least initially. This year many expect the terms on long-term contracts to shift further towards sellers. Some sellers are already claiming to have fixed long-term sales of the metal on the basis of a premium.
On October 17, The Financial Times reported, "Cobalt stand-off key to future of electric vehicles. Volkswagen's attempt to secure at least five years' supply of cobalt highlights the challenge facing the world's biggest car makers. "The question some are now asking is: could a lack of cobalt impact the EV revolution? Be it through surging prices slowing the battery cost reduction trend, or a physical shortage of metal impacting automotive output." "You might argue how far it will go up and about substitute technology in the long term, but in the immediate to medium term, the direction appears to be up and nobody is going to have difficulty selling what they have in the next few years."
On October 18, Bloomberg reported, "Electric car makers have an Africa problem. Automakers find it hard to lock in the price of cobalt for batteries."
On October 18, Investing News published, "Caspar Rawles: Why nothing can stop the cobalt story. The rally in the cobalt market seems to be unstoppable at this point, as the metal is a key element in the lithium-ion batteries used to power electric vehicles. As electric car sales surge in the coming years, demand for cobalt is also expected to increase significantly. "I don't think there are any factors that could derail the cobalt story at this point," said Rawles. He also explained why he still believes the Democratic Republic of Congo is critical for supply and touched on the need for other countries to bring production into the market. Speaking about lithium-ion batteries, Rawles said he doesn't expect any big shift in technology up to mid-2020 that could replace cobalt, although a change in the proportion used in batteries is still in the cards. That said, he noted that even if less cobalt is used in batteries, "the increase in the volume of sales is going to significantly outweigh that, so the market will still grow."
Cobalt company news
China Molybdenum [HKSE:3993] [SHE:603993]
No news for the month.
Freeport-McMoRan Inc.
On Aug. 31, 4-traders/Accesswire reported:
"Freeport-McMoRan's and Indonesian government agree to framework for agreement regarding mining rights for Indonesian operations. The Government has given FCX the option to immediately apply for a 10-year permit to continue operations at Grasberg beyond 2021 with the option of a second extension of another 10 years to be proposed before the expiry of first extension in 2031. PT-FI has agreed to build a new smelter in Indonesia within next five years. The most important and defining point agreed by FCX was that it would reduce its stake in PT-FI to 49% so that Indonesian entity(s) would own the controlling and majority stake of 51% in PT-FI. This follows Indonesia's new local ownership rules introduced in January 2017. However, the Company has clarified that the divestment would be structured in such a way that FCX will continue to have operational control and governance of PT-FI. FCX is looking to realize a "fair market value" for its divestment, however, the Government could be looking at a lower valuation."
The company will report its earnings for Q3 2017 on October 25, 2017.
Glencore [HK:805]
On October 3, Glencore announced, "Glencore to acquire voting shares of Volcan Compañia Minera S.A.A. Glencore has agreed to acquire 26.73% of the total class A common (voting) shares of Volcan at US$1.215 per class A common share for a total consideration of US$531 million."
On October 6, Glencore announced: "Proposed acquisition of shareholdings in Chevron South Africa and Chevron Botswana. The aggregate consideration for a 75% stake is US$973 million."
On October 16, Glencore announced: "Stake in Rosneft held by Glencore-QIA Consortium. The Consortium had concluded an agreement with CEFC China Energy Company Limited ((OTCPK:CEFC)) for the disposal by the Consortium of a 14.16% stake in Rosneft Oil Company (Rosneft)."
Katanga Mining [TSX:KAT]
On October 11, Katanga Mining announced, "Katanga Mining : Provides status update." For a discussion on this topic you can read more here in KvN's Blog "A Huge, Undervalued Opportunity For Minority Shareholders As Independent Directors Take On Glencore Plc."
An announcement is expected soon on the mine re-opening.
You can also read my original article from Jan. 1, 2017, "Katanga Mining is a potential turnaround story." Followers of mine who bought back then with me at CAD 0.13 have made a tidy 825% gain in 10 months.
Sherritt International [TSX:S]
On October 3, 4-traders announced, "Sherritt International: fined $1 million for coal mine discharges under the Fisheries Act. The Toronto-based company was charged five years ago over incidents where wastewater considered harmful to fish was allowed to flow from the Coal Valley Mine near Edson in west central Alberta into ecologically significant habitat for rainbow trout."
Sherritt announced they will be releasing Q3 results today October 24 after the market closes.
Umicore SA [Brussels:UMI] (OTCPK:UMICY)
On October 10, Umicore announced: "Acquisition of own shares."
On October 13, Umicore announced, "Umicore share split. Umicore's shareholders approved a two-for-one share split at the Company's extraordinary shareholders' meeting of 7 September 2017, effective as from Monday 16 October 2017."
Sumitomo Metal Mining Co. (TYO:5713) (OTCPK:SMMYY)
On September 27 4-traders announced, "Sumitomo Metal Mining Co Ltd : Reverse Split : 1 for 2."
Sumitomo Metal Mining announced: "Effective October 1, 2017, Sumitomo Metal Mining Co., Ltd. will change its number of shares constituting one unit from 1,000 shares to 100 shares, and will implement a consolidation of 2 shares of common stock into 1 share."
MMC Norilsk Nickel "Nornickel" [LSX:MNOD]
On October 10, Nornickel announced, "Nornickel took part in the first plenary meeting of the expert council of the State Duma on legislative support for the development of Russia's Arctic region.
On October 19 Nornickel went ex-dividend in the amount of RUB 224.20 (approximately USD 3.79 at the RUB/USD exchange rate of the Russian Central Bank as of 24.08.2017). The company pays an incredible dividend yield ~9%pa.
Investors can also read my recent article, "Time To Buy Norilsk Nickel Before The Nickel Boom Perhaps Starts In 2018." I am still very bullish on Nornickel, even after a 13.5% rise since the article was published.
Possible short-/mid-term producers
eCobalt Solutions [TSX:ECS] (OTCQB:ECSIF)
On September 27, eCobalt announced: "Positive results from the Feasibility Study for the Idaho Cobalt Project. The FS is based on an underground mine with a target production rate of 800 short tons per day ("tpd") and a weighted average annual production of 2.4M lbs of cobalt, 3.3M lbs of copper and 3,000 oz of gold over a 12.5 year mine life with an estimated pre-production period of 24 months utilizing a 0.25% cobalt cut-off grade. The economic model uses a 34% corporate tax rate and a 7.5% discount rate, resulting in an after-tax NPV of $135.8M and an IRR of 21.3% using an average base case price of $26.65/lb for contained cobalt in cobalt sulphate."
Investors can read the latest company presentation here. I first discussed the company in December 2015 of eCobalt when they were at 8 cents and known as Formation Metals, in my article, "Key Stocks To Create Your Own 'Green Home And Vehicle' Portfolio."
Upcoming catalysts include:
2017-2018 - Project financing
Q3 2018 - Construction to commence
Q3 or Q4 2019 - Production to commence
Fortune Minerals [TSX:FT] (OTCQX:FTMDF)
On September 28, Mining North released an article: "Advancing infrastructure developments will benefit the North, Canada." It gives a nice update on Tlicho All Season Road and states, "The NWT Government (GNWT) has selected three qualified construction applicants and the project will be private-public-partnership (25% Federal Government funded and 75% consortium funded under a P3 arrangement) for the 97-kilometre road from Highway 3 to the Tlicho community of Whati. The road will facilitate development of Fortune Mineral's 50-kilometre long spur road to support construction and operations of their NICO cobalt-gold-bismuth-copper mine, mill and concentrator."
On October 19, Investing News featured, "Robin Goad of Fortune Minerals: "We will see more cobalt production from North America." "Robin Goad, President and CEO of Fortune Minerals, shares his thoughts on the cobalt market and the company's NICO project. "A lot more cobalt production will be required to supply the increasing demand, and we will see a lot more output from North America," Goad added."
Investors can read more about Fortune Minerals in my article here, and the company's September presentation here.
Upcoming catalysts include:
Q3 2017 - Updated feasibility study capital and operating costs
2017 - Off-take or equity partners; project financing
First Cobalt [TSXV:FCC] (OTCQB:FTSSF)
On October 5, First Cobalt announced, "First Cobalt receives positive mineralogical results. High grade vein style mineralization containing up to 9.22% cobalt and over 5,300 g/t silver found in muckpiles throughout the Cobalt Camp can be considered representative of historic mineralization styles and useful for mineralogical tests. While generally lower in abundance, there may be opportunities for the metallurgical recovery of copper and nickel."
On October 17 First Cobalt announced, "First Cobalt expands drill program to target Bellellen. The 2017 program is now expected to continue into December and will be increased by 2,000 metres."
Click here to continue reading...
Subscribe to the RSD email list and get the latest resource stock activity directly to your inbox, for free.
Subscribe to the RSD email list and get the latest resource stock activity directly to your inbox, for free.
Part of the Stock Digest family of websites
MARKET SUMMARY
INDICES
| Name | Last | Change |
| --- | --- | --- |
| DOW | 26505.50 | 0.15% |
| S&P 500 | 2924.83 | 0.24% |
| NASDAQ | 7975.79 | 0.27% |
| TSX | 16517.25 | 0.08% |
| TSX-V | 583.34 | 0.00% |
Resource Commodities
| Name | Last | Change |
| --- | --- | --- |
| Gold | 1351.83 | 0.46% |
| Silver | 15.07 | 0.46% |
| Copper | 2.70 | 2.703 |
| Platinum | 901.00 | 0.67% |
| Oil | 53.90 | 3.65% |
| Natural Gas | 2.33 | 2.49% |
| Uranium | 24.38 | 0.49% |
| Zinc | 1.11 | 0 |