Note: This article was first published on my SA Marketplace service on June 5, 2017, hence all data is as of June 5, 2017.
First Cobalt [TSXV: FCC] (OTCQB:FTSSF) - Price = CAD 0.66, USD 0.49
First Cobalt is a Canadian company focused on building a global portfolio of assets leveraged to the cobalt market. They are optioned to own the Keeley-Frontier mine (a historical Canadian silver-cobalt mine), as well as a large mineralized land package where they are exploring for a large copper-cobalt (or other valuable minerals) deposit in the Democratic Republic of Condo (DRC).
The company was founded on July 13, 2011 and is headquartered in Vancouver, Canada.
First Cobalt [TSXV:FCC] stock price chart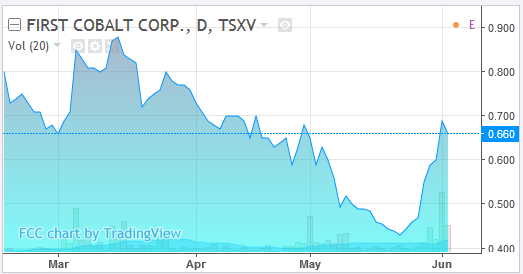 Most cobalt comes from the DRC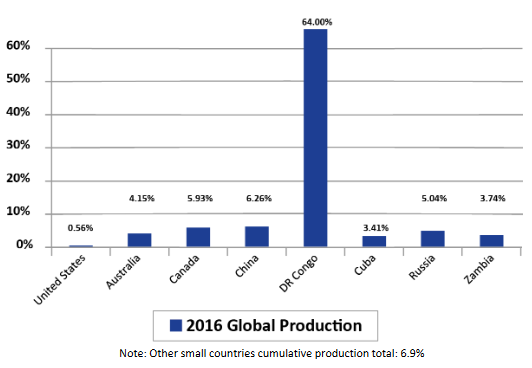 Source: Benchmark Mineral Intelligence and USGS
Projects details
Keeley-Frontier historic silver-copper Keeley-Frontier mine Canada
The Company is currently advancing its Silver Centre, Ontario interest, a 2,100-hectare property in a historic mining camp located 400 kilometers north of Toronto and 25 kilometers south of Cobalt, Ontario. The property includes the former producing Keeley-Frontier mine, a high-grade mine that produced over 3.3 million pounds of cobalt and 19.1 million ounces of silver. First Cobalt's vision for the property is to revisit the historic camp, which has not seen meaningful exploration activity in more than 75 years, and evaluate the opportunity to use modern bulk mining techniques to revive the camp.
First Cobalt has an option to acquire 100% interest in Keeley-Frontier Mine. According to First Cobalt, it has "the best cobalt-to-silver ratio of all major producers in both Cobalt and Silver Centre mining camps, producing 1 lb Co/5.8oz Ag."
Since May, the company is targeting areas from the 3D geological model. The company is just beginning a drilling program to drill the old mine as they believe there remains "lower unexplored diabase-volcanics (that) host significant mineralization." They will also be undergoing a drilling program of some of their neighboring claims.
DRC exploration project
First Cobalt has optioned a substantial land package totaling 190 km2 (19,000 hectares) on the Central African Copperbelt in Katanga, DRC. The company has seven optioned properties; each one has known "surfacemineralization" and all are located along the prolific Central African Copperbelt. According to First Cobalt: "The acquired properties cover prospective strata comparable to world class-sized Cu-Co mineralization at the Tenke-Fungurume deposits." If they proceed with the option, First Cobalt will become a 70% joint venture partner on each of the seven properties. JV partner Madini, will have an 8.5% ownership interest of First Cobalt, and be the operator. An aggregate of US$1.58 million is payable to the property owners to acquire the 70% interest over all seven properties.
The graph below shows First Cobalt's projects are close by successful mines of Ivanhoe Mines Ltd (TSX:IVN) (OTC: OTCQX:IVPAF), Glencore [LSX:GLEN] [HK:805] (OTC:OTC:GLNCF), Barrick Gold [TSX:ABX] (NYSE:ABX), and several others.
DRC projects location map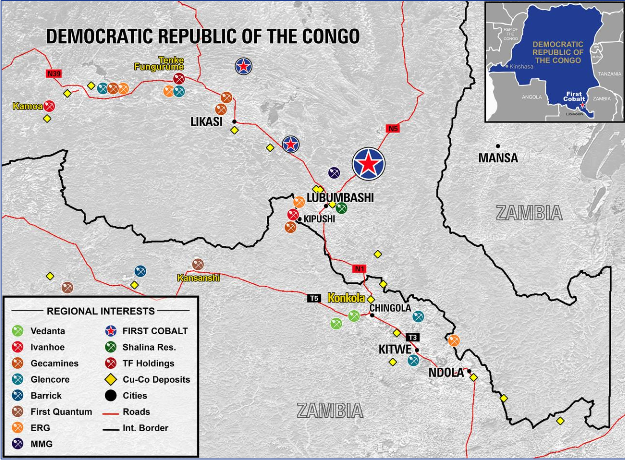 Production and development plans
First cobalt is currently still in the exploration stage, so expect production to be some years away. Having said that, things may move rather quickly given that the company recently optioned 50% of a cobalt extraction refinery in Cobalt, Ontario, with Australian cobalt explorer Cobalt One [ASX:CO1].
Management
Management and board consist of:
Trent Mell - He has 18 years' experience in mining and capital markets, with extensive international transactional experience acquired through more than 200 transactions, including M&A and over $2.8billion in equity and debt financing. His resume includes Barrick Gold, Sherritt International, AuRico Gold, and Falco Resources.
Dr Frank Santaguida - He is a geoscientist with over 25 years' experience who has worked around the world on a wide range of base and precious metal ore deposits. He has extensive experience in world-class base metal mining camps in Canada, Australia, and the African Copperbelt, including Zambia and the DRC. He was Principal Geologist with First Quantum and spent several years in the Central African Copperbelt. Frank was part of a team that discovered new resources at the Frontier Mine as well as new copper and cobalt prospects in the DRC.
Dr Frank really is a key, as he was the main person to select the DRC land that holds the best chances for a major copper, cobalt, gold, zinc, or molybdenum discovery.
Insider and other key ownership
Management insiders: Trent Mell owns 4.58% of the company.
Valuation
First Cobalt currently has a market cap of just CAD 30m (US$22m).
Being at a very early stage in the DRC there is no resource assessment, no preliminary economic assessment (PEA), and no feasibility study (FS). First Cobalt has identified early positive signs of mineralization, so the potential to find a resource is there.