Summary
Golden Arrow's Puna Operations Inc. joint venture with SSR Mining will likely obtain its necessary permits this month.
The Puna JV with SSR Mining will be a cash-generating operation anticipated to begin in H2 2018 generating annual revenues for Golden Arrow equal to about 2 million oz of Silver Eq.
In addition to improving silver prices, there are a number of opportunities to increase the silver/zinc/lead resources, mine life and value of the Puna JV in the future.
Golden Arrow has recently spun out its exploration properties into a subsidiary called New Golden Explorations Inc. which anticipates doing an IPO in 2018.
With the cash flow expected to be earned from the PUNA Operations Inc. joint venture, Golden Arrow is actively seeking additional revenue generating mining assets.
Since publishing my March 31 article on Golden Arrow Resources Corporation (the "company") (OTCQB: OTCQB:GARWF) (TSX.V: GRG.V), the share price has declined substantially.
Notwithstanding the 50% decline in the share price since April 1 (recently exacerbated because of recent tax loss selling, the uncertainty surrounding the permitting of the Puna (Chinchillas/ Pirquitas) joint venture and the general decline in silver prices), the company itself has progressed considerably, and has a number of positive upcoming catalysts.
For those willing to take on some risk, at its current share price (trading close to its 52-week lows), Golden Arrow presents a very attractive investment opportunity with a substantial upside. I've been a buyer of Golden Arrow shares this past week for the reasons set out below.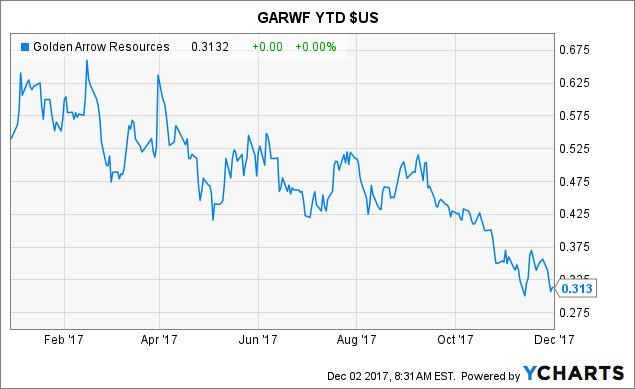 GARWF data by YCharts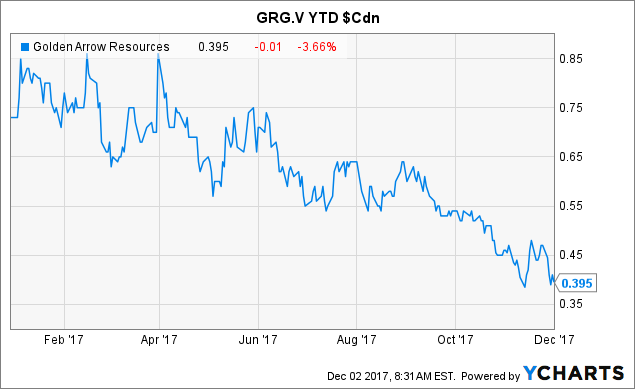 GRG data by YCharts
Summary
Shares outstanding (at November 7, 2017): 98,325,634
Warrants (average price $0.69 Cdn): 9,002,558
Options: (average price $0.49 Cdn): 7,270,000
Fully Diluted shares outstanding: 114,508,192
Share price: Dec. 1, 2017: GARWF US$0.313 / GRG.V $0.395 Cdn
52 week share price high & low GARWF: US $0.71 to US $0.29
Ownership (insiders/friends/family) approx. 50%
Ownership (SSR Mining) approx. 5%
Cash (as of Sept. 30th, 2017) Cdn. $18,600,000
Debt (as of Sept. 30th, 2017) $0.00
Market Cap (Dec. 1, 2017): Approximately US $31 million (Cdn. $39 million)
Golden Arrow's Corporate Assets
During the past 7 months, Golden Arrow has restructured itself. In addition to its cash position, it now owns:
a. a 25% ownership of Puna Operations Inc. ("Puna" or "POI"), which is the joint venture entity that owns and operates the combined Chinchillas' silver, zinc, lead deposit and the operating Pirquitas silver, zinc mine; and
b. 100% ownership of New Golden Exploration Inc. ("Golden Exploration") which is the wholly owned subsidiary corporation that Golden Arrow spun out in Q3 to hold its various Argentinian silver, gold and copper exploration assets, discussed in more detail below. The plan is that Golden Exploration will become a publicly held exploration company which will raise its own capital and operate under its own banner.
The company has summarized its corporate assets in slide #4 below found in its November 2017 corporate presentation available on the company's website.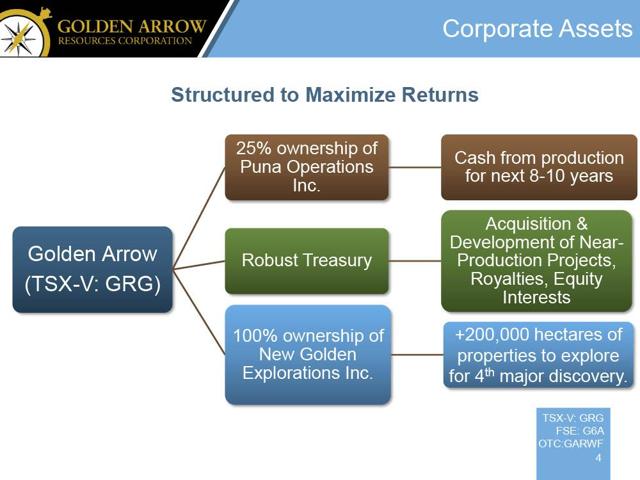 Background to the 25% ownership of Puna Operations Inc. ("POI")
On October 1st, 2015, Golden Arrow announced that it had entered into a business combination agreement with Silver Standard (now known as SSR Mining Inc.) ("SSR"; TSX: (SSRM); NASDAQ: (NASDAQ:SSRM) to combine SSR's Pirquitas Silver-Zinc mining operation ("Pirquitas") and Golden Arrow's Chinchillas silver-lead-zinc project ("Chinchillas") into a single new mining operation located in the Province of Jujuy, Argentina. The closing of the transaction was subject to a number of conditions set out in the Plan of Arrangement which obtained court approval from the British Columbia Superior Court of Justice. One of the conditions required Silver Standard (now known as "SSR Mining") to exercise its option to proceed with the joint venture with Golden Arrow no later than March 31, 2017.
The agreement gave Golden Arrow a 25% interest in the combined business, with SSR holding the remaining 75% and acting as operator. and included a preliminary period of up to 18 months (the "Preliminary Period") in which the two companies worked together complete pre-development studies, and evaluate the feasibility of mining Chinchillas, with ore processing and concentrate production using the mill and plant at Pirquitas.
On March 31st, 2017, SSR exercised its option on the Chinchillas project and on May 31, 2017 the company and SSR formed Puna Operations Inc. ("POI") which now holds and operates the joint Pirquitas and Chinchillas properties and operations. POI is owned 75% by SSR and 25% by the company with SSR acting as the operator.
The slide below summarizing POI's operations (slide #6 from the company's November 2017 corporate presentation.)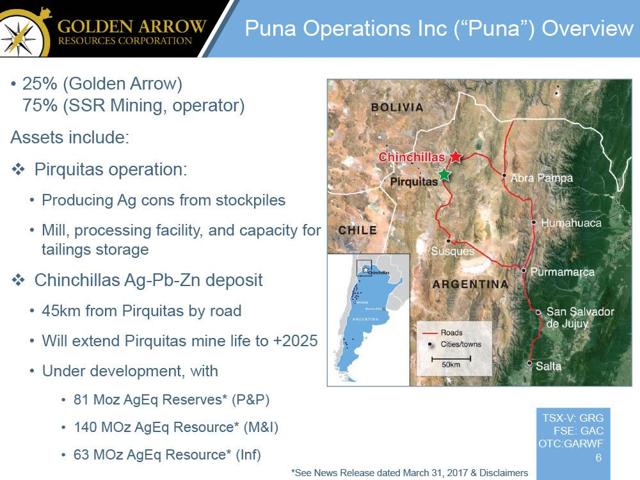 On May 31, 2017, Golden Arrow closed the business combination agreement and received CDN$17.8 million from Silver Standard for its 25% share of profits earned from Pirquitas during the 18 month Preliminary Period.
Silver Standard originally commenced commercial production of the Pirquitas open-pit mine silver operation on December 1, 2009 producing silver and zinc concentrates for sale to third-party smelters. On-site mine facilities include a 4,000 tpd mill (which has actually been producing at a rate of 5,000 tpd) and a processing plant with gravity pre-concentrator and a conventional mineral flotation circuit. The operation owns a fleet of 100-tonne trucks, loading units and other equipment for open-pit mining.
Pirquitas produced 10.4 million ounces of silver during 2016. In the first quarter of 2017 the mine stopped its open-pit mining activities and is now processing stockpile material. Based upon Silver Standard's recent Q3 presentation, it is expected to produce in excess of 6.0 million ounces of silver eq. in 2017, which is greater than originally forecast earlier this year.
Chinchillas Silver-Lead-Zinc Deposit
The Chinchillas silver-lead-zinc deposit (formerly solely owned by Golden Arrow and now 100% owned by the joint venture POI) is located approximately 42 km by road from Pirquitas.
From October 2015 to March 2017 a pre-development program for Chinchillas was conducted by the company and SSR leading to the publishing of a pre-feasibility study ("PFS") for the project dated May 15, 2017 supported by a NI 43-101 Technical Report. A copy of the PFS is available for review in the company's regulatory filings on SEDAR. The company also completed the submission of the Environmental Impact Report to the local mining authorities.
The following summarizes the key highlights of the May 15, 2017 PFS, which appear conservative: (All financial results are in U.S. dollars and all technical data are presented on a 100% project basis.)
Average annual silver equivalent production of 8.4 million ounces over an eight-year mine life at a 4,000 tonne per day plant throughput.
Robust operating margins based on cash costs of $7.40 per payable ounce of silver sold over the life of mine.
Post-tax net present value of $178 million using a 5% discount rate and metal prices of $19.50 per ounce silver, $0.95 per pound lead and $1.00 per pound zinc.
Post-tax internal rate of return of 29%.
Near-term production based on construction beginning in the third quarter of 2017, subject to permitting, followed by ore delivery to the Pirquitas mill in the second half of 2018.
Low capital intensity based on initial capital expenditures, including owner's costs and contingency, estimated to be $81 million.
Capital cost estimates assume utilizing certain property, plant and equipment from the Pirquitas mine. All costs incurred prior to the declaration of commercial production are considered capital costs.
Based upon the combined project's $81 million capital cost requirements (including 30% in cost contingencies), the company's 25% share is approximately $20 million but its agreement with SSR provides that Golden Arrow only has to fund $10 million in the first year.
Based upon the PFS, Golden Arrow's 25% interest, once fully operational, should effectively generate approximately 2 million Silver (Eq) ounces per year at a cash cost of $7.40 oz (AISC $9.75 per oz). Based upon current silver prices of approximately $17.00 per oz (which are arguably depressed) and based upon projected costs, Golden Arrow would be receiving approximately $15 million to $20 million per year from POI as a passive joint venture shareholder partner.
Assuming the necessary permitting is obtained for the POI project in the relatively near future (which will likely occur for the reasons discussed below) both the company and SSR expect the joint mining operations to be fully operational in H2 2018. In the meantime, the company is currently entitled to 25% of the cash flow profits from the Pirquitas mine operated by POI which is expected to produce and sell in excess of 6 million oz of Silver eq in 2017, and will continue to produce and sell Silver Eq. until mid 2018 (and hopefully until such time as Chinchillas is fully operational in H2 2018 and can truck ore to the Pirquitas facility).
Notwithstanding the assumptions contained in the PFS, Golden Arrow expects that the life of mine will ultimately be much longer than 8 years and that annual production will exceed 8.4 million oz (given that 2016 production from Pirquitas was over 10 million oz Silver (Eq)).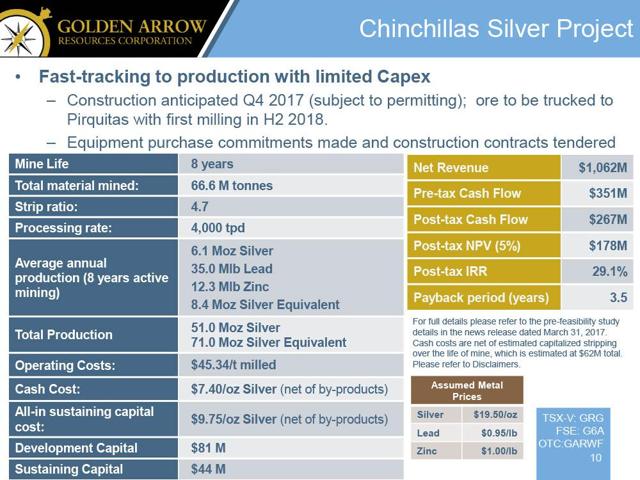 The company also believes that there are a number of future opportunities that could substantially improve on the PFS based on additional significant silver, zinc, lead resources available to convert to reserves via additional drilling and/or increased metal prices.
The chart below sets out the company's summary of its Chinchillas resources and reserves.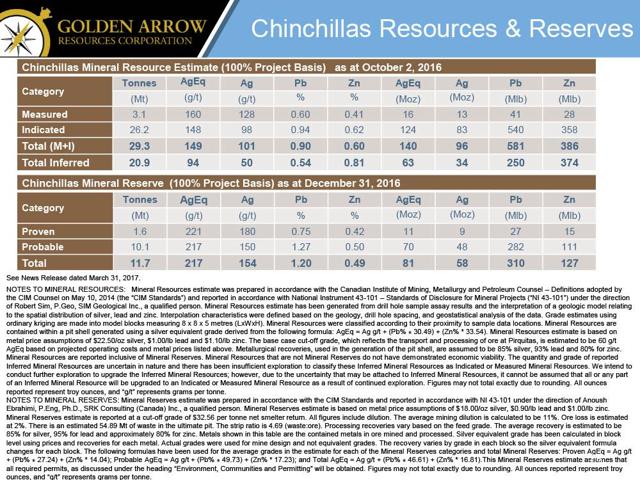 Potential to expand Pirquitas Resource
The opportunity to potentially expand the Pirquitas Underground resource to develop a small-scale, high-grade silver ore is currently being considered by SSR and POI.
In SSR Mining's November 27, 2017 corporate presentation found on its website, it provided the following summary and series of slides.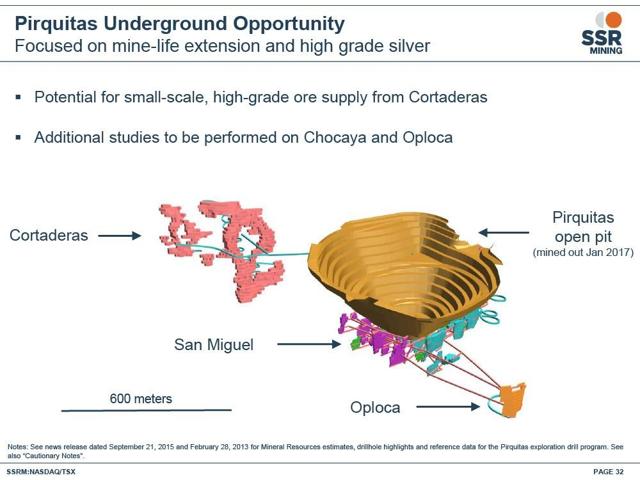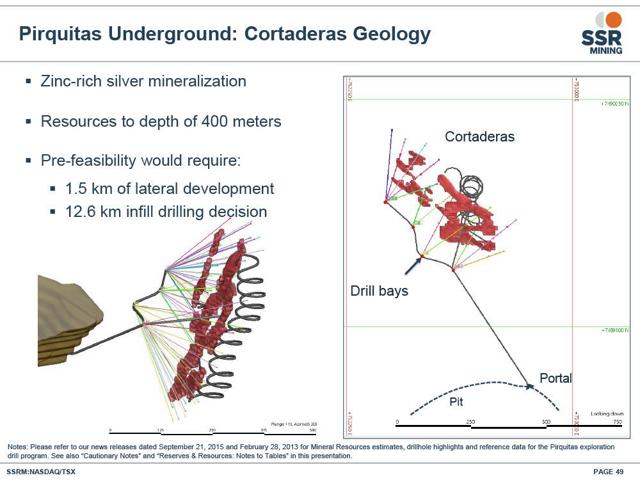 In 2015 Silver Standard undertook a 41 drill hole program at Pirquitas which had some very promising silver and zinc results which were released by Silver Standard on September 21, 2015. Some of the highlights of those new 2015 drilling results at Pirquitas are contained below and support SSR and POI's current plant to pursue the Pirquitas Underground Opportunity.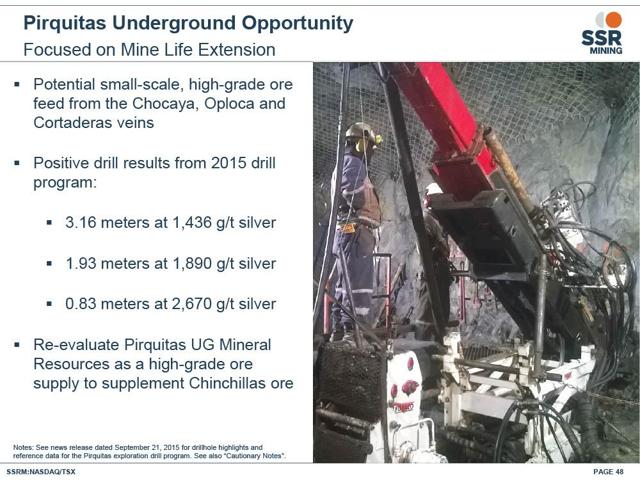 A PFS is currently being undertaken by POI to evaluate that potential resource at Pirquitas which should be available in 2018.
Sensitivity to Metals Price Fluctuations
The profitability of the POI project is very sensitive to the market price fluctuations of silver, zinc, and lead. For those who are bullish on those metals, the upside in the future will be considerably higher.
See slides and charts below taken from the company's November 2017 corporate presentation summarizing the significant resources potentially available to convert to reserves.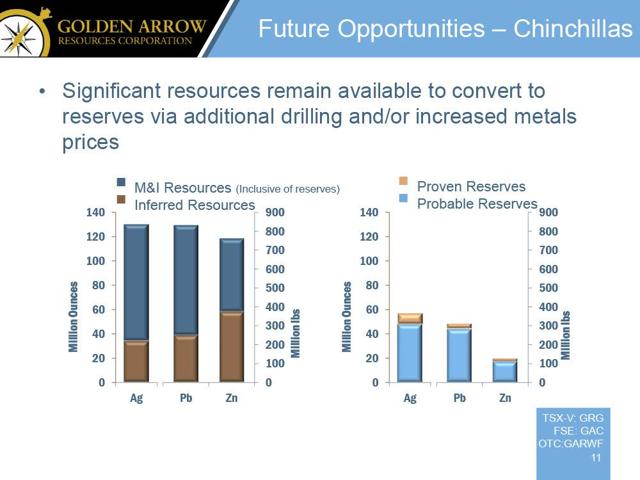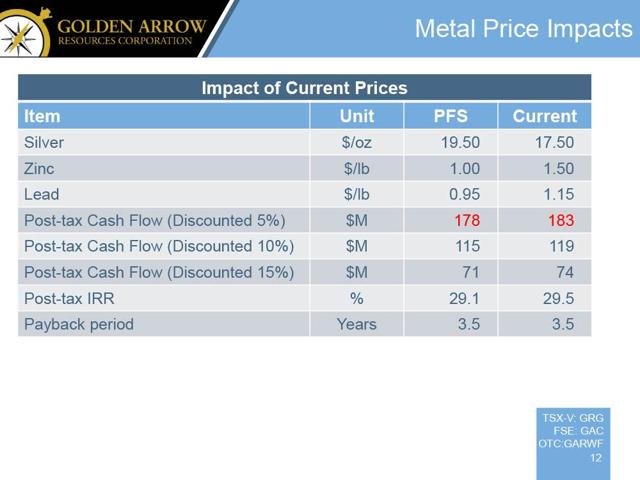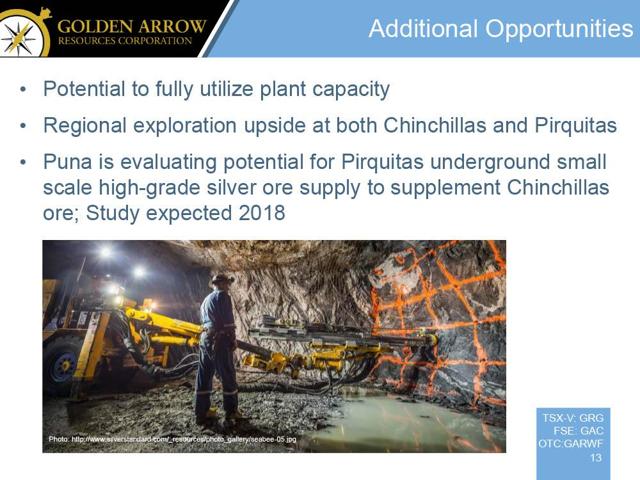 Permitting for the POI Joint Venture Expected this Month
As attractive as the foregoing POI joint venture economic analysis sounds none of it can happen without the necessary permitting being obtained for the combined project. When the POI was formed some months ago, it was anticipated that all of the necessary permitting would be obtained by Q3. When that didn't happen within that time frame, some investors (and the market) became a little concerned. This is Argentina after all which is not exactly a risk-free jurisdiction.
Nevertheless, both Golden Arrow and SSR's management anticipate that the permitting will be obtained this month (with no guarantee being provided of course). Notwithstanding optimistic assurances, permitting is still an elephant in the room, and until that issue is finally resolved the company's share price will likely continue to be depressed.
Recent comments by the company and SSR suggest that the necessary permitting will, in fact, be resolved this month.
Click here to continue reading...
Subscribe to the RSD email list and get the latest resource stock activity directly to your inbox, for free.
Subscribe to the RSD email list and get the latest resource stock activity directly to your inbox, for free.
Part of the Stock Digest family of websites
MARKET SUMMARY
INDICES
| Name | Last | Change |
| --- | --- | --- |
| DOW | 25440.40 | 1.32% |
| S&P 500 | 2823.14 | 1.17% |
| NASDAQ | 7631.06 | 1.57% |
| TSX | 16193.25 | 0.84% |
| TSX-V | 605.10 | 0.00% |
Resource Commodities
| Name | Last | Change |
| --- | --- | --- |
| Gold | 1286.76 | 0.99% |
| Silver | 14.64 | 1.43% |
| Copper | 2.68 | 2.678 |
| Platinum | 901.00 | 0.67% |
| Oil | 61.42 | 2.78% |
| Natural Gas | 2.54 | 2.75% |
| Uranium | 24.58 | 0.08% |
| Zinc | 1.20 | 0 |