A small-cap miner moving forward on its prospects in Argentina has caught the attention of several industry watchers.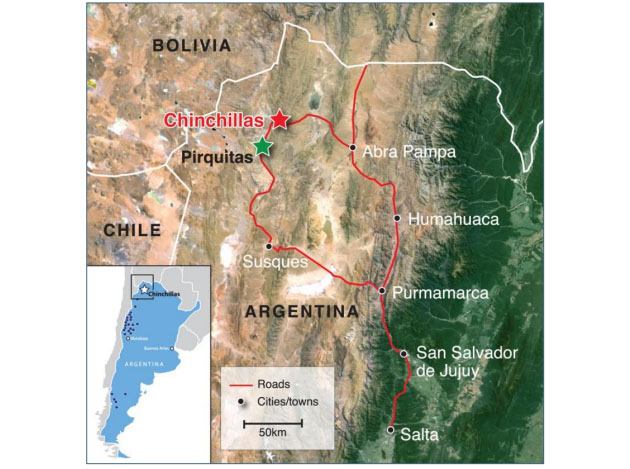 Golden Arrow Resources Corp. (GRG:TSX.V; GAC:FSE; GARWF:OTCQB), operating the Chinchillas gold/zinc/lead deposit and the Pinquitas silver/zinc mine in Argentina, released significant news toward the end of 2017. In November, the company announced it was initiating a $1 million "exploration program at its 100% owned Pescado Gold Project" in San Juan, Argentina. "The exploration program will include additional geophysics and surface work to refine drill targets, with up to 1,800 metres of drilling budgeted," according to the press release. "Work permits have been granted by the provincial mining authorities, and the technical team is now commencing exploration at the Yanso target area."
In December, Golden Arrow announced Puna Operations Inc., "a joint venture comprised of the Pirquitas property and the Chinchillas property, owned 25% by Golden Arrow," had secured "approval of the Environmental Impact Assessment from the Argentine regulatory authorities in Jujuy Province, Argentina, and therefore is now permitted for exploitation."
For Brien Lundin, writing in the December-January issue of the Gold Newsletter, "Golden Arrow fits the mold of near-term production stories that I think will perform well in the new year, assuming the precious metals markets play out like I expect."
Lundin noted that among the "vast footprint" of the company's holdings in Argentina, "the key holding in its portfolio is its 25% interest in Puna Operations, a joint venture with long-time Gold Newsletterconstituent SSR Mining, the updated moniker for Silver Standard Resources."
This joint venture "includes current production from stockpile mining at [the] Pirquitas mine," as well as "a plan to extend the mine life at Pirquitas by trucking ore from the companies' now-shared Chinchillas silver-lead-zinc project," Lundin wrote.
"Golden Arrow plans to use the funds from operations at Pirquitas and Chinchillas to make additional property acquisitions in Argentina. It also plans to spin out its large exploration portfolio into a separate company in early 2018, so shareholders who buy in before this event will get to participate in that portfolio's considerable upside," Lundin added.
GSA-Silver also reacted favorably to news from Golden Arrow, adding the company to its GSA Silver Fave 5 Portfolio. In its analysis, GSA pointed out that "Golden Arrow has history of exploration success." The company possesses "many potential upside opportunities," including a "possible spinout of exploration assets [that] could create additional value" and the possibility that "UG mine expansion focused on small scale, high grade feed at Pirquitas could boost already strong Puna [production] and economics."
Click here to continue reading...
Subscribe to the RSD email list and get the latest resource stock activity directly to your inbox, for free.
Subscribe to the RSD email list and get the latest resource stock activity directly to your inbox, for free.
Part of the Stock Digest family of websites
MARKET SUMMARY
INDICES
| Name | Last | Change |
| --- | --- | --- |
| DOW | 25585.70 | 0.75% |
| S&P 500 | 2826.06 | 0.14% |
| NASDAQ | 7637.01 | 0.11% |
| TSX | 16230.04 | 0.40% |
| TSX-V | 607.68 | 0.00% |
Resource Commodities
| Name | Last | Change |
| --- | --- | --- |
| Gold | 1292.80 | 0.84% |
| Silver | 14.57 | 0.21% |
| Copper | 2.70 | 2.700 |
| Platinum | 901.00 | 0.67% |
| Oil | 58.63 | 1.23% |
| Natural Gas | 2.60 | 0.77% |
| Uranium | 24.25 | 1.34% |
| Zinc | 1.20 | 0 |