The U.S. dollar index is now at its lowest level since 2014, creating a tailwind for domestic gold producers.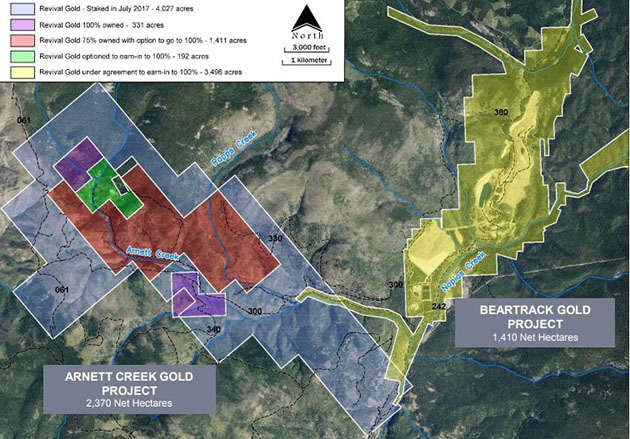 Revival Projects
A weaker U.S. dollar could mean a higher U.S. dollar gold price.
This is good news for gold producers in general, and in particularly for companies like Barrick Gold Corp. (ABX:TSX; ABX:NYSE), which generates 45% of its total output from U.S. mines.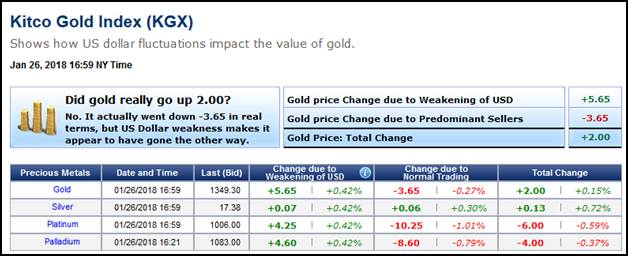 Revival Gold Inc. (RVG:TSX.V), an Idaho-based exploration and development company, could benefit from the current upward gold price trend.
Revival has the right to acquire a 100% interest the former producing Beartrack Gold Project and the neighboring Arnett Creek Gold Project.
On January 18, 2018, Beacon Securities published its "Spec Buys for 2018."
"We are initiating coverage of six micro/small-cap mining stocks," stated the report, "which we believe can deliver newsflow this year that can lead to a material re-rating of shares."
Revival Gold was featured in the report, "as an attractive speculative play for exploration success for gold-silver mineralization in Idaho. The company has an option to acquire the past-producing Beartrack gold mine in east central Idaho, and holds an 100% interest in the adjacent Arnett Creek property. The Beartrack mine produced about 600,000 oz of gold via an open pit, heap leach operation in the 1990s. The site has been fully reclaimed by Kinross Gold, but has good infrastructure that we believe could facilitate a mine re-start with exploration success."
The same day Beacon issued the "Spec Buy" report, Revival released results from the final eight holes of the twelve-hole 2017 portion of the company's planned 11,000-meter core drilling program at Beartrack.
Highlights include:
1.73 g/t Au over 29.2 meters from 99.1 meters to 128.3 meters in BT17-200D
3.51 g/t Au over 67.5 meters from 98.6 meters to 166.1 meters in BT17-201D
1.99 g/t Au over 54.7 meters from 91.6 meters to 146.3 meters in BT17-203D
2.76 g/t Au over 51.9 meters from 53.6 meters to 105.5 meters in BT17-205D
The grades and widths in the January 18 results suggest the potential for an economic deposit. But Revival warns that "true width estimates are not yet known but are estimated to be approximately half of the drilled width."
Only when the drill bit hits the mineralised section at a perfect 90-degree angle, will the "True width" and "drill width" be the same. This concept is illustrated in the diagram below: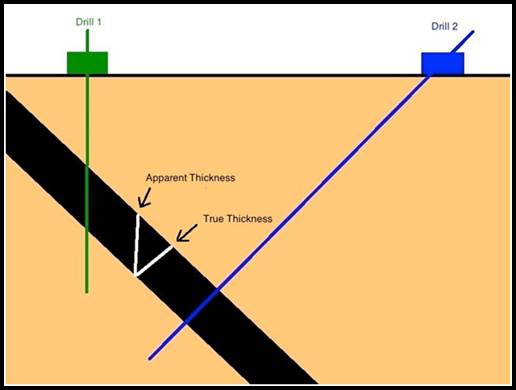 "All eight holes released intersected significant gold mineralization," stated Hugh Agro, Revial president & CEO. "Revival Gold will now initiate work on an updated resource estimate for Beartrack."
According to the January 18 press release, seven of the eight drill holes targeted near-surface oxide and mixed oxide-sulphide mineralization. These holes were designed to confirm historic drilling completed by Meridian Beartrack.
Revival Gold's near-surface drill results at both Ward's Gulch and the South Pit were generally better than the historical drilling completed by Meridian Beartrack. Revival geologists are currently preparing an updated geological and resource model using data from the drill programs completed in 2012, 2013 and 2017.
Summary assay results from near-surface holes are in the table below: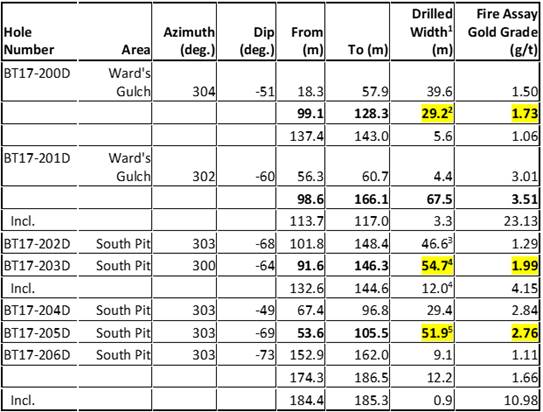 Gold mineralization at Beartrack occurs along five kilometers of the Panther Creek Fault and high grades have been encountered in a number of deep holes along strike.
After examining the modern drill data, Revival believes that "potential exists for additional high-grade along strike."
Click here to continue reading...
Subscribe to the RSD email list and get the latest resource stock activity directly to your inbox, for free.
Subscribe to the RSD email list and get the latest resource stock activity directly to your inbox, for free.
Part of the Stock Digest family of websites
MARKET SUMMARY
INDICES
| Name | Last | Change |
| --- | --- | --- |
| DOW | 25628.90 | 2.43% |
| S&P 500 | 2847.11 | 2.66% |
| NASDAQ | 7751.77 | 3.09% |
| TSX | 16037.58 | 1.35% |
| TSX-V | 581.95 | 0.00% |
Resource Commodities
| Name | Last | Change |
| --- | --- | --- |
| Gold | 1481.10 | 1.11% |
| Silver | 17.44 | 2.41% |
| Copper | 2.54 | 2.538 |
| Platinum | 901.00 | 0.67% |
| Oil | 54.17 | 2.18% |
| Natural Gas | 2.15 | 0.33% |
| Uranium | 25.08 | 0.00% |