Tasman Metals: Projected Fundamentals Support Buying Before The Norra Karr PEA
March 15, 2012
Management confirms Preliminary Economic Assessment (PEA) to be released next week…
We attended a breakfast in Toronto the morning of March 5th while attending PDAC with the management of Frontier Rare Earths, Great Western Minerals, and Tasman Metals (TAS). All three management teams presented updates on their respective flagship rare earth element mining projects. Tasman Metals management confirmed that the Preliminary Economic Assessment on Norra Karr will be released in the next 7-10 days. We spoke with Investor Relations on March 14th and have been told that the release will happen during the week of March 19th. In advance of the release of that milestone initial economic analysis, we are initiating coverage on Tasman Metals with a BUY rating and establish a YE2012 price target of $3.40/share using our buyout model in which the acquirer demands a 20% after-tax IRR. Our model is based off of Tasman Metals being acquired at YE2013 with the acquisition offer of $4.10/share being discounted back by 20%.
As we will explain herein, the Norra Karr deposit offers attractive economics to investors at YE2011 domestic Chinese prices with a 50% discount to account for the fact that the PEA will only go through the mixed REE concentrate stage. This is far stricter of a discount than the 30% discount to the value of the contained separated rare earth oxides that Toyota is requiring of Matamec Exploration in their potential joint venture on the Kipawa deposit.
We used The Strategist Newsletter Rare Earth Price Deck in our analysis, and because we have Norra Karr entering production in 2017 our life of mine price deck consists of YE2011 domestic Chinese prices across the board for rare earth oxides.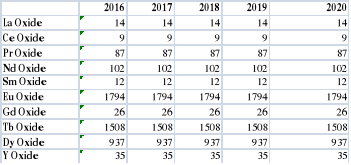 As previously stated, the Preliminary Economic Assessment assumes Tasman Metals will be selling a mixed rare earth concentrate from its Norra Karr and as a result, we are assigning a 50% discount to the value of the separated rare earth oxide value of the production in our revenue determination.
Starting at the Beginning…
As one fellow rare earth commentator put it last year, "Grade is King". And in the rare earth sector nothing makes that more clear than Molycorp's public stance that deposits with a TREO ore grade below 2% are not economic. The interesting thing here however, is that ore grade is the best metric until you have solid metallurgy that allows for the deposit to be measured based upon its in-situ value per mineral resource tonne adjusted for projected ore recovery (hence the phrase we heard at PDAC, "Grade is King, but Metallurgy is God"). The next step after that is determining what cash production costs will be in order to determine the profitability and mining economics. Because at the end of the day, projects happen because investors committing the capital to fund the construction CAPEX believe they can obtain an acceptable rate of return on their investment. Given this we would propose the phrase regarding project analysis should be, "Grade is King, Metallurgy is God, but Discount Cash Flow is the Big Bang"
The interesting part here is that in order to get to the metallurgy and the DCF analysis you first must have a resource with an ore grade to advance. Given this, we will walk through Tasman Metals' Norra Karr project from a grade basis, then a metallurgical basis, and then culminate with our Discount Cash Flow analysis of the project.
Norra Karr: One of the richest heavy rare earth deposits outside of China
On a TREO basis, Norra Karr is not impressive at all. Let's just get that out of the way at the beginning. But as our editor put it on the Molycorp 4Q11 conference call, "Obviously, 16 rare earths means 16 supply and demand curves". What we propose is to look at rare earth deposits outside of China based on the grade of heavy rare earth elements (HREO). When we look at deposits outside of China on that basis, Norra Karr is the third richest complaint resource overall and the second richest compliant resource held by a junior mining company outside of China. The richest HREO deposit overall is the Mt. Weld-Duncan deposit which is not broken out in the table below.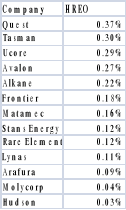 Given this information, we need to say that when it comes to resolving the heavy rare earth element supply deficit, Norra Karr has to stand out on an initial basis because of its superior HREO ore grade.
Metallurgy is God…
Now that we have the ore grade out of the way we must explore the question of if the rare earth content at Norra Karr can be extracted economically. First and foremost, we must ask what the primary rare earth containing mineral is at Norra Karr and the answer is eudialyte. This is the same primary rare earth bearing mineral as at Dubbo and at Kipawa. Historically, rare earth elements have never been economically extracted from eudialyte because a silica gel would gum up the processing circuit. The key question then facing all junior rare earth element companies whose flagship project is a eudialyte REE deposit is can they extract the rare earth elements without this historical silica issue crippling the economics.
As we have mentioned in previous articles, this eudialyte issue is critical. And the beauty of looking at Tasman Metals, is that the company shared a metallurgist with Matamec Exploration who has already released a PEA on its Kipawa deposit which is a REE-bearing eudialyte deposit. The late Les Heymann worked for both Tasman Metals and Matamec Exploration and Tasman appears to have cracked the eudialyte extraction puzzle on a level acceptable for a Preliminary Economic Assessment based on the press releases of May 4, 2011 and February 9, 2012.23
We have modeled 75.13% rare earth recovery even though the press releases indicate higher recoveries being achieved.
But the Big Bang is the Cash Flow…
Given this progress and the presence of the PEA on the REE-bearing Kipawa eudialyte deposit, we feel comfortable projecting that the Norra Karr project will show robust economics when the PEA will released in the next week. Our cash cost of production estimate is based on the Kipawa PEA operating cost. We believe that Norra Karr will come in with a similar production cost given the deposit comparison (both eudiatyle primary REE-bearing mineral with a common metallurgist). As a result, we are using the same operating cost per ore tonne mined as Matamec used in its Preliminary Economic Assessment for Kipawa. We feel comfortable with this assumption for two reasons:
Identical primary REE-bearing mineral (eudialyte) with cross over in metallurgical staff (the late Les Heymann)
The proposed 4,000 tonne per day mining scenario at Norra Karr is identical in terms of size to that outlined in the PEA conducted on Kipawa
Our cost structure for Norra Karr is therefore $54/tonne ore processed with $9,000,000 per annum in SG&A expense (we threw in a 2% cost inflation on the SG&A for good measure).
On the CAPEX side of the ledger, we believe Norra Karr has significant CAPEX advantages over Kipawa, its closest comparable peer. First and foremost, Kipawa involves a slurry pipeline to move the ore to the hydrometallurgical plant 50 kilometers away from the mine site. Tasman management said at the PDAC Monday breakfast that they currently plan to locate their hydrometallurgical either at the Norra Karr mine site or near the railroad which is in close proximity to the project site. Even if Tasman chooses to build the plant near the railroad they intend to use to transport product to port and market, we see a significant CAPEX savings in that a pipeline will not be required since Norra Karr is only 400 meters from a main highway. One project geologist told us "You can hear the highway from the project site." We have seen estimates of the CAPEX coming in at only $200 million, and we consider those estimates legitimate, however we have modeled $225 million to provide a cushion.
On the issue of taxes, we have used the Swedish corporate income tax rate of 26.30% plus a 0.25% royalty on mining revenue.
On the matter of discount to the value of separated rare earth oxides, we have elected to use a 50% discount versus the 30% discount rate outlined under the potential Toyota-Matamec deal on the Kipawa deposit. Historically, the discount for concentrate inside of China was closer to 70% but this was in part because the export of mixed rare earth concentrate is illegal in China. As a result, we believe that outside of China the discount will approach 50% long term.
Norra Karr is currently on a timeline to production in 2016. We have burned in the past listening to timelines and as a result we have baked in a one year delay such that construction occurs in 2016 and full scale production is achieved in 2017. Because of this built in 1 year delay, we believe it is fair to use a 1.0x P/NPV multiple since the assumed development delay materially discounts our valuation in the same manner as a sub-1.0x P/NPV multiple would. If we removed our 1 year project delay, our price target for YE2012 would be $4.10/share based on a YE2013 acquisition offer of $4.92/share. So bottom line, we are pricing in via a 1 year project delay, a 20% discount to the current company timeline.
Snapshot of Our Model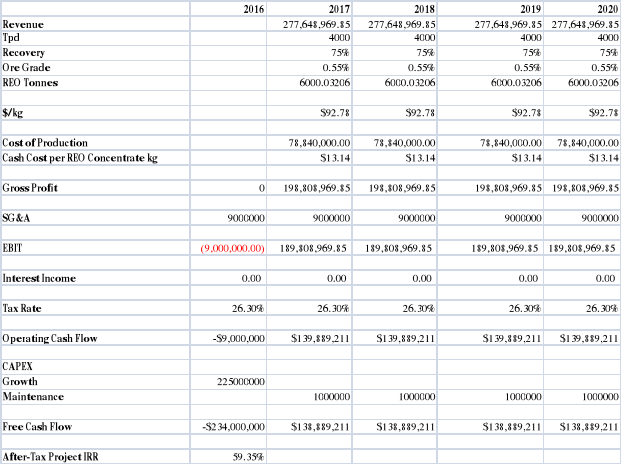 Please note that our model includes no revenue from the potential zirconium by-product Tasman could produce from Norra Karr.
Why the focus should be on $4.10/share YE2013
Investors should focus on our YE2013 price target of $4.10/share from which we based our YE2012 target because we have come to the conclusion that end product consumers, financial sponsors, or other rare earth mining companies (i.e. Molycorp) will not make an acquisition of a junior deposit unless the metallurgical flow sheet has been proved at the pilot plant scale. With the PEA out in 1Q12, and allowing 1 year for the pre-feasibility study (which would include pilot plant level testing), we believe acquirers will consider taking a serious look at Tasman Metals during 2013 after the pilot plant has proven the flow sheet on a more significant scale.
Separation JV Potential
Having said that about the possibility of a full acquisition, we think that in 2012 there is potential for Tasman Metals to enter into a joint venture with a chemical company to process the Norra Karr hydrometallurgical concentrate into separated rare earth oxides. While at PDAC, we were able to confirm with several individuals involved in the rare earth sector that there is interest in these sorts of arrangements where the joint venture partner is not vulnerable to the risks involved with a mining operation. As a result, while we have not included it in our model, we believe Tasman Metals in 2012 will enter into a joint venture on a solvent extraction plant to process Norra Karr hydrometallurgical concentrate in separated rare earth oxides.
A joint venture for processing the Norra Karr metallurgical concentrate in which Tasman Metals receives a percentage of the revenue from sales of individual rare earth oxides or sells the concentrate for a discount of less than 50% and more in line with the 30% outlined by Matamec in its Toyota arrangement would materially improve our net present value.
Downside Risks
The most significant downside risk we foresee for Tasman Metals is that the metallurgical break through achieved extracting rare earth content from eudialyte on a bench scale does not translate at the pilot plant scale. If the scenario comes to pass, we can expect to see significantly higher operating costs and rare earth recoveries impacted such that the bench scale results would no longer be reliable. In some ways, we are riding on Toyota's coat tails here because we do not believe they would have entered a non-binding joint venture with Matamec if they did not have a strong conviction through due diligence that the flow sheet exists to process eudialyte. Yes there are differences between Norra Karr and Kipawa, but we cannot account for everything and we feel we are taken a reasonable risk here (especially when we have included a 1 year project delay).
The Independent Operator Route
If Tasman Metals elects to go the route of being an independent producer of rare earths and funding the CAPEX through an equity offering (which our readers will notice is a constant theme we are using throughout our coverage on rare earth companies), then our model generates the following NPV/share at various discount rates: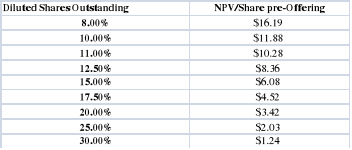 Of course we now must account for the equity offering, and while we firmly believe the offering will not happen at current share price levels, we cannot talk about doing equity offerings at higher prices. As a result, we have used $1.90/share, more than a 15% discount to current market price, as our equity offering price to fund construction CAPEX at which point our NPV/share translates into the following on a YE2012 basis.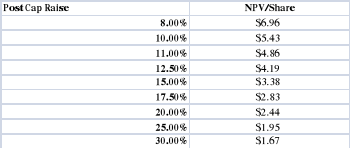 On a YE2013 basis (so apples to apples with our takeover model based price target), our post-capital raise NPV/share would be the following: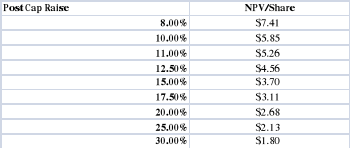 As is clearly visible, Tasman Metals could raise the cash for the construction CAPEX at Norra Karr via an equity offering significantly below current market price and still offer a post-offering NPV/share greater than the offering price at a 20% discount rate and a one year project delay built in.
This is one of the major reasons we think Tasman Metals is one of the most compelling values in the junior rare earth element mining sector. And why we think investors should buy in before the Preliminary Economic Assessment is published.
Model Sensitivity to Recovery Rates
A 1% change in recovery rate from 75.13% to 76.13% would increase our price target to $3.53/share or 3.68%.
What we expect from the PEA
When using our price deck, we believe the Norra Karr PEA will show an after-tax internal rate of return in the range of 55-60%. Please note that the following net present values are based on YE2012 and on when construction is commenced. We see the PEA generating an after-tax net present value of approximately $770 million at a 10% discount rate and $542 million at a 12.50% discount rate based on our model inputs.
Bottom Line
We like it when we can find an interesting long term investment opportunity with an imminent near term catalyst and that is exactly what we believe we have here in Tasman Metals. The Preliminary Economic Assessment on Norra Karr, in our opinion, will show the market the viability. As we have shown, our price deck offers a significantly higher valuation than those provided by other analysts, however, that is part of a macro discussion on the rare earth sector we will discuss in a future piece. We would note that the two biggest drivers of valuation are the price deck input and the discount Tasman will be selling its concentrate for relative to the value of the contained rare earths in pure oxide form.
We feel comfortable however that we have a reasonable price deck, and would note that if we assume:
Zero revenue contribution from cerium, lanthanum, and praseodymium
Zero by-product credits for zirconium (as is the case in all of our scenarios here)
50% discount for rare earth concentrate
One year timeline delay
10% discount to YE2011 domestic Chinese prices for heavy rare earths
$75/kg for Neodymium Oxide
Under this scenario, our NPV/share post-offering ($1.90 equity offering price) at YE2012 comes out to $2.24/share at a 20% discount rate. This scenario bakes in a project delay, an extremely conservative price deck, and would indicate Tasman Metals is pricing in a severely bearish development scenario and Norra Karr is economic under essentially every analyst price deck except for the one from Byron Capital Markets which is hands down the most conservative one we have seen in the sell side analyst community.
Basically, we've thrown the pretty much everything and the kitchen sink at our model and we see Tasman Metals as a compelling value especially with the PEA catalyst next week. As a result, this BUY rating should be viewed as both a tactical trading opportunity in addition to a long term fundamental thesis. We think the opportunity exists for the Preliminary Economic Assessment report on Norra Karr to result in the market re-considering the valuation on Tasman Metals in a positive manner.
While some critics may point out how our price deck is higher than the Toyota 2016 deck used in the Kipawa PEA, Byron Capital Markets deck, or JP Morgan deck, we believe a long term price deck foundationally based in domestic Chinese prices is rational and we stand by our deck. Furthermore, we point to the conservative assumptions we have used throughout this analysis (no by-product credit, 1 year delay, no joint venture to improve sales economics). We hereby initiate coverage of Tasman Metals with a BUY rating and a $3.40/share YE2012 price target derived from our $4.10/share YE2013 buyout model.
Sources
1) www.tasmanmetals.com/s/NewsReleases.asp?......
2) http://www.tasmanmetals.com/s/NewsReleases.asp?ReportID=506223&_Type=News-Releases&_Title=Tasman-Makes-Metallurgical-Breakthrough-at-Norra-Karr-Heavy-Rare-Earth-Elem...
Disclosure: I am long MCP, TAS.
Disclaimer: The facts in this newsletter are believed by the Strategist to be accurate, but The Strategist cannot guarantee that they are. Nothing in this newsletter should be taken as a solicitation to purchase or sell securities. These are Mr. Evensen's opinions and he may be wrong. Principals, Editors, Writers, and Associates of The Strategist may have positions in securities mentioned in this newsletter. You should take this into account before acting on any advice given in this newsletter. If this concerns you, do not listen to or consider our opinions. Investing includes certain risks including potential loss of principal. The commentary of The Strategist does not take into consideration individual investment objectives, consult your own financial adviser before making investment decisions.
Subscribe to the RSD email list and get the latest resource stock activity directly to your inbox, for free.
Subscribe to the RSD email list and get the latest resource stock activity directly to your inbox, for free.
MARKET SUMMARY
INDICES
| Name | Last | Change |
| --- | --- | --- |
| DOW | 24753.10 | 0.24% |
| S&P 500 | 2721.33 | 0.24% |
| NASDAQ | 7433.85 | 0.13% |
| TSX | 16075.67 | 0.24% |
| TSX-V | 775.41 | 0.00% |
Resource Commodities
| Name | Last | Change |
| --- | --- | --- |
| Gold | 1301.61 | 0.25% |
| Silver | 16.51 | 0.97% |
| Copper | 3.07 | 0.020 |
| Platinum | 902.03 | 0.000 |
| Oil | 67.88 | 4.17% |
| Natural Gas | 2.94 | |
| Uranium | 22.80 | 0.00% |
| Zinc | 1.37 | 0.00% |