In the Kyrgyz Republic (previously known as Kyrgyzstan) lies the massive Zijin's Taldybulak Levoberejnyi Mine (TBL Mine), a newly built and producing mine –operated by one of China's largest gold producers -- containing 3.2 million ounces in reserves and resources at a grade of 7.2 g/t.
Surrounding that mine is the 164 sq.km. Borubai license, 100% owned by recently TSX Venture listed Kenadyr Mining (KEN: TSX-V). The Company appears to have many planks to eventual success as a global mining operation.
And you've likely never heard the name.
Out of the gate, investors will note that the Company has no debt, $8,5 million in cash, and a peerless management team that brings extensive Asian contacts, both government and industry as well as extensive global mining expertise.
Kenadyr's CEO, Dr. Alex Becker has a long and distinguished track record successfully operating in Kyrgyzstan (Kyrgyz Republic).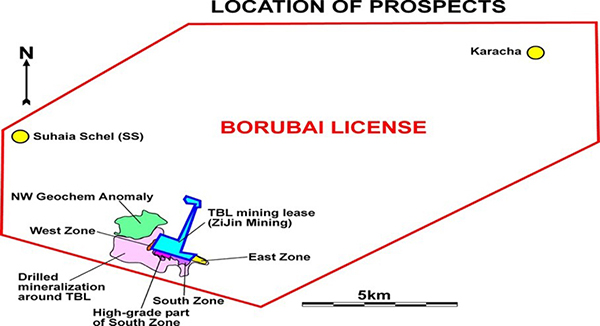 The TBL mine deposit (grey over red) appears to directly connect to Kenadyr's initial drill target (red extension), the south zone, which was previously drilled by the Soviets. The results are illustrative of the potential of the area.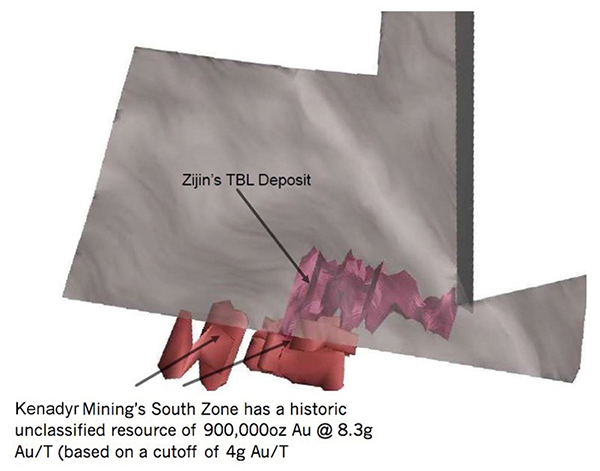 Borubai may be the only junior currently connected to a producing 'super major.'
"The European Gold Forum 2017, recently held in Zurich, reinforced our belief that major and mid-tier gold producers have mandates to replace depleting ounces via acquisition," stated Bryan Slusarchuk, President and Director of Kenadyr.
He continues, "The recent emergence of this trend bodes well for companies with advanced stage gold assets. Kenadyr not only has 100% of a large land package with an underlying geological environment conducive to high grade and size, but the asset is also very strategically located."
Salient Points Regarding the neighbouring TBL Mine:
Built at cost of US$269 million
on August 15, 2011, the national resources table of Kyrgyz Republic stated that the TBL field contains 8,906,100 tonnes of gold ore
average grade is 7.23 grams per tonne
initial mining reserve) is 4,949,754 tonnes of gold ore (the average grade is 7.02 grams per tonne
designed to produce 125,000 ounces of gold per annum.
Kenadyr's Borubai Project:
100-per-cent-owned exploration license covering a contiguous 164 square kilometres located in northern Kyrgyz Republic.
extensive historic exploration including drilling (98,200 metres in 184 diamond drill holes)
rock geochemical sampling (2,320 samples), pan concentrate sampling (790 samples), and 100 metres of adits and 184 metres of underground raises
the entire area has been subject to airborne magnetic, radiometric and gravity surveys, as well as ground-based
Mining savvy/accommodating government: No expropriation of mining assets
First mover advantage

Soviet drilling outlined the TBL Mine's gold resources and established that the mineralization continued onto the Borubai license. Drilling by Kenadyr in 2016 at SS proved the presence of significant gold in several RC holes drilled to confirm the previous Soviet work.
TBL boasts a high-grade South Zone alone contains a historic unclassified Soviet Resource Estimate of 900,000 oz. Au @ 8.3 g Au/T, based on a 4 g Au/T cut off.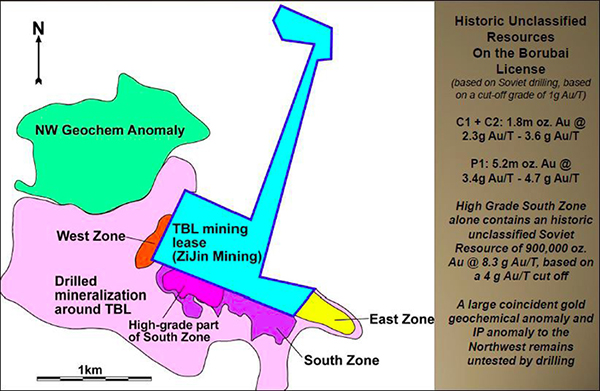 The Company has plans to begin a drilling program by summer 2017.
The world recently went through a period during which very little exploration work was done on gold assets. Now, with a stealth bull market in gold having commenced, companies are scrambling to play catch up through acquisition.
Click here to continue reading...
Subscribe to the RSD email list and get the latest resource stock activity directly to your inbox, for free.
Subscribe to the RSD email list and get the latest resource stock activity directly to your inbox, for free.
MARKET SUMMARY
INDICES
| Name | Last | Change |
| --- | --- | --- |
| DOW | 24100.50 | 2.06% |
| S&P 500 | 2599.95 | 1.95% |
| NASDAQ | 6910.67 | 2.31% |
| TSX | 14595.07 | 1.06% |
| TSX-V | 555.38 | 0.00% |
Resource Commodities
| Name | Last | Change |
| --- | --- | --- |
| Gold | 1238.38 | 0.29% |
| Silver | 14.57 | 1.17% |
| Copper | 2.76 | 0.000 |
| Platinum | 787.00 | 0.000 |
| Oil | 51.20 | 2.70% |
| Natural Gas | 3.83 | 7.76% |
| Uranium | 28.53 | 0.35% |
| Zinc | 1.22 | 0.00% |