Summary
Argentina moves to welcome foreign investment; Chile & Bolivia standstill.
Domestic production is expected to continue rising well beyond 2020.
Lithium juniors flock to the region to position themselves for the next stage of industry growth.
Orocobre, Toyota, SQM commit capital to develop the Puna Plateau.
The Puna Plateau is an area of the Andrean Mountains spanning 1,800km across Argentina, Bolivia, and Chile and reaches elevations of 4,000m. This mountain region houses the largest global proven deposit of lithium, often referred to as the "The Lithium Triangle", and consists of three major salt lakes: Salar de Atacama, Salar de Uyuni, and Salar de Hombre Muerto. The Puna Plateau is referred to as the "Saudi Arabia of lithium" as it holds approximately 70% of the global reserves, making it an attractive area for both junior exploration and large mining companies.
'Brine' is water saturated with a high concentration of salts such as that found in salt lakes, or a salar. Concentrated brine water is extracted from below the Earth's surface and cycled through a pond evaporation process, which can take from 12-24 months; as the brine water begins to evaporate, lithium and other by-products are harvested, including potassium and boron.
In the 1990s, a large investment of approximately$150 million by an American chemical company spurred interest in the Puna Plateau. In recent years, a large number of lithium junior exploration and existing producers have flocked to this region to participate in the next wave of growth. The next boom is being lead as the demand for lithium is becoming a priority for automakers and battery manufacturers as the commit to an electric future.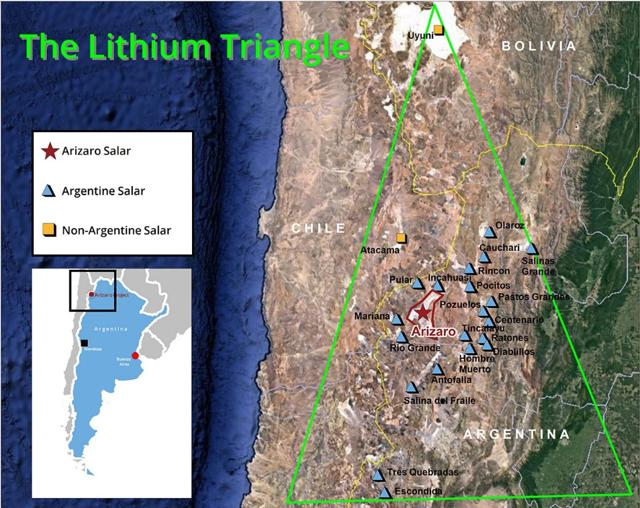 Bolivia and Chile standing still
It is common knowledge that the current Bolivian government, despite their optimism, has no internal capabilities or know-how to develop their massive deposits of lithium brine. Even if the government changed its approach on the development of these brine assets, it would take nearly a decade to bring any meaningful capacity to market. Further, investors would question the geopolitical risks associated to investing in Bolivia. It is in my opinion that Bolivia will not be a mid-term contributor to global lithium carbonate supply.
In October 2012, the Chilean government undertook an auction process for a lithium mining concession that resulted in several issues with lithium giant SQM (NYSE:SQM). Although SQM submitted the most suitable proposal for the concessions, the company had a pending lawsuit against the Chilean government which should have prevented them from being included in the auction. The whole process derailed and uproar caused the auction to stop with a result of no company being awarded the mining rights.
The incapability of the Bolivian and Chilean government has given Argentina a significant advantage to become the next giant in the production of lithium.
Argentina political landscape has shifted
Cristina Fernández de Kirchner, a populist who governed Argentina until December 2015, created challenges for foreign companies to do business in Argentina. This was especially true for junior mining and exploration companies seeking to enter the Argentine resources industry. Between high levels of inflation, currency control and the extreme difficulty to move all forms of capital in and out of the country, companies were deterred from investing into Argentina's future. For companies such as Orocobre, who were the only company to successfully develop a new lithium brine in Argentina, the process became extremely difficult. The company incurred significant delays in both production start-up timelines and construction cost overrun (See: Orocobre - The Road to Lithium Production in Argentina).
Under the Argentine constitution, the federal government does not own local minerals but rather the provinces have full control over deposits. Orocobre was able to successfully land a deal with the provincial Jujuy mining company, JEMSE, who took an equity position of 8.5% (See: Orocobre Joins the Lithium Oligopoly). With the fall and removal of Cristina Fernández de Kirchner in 2015, Argentina's new business friendly leader Mauricio Macri has worked aggressively to attract investment into the overall economy which has spurred activity in the lithium exploration and production markets. Political economic actions allowed for more favorable currency controls which devaluated the value of the Peso and started to shift towards scrapping export taxes. There have also been favorable actions towards maintaining and accessing information on land claims, harmonizing tax regulations, and standard royalty rates along which is clearly making it easier for exploration and existing mining companies to shorten development and construction timelines. The overall impact is that the world can expect some relief in the years ahead to bring meaning lithium capacity to market.
Argentina attracts investment to increase lithium output
Macri's economic strategy created over $1.5 billion in lithium investments in 2016 as the industry increased production by nearly 60%. It is expected that the country achieves annual production rates in 2022 of 145,000 T LCE. Today, there are only a few lithium production companies operating in Argentina including FMC Corp (NYSE:FMC) and Orocobre (OTCPK:OTCPK:OROCF) (See: Lithium Mining - Reviewing Opportunities within in the Production Oligopoly). FMC operates a well-established lithium brine at the Salar de Hombre Muerto which went under a significant expansion project in 2010. The company was successful in expanding production capacity by 30% from 17,000 T LCE to 22,000 T LCE per year. In 2016, lithium giant Albemarle Corp (NYSE:ALB) jumped on the Argentina wagon by securing an exclusive exploration and acquisition rights package to a lithium resource in Antofalla, within the Catamarca Province of Argentina. The company believes that the lithium resources at Antofalla will be certified as the largest in Argentina.
The following graph, "Undersupply of Lithium Carbonate", indicates that nearly half of all new lithium carbonate supply coming to market by 2020 will be exported from Argentina. This includes Phase 1 and Phase 2 of Orocobre and Toyota's lithium facility, expansion at Albemarle's La Negra facility, and the successful ramp up at SQM and Lithium Americas (OTCQX:OTCQX:LACDF) facility. Australia is expected to contribute the lion's share of additional capacity with Chinese brines also contributing on a limited basis. It is now clear that Argetina is well positioned to play a critical role in enabling an electric future for the global population.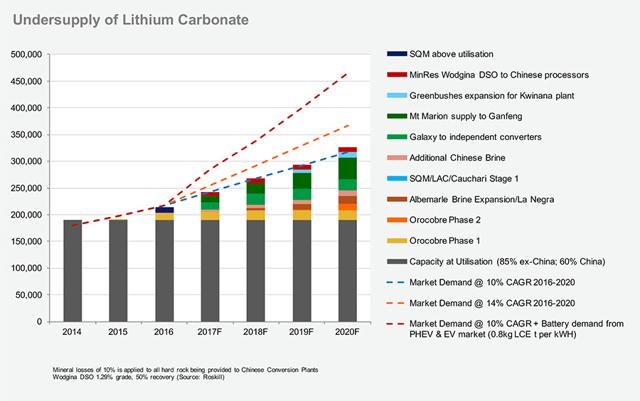 SQM takes stake in Cauchari-Olaroz project
In early 2016, SQM who is a top global lithium producer operating in Chile jumped over the border to grab a stake in an advanced lithium project. The project at Cauchari-Olaroz was under development by Lithium Americas who is a junior exploration company primarily focused on this project. SQM purchased a 50% ownership stake in Minera Exar SA, the local operating business of Lithium Americas for a net cash consideration of $25 million. Since the transaction close, the companies have moved forward to update definitive feasibility study with the objectives to outline a plan for 40,000 T LCE per year. Cauchari-Olaroz is projected to be the world's 3 rd largest lithium brine resource with permits for construction and development in hand.
Lithium Americas since 2009 has incurred over CDN$80 million in expenses associated to resource exploration and project development efforts which illustrates the companies need to attract a senior partner to move the project forward. In early 2017, the companies provided an update which outlined a two stage ramp-up approach. Stage one calls for an investment of $420 million which will enable the company to produce 25,000 T LCE in 2019.
Click here to continue reading...
Subscribe to the RSD email list and get the latest resource stock activity directly to your inbox, for free.
Subscribe to the RSD email list and get the latest resource stock activity directly to your inbox, for free.
Part of the Stock Digest family of websites
MARKET SUMMARY
INDICES
| Name | Last | Change |
| --- | --- | --- |
| DOW | 26089.60 | 0.07% |
| S&P 500 | 2886.98 | 0.16% |
| NASDAQ | 7796.66 | 0.52% |
| TSX | 16301.91 | 0.38% |
| TSX-V | 587.84 | 0.00% |
Resource Commodities
| Name | Last | Change |
| --- | --- | --- |
| Gold | 1341.93 | 0.03% |
| Silver | 14.87 | 0.27% |
| Copper | 2.63 | 2.630 |
| Platinum | 901.00 | 0.67% |
| Oil | 52.51 | 0.44% |
| Natural Gas | 2.39 | 2.60% |
| Uranium | 24.70 | 1.52% |
| Zinc | 1.09 | 0.00% |