Summary
The Olaroz-Cauchari basin remains the global center for lithium production and exploration activity.
Exploration capital continues to be spent to further define the basin; a major Asian automotive company makes a sizable investment to increase output.
A major Asian battery and material manufacturer is backing the construction of another facility in the region.
Insight into the regions developments and the companies behind the projects.
A growing list of automakers committing to release electric and hybrid plug-in vehicles has spurred activity throughout the lithium supply chain. The vast majority of the economic activity and investment has taken place in the battery and lithium chemical components of the industry. The increase in existing and projected global electric vehicle sales and stationary energy storage systems is contingent on the availability of high quality and bankable lithium batteries. This has triggered a wave of investment into the lithium exploration markets and is encouraging current producers to invest in the expansion of their facilities. For Asian automakers, technology developers, and battery manufacturers, securing a stable and meaningful supply of the white chemical has become a top priority. Strategic alliances, as well as joint ventures and acquisitions, continue to be established with lithium exploration and production companies. This is because the industry has moved upstream in an attempt to combat increasing prices and to lock up supply. Entering material off-take agreements and providing financial packages for late-stage lithium exploration and early-stage production companies has been a common trend in the business throughout 2017 and into 2018.
In the past decade, there has been a series of economic activities between Asian companies and lithium exploration and production companies. These strategic moves have allowed battery and vehicle companies to alleviate the possibility of future lithium supply constraints that could have devastating consequences in a well-established and productive Asian automotive industry. Asian countries such as Korea and Japan are home to some of the largest consumer, battery, and automotive companies, including Sony Corp. (SNE), Panasonic (OTCPK:PCRFY), Samsung Electronics (OTC:SSNLF), LG Chem (OTCPK:LGCLF), and Toyota Motors (TM). However, all of these companies are entirely dependent on the import of strategic energy metals. In addition, these companies are now competing with the Chinese for supply, while the Europeans have yet to play an active role in the development of the industry. This is becoming increasingly evident as the industry witnesses an increase in economic activity, including South Korea's POSCO, which recently signed a long-term supply agreement for lithium from Australia's Pilbara.
When I am speaking about the Olaroz-Cauchari Basin, as I often am, I simply refer to the region as the 'Times Square' of the lithium industry, because the Olaroz-Cauchari Basin is at the center of the action. With few other regions in the world housing such a large proven reserve of lithium, and with firm capital behind the projects, I clearly understand why investment continues to pour into companies operating in the region. Over the past 5 years, I have invested directly into Orocobre (OTCPK:OROCF) and have recently expanded my position to include shares in Advantage Lithium (OTCQX:AVLIF). Lithium Americas (LAC), the other strong operator in the region, will begin delivering meaningful volumes of lithium products in 2020-2021. Despite having seen shares in Orocobre rise from C$2/share to C$7.50 share and Advantage rise from C$.60 to $1.40/share, I continue to hold my positions as the Olaroz-Cauchari story continues to unfold. It is my opinion that investors seeking to own individual stocks in the lithium production market should strongly consider investing in a diversified manner by owning shares in all three companies. Part of my investment thesis is to move with the major players such as Ganfeng, SQM (SQM), Lithium Americas, Advantage Lithium, Orocobre, and Toyota Tsusho (OTCPK:TYHOF), all of which are now heavily invested in the region.
Activity in the Olaroz-Cauchari Basin
Presently, there are three active companies in the Olaroz-Cauchari Basin. These are Orocobre, Lithium Americas, and Advantage Lithium. Lithium brine extracted from the Basin has an excellent chemistry composition that has been proven to meet the technical requirements for lithium battery products. The large resource located at this basin will make it a critical long-term asset for the global lithium supply chain. This specific basin has attracted multiple large investments from a major Asian industrial trading house, Toyota Tsusho, and one of the world's largest battery material companies, Ganfeng Lithium. Lithium Americas entered an off-take agreement to sell their portion of lithium production to Ganfeng Lithium, while SQM purchased a 50% share in the Cauchari. SQM is the largest producer of lithium chemicals in the world, with a primary focus on Chile and Australia. The investment at Cauchari is the company's first leap into the Argentine chemicals market. Lithium Americas openly welcomed the investment by SQM, as they bring a wealth of expertise to the brine. This will ensure the arrangement of the technical expertise of building and operating a lithium brine asset. In 2017, Orocobre farmed out its exploration efforts to Advantage Lithium, the Canadian junior exploration company. The two companies reached an agreement under which Orocobre would sell a non-core land package to Advantage in exchange for a 30% ownership stake in Advantage and 25% ownership in the Cauchari flagship project. Since the closing of the transaction last year, there has been a considerable build-up in the region as this joint venture quickly moves to define its resource asset in the basin.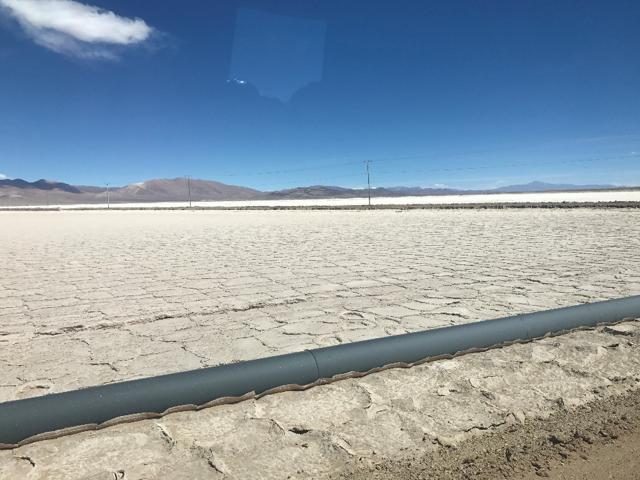 (2017 Cauchari-Olaroz Tour - Author Supplied)
Orocobre and Toyota increase investment at Olaroz
Orocobre is known as the only lithium exploration company to bring a Greenfield lithium brine project to market in over 20 years. The capital cost of the company's flagship project was in excess of $230 million. The initial nameplate capacity of the chemical plant was 17,500 T of lithium carbonate. In 2012, Toyota Tsusho Corporation entered a definitive shareholders agreement with Orocobre on the Olaroz Project, which gave Toyota Tsusho a 25% interest in the project. Toyota Tsusho, which is one of Japan's leading global trading houses, is 22% owned by Toyota Motor Corporation (TM) and 11% owned by Toyota Industries (OTCPK:TYIDY). Toyota Tsusho brought financial backing that assisted greatly in financing the project. Toyota Tsusho also played a critical role in marketing the lithium carbonate produced at Olaroz.
Click here to continue reading...
Subscribe to the RSD email list and get the latest resource stock activity directly to your inbox, for free.
Subscribe to the RSD email list and get the latest resource stock activity directly to your inbox, for free.
Part of the Stock Digest family of websites
MARKET SUMMARY
INDICES
| Name | Last | Change |
| --- | --- | --- |
| DOW | 27171.90 | 0 |
| S&P 500 | 2985.03 | 0.28% |
| NASDAQ | 8204.14 | 0.70% |
| TSX | 16518.88 | 0.20% |
| TSX-V | 593.88 | 0.00% |
Resource Commodities
| Name | Last | Change |
| --- | --- | --- |
| Gold | 1423.30 | 0.02% |
| Silver | 16.42 | 0.61% |
| Copper | 2.72 | 2.722 |
| Platinum | 901.00 | 0.67% |
| Oil | 56.22 | 1.05% |
| Natural Gas | 2.31 | 2.64% |
| Uranium | 25.60 | 1.08% |
| Zinc | 1.15 | 0 |