Summary
SQM rattles the lithium market with announcements to increase supply at its Chilean brine facility. Markets have responded with a sell-off in the lithium space.
Investors should remain focused on strategic advanced lithium juniors as global demand will continue to outpace supply over the next years.
An overview of advanced lithium exploration companies that could represent less risk than early-stage juniors.
Over the past weeks, I have received an abundant number and range of questions surrounding the news that Chemical & Mining Co. of Chile (NYSE:SQM) will increase production in Chile. It has been reported that the company can increase production of lithium carbonate equivalent from an expected 63,000 tonnes in 2019 to 163,000 tonnes by 2024. It is my opinion that this news is very favorable to long-term lithium investors such as myself, and it will strongly benefit the overall ramp-up in global electric vehicle sales, which will directly benefit small regional players.
Good advice for retail investors who are keen to play the rising wave in demand for lithium batteries is to purchase shares in companies having a primary project that is well advanced (either at the tail end of the exploration phase or already sitting on a Preliminary Economic Assessment). Financing is also extremely important, because lithium brines are not a traditional gold project in Arizona. These are highly technical projects requiring hundreds of millions of dollars in capital investments, located in exotic regions of the world. In light of the tight supply and demand factors, coupled with strong lithium pricing, financing the next round of projects should see a high level of success. However, for projects that are only now coming further down the greenfield project development pipeline, it becomes increasingly difficult to see how financing options will be made available. As more projects come on-line, they are matched by an increase in the number of projects that can more cost-effectively increase production at a significantly lower risk.
Having strategic partners also adds significant value, as it allows the project to be further derisked. A solid example is Lithium Americas Corp. (NYSE:LAC), which has brought in SQM, the world's largest lithium producer, and which also has extensive experience in developing lithium brine assets. Ganfeng, one of the largest lithium-battery material companies in the world, is also tied to the project as it is the off-take partner for much of the material produced from the project. In summary, my approach is to invest in companies that are advanced in the exploration stage, have strong, asset-backed partners and are highly likely to be financed.
Approximately two years ago, the industry saw a new group of junior lithium-exploration companies start up and race to Argentina to purchase land packages. Funding was easy to secure in the backdrop of increasing lithium demand and pricing. In my opinion, this new group of juniors was welcomed because the fundamental supply and demand landscape required new players to enter the market. Over the past six months, I have witnessed even more companies enter the lithium exploration space making wide claims. In all honesty, I have not spent more than a few moments looking into new entrants for three reasons. First, the market simply does not require additional capacity to be brought in beyond the current projects that are being developed. Two, the attractive global projects in Argentina, Australia, and Canada are already locked up. Three, it is much more cost-effective to ramp up production than it is to start up new product. As an example, Orocobre (OTCPK:OROCF) recently announced its intentions to increase annual production output by 25,000 T LCE based on a CAPEX of $271 million, while the Lithium Americas project has an initial CAPEX of $425 million with an annual production increase of 25,000. Based on these factors, capital is going to flow to ensure that only the best projects move forward, leaving very little opportunity for new exploration companies to be taken seriously as contenders in the market.
The SQM production increase will have a direct and essential impact on new lithium exploration players in both the hard-rock and brine markets. It is my opinion that this news does not impact the advanced juniors, as the world still needs significantly more lithium than what SQM and all advanced lithium juniors combined are planning to produce (see UBS graph below).
For the battery and electric vehicle markets this is a significant positive event, as it will allow the major manufacturers to confidently invest in new production equipment so that automakers can shift to electric vehicles. For consumers, this means that a steady flow of electric vehicles will arrive to the global markets in the years ahead. This will be a true win for all players and end-users throughout the supply chain.
As illustrated in the Lithium Demand Forecast schedule below, the market may require upwards of 1 million T LCE per by 2026, with SQM delivering around 25% of the market requirements. Even if an investor believes that the company can successfully scale up its Chilean brine asset, there is still a significant void in the difference between supply and demand. The bottom line is that the world needs much more lithium chemical volume than what is presently in production or expected to be brought to market in the next few years. It is therefore my opinion that the tight market conditions in the lithium market will only grow over the next years despite new production capacity reaching the market.
In a bullish scenario, where 50% of the projected market demand materializes, the industry would still be in a shortfall position by 2025. In addition to the SQM production increase, the battery industry requires lithium production to dramatically increase. This is why Asian automakers, battery and material, and investment companies continue to seek out new supply options.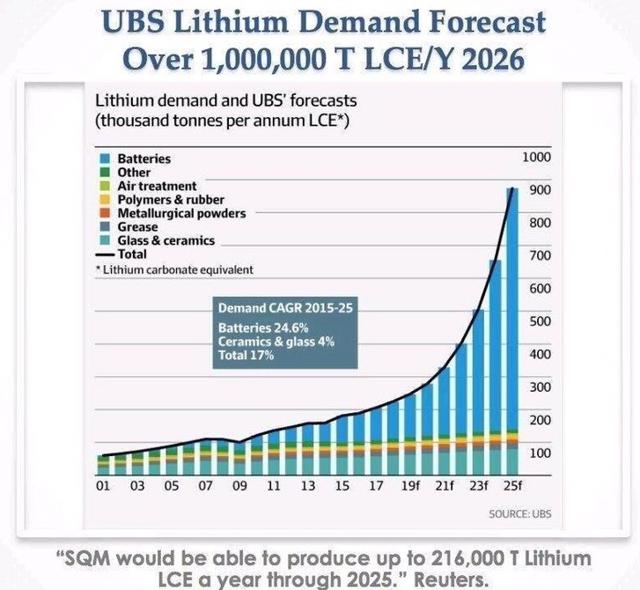 Following below is a discussion of five advanced junior lithium exploration companies that I believe will attract capital in 2018 or 2019. This will allow their projects to move into a construction stage over the next years or, alternatively, position the company for merger or acquisition.
Neo Lithium (OTCQX:NTTHF): A must-own lithium stock based on a fundamentally sound Preliminary Economic Assessment, on a large natural resource deposit, on the advanced stage of the project, and on the fact that this project promises to produce the highest-quality lithium among all brine projects globally. In 2018, the company is seeking to strengthen its technical team, receive necessary environmental and construction permits, complete a second drilling and pumping season, and deliver an updated resource calculation. Further, Neo Lithium continues the construction of its pilot plant, which paves the path for a feasibility study. In my opinion, the most significant development in 2018 will be the release of its project financing strategy. Based on a recent company report, the 3Q Project will require an initial investment of US$490 million, which is a significant amount of capital for any junior lithium exploration and development company. Shareholders in Neo Lithium, including myself, will be well rewarded once the company announces a financing and off-take partner.
Millennial Lithium (OTCQB:MLNLF): Another strong, advanced lithium exploration company focused on its flagship lithium brine asset, Pastos Grandes. In the second half of 2017, the company secured a $30 million investment from an investment subsidiary of China-based Million Surge. The gross value of the private placement was estimated to be approximately $30 million. The investment from this Chinese manufacturer of high-quality photovoltaic materials was a signal to the market concerning the strategic interest that major Chinese material companies have in the Pastos Grandes project. In late January 2018, the company provided results of its PEA for the Pastos Grandes project, including US$824 million after-tax NPV at an 8% discount rate; IRR of over 23% based on a CAPEX of US$410 million for 25,000 T per year lithium carbonate production; CAPEX estimate of US$410 million to produce 25,000 T per year; OPEX below US$3,300 per tonne of lithium carbonate over the life of the mine; and a mine life of 25 years with a 3-year ramp period to the nameplate capacity.
LSC Lithium (OTC:LSSCF): LSC Lithium is a pure land play focused on lithium brine assets in Argentina. The company spent much of the past year assembling one of the largest land package portfolios in the industry. The portfolio consists of multiple prospective lithium rich salars in Argentina, with the vast majority of the high-quality sites located in the provinces of Salta and Jujuy. To bring a single lithium brine project from exploration to market can require over $500 million in capital, plus extensive specialized knowledge. It is hard to believe that LSC Lithium will bring multiple projects to market over the next few years. In contrast, my opinion is that the company will move to complete multiple drill campaigns at several of its high-quality lithium brine projects, which will then be converted into natural resource estimates. As Asian demand for advanced-stage, junior exploration lithium companies continues to increase, the company may be well-positioned to sell its full portfolio of projects or select components. LSC Lithium provides investors with a large portfolio of early- to late-stage exploration projects in Argentina, with most of the associated risk going to capital requirements as well as to supplying the expertise and organizational alignment needed in order to advance multiple projects in parallel.
Advantage Lithium (OTCQX:AVLIF): In January 2018, I ranked shares in Advantage Lithium as a must-own stock in 2018 for investors looking to benefit from positive trends in the industry.
Click here to continue reading...
Subscribe to the RSD email list and get the latest resource stock activity directly to your inbox, for free.
Subscribe to the RSD email list and get the latest resource stock activity directly to your inbox, for free.
Part of the Stock Digest family of websites
MARKET SUMMARY
INDICES
| Name | Last | Change |
| --- | --- | --- |
| DOW | 26536.80 | 0.04% |
| S&P 500 | 2913.78 | 0.12% |
| NASDAQ | 7909.97 | 0.32% |
| TSX | 16312.22 | 0.36% |
| TSX-V | 580.07 | 0.00% |
Resource Commodities
| Name | Last | Change |
| --- | --- | --- |
| Gold | 1407.60 | 0.21% |
| Silver | 15.27 | 0.07% |
| Copper | 2.72 | 2.716 |
| Platinum | 901.00 | 0.67% |
| Oil | 59.38 | 2.61% |
| Natural Gas | 2.29 | 0.74% |
| Uranium | 24.65 | 0.00% |
| Zinc | 1.15 | 0.00% |