Summary
Exploration and production capital continues to pour into Argentina's lithium triangle region as the country looks to increase lithium output.
Strategic Asian investors have made significant investments into the region; investors include automotive companies, investment firms, battery and material manufacturers.
Investors should consider focusing on advanced junior lithium exploration companies as they provide the greatest exposure to increasing investment into the country.
The lithium triangle region of Argentina is home to a considerable number salt lakes or salars. Salt lakes are vast bodies of concentrated brine water that are located at depth below the Earth's crust. The brine will host a variety of minerals depending on the chemistry, which will ultimately determine if the salar is a suitable site for lithium production. Bringing a property from exploration to production can take as long as 5 years depending on the financial resources of the exploration company. The brine is pumped to the Earth's surface into large ponds where the material goes through a natural evaporation process that can take from 9-24 months: as the brine water begins to evaporate, lithium and other by-products are harvested, including potassium and boron. Throughout the process, additional minerals such as lime are added to remove impurities in the brine, including manganese. Once the evaporation process is completed, the remaining minerals settle as a clunky white substance which is then sent for final processing and packaging.
Over the past two years, junior exploration companies have raised capital and flocked to Argentina to secure land packages in the lithium triangle, with the intention of undertaking drilling campaigns. Typically, a successful maiden drill campaign leads to the development of a resource study. These have delivered remarkable returns for shareholders as the global investment community seeks out opportunities to participate in the development of low-cost lithium assets, such as those found in Argentina. Argentina is not alone on the world stage as a potential major contributor to the global lithium supply chain. Chile has recently confirmed that they will increase output until 2030. Australianlithium exploration companies in recent years have shifted into high gear by increasing the export of spodumene concentrates to China. Canada, which has been slow in the development of its lithium resources, is also gaining traction as companies such as Nemaska Lithium (OTCQX:NMKEF) and North American Lithium continue to make meaningful progress towards increasing the supply of higher-value-added chemicals, including lithium carbonate and lithium hydroxide.
At present it appears that all levels of Argentine government are eager to draw foreign capital, especially in emerging markets such as lithium exploration and production. The Argentine government needs to continue to draw the necessary investment capital today to ensure that domestic producers have a chance to play a significant role in the supply of lithium over the coming years. It is my opinion that Argentina is quickly emerging as a meaningful player in the global lithium chain. For investors, Argentina will continue to be a key theme throughout 2018 and over the next few years, so energy metal investors should have exposure to the Argentine market.
It is my opinion that Argentina will play a key role within the global lithium supply chain over the next years. As noted below, this growth will be recognized through the expansion of facilities that are currently producing lithium chemicals, while a small group of select, high-quality lithium brines will move to market. Toyota Tsusho's (OTC:TYHOY) recent announcement of a plan to invest nearly A$300 million into Orocobre (OTCPK:OROCF) to allow for the expansion of Olaroz into Phase 2, coupled with the acquisition of Lithium X Energy (LIFFF) by Nextview Capital for $265 million, are clear signals to the market that Argentina is being viewed as credible future supplier of lithium chemicals. This is a trend that I expect to continue over the next few years until supply and demand balance around 2020-2022. I believe that there are still healthy profits to be recognized by investing in late-stage Argentine exploration companies, especially since share price pulled back in early February 2018.
Production capacity is expanding
Today there are only a few lithium production companies operating in Argentina, including FMC Corp (NYSE: FMC) and Orocobre. FMC operates a well-established lithium brine at the Salar de Hombre Muerto that has been successfully expanded in recent years. Today the facility produces 22,000 T LCE up from 17,000 T LCE, or 30%. In 2016, Albemarle Corp (NYSE: ALB) ventured into Argentina by securing an exclusive exploration and acquisition rights package to a lithium resource in Antofalla. The company believes that the lithium resources at Antofalla will be certified as the largest in Argentina. SQM (NYSE:SQM), the largest lithium producer in the world, with its primary brine asset located in Chile and a secondary asset in Australia, purchased a 50% stake in the Cauchari basin project from Lithium Americas. Lithium Americas was successful in attracting Ganfeng, one of the largest Chinese battery material producers, to the project. Ganfeng has supplied the necessary working capital for a portion of the project and has secured the lion's share of production from the Lithium Americas component of the project.
In January 2018, Orocobre and joint venture partner Toyota Tsusho announced their strategy to more than double production capacity at Olaroz. The Olaroz production facility will be expanded by additional 25,000T LCE / year, up from 17,500T LCE, with total name-plate capacity to reach 42,000T LCE per year. Orocobre has secured an A$282 million equity investment in Orocobre in consideration for a 15% stake in the company, at a 17% premium to the 30-day VWAP. In addition, Orocobre has completed a $63 million capital raise through a 1 for 20 entitlement offer at A$6.55/ while another $100 million debt will be sought with the aid of Toyota Tsusho. This may be supported by Mizuho Corporate Bank, who was the financier for Olaroz Stage 1.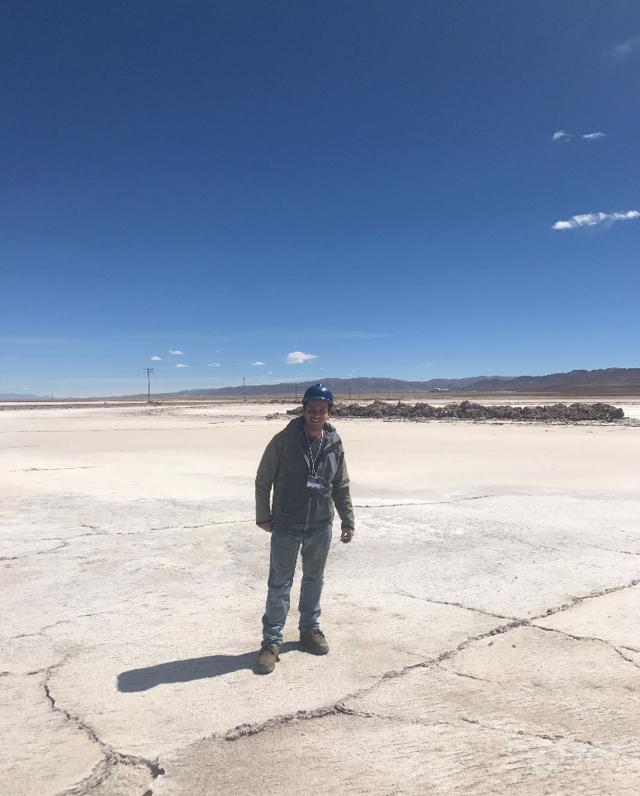 Posing for a photo at the Olaroz Basin – Argentina Lithium Tour 2017
Junior lithium exploration companies attract capital
One of key themes in the lithium business in 2017 was the vast number of companies who successfully raised capital to acquire property and undertake exploration efforts in Argentina. Here are is a summary of several recent investments made into the Argentine lithium exploration market, including an acquisition:
Click here to continue reading...
Subscribe to the RSD email list and get the latest resource stock activity directly to your inbox, for free.
Subscribe to the RSD email list and get the latest resource stock activity directly to your inbox, for free.
Part of the Stock Digest family of websites
MARKET SUMMARY
INDICES
| Name | Last | Change |
| --- | --- | --- |
| DOW | 26536.80 | 0.04% |
| S&P 500 | 2913.78 | 0.12% |
| NASDAQ | 7909.97 | 0.32% |
| TSX | 16312.22 | 0.36% |
| TSX-V | 580.07 | 0.00% |
Resource Commodities
| Name | Last | Change |
| --- | --- | --- |
| Gold | 1405.97 | 0.33% |
| Silver | 15.25 | 0.20% |
| Copper | 2.72 | 2.716 |
| Platinum | 901.00 | 0.67% |
| Oil | 59.38 | 2.61% |
| Natural Gas | 2.29 | 0.74% |
| Uranium | 24.65 | 0.00% |
| Zinc | 1.15 | 0.00% |