Summary
Lithium spot and contract price news - Spot prices fell slightly in December.
Lithium market news - Roskill has tripled their lithium demand forecast from last year, from 328ktpa to ~1mtpa by 2026.
Junior lithium miner company news - Bacanora announces a strong FS result, and then a strategic cornerstone investor & off-take agreement with China's NextView Capital.
Neo Lithium reduces CapEx of the 3Q Project by ~US$100m which helps project post tax NPV8% improve from US$1.13b to US$1.2b.
This idea was discussed in more depth with members of my private investing community, Trend Investing.
Welcome to the December 2017 edition of the "junior" lithium miner news. Note: I have categorized those lithium miners that won't likely be in production much before 2020 as the juniors, rather than market cap as that fluctuates too much.
Lithium market and prices summary
During December, 99.5% lithium carbonate China spot prices were down 2.01%, and are up 12.95% over the past year.
Global X Lithium ETF (NYSEARCA:LIT) - Price = US$39.82
The LIT fund moved sideways for the month of December. The current P/E is 30.5.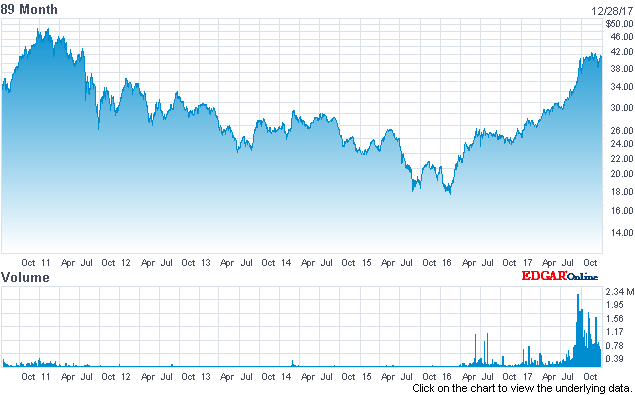 (Source: Nasdaq)
For a summary of the latest lithium market news and the major lithium companies, investors can read my "Lithium monthly news for the month of December" article.
On November 24 Resource Rising Stars reported, "Tripling of lithium demand forecast a sign of the times, says Brinsden. Addressing a packed Annual General Meeting yesterday, Brinsden compared Roskills forecast last year that lithium demand would increase to 328,000t of lithium carbonate equivalent (LCE) by 2026, to its updated outlook this year that tips demand to soar (base case) to 1,009,000t of LCE by the middle of next decade." Finally they are catching up to my model which forecasts ~1.3mtpa LCE demand by end 2025.
On December 1 Mining Weekly wrote one of the best articles I have read in 2017 - "Electric vehicle revolution a rare investment opportunity as metals demand spikes." From the article:
The rate at which global automotive markets are adopting electric vehicles (EVs) is accelerating at a much faster pace than even some of the keenest market observers estimated at the start of 2017, and is opening up once- in-a-lifetime investment opportunities among the four key 'energy metals' – lithium, cobalt, nickel and graphite. Since the beginning of 2017, the market has reached a new peak of lithium-ion battery capacity in the pipeline. An additional 153 GWh has been added to planned capacity build-outs this year alone, taking the total to 372 GWh. "But when you look at where we need to be by 2025 – 750 GWh, of which 645 GWh is for EVs – we are still way short. What the megafactory trend is doing, however, is creating a new production base that did not exist before. This will be the base for the new auto industry, as it is engulfed by electrification", founder and MD of London-based Benchmark Minerals Intelligence Simon Moores tells Mining Weekly in an interview. "The EV situation is a once-in-100-years occurrence. Right now, the lithium industry is way short of new supply in the pipeline for 2025. There are 24 lithium-ion battery factories announced and at varying degrees of construction." Critical metals expert and House Mountain Partners founder Chris Berry says, "One could easily see more than 500 GWh of capacity by 2025 – over six times larger than today's capacity. This is why many market watchers are ramping their lithium demand estimates upwards. "I see a tight lithium market to 2020, with a long-term price of around $11 000/t on an LCE basis. Berry believes that breakthroughs in battery chemistry are happening increasingly often, but he does not believe lithium-ion batteries will be unseated soon as the preferred battery for mobility for several more years. Instead, one will continue to see lithium-ion battery prices fall by 8% to 12% a year going forward and energy density increase in the mid- single-digit range, but engineering out or substituting lithium in the battery "just will not happen". "Something special and unprecedented is going to have to happen in the cobalt space to satisfy EV demand by 2022 onwards. Despite developments in chemistry, a lot more cobalt is going to be needed", says Moores.
Junior lithium miners company news
Bacanora Minerals [TSXV:BCN] [AIM:BCN] [GR:1BQ] (OTC:BCRMF)
On December 13 Bacanora Minerals announced, "Feasibility Study estimates Net Present Value of US$1.25 billion and Internal Rate of Return of 26% for the Sonora Lithium Project." Highlights include:
"Strong economic potential of two stage open-pit operation at Sonora: Stage 1 - 17,500 tpa for 4 years; Stage 2 - 35,000tpa.
Estimated Project pre-tax IRR of 26.1%; NPV of US$1.253 billion (at 8% discount rate) with a simple Stage 1 project payback of four years. Revenues are based on a flat US$11,000/t for battery grade Li2CO3 over LOM, significantly below the current Li2CO3 price range of US$12,000 - 20,000/t. Low estimated LOM operating costs of US$3,910/t of Li2CO3-lower than the new lithium brine operations being reported in Argentina.
Average LOM annual earnings before interest, taxes, depreciation and amortisation ('EBITDA') estimated at US$229 million per annum.
CapEx Stage 1 US$420m, and Stage 2 US$380m."
On December 15 Bacanora announced, "Strategic cornerstone investor & offtake agreement. NextView Capital ('NextView'), a leading Chinese insitutional fund management group focused on new technologies and energy, has agreed to acquire a 19.89% equity interest (non-diluted) in Bacanora ('the Strategic Investment') via the placement of 32,976,635 common shares in the Company (the "Placing") at a price of 94.53 pence (approximately C$1.6223) per share ("the Placing Price")."
A superb month for Bacanora. Well done.
Investors can view the company's latest presentation here.
Upcoming catalysts include:
2019/2020 - Plan to commence production ramping to 17,500 tpa, and in stage two 35,000 tpa.
Nemaska Lithium [TSX:NMX] [GR:NOT] (OTCQX:NMKEF)
On December 4 Nemaska Lithium announced, "Nemaska Lithium confirms first delivery of battery grade Lithium Hydroxide from Whabouchi mine concentrate." Nemaska "produced 1.5 tonnes of battery grade lithium hydroxide, made from Whabouchi spodumene concentrate."
On December 14 Nemaska announced, "Nemaska Lithium signs deal for sale of Sirmac Property to Abe Resources and receives mining lease for Whabouchi Lithium mine. Under the agreement, ABE will make a $250,000 cash payment and issue 15,000,000 common shares. For as long as Nemaska Lithium holds at least 10% of ABE common shares, it will be entitled to a pre-emptive right in any future equity offering. The transaction is subject to regulatory approval and closing is expected shortly following receipt of approval."
You can read more on my article on Nemaska Lithium here, and the latest company presentation here.
Upcoming catalysts include:
Early 2018 - Updated Feasibility Study.
2017/2018 - Off-take agreements and project financing announcements.
Critical Elements [TSXV:CRE] [GR:F12] (OTCQX:CRECF)
On December 20 Critical Elements reported, "Critical Elements Corp.: Update on strategic partner, retention of Financial Advisor and operational update. As disclosed in the September 9, 2015 press release, in connection with their collaboration agreement (the "Agreement"), Critical Elements and Helm AG ("Helm") had a maximum delay of 60 days from the completion of the Company's feasibility study, filed October 20, 2017, to use their commercially reasonable efforts to finalize and execute a Take or Pay Off-take Agreement. As this Take or Pay Off-take Agreement has not been agreed between the parties within this specified timeframe, Critical Elements has elected not to grant any extension in this regard and has notified Helm of its decision to terminate the Agreement."
Followers of mine that invested in Critical Elements back in July 2016 after I wrote "Critical Elements - A Lithium Miner With An Exceptional Buying Opportunity", at CAD 0.56 would be sitting on a nice ~200% gain.
Upcoming catalysts include:
2018 - Project financing announcements, potential resource upgrade.
H1, 2018 - Rose stage 2 Feasibility Study due.
Q1, 2020 - Stage 1 production (50ktpa technical grade spodumene + 175ktpa chemical grade spodumene) is expected to begin.
Q1, 2022 - Stage 2 production (the 175ktpa chemical grade spodumeme will be converted to 24ktpa lithium carbonate) is expected to begin.
European Metals [ASX:EMH] [AIM:EMH] [GR:E861] (OTCPK:MNTCF)
On December 19 European Metals announced, "Further progress towards mining licence: Roast optimisation. NorthWest Resource added to Czech State resource register–majority of Cinovec Resource now officially recognised by Czech mining authorities. Optimisation test work indicates potential significant savings in both OPEX and CAPEX."
Investors can view the company's September presentation here.
Upcoming catalysts include:
Early 2018 - Further drilling results. Resource upgrade. Off-take discussions.
April 2018 - Bankable Feasibility Study to be released.
Mid 2018 - Construction to begin.
2019/2020 - Production to commence.
Investors can read my June 2017 article on European Metals here, or view the company's September presentation here.
Neo Lithium [TSXV:NLC] (OTC:NTTHF)
On December 4 Neo Lithium announced, "Neo Lithium provides exploration update; receives C$15.6M from the acceleration of outstanding warrants.
Highlights include:
Seismic reflection results indicate that the 3Q salar is approximately 600 metres deep and as a result, the drill program has been expanded at depth and in new untested areas.
First drill hole of 320 metres, from the 2017-2018 drilling season, resulted in an average grade of 642 mg/L Lithium.
Neo Lithium has approximately $65M in cash after the $15.6M in early warrant exercise."
On December 13 Neo Lithium announced, "Neo Lithium files technical report with positive PEA results on its 3Q Project showing a capital cost reduction of US$98.5M. CAPEX reduction from US$588.7 million to US$490.2 million through the relocation of evaporation ponds. Updated US$1.2 billion after-tax NPV at 8% discount rate. Updated IRR of 27.9%."
Sunrise view over Neo lithium's 3Q project in Argentina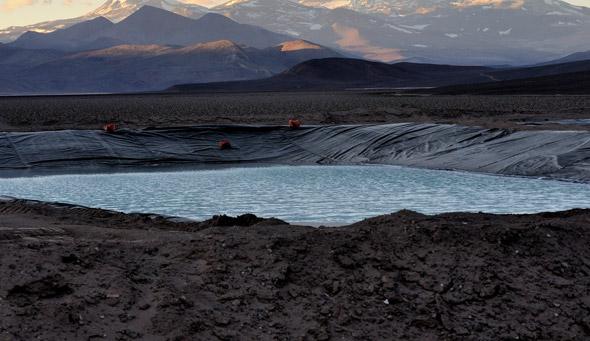 Followers have enjoyed over 100% gains since my article "Neo Lithium Corp. Has Great Potential", back when the stock was at CAD 1.09.
Investors can read the September 2017 company presentation here, and some company videos here. My CEO interview is available on Trend Investing hereand is a must read.
Upcoming catalysts include:
Q2 2018 - Resource update.
2018 - Environmental impact assessment report, Feasibility Study (late 2018, early 2019).
2021 - Lithium production to begin.
Sayona Mining [ASX:SYA] (OTC:DMNXF)
On December 20 Proactive Investors wrote:
Sayona Mining targets lithium resource increase in the new year. Sayona Mining Ltd aims to increase resources as part of a definitive feasibility study at the Authier Lithium Project in Quebec, Canada. The study is expected to be completed in the second quarter of 2018. Authier has a resource estimate of 18.35 million tonnes at 1.02% for 186,953 tonnes of lithium and 88% is in the measured and indicated categories.
Corey Nolan, chief executive officer, said: "The objective is to expand the size of the resource and reserve during the continuation of drilling in 2018. "This would significantly enhance the positive economics demonstrated in the recent optimised pre-feasibility study. "All new drilling data will be incorporated into the resource models for the definitive feasibility study."
Investors can also read a recent Independent Investment Research report here, with a price target of A$0.102.
Upcoming catalysts include:
2018 - Drill results for Authier Lithium Project.
Q2 2018 - DFS to be released.
2019/2020 - Production could begin.
Kidman Resources [ASX:KDR] [GR:6KR]
2017 news has included the 50/50 JV with SQM for the Mt Holland Lithium project, and a proposal for a refinery located in WA.
On December 21 Kidman Resources announced, "Kidman and SQM complete establishment of Mt Holland joint venture."
You can view the October 2017 company presentation here, and a Hartley's broker report with a AUD 1.71 price target here.
Upcoming catalysts include:
2018 - PFS release expected.
2020 - Commence lithium production.
Argosy Minerals [ASX:AGY]
Argosy has an interest in the Rincon Lithium Project in Argentina, targeting a fast-track development strategy.
On December 6 Argosy announced, "Rincon Stage 2 pond construction and drilling update." You can view a further December 20 update here.
Investors can view the latest company presentation here.
Argosy Minerals Rincon location map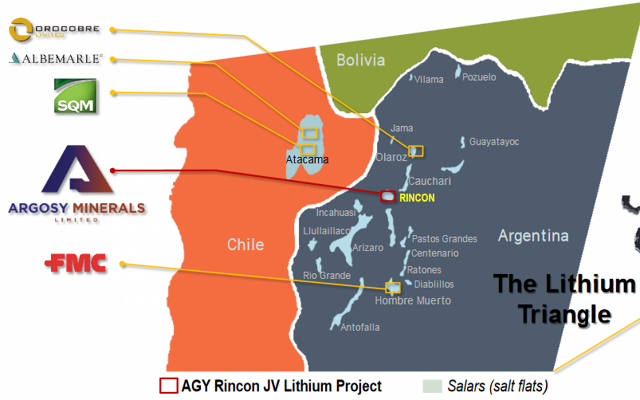 Argosy Minerals ponds at the Salar del Rincon project Argentina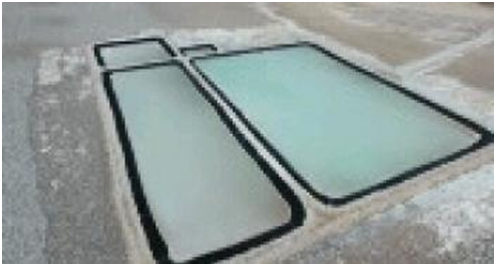 Birimian Ltd [ASX:BGS] (OTC:EEYMF)
On December 18 Birimian announced, "Goulamina drilling returns positive results. Latest assay results show thick, high grade intersections of lithium mineralisation at Yando. Resource definition drilling commenced at Sangar, so far extending mineralisation by 600m. Sangar is now more than 800m in strike length and remains open to north and south."
You can view the company's November 2017 presentation here.
Lithium Power International [ASX:LPI] (OTC:LTHHF)
On December 4 Lithium Power International announced, "Sale of Centenario lithium properties in Argentina agreed." The article gives a nice summary of all LPI's lithium assets, which are quite impressive.
The chart below shows Lithium Power International with an expanding resource and very high lithium grades, with their 50% share in the Maricunga Salar, Chile.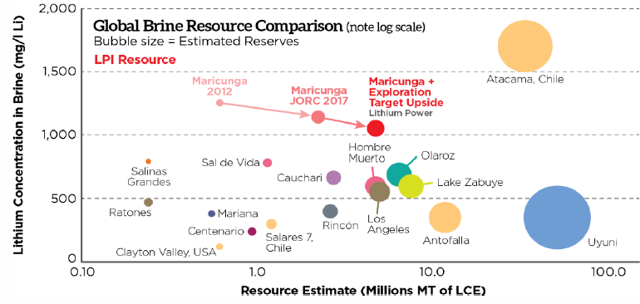 Source
On December 19 Lithium Power International released their Preliminary Economic Assessment (PEA) for their Maricunga project in Chile. Highlights include:
"Project NPV is estimated to be US$1.049B before tax at 8% discount rate, providing an IRR of 23.4%. Post tax NPV8% of US$731m (~AUD950m).
Production cost estimate of US$2,635/t net of credits from KCl by-product.
Project development cost estimated at US$366M (LPI's 50% share estimated at US$183M), excluding KCl (US$23M), plus indirect costs of 14.2% (US$55M) and 18.6% (US$83M) contingency.
To produce 20,000t/a of lithium carbonate (LCE), with production of 74,000t/a of potassium chloride (KCl) from year 3 of the project when potash salts have accumulated to a level where continuous processing can be carried out.
Project life of 20 years."
I am sure the Maricunga resource will expand, and the production target will increase to at least 25ktpa (maybe 35ktpa) for the PFS, improving the project economics considerably.
Investors can read my recent article "Lithium Power International Has A Very High Grade And Expanding Lithium Project In Chile", as well as my CEO interview on Trend Investing here.
Upcoming catalysts:
H2 2018 - DFS to be released.
Advantage Lithium (OTCQB:AVLIF) [TSXV:AAL]
On November 30 Advantage Lithium announced, "Advantage Lithium-Cauchari JV drilling update", with some promising results.
On December 6 Advantage Lithium announced, "Advantage Lithium completes sale of Clayton Valley Northeast Lithium Project to Pure Energy Minerals."
Millennial Lithium Corp [TSXV:ML] (OTCQB:MLNLF)
On December 21 Millenial Lithium announced, "Millennial and Remsa enter into final agreement to acquire Remsa ground (in the Pastos Grandes Salar)."
You can view the company's latest investor presentation here.
Upcoming catalysts:
Early 2018 - PEA to be released.
Pure Energy Minerals [TSXV:PE] (OTCQB:PEMIF)
On December 1 Pure Energy Minerals announced, "Positive results from geophysical program at its Terra Cotta lithium project in (the Pocitos Salar) Argentina. Preliminary reviews of the geophysical data show extensive zones of high electrical conductivity that may indicate the presence of correspondingly high-density brine. The geophysical survey delineates a central basin that is 18km by 9km oriented along a northwest-southeast axis."
You can read the company's latest presentation here.
Upcoming catalysts:
Early 2018 - Maiden drilling at the Terra Cotta Argentina Project.
Click here to continue reading...
Subscribe to the RSD email list and get the latest resource stock activity directly to your inbox, for free.
Subscribe to the RSD email list and get the latest resource stock activity directly to your inbox, for free.
Part of the Stock Digest family of websites
MARKET SUMMARY
INDICES
| Name | Last | Change |
| --- | --- | --- |
| DOW | 26536.80 | 0.04% |
| S&P 500 | 2913.78 | 0.12% |
| NASDAQ | 7909.97 | 0.32% |
| TSX | 16312.22 | 0.36% |
| TSX-V | 580.07 | 0.00% |
Resource Commodities
| Name | Last | Change |
| --- | --- | --- |
| Gold | 1407.60 | 0.21% |
| Silver | 15.27 | 0.07% |
| Copper | 2.72 | 2.716 |
| Platinum | 901.00 | 0.67% |
| Oil | 59.38 | 2.61% |
| Natural Gas | 2.29 | 0.74% |
| Uranium | 24.65 | 0.00% |
| Zinc | 1.15 | 0.00% |