Summary
Lithium spot and contract price news - Spot prices down 3.24% for the past month.
Lithium market news - SQM/Corfo deal drags down the junior lithium miners.
Junior lithium miner company news - Nemaska Lithium releases a blockbuster 2018 Feasibility Study result.
This idea was discussed in more depth with members of my private investing community, Trend Investing.
Welcome to the January 2017 edition of the "junior" lithium miner news. I have categorized those lithium miners that won't likely be in production much before 2020 as the juniors, rather than market cap as that fluctuates too much.
Lithium market and prices summary
During January, 99.5% lithium carbonate China spot prices were down 3.24%, and are up 3.04% over the past year.
Global X Lithium ETF (NYSEARCA:LIT) - Price = US$38.27
The LIT fund fell slightly for the month of January. The current P/E is 30.1.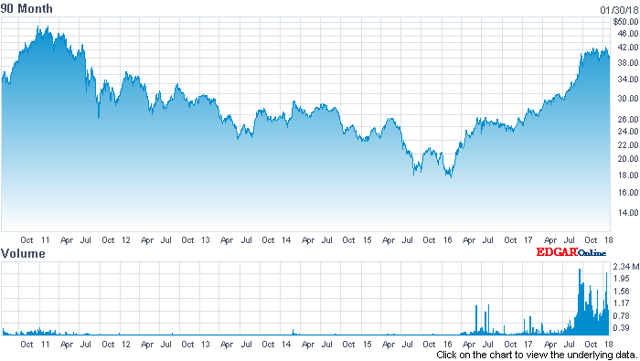 (Source: Nasdaq)
For a summary of the latest lithium market news and the "major" lithium company's news, investors can read my "Lithium miners news for the month of January" article. There I discuss in detail the latest SQM/Corfo deal and ramifications.
Junior lithium miners company news
Bacanora Minerals [TSXV:BCN] [AIM:BCN] [GR:1BQ] (OTC:BCRMF)
On January 10 Bacanora announced: "New exploration licence expands Zinnwald potential. Licence covers previously mined Falkenhain Lithium deposit close to Company's Zinnwald project in Germany."
Investors can view the company's latest presentation here.
Upcoming catalysts include:
2019/2020 - Plan to commence production ramping to 17,500 tpa, and in stage two 35,000 tpa.
Nemaska Lithium [TSX:NMX] [GR:NOT] (OTCQX:NMKEF)
On January 9 Nemaska Lithium announced "Nemaska Lithium releases 2018 Feasibility Study." Highlights include:
"After-Tax NPV 8% discount (base case) of C$2.4 Billion (US$1.8 B), 30.5% IRR. Assumes an average selling price Lithium Hydroxide over LOM of US$14,000/t Ex works Shawinigan.
CapEx - C$801 Million (US$616 M) including contingency.
OpEx - C$3,655/t (US$2,811/t) Ex works Shawinigan for 23 ktpa lithium hydroxide production.
Whabouchi mine life increased from 26 to 33 years."
An impressive result, with NPV increased ~107% from the 2016 FS.
You can read more on my article on Nemaska Lithium here, and the latest company presentation here.
Upcoming catalysts include:
2018 - Off-take agreements and project financing announcements.
2020 - Possible production start.
Critical Elements [TSXV:CRE] [GR:F12] (OTCQX:CRECF)
No news for the month.
Followers of mine that invested in Critical Elements back in July 2016 after I wrote "Critical Elements - A Lithium Miner With An Exceptional Buying Opportunity", at CAD 0.56 would be sitting on a nice ~150% gain.
Upcoming catalysts include:
2018 - Project financing announcements, potential resource upgrade.
H1, 2018 - Rose stage 2 Feasibility Study due.
2020/21 - Stage 1 production (50ktpa technical grade spodumene + 175ktpa chemical grade spodumene) is expected to begin.
2022/23 - Stage 2 production (the 175ktpa chemical grade spodumeme will be converted to 24ktpa lithium carbonate) is expected to begin.
Sayona Mining [ASX:SYA] (OTC:DMNXF)
On January 15 Sayona announced: "Authier Phase 3 drilling program targets resource expansion."
On January 23 Sayona announced: "Option to acquire Tansim Lithium project in Quebec. Option to acquire 12,000 hectares of lithium prospective tenements in Quebec. Pegmatites mapped over 9 kilometres with channel sampling intersecting up to 18.95 metres @ 0.94% Li20 and selective rock chips of between 2.04% and 2.87% Li20. Tansim is situated 82 kilometres south-west of the Authier lithium project in Quebec."
Investors can also read a recent Independent Investment Research report here, with a price target of A$0.102.
Upcoming catalysts include:
2018 - Drill results for Authier Lithium Project.
Q2 2018 - DFS to be released.
2020 - Production could begin.
Argosy Minerals [ASX:AGY]
Argosy has an interest in the Rincon Lithium Project in Argentina, targeting a fast-track development strategy.
On January 16 Argosy announced, "Rincon Construction Update - Stage 2 ponds fully operational. Initial Stage 2 evaporation ponds filled with lithium brine. Argosy progressing to 77.5% ownership in Rincon Lithium project Joint Venture early."
On January 30 Argosy announced, "Quarterly activities report - December 2017. $17 million raised via placement and SPP – Company fully funded to first production. Continued engagement with Asian LCE end-users for potential off-take and Stage 3 investment."
Investors can view the company's latest investor presentation here.
Rincon Lithium Project – Stage 2 Evaporation Ponds filled

Kidman Resources [ASX:KDR] [GR:6KR] (OTCPK:KDDRF)
2017 news has included the 50/50 JV with SQM for the Mt Holland Lithium project, and a proposal for a refinery located in WA.
On January 9 Kidman announced: "Sale of Crowl Creek (NSW) tenements. Kidman has entered into an agreement to sell 100% of its Crowl Creek project to Talisman Mining (ASX: TLM) for $250,000."
On January 25 Kidman released, "Quarterly Report – December 2017. While the Mt Holland JV prepares for a new Earl Grey Project Mineral Resource estimate (due March quarter 2018), followed by a maiden Ore Reserve and release of the Feasibility Study, planning for construction of an on-site lithium concentrator is well advanced. Early-stage planning for a related refinery is progressing well, with site selection imminent."
You can view a January Blue Ocean Equities presentation here, and a Hartley's broker report with a AUD 1.71 price target here.
Upcoming catalysts include:
March quarter 2018 - Mineral Resource estimate for the Mt Holland Earl Grey Project.
2018 - PFS release expected.
2021 - Commence lithium production.
Click here to continue reading...
Subscribe to the RSD email list and get the latest resource stock activity directly to your inbox, for free.
Subscribe to the RSD email list and get the latest resource stock activity directly to your inbox, for free.
Part of the Stock Digest family of websites
MARKET SUMMARY
INDICES
| Name | Last | Change |
| --- | --- | --- |
| DOW | 26089.60 | 0.07% |
| S&P 500 | 2886.98 | 0.16% |
| NASDAQ | 7796.66 | 0.52% |
| TSX | 16301.91 | 0.38% |
| TSX-V | 587.84 | 0.00% |
Resource Commodities
| Name | Last | Change |
| --- | --- | --- |
| Gold | 1341.93 | 0.03% |
| Silver | 14.87 | 0.27% |
| Copper | 2.63 | 2.630 |
| Platinum | 901.00 | 0.67% |
| Oil | 52.51 | 0.44% |
| Natural Gas | 2.39 | 2.60% |
| Uranium | 24.70 | 1.52% |
| Zinc | 1.09 | 0.00% |