Companies operating in Argentina are looking at a new way to deepen their ties to the country and access capital: list locally.
Energy and mining firms based abroad but operating in-country are leading the way. Canada-domiciled oil and gas explorer Madalena Energy is preparing to list in early 2018, and several lithium companies are hoping to follow suit.
A desire to expand beyond commodities-focused investors is the impetus and Argentina itself has become a draw, according to Banco Santander Rio SA. The country has returned to the foreign investor limelight since President Mauricio Macri resolved a 15-year default and removed capital controls. The proof: the Merval benchmark index has jumped 44 percent in dollar terms year-to-date.
"Argentina is an attractive investment thesis, and listing locally identifies a company with the Argentina brand, beyond its sector like commodities or mining," said Walter Chiarvesio, head of equity research at Banco Santander Rio SA. "When a market becomes bullish or trendy, becoming associated to that brand is a plus."
Since taking office two years ago, Macri has taken steps to stoke foreign direct investment as a way to boost growth. One such move was to offer shale oil and gas incentives. The reforms were among the reasons that prompted Madalena Energy to start talks with the local regulator.
"A local listing would be a signal of commitment to the country and its local market-- and it makes sense given that all our assets are in Argentina," said Madalena Chief Executive Officer Jose David Penafiel. "It will help give our stock exposure to local investors and offer us access to an additional venue for a potential capital raise locally."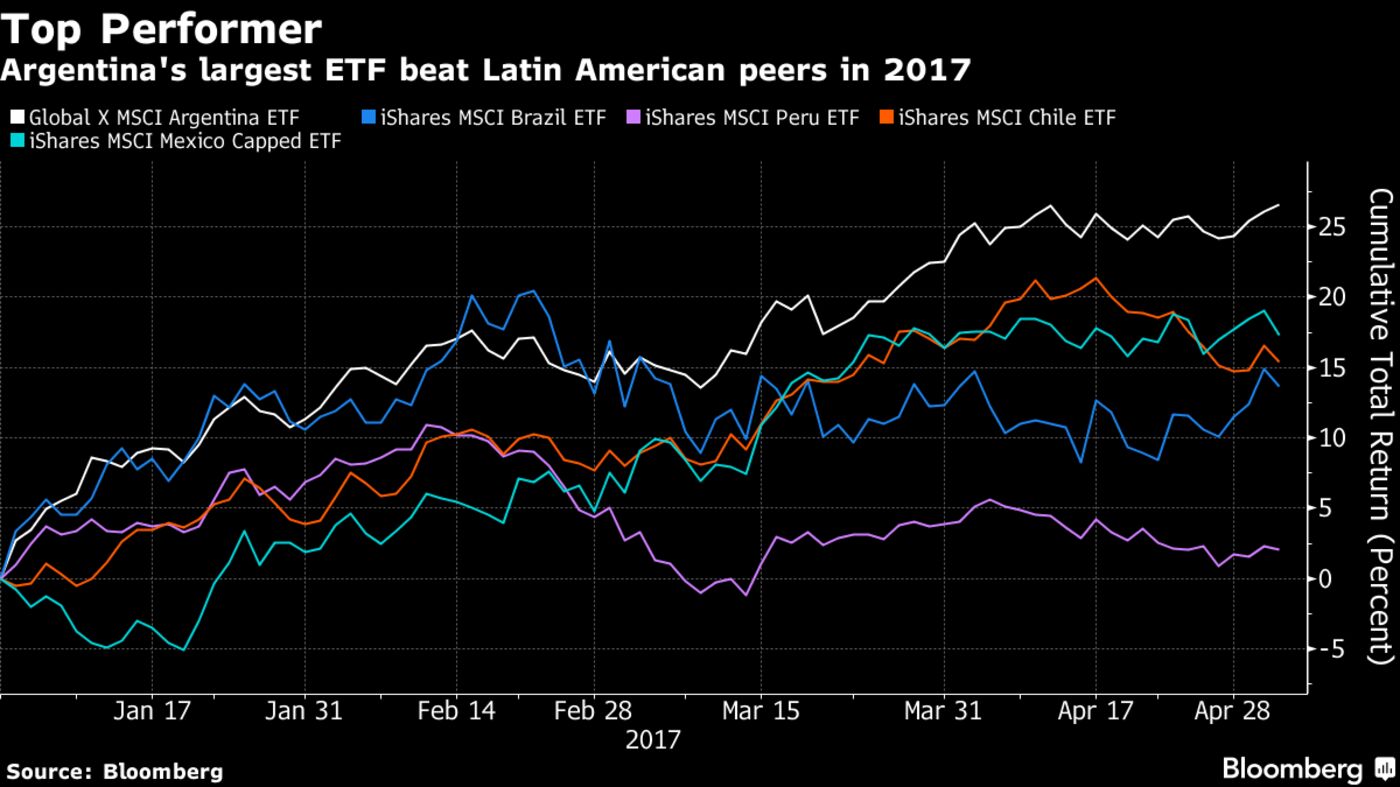 The Merval's meteoric rise is also an attraction, says Marcelo Etchebarne, a partner at law firm Cabanellas Etchebarne Kelly. His firm structured a 2010 local listing by Andes Energia, now Phoenix Global Resources.
"The rally is just beginning, and a local listing is a way of capturing the public that is following Argentina's opening to the world," said Etchebarne, who added that he's in talks with several companies looking to list.
Lithium, A New Sector
Lithium companies are among those looking for a piece of the action. They've been garnering attention as prices of the light metal rise along with electric-vehicle demand. Another of the Macri administrations changes -- the elimination of mining export taxes -- is also helping drive an influx of interest in lithium deposits. Lithium Americas Corp opened a Buenos Aires office this year and is weighing local and U.S. listings.
"Our attention right now is on finalizing the double listing of LAC on the NYSE and during 2018 we will evaluate doing it in Argentina," said Gabriel Rubacha, Lithium Americas' head of South American operations. "Raising capital in Argentina is a possibility but more importantly, we would like to have a strong presence in the local market and be seen as Argentine."
Brisbane, Australia-based Orocobre, with operations in Jujuy, was reportedly considering a local listing this year.
"While Orocobre is not currently considering a listing in Argentina, it is not something that the company would rule out," said Richard Seville, the company's chief executive officer when asked for comment in November. Orocobre "is supportive of the economic transformation that the Macri government is overseeing in the country," he added.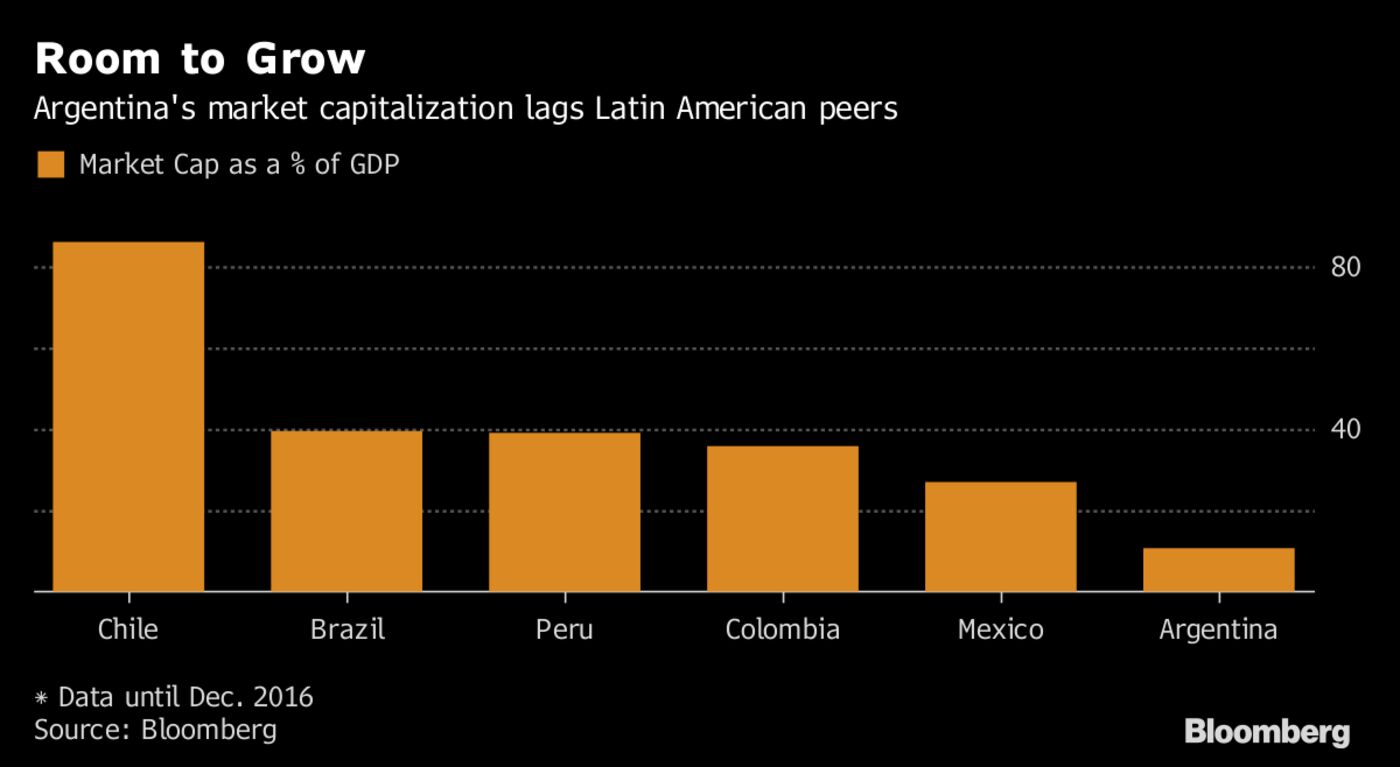 There are currently no mining stocks listed in Argentina, said Ernesto Allaria, president of stock operator BYMA. Foreign stocks can be traded via Cedears, certificates representing ownership in foreign companies, similar to American Depositary Receipts. Miners Barrick Gold and Goldcorp are among the Cedears, which tend to be illiquid.
Click here to continue reading...
Subscribe to the RSD email list and get the latest resource stock activity directly to your inbox, for free.
Subscribe to the RSD email list and get the latest resource stock activity directly to your inbox, for free.
Part of the Stock Digest family of websites
MARKET SUMMARY
INDICES
| Name | Last | Change |
| --- | --- | --- |
| DOW | 26089.60 | 0.07% |
| S&P 500 | 2886.98 | 0.16% |
| NASDAQ | 7796.66 | 0.52% |
| TSX | 16301.91 | 0.38% |
| TSX-V | 587.84 | 0.00% |
Resource Commodities
| Name | Last | Change |
| --- | --- | --- |
| Gold | 1341.93 | 0.03% |
| Silver | 14.87 | 0.27% |
| Copper | 2.63 | 2.630 |
| Platinum | 901.00 | 0.67% |
| Oil | 52.51 | 0.44% |
| Natural Gas | 2.39 | 2.60% |
| Uranium | 24.70 | 1.52% |
| Zinc | 1.09 | 0.00% |