Summary
Nine early-stage lithium companies will be presented here.
These lithium stocks have the potential to provide a much better return on investment than the Global X Lithium & Battery Tech ETF.
Strong projected lithium demand mitigates the risk of investing in early lithium companies.
Lithium demand
The electric vehicle (EV) revolution has been guaranteed by European and Asian government announcements to end fossil fuels in vehicles. In response to this, almost all automakers have announced plans to produce more EV models in the near future. To meet the impending automotive demand, 26 battery "megafactories" are planned or in production today, up from only 3 in 2014.
Of all raw materials to support this paradigm shift, lithium supply needs to increase the most. With lithium supply as it is today, 2,898% more will be needed to convert the world to 100% EVs. Currently, there is just enough lithium to meet demand.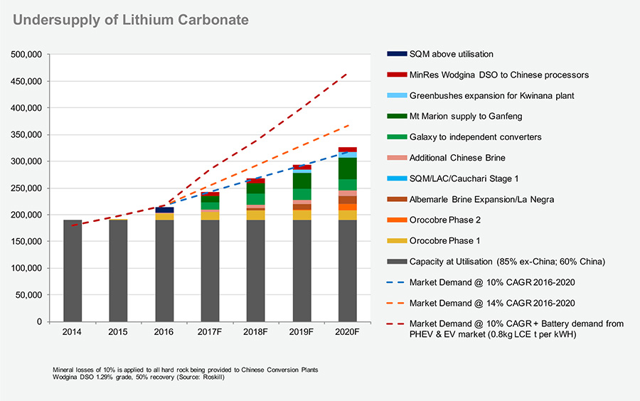 Or is there? The prices of LCE have risen in step with the chart above, suggesting we are already in an undersupply situation.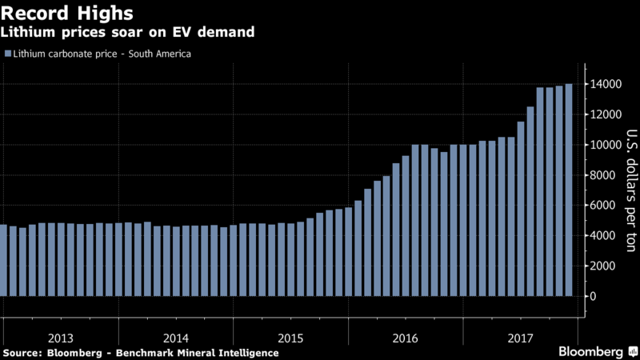 In 2016, Roskill projected 328,000t of lithium carbonate equivalent (LCE) would be needed by 2026. Just recently, Roskill updated their projection to 1,009,000t of LCE by 2026.
An investment opportunity like this only comes around about every 100 years.
The Global X Lithium & Battery Tech ETF (LIT)
Investors in LIT have seen great returns, with the ETF gaining 62.54% in the last year. LIT contains 35 companies and the top 10 companies in LIT by weight account for 74.17% of the total ETF.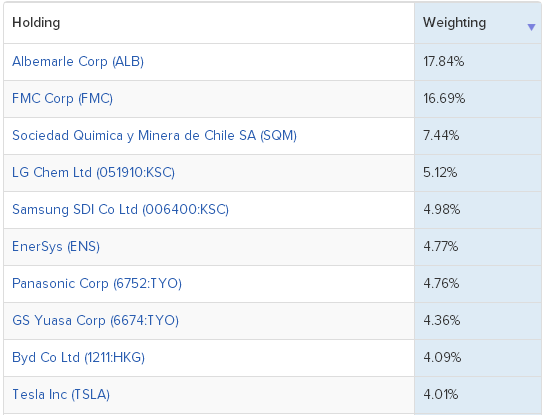 The big issue here is that these companies will not make incredible gains over the next 12 months. As they say, the value of these companies "is already baked into the cake". They are fairly valued, low-risk investments.
If you want to focus your investment on lithium, another issue with LIT is that lithium is only a portion of the focus of the top 3 companies. SQM, Albermarle and FMC only have 61%, 48% and 14.6% of their profit, respectively, coming from lithium sales, and these top 3 companies make up over 42% of the ETF.
I expect LIT to perform better than most ETFs going forward, but I believe an educated investor can do better.
Brine and Hard Rock Lithium Miners
Recently, I have begun to prefer hard rock lithium miners. The reasons are simple; a hard rock lithium operation can begin producing lithium years sooner than a brine operation, and at lower initial cost. Lithium demand is through the roof right now, and will continue to be into the next decade. Hard rock miners are best positioned to capitalize on this opportunity in the near term.
Though hard rock costs more per tonne to mine, LCE prices are projected to stay above $10K US for the foreseeable future, meaning all lithium producers should have good profit margins.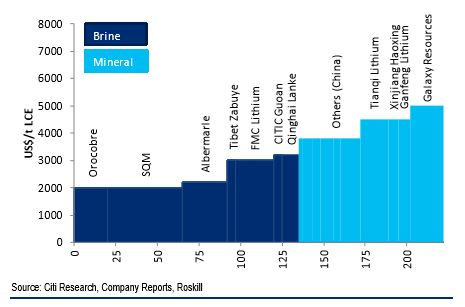 Brine lithium miners do have their own set of advantages. They are low risk from an operations cost stand point. Currently, there is no lower cost method to produce lithium, so if the demand for lithium drops, the lowest cost producers will survive. However, I don't foresee that happening with how much lithium will be needed in the coming years.
The resources that brine explorers prove out tend to be massive. For example, Orocobre will have only used 15% of their total defined resource after 40 years. Also, there are many new disruptive technologies being pitched now that revolutionize lithium extraction from brine. Several of these technologies may emerge as scalable in the coming years, which could bring brine focused miners into production faster.
Make your own High Risk/High Reward Lithium ETF
These 9 companies are higher risk, but also should yield much higher returns. Strong lithium demand helps lowers the risk of investing in early miners, but you still have to weed out the bad apples. After some analysis, I think all the companies below have great odds in becoming producers. If that happens, you may be able to quit that day job.
I put in the suggested percent of the total investment next to each company. Remember, this is your ETF, so change the percentages or add/subtract companies as you see fit.
I have also provided a list of promising companies at the end of this article that only trade on international exchanges. The 9 below have OTC tickers, but it is best to buy all foreign stocks on their local exchanges for better liquidity. To trade international stocks on their local exchanges, US persons can sign up for international trading using services like Fidelity.
1) Advantage Lithium (OTCQX:AVLIF, CVE:AAL) - 20%
Advantage Lithium ($181m market cap) is a Canadian company with 28500 hectares of Argentina property that borders lithium producer Orocobre (market cap $1.5B), and near term producer Lithium Americas (market cap $1.07B). Advantage has been drilling to increase the size of their historic .47Mt LCE resource and have yielded very promising results to date. They are de-risked through their partnership with Orocobre and are set to release their new resource estimate in Q1 2018.
When they release their resource estimate, I expect to see big gains followed shortly after by an offtake agreement or similar. My article "The Number 1 Lithium Mining Stock to Buy" details the potential of Advantage.
2) AVZ Minerals (OTC:AZZVF, ASX:AVZ) - 15%
AVZ minerals ($420m market cap) is an Australian hard rock miner that is about to begin a 20000 meter drill program to define what will likely be the world's largest hard rock lithium resource. AVZ estimates the Manono propertyto contain between 1Bt and 1.2Bt of 1.25% to 1.5% Li2O. By way of comparison, Pilbara's hard rock lithium resource is one of the largest in the world at 156Mt at 1.25% Li20. Big gains are in store once they complete drilling.
The issue with AVZ is that they are located in the Congo. However, the financing risk seems to be low given the MOU AVZ announced in October with Shanghai Greatpower Industry. And in a recent AVZ release, a Chinese affiliated investor group (CIG) has decided to fund rehabilitation of 466km of road from Luambo to Manono, projected to cost US$285m. These examples suggest China will be willing to finance AVZ going forward.
A higher risk/higher reward substitute for AVZ would be Force Commodities. They have great potential and I recently wrote about them in my article "The Next AVZ Minerals?".
3) Sayona Mining (OTC:DMNXF, ASX:SYA) - 15%
Sayona ($122m market cap) is an Australian hard rock miner that shares most of their management with Altura Mining (market cap $889m). Altura is set to start producing lithium Q1 2018. Per Sayona's schedule, they are about 18 months behind Altura, set to begin producing Q4 2019.
Sayona is currently working to complete their Definitive Feasibility Study (DFS) on their Authier project in Quebec, Canada. Recently, they signed an MOU with Changyuan, and I feel this MOU has derisked Sayona. Please see my article on Sayona titled "Sayona Mining: A Derisked Lithium And Gold Stock" for more reasons that I see them as a great investment.
Click here to continue reading...
Subscribe to the RSD email list and get the latest resource stock activity directly to your inbox, for free.
Subscribe to the RSD email list and get the latest resource stock activity directly to your inbox, for free.
Part of the Stock Digest family of websites
MARKET SUMMARY
INDICES
| Name | Last | Change |
| --- | --- | --- |
| DOW | 26536.80 | 0.04% |
| S&P 500 | 2913.78 | 0.12% |
| NASDAQ | 7909.97 | 0.32% |
| TSX | 16312.22 | 0.36% |
| TSX-V | 580.07 | 0.00% |
Resource Commodities
| Name | Last | Change |
| --- | --- | --- |
| Gold | 1405.97 | 0.33% |
| Silver | 15.25 | 0.20% |
| Copper | 2.72 | 2.716 |
| Platinum | 901.00 | 0.67% |
| Oil | 59.38 | 2.61% |
| Natural Gas | 2.29 | 0.74% |
| Uranium | 24.65 | 0.00% |
| Zinc | 1.15 | 0.00% |