The latest interview of GoldMining Inc. (OTCQX:GLDLF) Chairman Amir Adnani with Gerardo Del Real inspired me to write this article. Although GLDLF shareholders are well aware of the business model of GoldMining Inc., the value creation obtained by Silver Standard Resources (NASDAQ: SSRI) may be a little less recognized. I have thus decided to dig in.
In this article, I analyze the SSRI acquisition model that GoldMining Inc. has embraced. It is behind the 93% compounded annual growth rate ("CAGR") of SSRI's enterprise value from 2000 to 2006. I highlight the similarities and underline the value creation behind the success of SSRI.
About the SSRI acquisition model
"Silver Standard Resources Inc. acquires and actively develops technically advanced silver-dominant projects in mining-friendly jurisdictions," according to its annual report in 2000. This statement did not vary until the company decided to advance into production its Pirquitas project in 2006. SSRI was on a buying spree, hoarding cheap ounces of metals since inception. And it's by the end of 2006 that SSRI had acquired and advanced successfully more than 15 projects, resulting in 50% CAGR of its total resources to 23 million ounces of gold-equivalent from 5 million ounces of gold-equivalent in late 2000. All being in the measured & indicated and inferred. Similarly, GoldMining Inc., including its latest acquisition, Bellhaven Copper & Gold, has accumulated about 24 million ounces of gold-equivalent to date. The company has made no secret that it will continue to acquire projects as long as the low price of gold situation permits. Unlike your regular junior miner that focuses on de-risking and advancing its single project in an uncontrolled gold environment, GoldMining Inc. takes advantage of the S-curve by increasing its total resources at the bottom to monetize them at the top. This acquisition model enables GoldMining Inc. to increase its leverage to gold when everybody suffers to better position its shareholders for the next uptrend of the yellow metal. This was evidenced last year with GoldMining Inc. named one of the top performing stocks in several markets.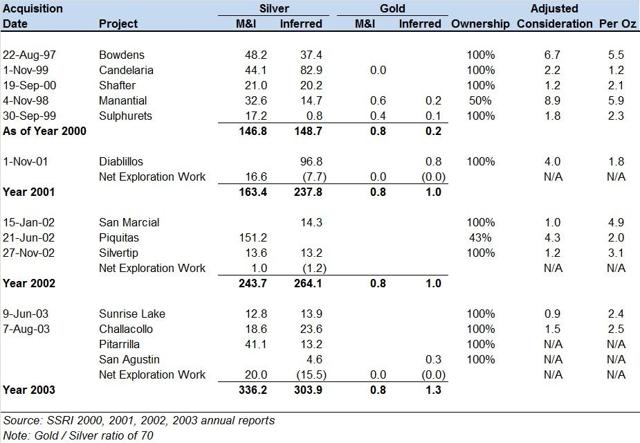 Between 2000 and 2003, SSRI acquired 13 projects at a median price of $2.4/oz gold-equivalent. This is extremely cheap by any standard. Few junior miners traded at this level during the recent gold bear market. Some investors today may have even considered most of these projects worthless. The market, however, rewarded handsomely SSRI shareholders with a 750% return during the period while the silver prices remained flat!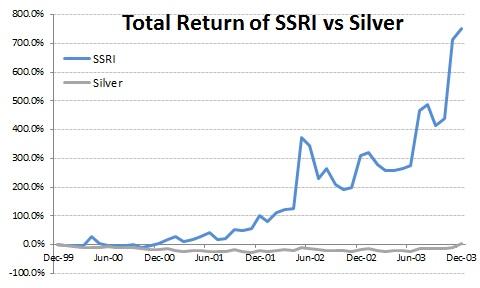 Source: Google.com, Silverprice.com
This underpins the power of value creation behind this acquisition model. 15% of SSRI's outstanding returns were due to the increase of its total resources, 85% came indeed from multiple expansions from $6.4/oz gold-equivalent to $41.3/oz. In my article titled, "The Bullish Case For GoldMining Inc.", posted on Seeking Alpha on March 20, 2017, I exposed the multiple expansion as the main engine behind value creation and wealth. SSRI in its early days provides a fine example of what to expect for GoldMining Inc.