This article is meant to highlight the beauty of GoldMining Inc. (TSX-V: GOLD) (OTCQX:GLDLF) to create shareholder value, which should underpin stronger price appreciation going forward. As such, I do not attempt to go over the current assets of GoldMining in detail. For readers interested to know more about the assets, I would encourage you to visit the company's website and to read the excellent article from Mr. Peter Spina at Goldseek.com.
On the company
GoldMining is a US$150MM market cap junior mining company based in Vancouver, Canada. Despite its relative low market valuation, the company owns a portfolio of 8 million oz gold measured and indicated and 18 million oz gold in total with inferred. Byproducts include 29 million oz silver and 1.8 billion lbs copper. In addition, GoldMining owns 75% of a Canadian uranium project it inherited from the acquisition of Brazilian Gold.
The company has a pristine balance sheet with US$16MM cash and no debt. Not reflected in its balance sheet is the US$150MM (GoldMining's current market cap!) worth of exploration work spent by the previous owners of the projects. GoldMining burns less than US$2.5MM per annum, and has a lean organization tailored to execute its long-term strategy.
On the business model
GoldMining's current model is to, simply speaking, function as a mining bank since the bull market in gold has yet to be confirmed. This environment provides an opportunity to expand its portfolio of gold projects at a deep discount. To support its strategy, the company raised US$9.2MM in cash in a private placement last November.
GoldMining is an amazing acquirer. In the last 4 years, the company acquired multiple projects at extremely low multiples thereby creating shareholder value (see the acquisition history in the table below) as it trades now at 7.9x compared to a weighted average multiple of 3.7x per oz for its acquisitions. Almost a year ago, the company was trading at the same valuation multiple as today but its stock price is 80% higher. I expect future acquisitions to do the same.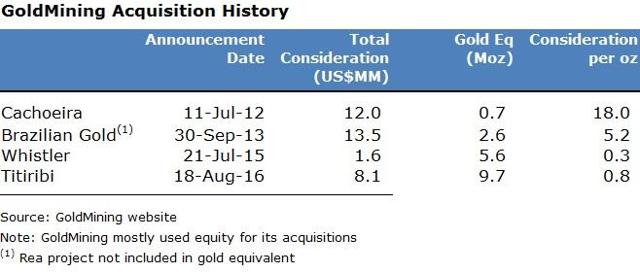 On valuation
There is remarkable room for a significant appreciation of GLDLF stock due to an expansion of its valuation multiple. Although the stock price may increase more than its peers due to a mean reversion in the short term since it underperformed them year-to-date by more than 20%, the main driver remains a resumption of the gold price upwards. On August 1st, 2016, when gold closed at $1350 per oz, GLDLF stock traded at 26.6x, which would imply a price of $4.20 per GLDLF share today (228% gains).
Among the 14 non-producing junior gold miners in the Americas that form my benchmark (see note in the table below), the median trading multiple is 25.9x today. That same benchmark was trading at 51.0x on August 1st implying a price of $7.93 per GLDLF share (520% gains).
This demonstrates the potential of a repricing of GLDLF stock under the right gold setup. Given the geopolitical environment, expensive fiscal policies of the new administration in the White House, and the new interest rate hike cycle embarked by the Federal Reserve, I believe gold will trade above the price achieved on August 1st 2016 within the next 12 months. Interestingly, Cantor Fitzgerald has a 12-month target of $4.20 per GLDLF share since September 2016.
Click here to continue reading...