Summary
Advantage Lithium is a low risk lithium exploration company. They have cash, great property, and an experienced partner.
I forecast a 6 month return on investment at 3x-5x the current stock price (.82c CA on 10/27/17).
My analysis supports a 3.4MT to 7.7MT LCE resource.
I make favorable mention to Advantage Lithium in my other articles, High Risk/High Reward Lithium Mining Companies To Invest In, and 4 Lithium miner stocks that Could Explode. Though I make good points in those articles, Advantage warrants a more thorough analysis.
Advantage Lithium is a micro-cap stock. Micro-cap stocks have market capitalizations between 50 and 300 million. The big risks with Micro-cap stocks is the lack of information available, possible bankruptcy, and low liquidity. It is possible that you will lose your investment on these stocks. However, I believe the risk is minimal with Advantage Lithium.
After reviewing many other lithium exploration and producing companies, Advantage Lithium stands out. They provide the highest possible returns at low risk. At this time, I believe they are the number 1 lithium company to invest in. The analysis below is how I justify my reasoning.
Why is Advantage Lithium the number 1 lithium stock?
Near term 3x-5x gains
An updated resource estimate and PEA (Preliminary Economic Assessment) is due Q1 2018. Updates with drill results are also expected every few weeks through early 2018. These catalysts will be good for the stock price. Advantage Lithium's resource is now estimated at .47MT LCE, and I see that resource estimate increasing a minimum of 7X, to 3.4MT. Please see the analysis later in this article on how this was calculated.
3x-5x gain in 6 months is higher than two other recent analyst projections, here and here, but I believe they are being overly conservative, especially in light of recent drill results.
Partnership With Orocobre (OTCPK:OROCF), 997m au market cap
Orocobre has a fully operational lithium brine operation bordering Advantage Lithium's property to the north. Orocobre owns a 35% stake in Advantage Lithium and is assisting in the development of their property.
Advantage's board includes the CEO of Orocobre, Richard Seville, who brought Orocobre from a lithium exploration company to a fully operational lithium producer. Orocobre's exploration manager Miguel Peral is also on Advantage's board. He explored the resource at salar Olaroz, which Orocobre now is producing from.
Advantage CEO, David Sidoo explained the importance of this partnership in a recent interview:
Through our relationship with Orocobre we also have access to all the information they have about Cauchari as they have had a drilling presence there...Their technical knowledge is very important for us when it comes to deciding where we're going to drill, what drilling contractor we use and other such things. That's invaluable. Their knowledge in community relations and the technical knowhow for sourcing the brine and obtaining the lithium carbonate equivalent of 99.9 percent is very important. These guys have done it all before, and that background knowledge is invaluable when you're looking at investing in a company that wants to be a new producer of lithium.
Because the lithium brine on Advantage's property is of similar makeup to its neighbors, Advantage has the option to connect to Orocobre's facility at Oraloz with a pipeline to start producing. The same should be possible with the Lithium Americas facility that is now in development, and also borders Advantage's property. What this means is Advantage may not need to build their own production facility to become profitable; the biggest hurtle to overcome for a lithium exploration company. Instead of 400 million and 5 years to make a profit, they can spend 5 million and make a profit in 2019.
Cash
They have 20m ca in cash. This is a substantial amount for a micro-cap lithium company. It is rare for a lithium exploration company to have funding in place for years of operation. Advantage plans to expend approximately 17m (CA) dollars though 2019 to execute their development plan.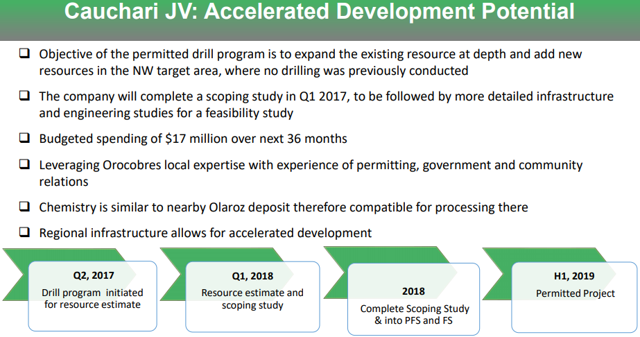 Great property
Advantage's property is part of the basin shared with Orocobre and Lithium Americas (OTCPK:OTCQX:LACDF) which have resource estimates of 6.4MT LCE and 11.8MT LCE, respectively. Advantage has a great lithium resource, it only needs to be defined with drilling.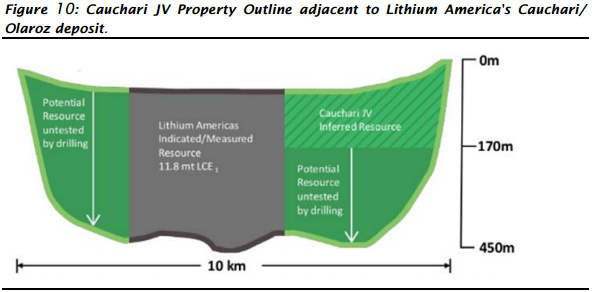 And the drill results that will be used to define the new resource are almost complete.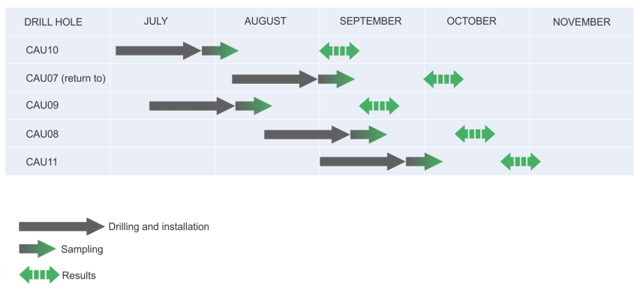 Off-take partner possibilities
Orocobre is the most logical off-take partner. They are expanding their operation to meet the high lithium demand caused by the EV Revolution. They will likely want to use Advantage's resource in the expansion.
Orocobre has Toyota as a partner. With Toyota wanting to secure lithium for the upcoming automotive transition to EVs, they will be very interested in Advantage's progress. In reference to Orocobre, Toyota's website states:
Toyota Tsusho has acquired 100% sales rights to the lithium carbonate produced at the plant and aims to build a complete lithium supply chain,extending from upstream to downstream processes, in order to meet the expected growth in demand from Japan and other countries around the world. Shipments of lithium carbonate from the plant to Japan are expected to begin in January 2015.
The next logical lithium company for Toyota to partner with would be Advantage.
Analysis driving my resources estimates
In recent news releases dated 9/25/17 and 10/24/17, Advantage announced great drill results from their rotary drill program. CAU10 was drilled to 340M, and reported an average lithium grade of 682mg/L. CAU09 was drilled to 400M, and reported an average lithium grade of 662mg/L. Their current resource is based on an average grade of 380 mg/l lithium, so this is a very substantial increase.
Click here to continue reading...
Subscribe to the RSD email list and get the latest resource stock activity directly to your inbox, for free.
Subscribe to the RSD email list and get the latest resource stock activity directly to your inbox, for free.
Part of the Stock Digest family of websites
MARKET SUMMARY
INDICES
| Name | Last | Change |
| --- | --- | --- |
| DOW | 27171.90 | 0 |
| S&P 500 | 2985.03 | 0.28% |
| NASDAQ | 8204.14 | 0.70% |
| TSX | 16518.88 | 0.20% |
| TSX-V | 593.88 | 0.00% |
Resource Commodities
| Name | Last | Change |
| --- | --- | --- |
| Gold | 1425.60 | 0.14% |
| Silver | 16.47 | 0.91% |
| Copper | 2.72 | 2.722 |
| Platinum | 901.00 | 0.67% |
| Oil | 56.22 | 1.05% |
| Natural Gas | 2.31 | 2.64% |
| Uranium | 25.60 | 1.08% |
| Zinc | 1.15 | 0 |