The copper market is set to move into an increasingly undersupplied situation over the coming years as a combination of global growth (primarily in emerging market and BRIC countries) and surging demand from electric vehicle production bumps up against declining copper ore grades, in addition to a lack of new production coming online:
The global copper market is forecast to be increasingly undersupplied between 2019 and 2022 according to Bloomberg Intelligence:
While there are potentially many ways to play an investment thesis around a looming copper shortage, the largest potential returns are likely to come from junior copper explorers set to become producers at a time when the copper price could be soaring from a globally undersupplied situation.
A company called Desert Star Resources (TSX-V: DSR, OTC: DSRRF) offers a particularly compelling investment proposition after completing a unique deal to acquire the Kutcho Project from Capstone Mining (TSX: CS) for C$29 million (upon closing the acquisition DSR will be called Kutcho Copper).
It's not every day that a junior exploration company with a less than C$10 million market cap is able to acquire a high-grade mine with a completed pre-feasibility study, mineral resource estimate, and preliminary economic assessment. Desert Star had a C$7.4 million market cap on the day the deal was announced, and managed to pull off one of the more significant project acquisitions of 2017 in the Canadian mining sector.
Under the leadership of CEO Vince Sorace DSR was able to pull off the deal by entering into a gold and silver streaming agreement with Wheaton Precious Metals (TSX: WPM, NYSE: WPM) for the gold and silver component of future Kutcho production (which consists of less than 10% of the revenue of the project). DSR raised C$43 million in total (C$29 million to consummate the purchase, the remainder going towards completing the feasibility study and permitting process), with C$33 million being provided by Wheaton, and the remainder raised in an equity offering at C$.65.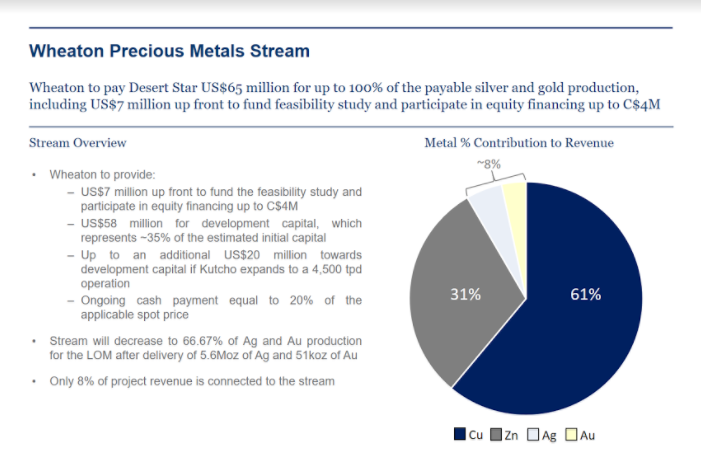 This deal is unusual for Wheaton (the world's largest precious metals streaming company) because Wheaton typically provides the metals producer with cash in return for a streaming contract imposed upon the asset. Wheaton rarely sponsors companies from an equity or debt perspective. The fact that Wheaton has stepped up and done this deal with Desert Star is a huge vote of confidence in the technical merits of the Kutcho Project.
Kutcho is located in an area of northern BC that is known for its prolific mines (Red Chris, Brucejack, etc.), which has substantial infrastructure already in place:
The Kutcho Project is a copper-zinc VMS style deposit with measured and indicated resources of 10.4 million tonnes grading 2.01% copper and 3.19% zinc (2.92% Cu-equivalent which includes a small silver and gold component). Capstone had completed a prefeasibility study (PFS) in 2011, but quickly decided that Kutcho wasn't a priority project for them. Desert Star improved upon Capstone's PFS during the summer of 2017. The 2017 PFS yielded tremendous economics including a C$265 million NPV(8%), using conservative metals prices (US$2.75 copper and US$1.10 zinc, US$1250 gold, US$17 silver):
Not only are the project economics compelling, but there are several ways in which Desert Star can deliver significant upside for shareholders down the road:
Increase reserves through existing resource conversion.
Significant upside to metals prices given that project economics are currently based on US$2.75 copper, US$1.10 zinc.
Mine plan optimization including potential increase in production capacity.
Click here to continue reading...
Subscribe to the RSD email list and get the latest resource stock activity directly to your inbox, for free.
Subscribe to the RSD email list and get the latest resource stock activity directly to your inbox, for free.
Part of the Stock Digest family of websites
MARKET SUMMARY
INDICES
| Name | Last | Change |
| --- | --- | --- |
| DOW | 27909.60 | 0.38% |
| S&P 500 | 3135.96 | 0.32% |
| NASDAQ | 8621.83 | 0.40% |
| TSX | 16950.85 | 0.27% |
| TSX-V | 537.49 | 0.00% |
Resource Commodities
| Name | Last | Change |
| --- | --- | --- |
| Gold | 1460.87 | 0.01% |
| Silver | 16.60 | 0.06% |
| Copper | 2.76 | 2.759 |
| Platinum | 901.00 | 0.67% |
| Oil | 59.20 | 1.30% |
| Natural Gas | 2.33 | 3.98% |
| Uranium | 25.80 | 0.00% |