Summary
Cobalt is forecast to remain in deficit to at least 2020 - meaning the cobalt boom is not going away anytime soon.
Some of the major cobalt names have run up strongly in price, however several prominent juniors are still very well priced.
Top 3 cobalt juniors to consider.
Note: This article was first published on Trend Investing on August 3, 2017, therefore all data is as of that date.
Cobalt has been the boom metal in 2017, and my view is it will continue to boom for the next several years, as the cobalt market remains in deficit, with demand from electric vehicles (EVs) accelerating.
As my early followers will know I was one of the first analysts globally to pick the cobalt boom back in May 2016, long before most people had even heard of cobalt. For a background on my previous cobalt articles you can read:
Cobalt spot price - 12 year history
The graph below shows cobalt prices have surged since late 2016 from around US$10/lb to US$26.08/lb now. Market participants anticipate prices to increase by 20-24% by the end of the year.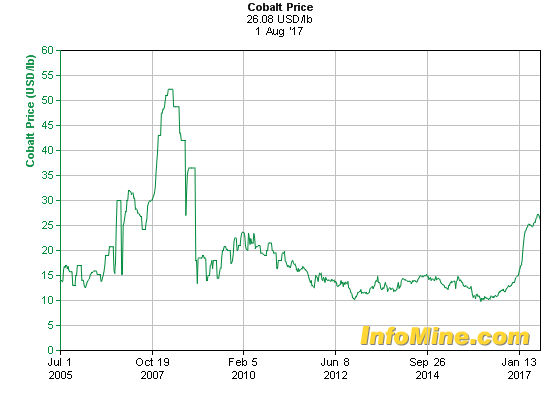 Source: InfoMine.com
Cobalt LME Inventory 6 years
Whilst the graph below shows London Metal Exchange (LME) inventory has increased by about 400 tonnes since 2011, it is important to understand that 400 tonnes of cobalt is under 0.5% of yearly cobalt demand, or less than 1 week's demand, so insignificant really. Actually it does beg to ask the question why it is not at zero given all market reports of cobalt being hard to get. Maybe this will be the case soon.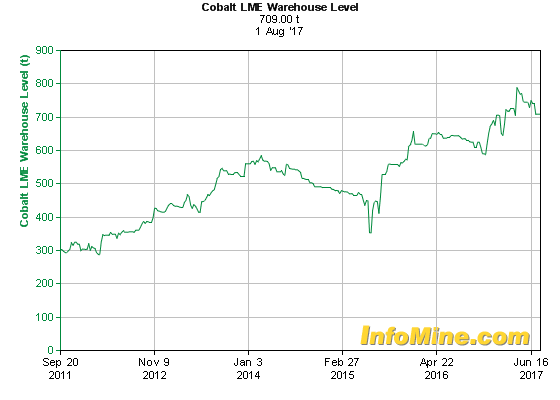 Source: InfoMine.com
Cobalt deficit to continue and may worsen
CRU - Forecasts 900 tonnes cobalt deficit in 2017. CRU Group analysts predict that in 2017 the deficit in the market could triple compared to last year.
Macquarie Bank - Forecasts 885 tonnes cobalt deficit in 2018, 3,205 tonnes deficit in 2019, and 5,340 tonnes in 2020.
Cobalt deficit forecast graph - 2016 onwards

Source
Cobalt deficit forecast to 2020 - CRU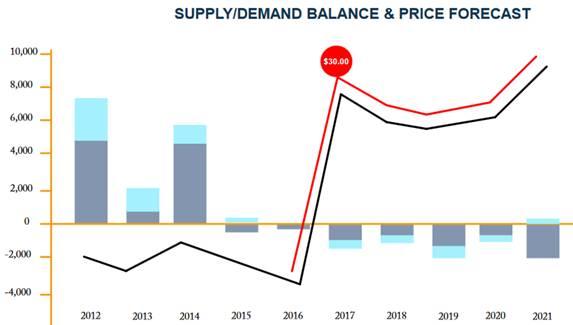 Source: eCobalt Solutions presentation (and CRU analysis)
Three junior cobalt miners to consider
Previously I have discussed my top 3 cobalt miners to accumulate, which still are Glencore (OTCPK:GLCNF)(LSX:GLEN)(HK:805), China Molybdenum Luoyang Co. Ltd (OTC:CMCLF) (HK:3993), and Katanga Mining (TSXV:KAT) (OTCPK:KATFF). Whilst these names will still be the main cobalt players going forward, and good long term investment plays, adding a few juniors can hopefully spice up short term returns, and add diversification whilst reducing DRC exposure.
Cobalt projects by grade and size (excludes Glencore, Katanga Mining, and China Molybdenum DRC mines)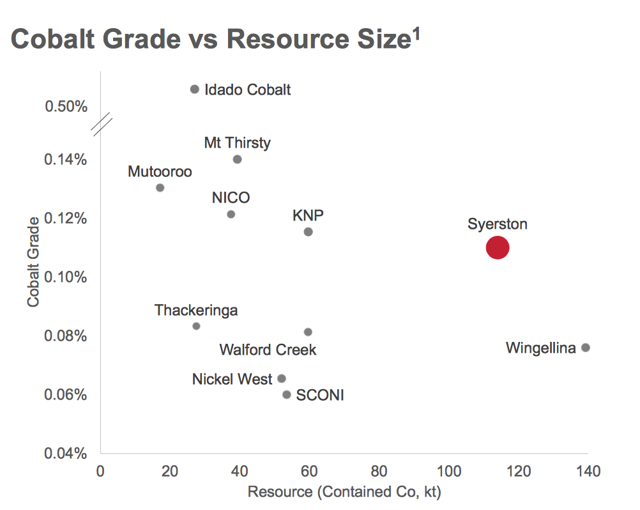 Source
Note: The KNP zone has now been upgraded to 85,410 tonnes of contained cobalt.
1) Ardea Resources [ASX:ARL] [GR:A91] (OTC:ARRRF) - Price = AUD 0.91, USD 0.80
Ardea Resources 100% own the Kalgoorlie Nickel Project (KNP) in Western Australia. Ardea state they have "Australia's and the developed world's largest cobalt resource". Their higher grade KNP cobalt zone (see chart above) has 65.7Mt of ore at 0.13% cobalt and 0.79% nickel. That works out to be a very healthy 85,410 tonnes of contained cobalt, and 5.6 million tonnes of contained nickel. Ardea's total cobalt resource measures a massive 386,000 tonnes of contained cobalt at a lower average grade of 0.05%. Added to this is their recent scandium discovery, which will help reduce production costs as a valuable by-product credit.
Post publication update (in italics):
On Aug. 7, Ardea announced -The upgraded resource (previously 386,000 tonnes contained cobalt) updated as "405,000 tonnes contained cobalt (grade 0.05%), 5.46 million tonnes contained nickel (grade 0.7%)." The KNP (high grade) Cobalt Zone now has 83,000 tonnes contained cobalt @ 0.13% grade. Ardea state they have "the developed world's largest cobalt resource."
The company also has the Lewis Ponds gold-zinc project and the Mt Zephyr gold-nickel sulphide project.
Location is good, only 150km from the city of Kalgoorlie, and all required infrastructure and mining leases are already in place. Additionally the resource is quite near surface and amenable to a simple open pit mine with a low strip ratio and easy digging.
The current market cap of Ardea Resources is just AUD 61m, which is incredibly cheap when looking at their total resources, not to mention the AU$50m previously spent on the project (drilling etc). The 386,000 tonnes of cobalt alone has a sale value of ~US$22b at the current market price of US$26/lb. The reason the company is so cheap is the company is still in the early stages, and perhaps because nickel prices are currently depressed making many nickel mines uneconomic at current prices (US$4.65/lb). Off course those mines don't have as much cobalt as Ardea has. A comparable cobalt laterite company is Clean Teq [ASX:CLQ] which has about 114,000 tonnes of cobalt, nickel and scandium at their Syerston project in Australia, and is about 16 months further advanced (a DFS due Q4, 2017) with a market cap of AUD 452m - 7.4 times higher than Ardea Resources. I have done some very basic and rough modeling on Ardea not yet to be relied upon. Purely as a cobalt mine with nickel and scandium as by-products, if we assume 5,000 tonnes pa cobalt production, at US$10/lb cost of production, US$25/lb sale price, 5% royalties, Capex at AUD 300m ($200m equity, $100m debt) then I get a valuation of A$4.07, or 4.47x upside. I plan to model properly once more accurate information comes to hand. Obviously Ardea's economics are sensitive to nickel and cobalt prices.
The company plans to release a PFS in January 2018, so we will know a lot more accurately then. Following that I would expect if they can raise CapEX funding that they could be in production by 2020/21 if all progresses well.
Investors can view their April 2017 company presentation here.
Ardea has by far Australia's largest cobalt resource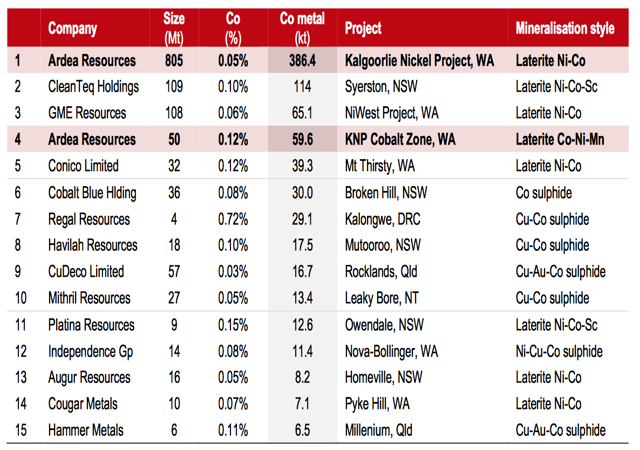 Note: Metals X owned Wingellina is not included in the table above and it has around 140,000 tonnes of contained cobalt.
Australian cobalt miners resource size comparison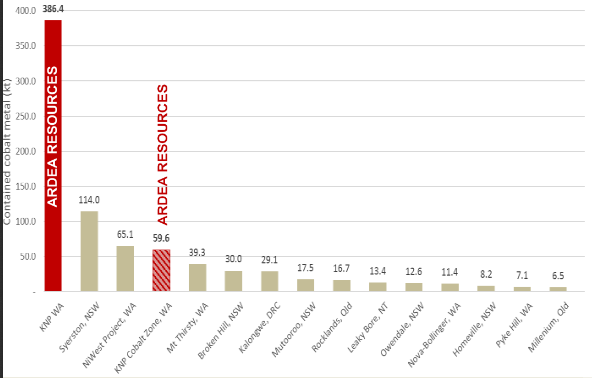 Source
2) First Cobalt [TSXV:FCC] (OTCQB:FTSSF) - Price = CAD 0.76, USD 0.58 (currently in a short term trading halt until ~mid August)
First Cobalt is a new comer to the cobalt scene; however they have been moving very fast under CEO Tent Mell. They have cobalt projects in Canada and the Democratic Republic of Congo (DRC).
In Canada, First Cobalt are optioned to own the historical Canadian silver-cobalt Keeley-Frontier mine. The company is in the process of friendly mergerswith Cobalt Tech [TSXV:CSK] and Cobalt One [ASX:CO1], hence the current trading halt. This has significantly increased their cobalt projects in the historic Cobalt camp region of Canada. They will also now 100% own the nearby Yukon small size refinery in Canada.
In the DRC, First Cobalt have options over seven prospective copper-cobalt properties covering 190 square kilometers, all with known surface mineralization, in a region known for huge copper-cobalt-zinc discoveries. This gives them exceptional exploration upside, and a large discovery such as what Ivanhoe Mines [TSX:IVN] (OTCQX:IVPAF) achieved would be a game changer for the company.
The combined merged new company will be still known as First Cobalt, and is expected to have a market cap of around CAD 120m.
Given the early stage and large number of projects in key cobalt locations valuation is probably about right for now. I have included them in my top 3 due to their excellent fast moving track record, large acquisitions and number of promising projects, but most of all for their huge potential exploration upside. You can read more in my article "First Cobalt has huge exploration upside."
Click here to continue reading...
Subscribe to the RSD email list and get the latest resource stock activity directly to your inbox, for free.
Subscribe to the RSD email list and get the latest resource stock activity directly to your inbox, for free.
Part of the Stock Digest family of websites
MARKET SUMMARY
INDICES
| Name | Last | Change |
| --- | --- | --- |
| DOW | 27171.90 | 0 |
| S&P 500 | 2985.03 | 0.28% |
| NASDAQ | 8204.14 | 0.70% |
| TSX | 16518.88 | 0.20% |
| TSX-V | 593.88 | 0.00% |
Resource Commodities
| Name | Last | Change |
| --- | --- | --- |
| Gold | 1425.60 | 0.14% |
| Silver | 16.47 | 0.91% |
| Copper | 2.72 | 2.722 |
| Platinum | 901.00 | 0.67% |
| Oil | 56.22 | 1.05% |
| Natural Gas | 2.31 | 2.64% |
| Uranium | 25.60 | 1.08% |
| Zinc | 1.15 | 0 |