Bucking the Trend: Uranium Market Gains Traction
Jordan Trimble of Skyharbour Resources lays out the reasons why the uranium bear market is coming to an end, and why his company is poised to take advantage of the upturn, in this conversation with Maurice Jackson of Proven and Probable.
Maurice Jackson: Today we highlight a preeminent uranium and thorium explorer in Canada's Athabasca Basin. Joining us for conversation is Jordan Trimble of Skyharbour Resources Ltd. (SYH:TSX.V; SYHBF:OTCQB).
Always a pleasure to have you on our program, sir. You have some exciting updates for us regarding drilling. But before we begin, Mr. Trimble, please introduce Skyharbour Resources and the opportunity the company presents to the market.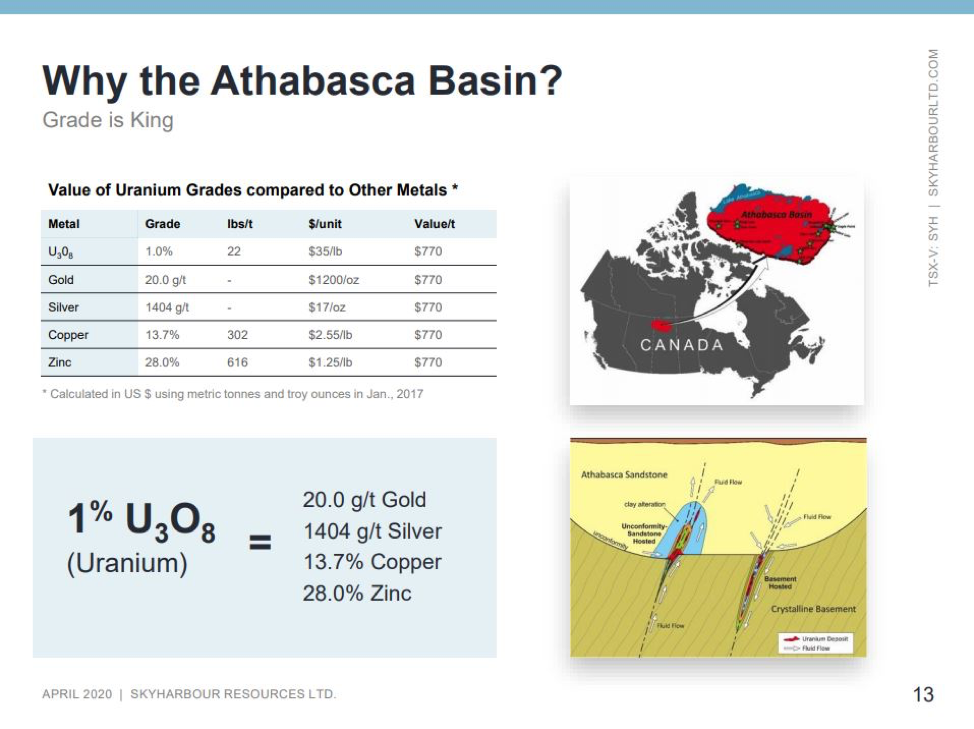 Jordan Trimble: Skyharbour Resources is a high-grade uranium exploration and early-stage development company. We have six projects in the Athabasca basin, which is in northern Saskatchewan in Canada. It's the highest grade depository of uranium in the world. It's one of the top ranked mining jurisdictions in the world, as ranked by the Fraser Institute—the Saudi Arabia, if you will, of uranium.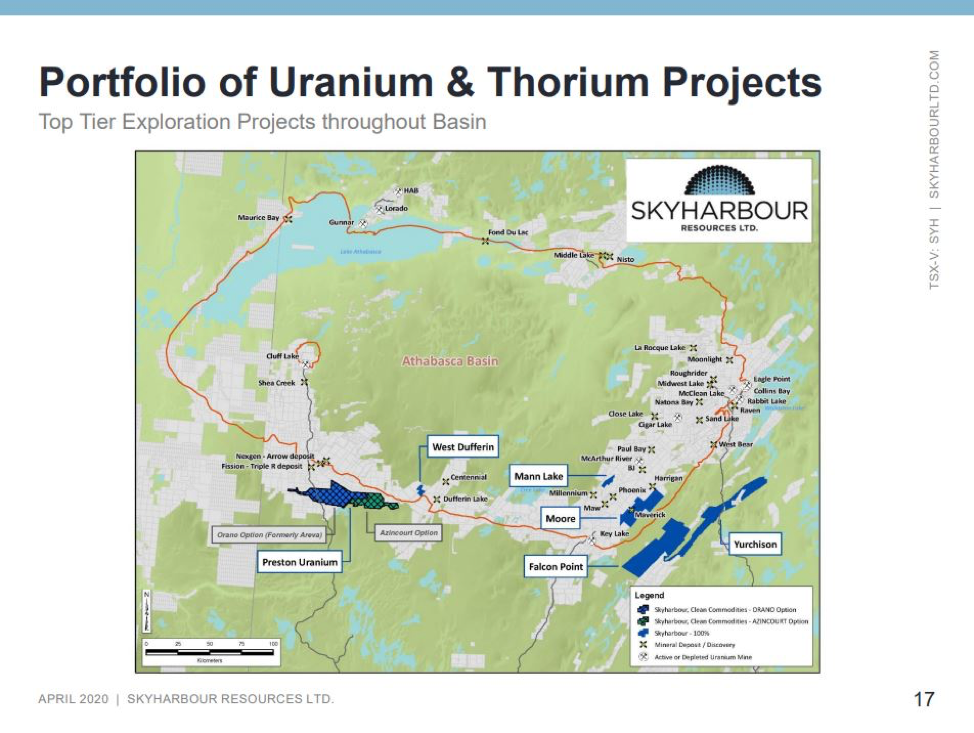 We have spent the last seven years building up a project portfolio. And we've done a good job being opportunistic in a bear uranium market. It has been a depressed market for an extended period of time, since Fukushima, that's created and presented the opportunity to acquire the asset base that we put together. The projects host a couple of uranium deposits—high-grade mineralization at various stages of exploration and development, ranging from earlier stage, more grassroots projects to more advanced-stage exploration.
Skyhabour has been able to amass its portfolio by spending just under CA$5 million, a good chunk of that being paid in stock and in exploration expenditures. And to shed some light on the potential rerating for this asset base as we come into a better uranium market, there's been about $90 million spent in historical exploration, invested into the projects. And, at one point, two of the projects were in a company that was valued at over $300 million in the last uranium bull market we saw, in 2006–2007.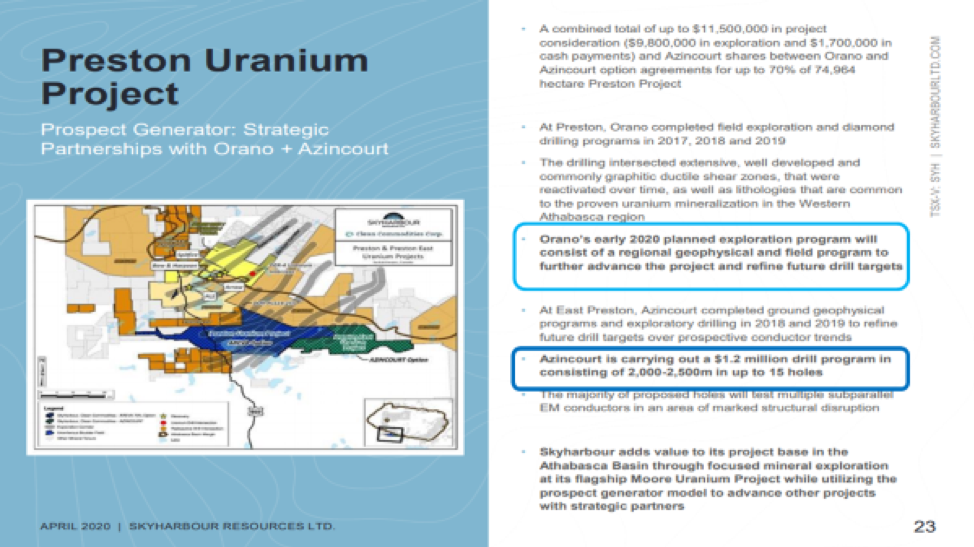 At the current spot prices, these are significant discounted valuations. Skyhabour is excited to have this project portfolio, which we're now advancing both with programs and exploration, and with drilling that we're carrying out and funding at our flagship project, but as well with partner companies—strategic partners that we brought in to help advance some of our secondary projects.
We do have two strategic partners, one of which is Denison Mines Corp. (DML:TSX; DNN:NYSE.MKT). They're our largest strategic shareholder. They're listed on the New York stock exchange and on the TSX, a larger uranium development company. The president and CEO, David Cates, is on our board.
And secondly, we have a partner in Orano SA, which is France's largest uranium mining and nuclear company, headquartered in Paris. They're partners with us at our Preston Project, whereby they're earning in up to 70% of the project by spending $8 million over a six-year period. I will just note, as well: We're one of the few remaining active uranium junior mining companies out there.
We've seen a major contraction in both the number of uranium companies and their equity valuations. Uranium is a niche market, which is not followed as well as other larger market metals, but it does present a very unique opportunity with a very distinct set of fundamentals.
Maurice Jackson: Can you provide us with an example?
Jordan Trimble: For example, in the [past] two weeks, we've started to see the price of the uranium move almost 20% off its lows. And I think there's good reason to believe that will continue, despite what's happening in the broader market. And again, as one of the few remaining companies in the sector, we do offer investors exposure to that rise in uranium price, as we will highlight later in our discussion.
Maurice Jackson: Jordan, how does Skyharbour's dual-prong strategy as a high-grade uranium exploration company, as well as a prospect generator, place shareholders in a competitive advantage among your peers?