This Uranium Junior Is Simply Too Cheap To Ignore
The uranium sector had a very challenging 2019 with many of the largest explorers/producers in the space seeing their share prices decline by double-digit percentages. This poor share price performance offers an intriguing opportunity as we enter a new decade, a decade which begins with the global uranium market significantly undersupplied.
In investing, oftentimes the biggest opportunities are presented at the point of maximum pessimism. If we aren't already there in the uranium sector, we must be getting really close. Cameco is due to purchase more than 10 million pounds of uranium in the spot market between late-2019 and early 2020. These purchases are occurring against a backdrop of an increasingly undersupplied global uranium market which has seen significant supply curtailments over the last couple of years: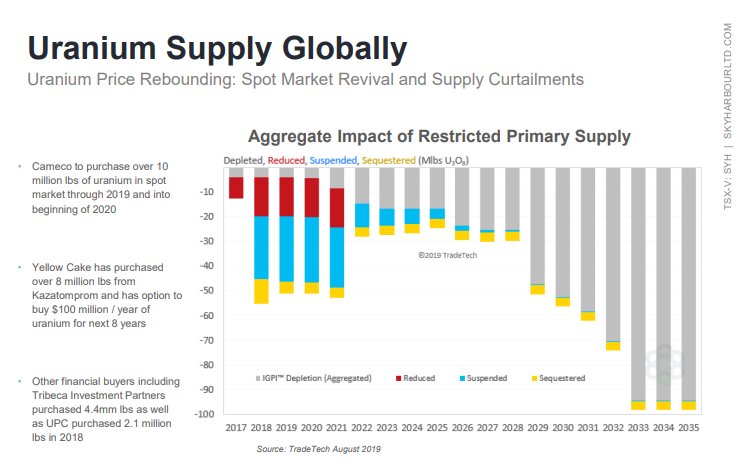 If we are indeed heading for a turn in the uranium market (from oversupply to undersupply) the biggest torque is likely to come from micro-cap uranium explorers that could experience the largest percentage share price increases. After a challenging 2019, one company in particular offers multiple ways that shareholders can win in 2020 and this company's CEO has been aggressively accumulating shares in the last few months.
Skyharbour Resources (TSX-V:SYH) has been conducting geophysics (drone geophysical surveys) on its flagship Moore Project in the Athabasca Basin of Saskatchewan. The objective of this work has been to further refine its target identification. In its Q1 2020 drill program, Skyharbour will be looking for basement hosted high-grade feeder zones below the unconformity at the Maverick Zone at Moore: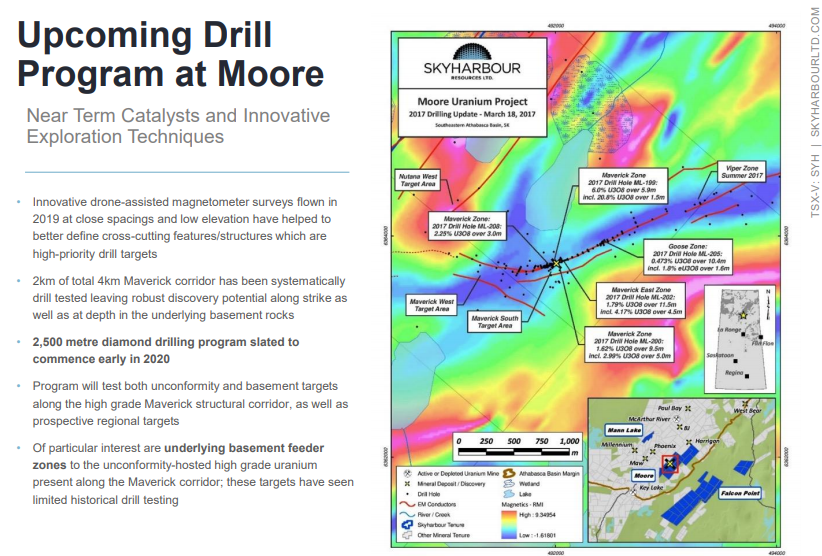 When asked about his torrent of recent insider buying (Mr. Trimble has purchased nearly 1,000,000 SYH shares since the beginning of September) Skyharbour CEO Jordan Trimble offered the following:
"I've bought a lot of stock recently, both in the open market and in the latest financing. Obviously I'm a believer and I don't think it will take a lot to get the stock trading higher. When you look at our situation in terms of 3 different exploration programs on our projects starting up soon including 2 drill programs, and then you look at the macro backdrop and the uranium market heading into 2020, there are a number of key catalysts that could help drive a higher share price. I believe the value proposition for Skyharbour is actually the strongest it has ever been."
While Skyharbour will be focused on its flagship Moore Project in early 2020, its partners (Orano and Azincourt) will be working hard early in the new year at two of Skyharbour's other projects (Preston and East Preston). Orano Canada has an option on Skyharbour's Preston Project which allows it to earn up to 70% of the project through spending C$8 million on exploration programs over six years. Meanwhile, Azincourt Energy will be paying Skyharbour $200,000 in cash and carrying out a C$1.2 million drill program (2,000-2,500 meters) early in the new year at Skyharbour's East Preston Project, located 50 kilometers southeast of Patterson Lake in order to complete its 70% earn-in on the project.
Click here to continue reading...
Click here to see more from Skyharbour Resources Ltd.