Uranium Explorer Set to Profit in Market Upswing
In this interview with Maurice Jackson of Proven and Probable, the head of this junior miner in the Athabasca Basin discusses recent developments in the uranium market and the projects his company is focused on the region.
Maurice Jackson: Joining us for a conversation is Jordan Trimble, the president, director, and CEO of Skyharbour Resources Ltd. (SYH:TSX.V; SYHBF:OTCQB), a preeminent uranium explorer in Canada's Athabasca Basin. Sir, please introduce us to Skyharbour Resources, and the opportunity you present to the market.
Jordan Trimble: Skyharbour is a high-grade uranium exploration and early stage development company with six projects scattered throughout the Athabasca Basin, which is in northern Saskatchewan in Canada. For those of you not familiar with the Athabasca Basin, it's the highest grade depository of uranium in the world. Saskatchewan is ranked as the number three mining jurisdiction in the world by the Fraser Institute—so, really, it'sthe best place in the world to be looking for and developing uranium deposits.
We started the company about six years ago, and what we saw was the contrarian opportunity in the uranium space to go out and really build a foundation, build a company up that would allow investors to get exposure to a couple of things.
[First, we saw] an improving uranium market, so as a uranium-focused company, when the uranium price moves up, we'll see our share price respond positively. Post-Fukushima, when we started the company, we saw an opportunity to go out and basically build an asset base, put a team together to take advantage of that.
And then secondly, we are an exploration company. We're out there looking for the next big, high-grade deposit in the Athabasca Basin. If you look at recent discoveries in the Athabasca Basin, some notable companies like NexGen Energy Ltd. (NXE:TSX; NXE:NYSE.MKT), Fission Uranium Corp. (FCU:TSX; FCUUF:OTCQX; 2FU:FSE), and Hathor Exploration Ltd. previously, which was acquired by Rio Tinto Plc (RIO:NYSE; RIO:ASX; RIO:LSE; RTPPF:OTCPK) for $650 million. These companies went from small cap, $20 to $30 million valuations, to hundreds of millions on the back of high-grade uranium discoveries in the Basin. At Skyharbour, that is our main focus. We are an exploration, discovery-driven company. We're out there looking for more high-grade uranium mineralization.
In addition to that we act as a prospect generator, so we do have a dual prong strategy at the company. We have our main flagship project, called the Moore Lake Project, which is situated in the eastern part of the Athabasca Basin, near the infrastructure, near mills and roads, and power. That is where we're drilling and exploring, and that's where we feel we have the best shot of finding more high-grade mineralization. It's important to note that we do have high grade at the project already, at what's called the Maverick Zone. We've found, and previous operators have found, high-grade uranium mineralization. We reported results as high as 21% U3O8over a meter and a half, 6% U3O8over six meters.
We have five other projects that we've acquired over the last five and a half, six years, in addition to our flagship, Moore. Those five other projects we look to option or joint venture out. We look to bring in partner companies, strategic partners if we can, and those partners come in and fund the exploration and development at those projects. We also get some cash and stock payments, typically, as well, and then they earn in, and thereafter, a joint venture partnership is formed.
So, that really allows us to have multiple irons in the fire. It allows us to have potentially exposure to multiple discoveries and successful exploration programs. As a shareholder, exposure to high grade discovery in the Athabasca Basin, which we've seen with other notable companies, has yielded significant returns for shareholders in recent years.
Maurice Jackson: The company employs a simple, efficient business model, known as PTP. What is PTP?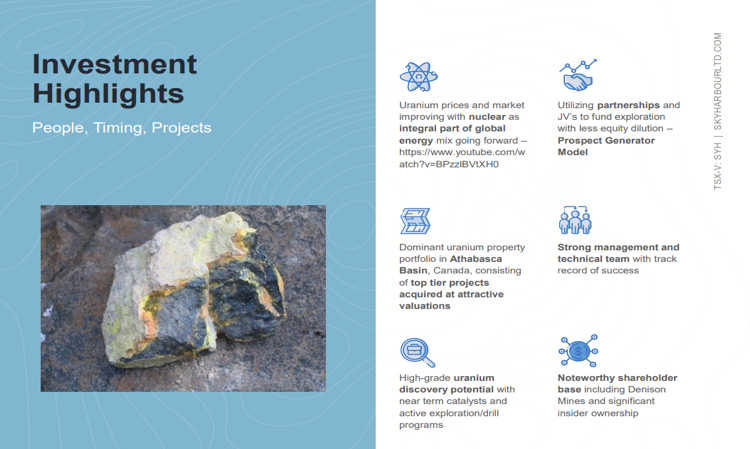 Jordan Trimble: It's an acronym we like to use to simplify the three real, key pillars of the business. It's the people—and within that you have the management team, the board, you have the technical and geological team, you have two notable strategic partners, one of which is our largest shareholder, Denison Mines Corp. (DML:TSX; DNN:NYSE.MKT). They're listed in New York. They're one of the larger publicly traded uranium companies out there. Their president and CO, Dave Cates, is on our board, so [we have] a very close working relationship with them. And another strategic partner at the project level is a company called Orano, which is France's largest uranium mining company, headquartered in Paris—a state-run, big, multinational company. They're earning in 70% at one of our projects called the Preston Project, and to earn up to 70%, they have to spend $8 million, the bulk of which being spent in exploration and development activities over a six year period.
And then last but not least, within the people involved in the company, running the company, and helping us grow this company, are our shareholders, and there's some notable, large shareholders, that are a part of Skyharbour Resources.
The next letter stands for timing, and timing has everything to do with where we're at in the uranium cycle, where we're at in the uranium market right now. As I said earlier, we started this company in a depressed uranium market. We saw an opportunity to go in there and acquire projects at attractive valuations, and build a project portfolio, which we've been doing over the last five and a half, six years. We're starting to see a recovery. It appeared to have bottomed out in late 2016, traded down to $17.75, which is one of the lowest it's traded at, and that's on a per pound basis. It's one of the lowest it's traded at, in inflation adjusted terms, ever. And since then it's been ticking up.
It's been somewhat volatile, but we've seen it trade in between the low $20s and high $20s, but clearly the trend has reversed. So, timing with the uranium market, I think especially right now, is very important, and a key talking point for us as a uranium company.
And then last but not least, the projects—the asset base. As I talked about earlier, we have two strategies. One, we're focused on drilling and advancing our flagship Moore Project. You'll see a news flow out of that over the coming years. We just announced recent drill results from a winter spring program, and planning an upcoming summer program. And then secondly, prospect generation at the other properties, bringing in partner companies to fund and advance those projects, so that we can focus our time, money and effort at our flagship Moore Project.
Maurice Jackson: With regards to PTP, let's begin with the letter T. Jordan, I believe it's paramount for audience members to have a full comprehension on the supply and demand fundamentals of uranium, to truly appreciate the opportunity that Skyharbour Resources presents to the market. Mr. Trimble, what is the current and future demand for energy, and how does uranium fit into this narrative?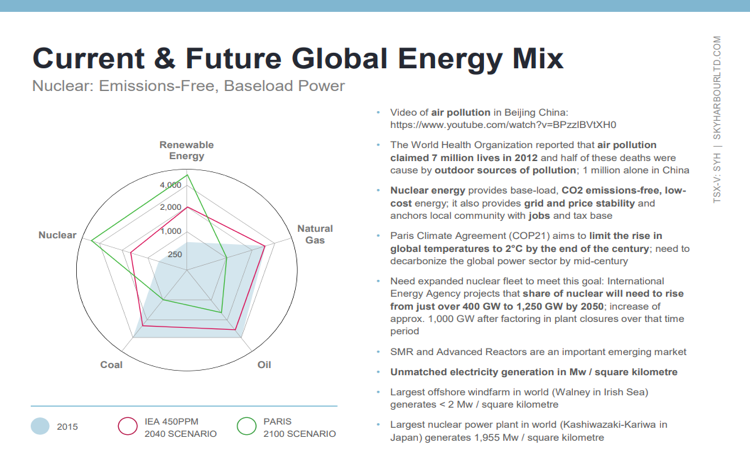 Jordan Trimble: Uranium is predominantly used for nuclear power. Globally right now, you are seeing a number of countries leading the charge, in particular in the developing world, specifically China, India, other parts of the developing world, which are pushing forward their nuclear power plant agendas. Nuclear energy provides base load, CO2 emissions-free, low-cost energy, right? So, it really is the only source of 24/7 clean electricity. It generates electricity to over 90% capacity factor, unlike renewables, [where] you need the wind blowing, you need the sun shining for wind and solar; you need rivers for hydro.
So, nuclear can generate clean electricity 24/7. It's effective. It's cost-effective, and it's quite safe, as well, despite what we may see in the media. Nuclear is reliable, it's low cost, and it's quite safe. It also provides grid and price stability, and anchors local community with jobs and a tax base, so it's a very important part of the global energy mix. It actually accounts for about 11% of global electricity generation. In the United States, it's about 20%, one in five homes, and if you look at countries like France, for example: France gets over 70% of its electricity from nuclear, so it's a very important part of the global energy mix.
It is unmatched electricity generation in a megawatt-per-square-kilometer basis. If you look at the largest offshore wind farm in the world, the Walney [Wind Farm in the Irish] Sea, it generates less than 2 megawatts per square kilometer, whereas the largest nuclear power plant in the world generates just under 2,000 megawatts per square kilometer, so it's also important to note that you can get a lot of clean electricity in a very small area.
So nuclear, as it pertains to the global energy mix, is important, but it's also going to be very important going forward combating climate change. So, if you look at the Paris Climate Agreement from a few years back, trying to limit the rising global temperatures to two degrees by the end of the century, if you run the models, nuclear has to play an important role. You have some major and well-known investors and thought leaders globally that are pro-nuclear, in particular a couple well known people in the U.S., including Bill Gates and Peter Thiel. These are perfect examples of individuals, thought leaders, successful entrepreneurs that have done their research and understand the importance of nuclear as a part of a clean energy grid and generation going forward.
Bottom line is you have global demand for electricity expected to grow by almost 80% by 2030, a big part of that being the advent of electric vehicles, and this is where uranium as the fuel for nuclear power is going to play a very important role. We need to find more of it. We need to see more investment in projects going forward, in new mines that can deliver that uranium, that fuel to the next wave of clean nuclear reactors.
Maurice Jackson: Multilayered question: How many operable reactors in the world, how many are under construction, and how many more are being planned and or proposed?