Uranium Stocks Moving Higher
Last week I wrote to you about "potential supply-shock news in the uranium market" because of continued COVID lockdowns in Kazakhstan, the world's largest producer.
That narrative is gaining steam and turning into reality as more strict lockdowns were announced in the country this week.
Seemingly on cue, uranium stocks ticked higher over the past week — some, like Uranium Energy Corp. (NYSE: UEC), by as much as 20%.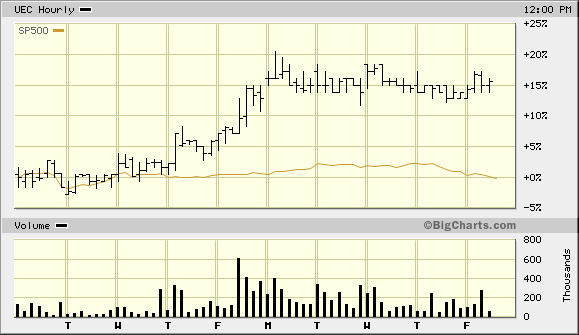 With the production curtailments and mine closures comes a need for those producing companies to go into the spot market to buy uranium to fulfill their contracts.
This has firmed up the spot price at $33 per pound… north of $30 for the first time in four years.
Given this price stabilization, H.C. Wainwright analyst Heiko Ihle has put out a note to clients saying that "when considering an increase in nuclear power plant builds over the next decade, prices may ultimately inch back towards a range of about $50/lb. that was previously seen in 2011 and 2012."
That, combined with a growing permitted production profile, gave the analyst the opportunity to reiterate his $3.50 price target on Uranium Energy Corp.
Of course, the last time uranium prices were at $50 per pound, back in 2011, Uranium Energy was a $4.00+ stock… over 4X what it trades now.
Click here for a full report on the company.
And outside of uranium, click here to see how our team is positioning for the gold bull market that's now underway.

Yours in profits,
Mike Fagan
Editor, Resource Stock Digest