Adding Silver Ounces By Way of the Drill
by Mike Fagan
Dolly Varden Silver (TSX-V: DV)(OTC: DOLLF) — currently trading at approximately C$0.63 per share — has vertically extended the known mineralization at its 100%-owned Dolly Varden Silver Project via a 45-meter long drill intercept averaging 304 grams per tonne silver [Hole DV20-222] at the Torbrit deposit — one of the most advanced pure silver assets in all of Canada.
Dolly Varden's current mineral resource now stands at 32.9 million ounces Ag Indicated plus 11.4 million ounces Ag Inferred. And while the majority of the known resource is located at Torbrit — there are several other deposits [Dolly Varden, Wolf, North Star] being explored that can quickly add ounces.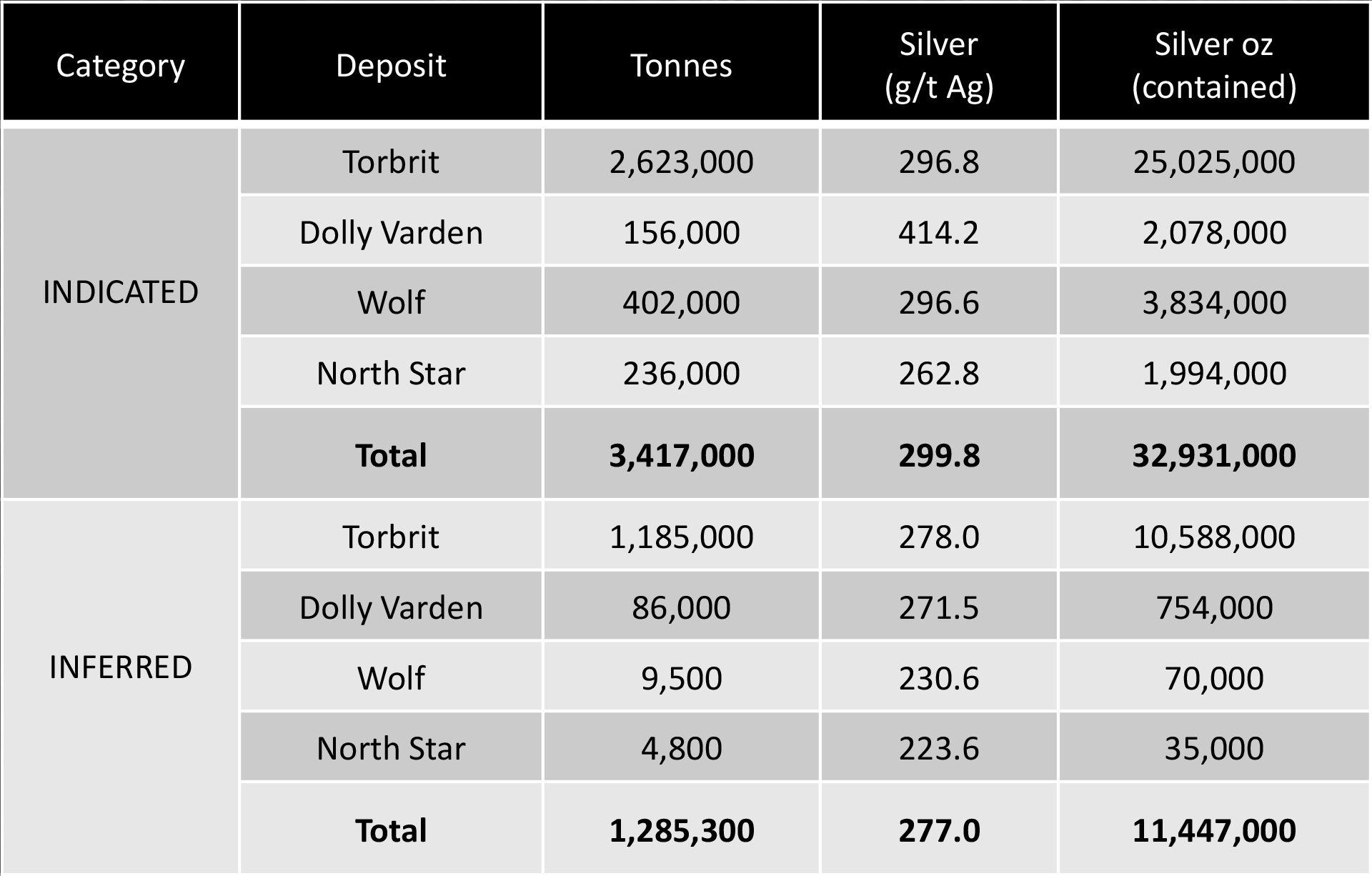 As you can see (below), the drill core from hole DV20-222 is quite spectacular. In addition to the highlight intercept of 304 grams per tonne (g/t) silver over 45 meters — a narrower section of 2.7 meters at 1,083 g/t silver was also intersected.




Dolly Varden CEO, Shawn Khunkhun — whom you'll be hearing more from in just a moment — commented via press release:

"We are seeing consistent intervals of high-grade silver mineralization at the Torbrit Silver deposit that has the potential to support economically attractive underground bulk-mining techniques, while at the same time each successive drill programs continues to demonstrate that the deposit is open for expansion. As part of our 2021 work plan, we are considering further underground work at Torbrit to develop better access for test mining and bulk sampling, as well as resource expansion and exploration drilling at depth and along strike to the east of Torbrit. While silver exploration is our primary focus on the Property, we are highly encouraged with the geological and pathfinder element geochemical results for gold and copper mineralization from the four-kilometer long early-Jurassic volcanic and intrusive trend located northwest of our growing silver deposits. Therefore, we can not rule out a gold discovery consistent with the plus million-ounce resource at the adjacent Homestake property in addition to the potential for another Torbrit like silver discovery."

Next up, the company is moving straight into its 2021 exploration program which will focus primarily on the known silver deposits at Dolly Varden — including resource expansion drilling in and around the Torbrit deposit — plus scout drilling aimed at uncovering new targets with ~50 million oz silver potential.

Additionally, the Dolly Varden field team has delineated a new area of interest at the western edge of the property adjacent to Auryn Resources' Homestake Ridge project [1MM oz Au @ 7 g/t].

Dolly Varden's first exploratory hole at that target intersected an intrusive and, thus, warrants follow-up drilling on what could potentially add a significant gold-copper component to the Dolly Varden project.

So lots of activity on-tap... and with a very robust C$23 million in the treasury, Dolly Varden is cashed-up to drill multiple silver-gold-copper targets in 2021.

Our own Gerardo Del Real of Junior Resource Monthly caught up with Dolly Varden CEO, Shawn Khunkhun, to discuss the latest high-grade silver hits and next-steps for the Dolly Varden project. Listen to the interview here (transcript is also available).

Be sure to also click here for our most recent report on Dolly Varden Silver Corp.

Yours in profits,
Mike Fagan
Editor, Resource Stock Digest

---
Mike Fagan has mining in his blood. As a teenager he staked countless gold and silver properties in Nevada alongside his dad, Brian Fagan, who created the Prospect Generator model that's still widely used today in the resource space. One of those staking projects was put into production by a major Canadian mining company — a truly rare and profitable experience. That background uniquely qualifies him as a mining stock speculator. One of the most well-known names in the business, Mike is now putting that experience to use for the benefit of Resource Stock Digest and Hard Asset Digest readers.
Click here to see more from Dolly Varden Silver