'The Rock' Exploring for Copper and Silver in Canada
Ron Struthers of Struthers' Resource Stock Report shares his thoughts on gold and the coronavirus, and profiles Rockridge Resources, a company with an advanced-stage copper project and a high-grade gold prospect, both in Canada.
Gold is about to soar in price because of a worldwide misinformation campaign. So far the effects from the coronavirus are being mostly ignored by the markets. There seems to be hope that this virus will be contained or maybe it is denial of economic damage it will, and could cause.
Furthermore we are getting statistics from a government that is notorious for a lack of transparency.
The Chinese government probably does not even know how bad it is. The reported amount dead already exceeds SARS and the death rate of 2.5% may compare low but it is not if multiples more contract the virus. There is a website in China called Tencent, it is like Google or Facebook here. Tencent posted some numbers about 10 times greater that government statistics. Why would they be so far off, fake news but within hours the post taken down.
The Lancet in UK, a prestigious medical journal, did a study and used a model based on city population and travelling, etc. Based on hard data and a past reliable model, it came back 5 to 10 times worse than official China government statistics. We have two separate entities that produced results way higher than government stats. Also looking at what the people are seeing there and reporting sounds far worse than government stats.
They cannot even keep up to the death count as bodies are disposed of without confirmation testing. I have no doubt the situation is far worse than government reported stats. Remember, it is the government's job and best interest whether here, Europe or China to promote stable economies and markets.
The best solution is a vaccine, but that usually takes two or three years, even if they get it in six months, there is the distribution and administering. China's biological warfare weapons lab is in Wuhan, which is ground zero. What are the possibilities this is a leak from that lab? Let's hope not, but China is not co-operating with the World Health Organization either, and that does not help the situation.
Symptoms don't show for 10 to 14 days, which makes the whole containment initiative very difficult. The current estimate has 60 million people under quarantine and most travel is at a standstill. You have probably heard of some of the effects like Starbucks closing half their stores in China.
China is the manufacturing engine of the world and we are relying on them for so many goods that few realize. Practically all the smartphones are made there and what happens to a company and stock like Apple when they have a severe shortage of products to sell? This is just one example out of thousands. China is a manufacturing hub so it relies on transportation of goods into the country to assemble, then shipping finished goods out. If factories close or transportation halts, it does not just slow things down, it grinds it down to zero.
The economic impact could be catastrophic. What if markets start to price in the worst? China's and the world economy were already slowing ahead of this. The U.S. is doing the best in the world but still GDP is only around 2%. This coronavirus is going to get much worse before it gets better and it is happening in an already weak economy. We are a few months away from seeing any impact; that could start showing with Q1 data.
Slowing economies will results in more QE and a quicker move to zero interest rates. U.S. stock markets are frothy at record levels and the balloon is seeking a pin. These factors are all positive to gold and the price chart is just itching to break to the upside. I commented previously that I wanted to see a close above $1600 to confirm a break out, but let's call a spade a spade. Since gold broke higher in early January the chart looks like a consolidation above the previous high. This usually results in higher prices. Now is an excellent time to add both producers and quality junior gold companies to our portfolio.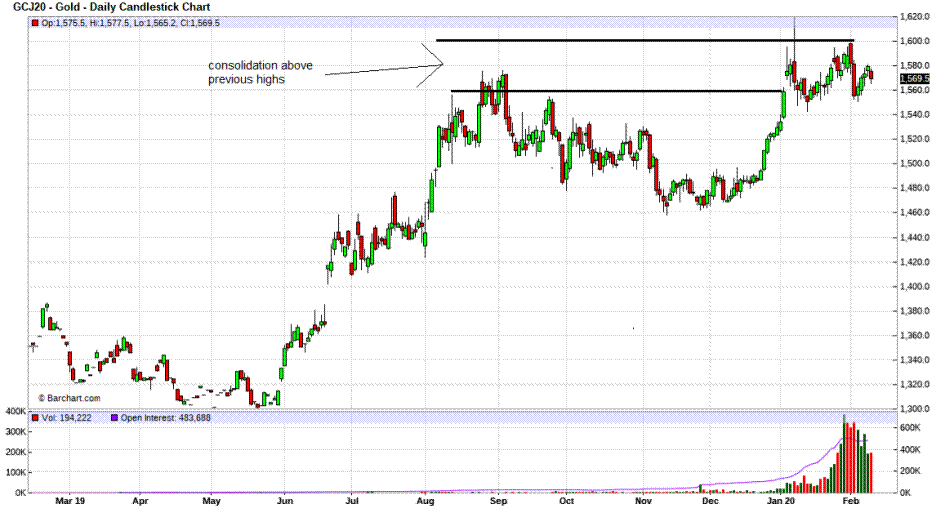 This underpriced junior has an advanced stage copper project in the Flin Flon VMS belt of Saskatchewan and a high-grade gold prospect in the Timmins gold camp, Ontario. The gold project is the current focus as they are just starting a drill program. The company's strategy is to acquire projects in historical and prolific mining districts, apply modern exploration techniques to test new geological models and prove discoveries.
Rockridge Resources Ltd. (ROCK:TSX.V; RRRLF:OTC) (The Rock)
Recent Price $0.16
52 week trading range $0.13 to $0.39
Shares outstanding 33.9 million, Fully diluted 50.3M
Highlights:
Knife Lake Project - Flin Flon district of Saskatchewan which is ranked #3 in the world by Fraser Institute
Over 300 drill holes for 43-101 resource estimate
Near surface Indicated resource of 3.8M tonnes at 1.02% Cu Eq and Inferred resource of 7.9M tonnes at 0.67% Cu Eq
Raney Gold project SW of Timmins, best drill intercept 6.5 g/t Au over 8.0 meters
New geological model indicates south dip (previously thought north)
Very limited drilling and open on strike and depth
Strong management with extensive experience, some highlights below
Management - highlights
Grant Ewing, P.Geo, CEO, is a geologist with over 25 years of experience in the mineral industry and the last 10+ years in senior executive roles. His extensive knowledge base covers the entire mine development cycle, from early stage exploration through to production, in several different commodities. Strong merger and acquisitions, corporate development, and capital markets knowledge complement his mineral industry experience.
Recently, he was president and CEO of Kiska Metals (2014 to 2017) until it was acquired by AuRico Metals, where he continued as vice president exploration of AuRico Metals until it was acquired by Centerra Gold for approximately $300 million. Prior to that, he was president and CEO of Acadian Mining (2010 to 2014) until its sale to an international mining company. Atlantic Gold later acquired and is currently developing the projects that Acadian advanced through the discovery and resource development stages.
Jordan Trimble, president and director, has worked in the resource industry in various roles with numerous companies specializing in management, corporate finance/strategy, deal structuring and capital raising. He is the president and CEO of Skyharbour Resources Ltd., and was previously the corporate development manager for Bayfield Ventures, a gold company with projects in Ontario that was successfully acquired by New Gold (TSX: NGD) in 2014. Bayfield made a high-grade gold and silver discovery at its Burns Block property in the Rainy River district, which is now a part of the producing Rainy River Mine. Through his career Trimble has founded and helped manage several public and private companies and has been instrumental in raising substantial amounts of capital for mining companies with his extensive network of institutional and retail investors.
Click here to continue reading...
Click here to see more from Rockridge Resources Ltd.